Airport artistry
Six art installations worth changing planes for.
Dennis Oppenheim, Radiant Fountains (2010). Image courtesy Houston Airports. Copyright Dennis Oppenheim. 
Journey through any airport and one can expect to hear the same questions endlessly repeated - Passport? Window or aisle? Any liquids or gels in your carry on? But thanks to recent investments in art and architecture, more and more passengers are now asking, 'where is the art?'  
Believing that the journey is as important as the destination, we've charted a flight path to six of our favourite airport art installations. Have a look: 
LaGuardia Airport Terminal B - Sarah Sze's Shorter than the Day (2020)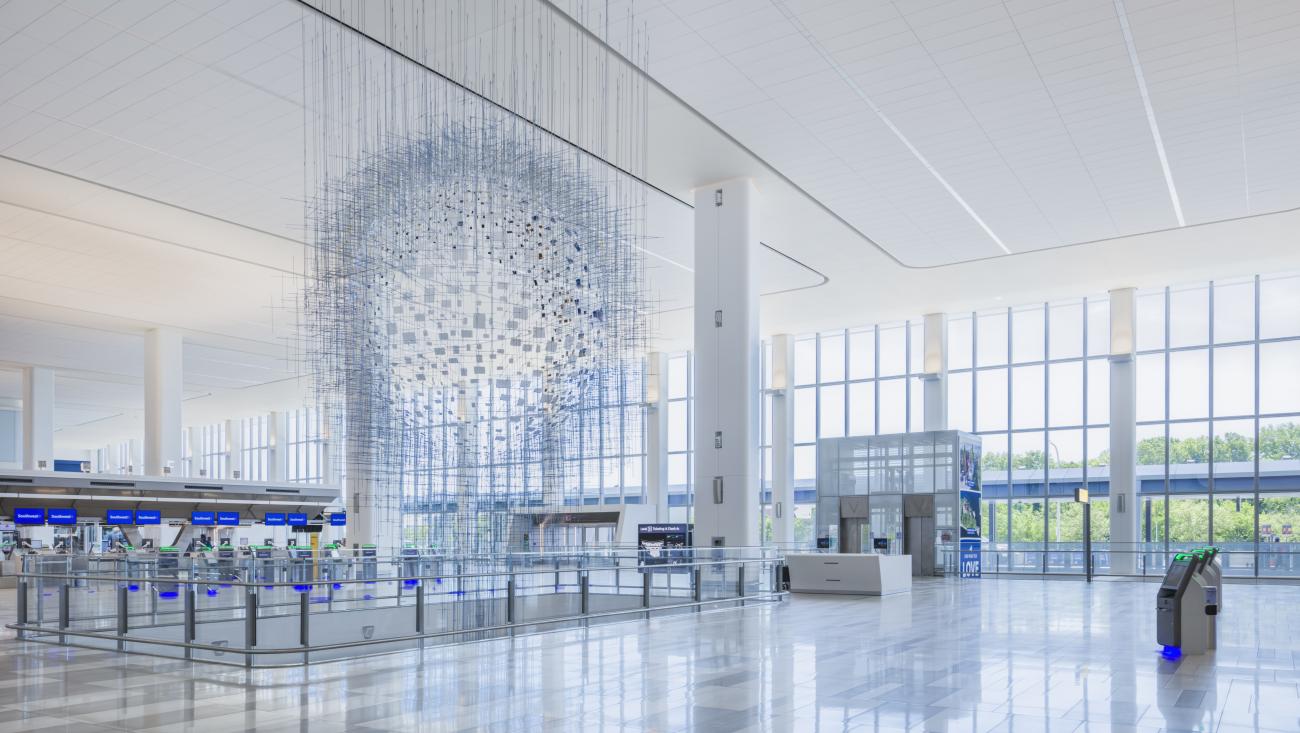 Sarah Sze, Shorter than the Day (2020). Photo by Nicholas Knight. Image Courtesy of the artist; LaGuardia Gateway Partners; Public Art Fund, NY. Copyright Sarah Sze.
Made up of hundreds of photographs, each depicting the New York City sky at a different time of day and connected by a sphere of metal rods, Sze's sculpture floats in the atrium, suspended between floors. Fifty feet tall, the artwork takes its title from a line in Emily Dickinson's 1890 poem Because I could not stop for Death, in which the poet suggests that the passage of time is a relief: "Since then – 'tis Centuries – and yet, Feels shorter than the Day, I first surmised the Horses' Heads, Were toward Eternity –"
 
Singapore Changi Airport, Terminal 1  - Kinetic Rain by the German design firm Art+Com
Installed in 2013, this dancing sculpture is thought to be the largest of its kind in the world. Made up of 608 copper-plated raindrops, each suspended by thin wires, all programmed to move in tandem, the installation is constantly changing, creating the shapes of flight-related objects, including airplanes, kites and hot air balloons. According to its designers, the sculpture "aims to be a source of identity for its location and provides a moment for passengers to contemplate and reflect."

George Bush Intercontinental Airport, exit - Dennis Oppenheim's Radiant Fountains (2010) (image at top)
The most notable artwork at an airport notable for its art collection (Houston is the first airport to receive SkyTrak's new award for best airport art), Oppenheim's unmissable illuminated steel and LED sculptures are located just outside the airport, along JFK Boulevard. An extension of Oppenheim's splash building series, wherein the late American conceptual artist explored events through sculpture, each sixty five foot tall sculpture is intended to mimic the downward motion of a drop of water with the upward action of color. 
Gibraltar International Airport - The Rock of Gibraltar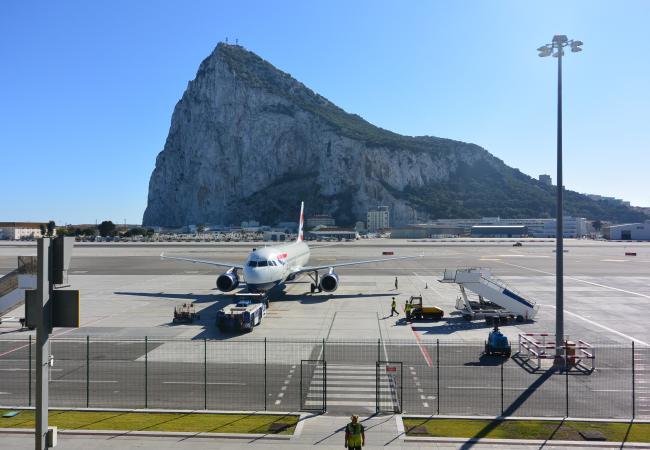 View from Gibraltar International Airport, British Airways A380 in distance. Image courtesy Gibraltar Air Terminal Ltd.
While not an artwork per se, we would be wrong not to acknowledge an airport that takes full advantage of mother nature's singular artistry. Presenting Gibraltar International Airport, with its stunning panoramic views of the famed Rock of Gibraltar. No need here for interior distractions. Located directly opposite the famed limestone promontory, said to be one of the two pillars of Hercules, the glass fronted airport provides passengers with generous viewing platforms and even invites them to walk across the runway to see it up close, just like John and Yoko did in 1969. 
Gander International Airport, Departures Lounge - Kenneth Lochhead's Flight and It's Allegories (1958)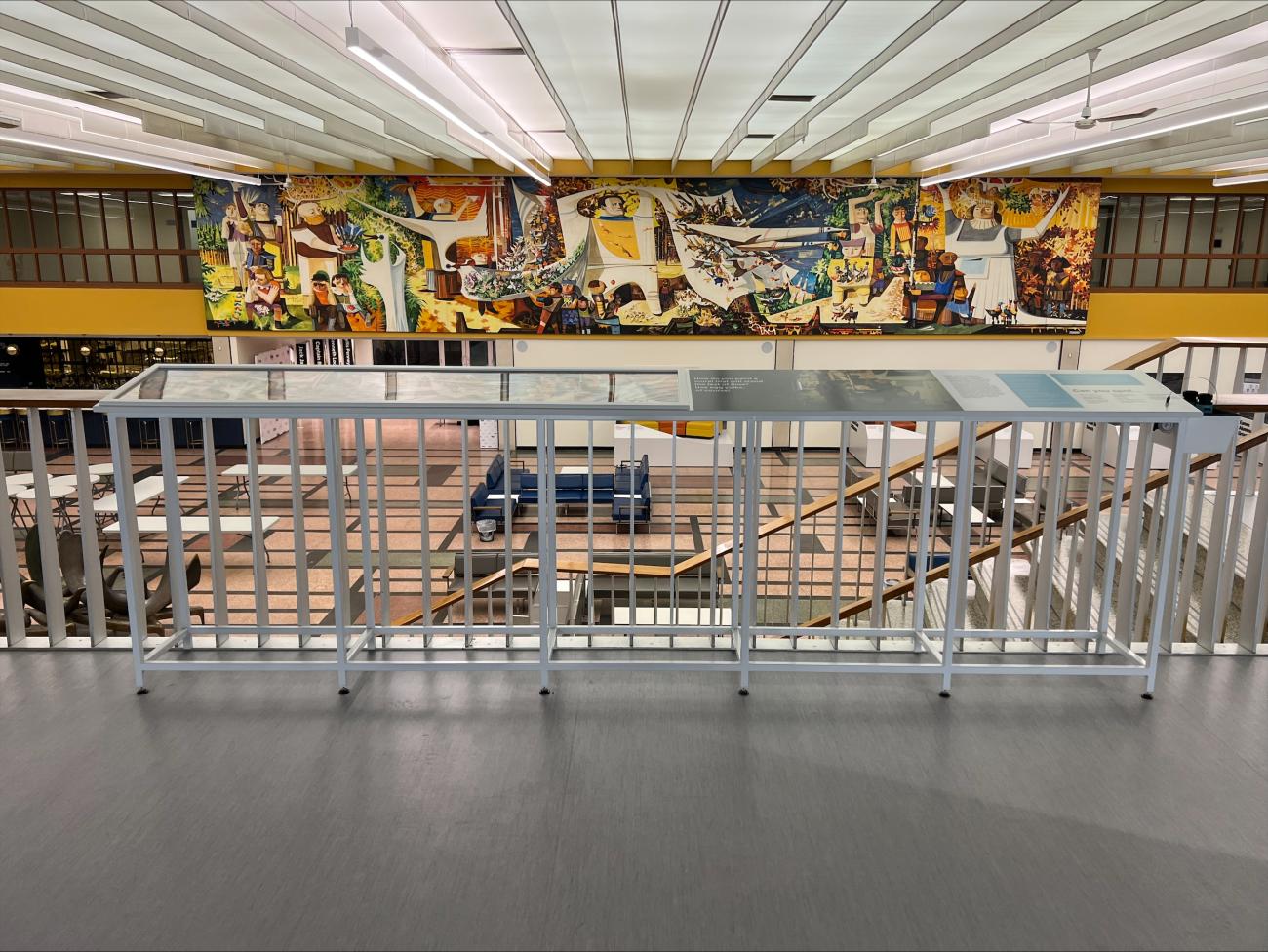 Kenneth Lochhead, Flight and Its Allegories, 1958. Image courtesy Gander International Airport Authority. Copyright Kenneth Lochhead. 
Stretching 72 feet, Kenneth Lochhead's mural for the Departures Lounge at Gander International Airport is heavy with human figures and colourful birds. Once the 'crossroads of the world', an obligatory stop on most transatlantic flights, Gander's Departures Lounge was at the forefront of interior design when it opened in 1959 and the fight to preserve it continues.  Evocatively fictionalized in Jane Urquhart's 2015 novel The Night Stages, in which the protagonist, grounded due to fog, is left to imagine the stories behind Lochhead's mural, the mural is the early work of a great Canadian modernist painter. As a member of the Regina Five, he rose to national acclaim in 1961 with an exhibition at the National Gallery of Canada. 
Toronto Pearson Airport, Terminal 1 - Richard Serra's Tilted Spheres (2002-04)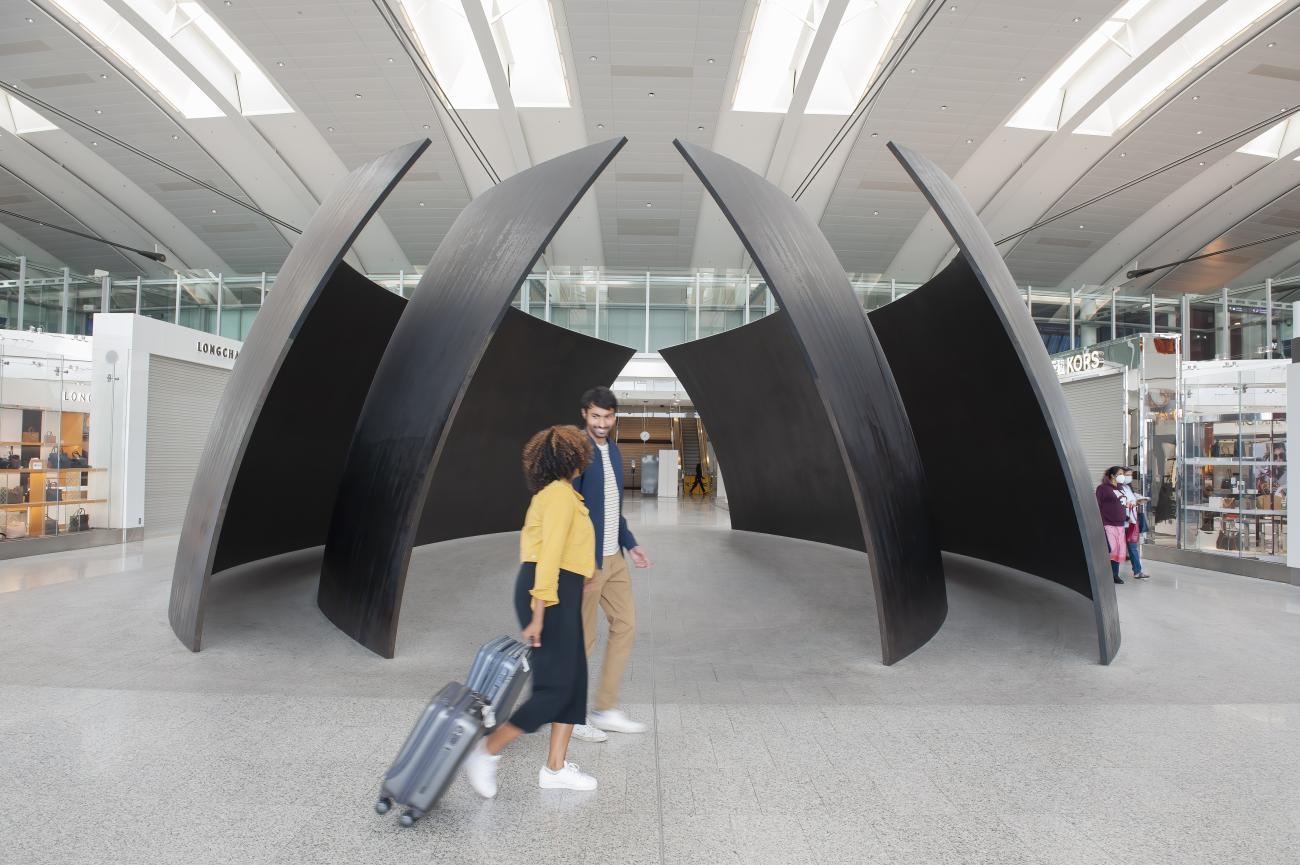 Richard Serra, Tilted Spheres. Image courtesy Greater Toronto Airport Authority. Copyright Richard Serra
So big it was installed during construction - lowered into place by giant cranes, wrapped in protective plastic before the roof was completed on Pearson's Terminal 1 lounge -  Richard Serra's 39-foot long by 14-foot high bronze sculpture is an acoustically resonant shelter from the tedium of airport rush and wait. Big enough to walk through, in its curved embrace, here one can be alone with the sounds of one's own thoughts. Nor is it alone - Terminal 1, opened in 2007 also boasts works by Sol LeWitt, Jonathan Borofsky, and Jaume Plensa.