Star Crop Eared Wolf, Marcy Friesen, and more
Five exhibitions featuring art by contemporary Indigenous artists happening this fall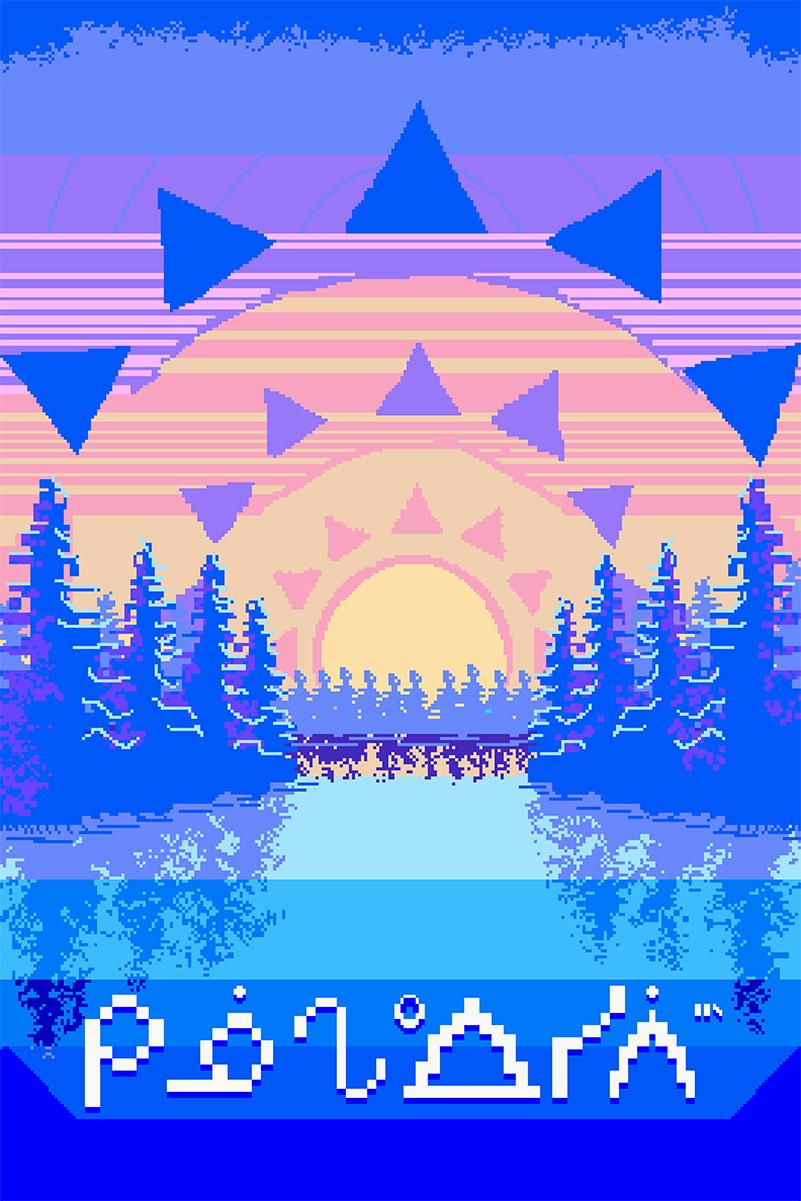 Dallas Flett-Wapash, AR Triptych, Panel 1 | Ahsiwahoochikan, Wapan (Norway House: Pulled by the Ferry, at Dawn), Digital Augmented Reality Print, 2020. Courtesy of the artist.
From artwork created in 200 BCE to contemporary works using digital media to imagine new realities and futures, exhibitions and installations on view this fall are providing insight into the history, culture, and lived experiences of Indigenous peoples.  
Featuring works created through a variety of mediums such as augmented reality (AR), large-soft sculptures, beading, and much more, here are five exhibitions by First Nations, Métis and Inuit artists on view at the AGO, the Agnes Etherington Art Centre, Contemporary Calgary, the Winnipeg Art Gallery (WAG) -Qaumajuq, and Wanuskewin Heritage Park.  
J.S McLean Centre for Indigenous + Canadian Art and Let's Go Quickstop - The AGO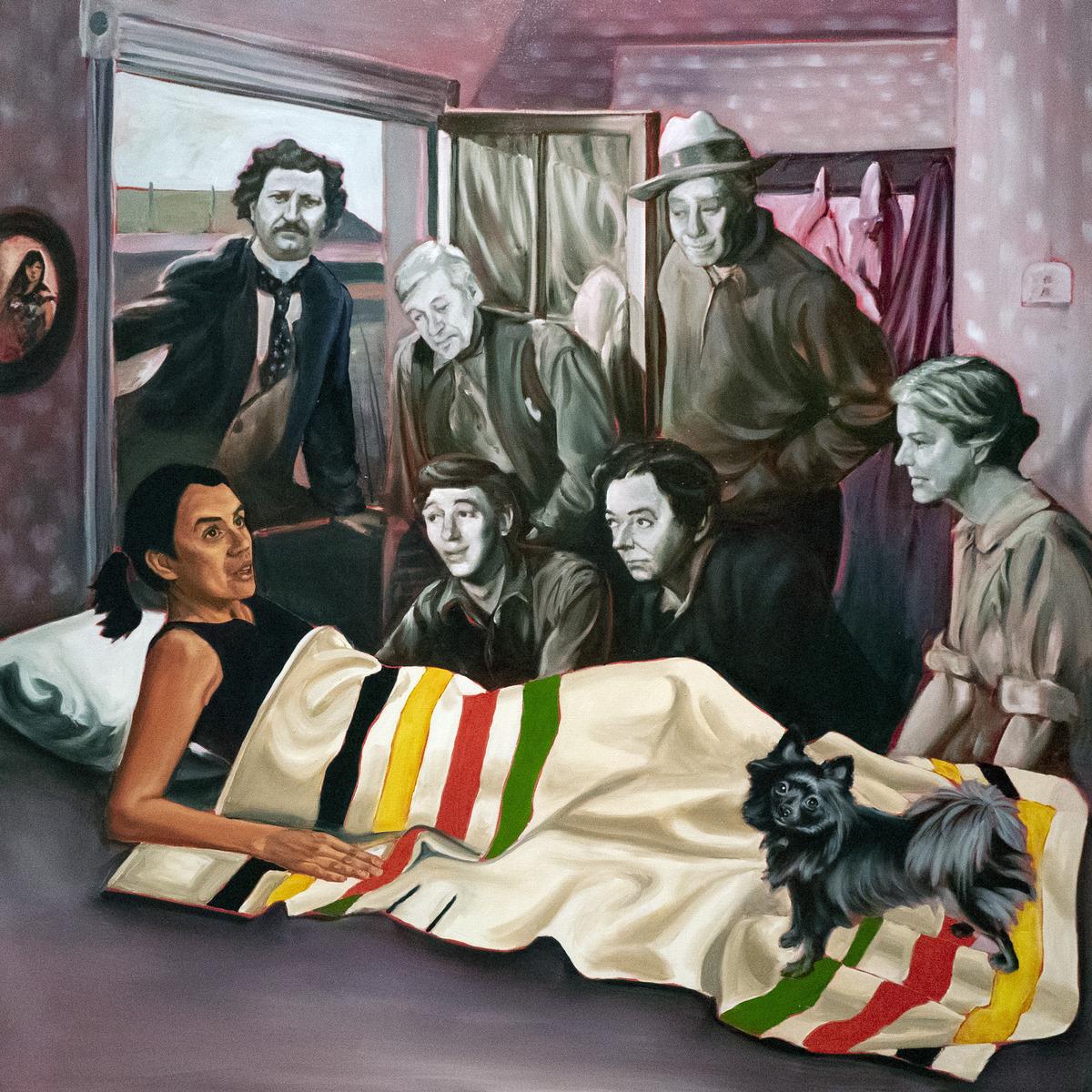 Rosalie Favell. I awoke to find my spirit had returned, 2018. oil on linen, Overall: 121.9 × 121.9 cm. Courtesy of the artist. © Rosalie Favell.
On Level 2 of the AGO in the J.S. McLean Centre for Indigenous + Canadian Art, you can find an exhibition showcasing the works of self-taught Inuk sculptor Bill Nasogaluak. Much of Nasogaluak's work represents his experiences growing up in Tuktoyaktuk, NWT in the 1950s, when traditional Inuit life collided with Southern culture. Through his sculptures, Nasogaluak depicts the consequences of colonialism, often addressing suicide, alcoholism in extraction industry workers, and the consequences of climate change on the environment and the Inuit. At the same time, Nasogaluak's work also highlights spiritual and cultural aspects of Inuvialuit culture, his sculptures often featuring the mythology and traditions of his people, as well as examining the relationship between land and wildlife. View Nasogaluak's work in the Samuel & Esther Sarick Gallery (gallery 239). 
Also, on view in the J.S. McLean Centre for Indigenous + Canadian art is Rosalie Favell's solo exhibition Portraits of Desire, which uses family photo albums, pop culture, and photoshop to explore her Métis and sexual identity, and Rebecca Belmore's photo series nindinawemaganidog (all of my relations) (2017-2018), which re-creates some of Belmore's most impactful performances. See Favell's Portraits of Desires in the Irving & Sylvia Ungerman and Jennings Young galleries (galleries 230 and 231), and Belmore's nindinawemaganidog (all of my relations) in the Wilder Gallery (galleries 227 & 228).  
On Level 1 of the AGO is writer, multidisciplinary artist, and designer Tarralik Duffy's solo exhibition Let's Go Quickstop. This exhibition features paintings and large-scale soft sculptures of various products Duffy and her family would purchase at Quickstop stores in Nunavut. Inspired by childhood memories, Duffy was also influenced by artist Annie Pootoogook to document everyday objects she encountered growing up. Experience Duffy's large-scale sculptures in the Fudger Rotunda (gallery 126).  
 Mmaandaawaabi (see a wondrous sight) - Agnes Etherington Art Centre
In Mmaandaawaabi (see a wondrous sight), digital and land-based art meet in the world of augmented reality (AR). Located at the Agnes Etherington Art Centre, this exhibition highlights Indigenous artists using AR to create immersive works exploring decolonizing territories. Through AR, visitors use their phones to overlay digital artwork onto physical spaces within the Gallery. Featuring the works of Preston Buffalo, Dallas Flett-Wapash, Quinn Hopkins and Casey Koyczan, these four artists combine digital media with Indigenous epistemologies to reflect Indigenous perspectives on land, language, cosmology, and contemporary realities.  
Mmaandaawaabi was curated by interdisciplinary artist and scholar Dolleen Tisawii'ashii Manning from Kettle and Stoney Point First Nation, and Aylan Couchie, a Nishnaabekwe interdisciplinary artist, curator, and writer from Nipissing First Nation. The exhibition was also curated in collaboration with Nasrin Himada, Associate Curator, Academic Outreach and Community Engagement. Mmaandaawaabi (see a wondrous sight) is on view until November 12, 2023.  
Niitoyis - Contemporary Calgary
Installed in the heart of Contemporary Calgary, Niitoyis was created by Niitsiitapi multidisciplinary artist Star Crop Eared Wolf, the inaugural Ksahkomiitapiiks (Earth Beings) resident artist at Contemporary Calgary. Announcing Crop Eared Wolf as the inaugural artist back in September 2022,  Ksahkomiitapiiks is a new annual artistic residency that commissions works from Indigenous artists that act as a dynamic and alternative way to approach land acknowledgements. 
Niitoyis marks the first work commissioned by a Ksahkomiitapiiks resident artist. The title of the piece translates to the Blackfoot word for home or lodge, which are often built from materials gathered from the land. Inspired by how Blackfoot lodges are painted with designs representing the owners' personal experiences, Crop Eared Wolf created a deconstructed painted Blackfoot lodge, installing beading and parfleche - painted rawhide containers used to carry items – amongst Contemporary Calgary's atrium. A large vinyl sticker of the artist's buffalo hide was also installed in the centre of the atrium's floor. As Crop Eared Wolf explained, "The symbols I have used represent stories that merge past, present and future, and prompt the viewer to reflect on how the land has impacted them and cultivated meaningful bonds between diverse peoples and the land." Niitoyis will be on view until April 2024. 
 NINA - Wanuskewin  Heritage Park 
Mannequins, fish, and even a jar of peanut butter are turned into extraordinary works through the beadwork of artist Marcy Friesen. Friesen is of Swampy Cree and Welsh ancestry and comes from a long line of traditional master beaders. The product of her month-long residency at the Wanuskewin Heritage Park, Friesen's solo exhibition NINA features new, never-before-seen works by the artist. The title of the exhibition being the Cree word for "I, me, mine," Friesen reflects on her upbringing and family history, using her beadwork – and humour- to transform everyday objects and blur the barriers between art and artist. Filled with vibrant colours and cheeky references, NINA furthers Friesen's practice of creating works highlighting artisanal craftsmanship beyond traditional spectrums of beauty and utility.  
NINA was curated by Olivia Kristoff and is on view at Wanuskewin until January 15, 2024.  
Inuit Sanaugangit: Art Across Time - Winnipeg Art Gallery (WAG) - Qaumajuq
From 200 BCE to the present and from Canada to Greenland, the Winnipeg Art Gallery (WAG) - Qaumajuq is travelling across time and space to present a massive comprehensive survey of  sanaugangit - "art by Inuit." Inuit Sanaugangit: Art Across Time celebrates the diversity of Inuit art, featuring 400 works from artists across the circumpolar Arctic including Inuit (Canada), Kalaallit (Greenland), and Yup'ik and Unangax/Aleytian artists (Alaska and Siberia). The exhibition features sculptures, drawings, clothing, printmaking, and films spanning across time, including artwork from the Early Dorset Period in Canada (800 BCE - 1 CE) and works created by over 100 contemporary artists. Inuit Sanaugangit aims to lay a foundation for future research and exhibitions highlighting Inuit art.  
Inuit Sanaugangit: Art Across Time was curated by Dr. Darlene Coward Wight, Curator of Inuit Art, WAG-Qaumajuq, and Jocelyn Piirainen, Associate Curator, National Gallery of Canada. The exhibition runs until January 7, 2024.