Newfoundland & Labrador weddings through the ages
A new exhibition at The Rooms in St. John's highlights wedding keepsakes and the personal histories behind them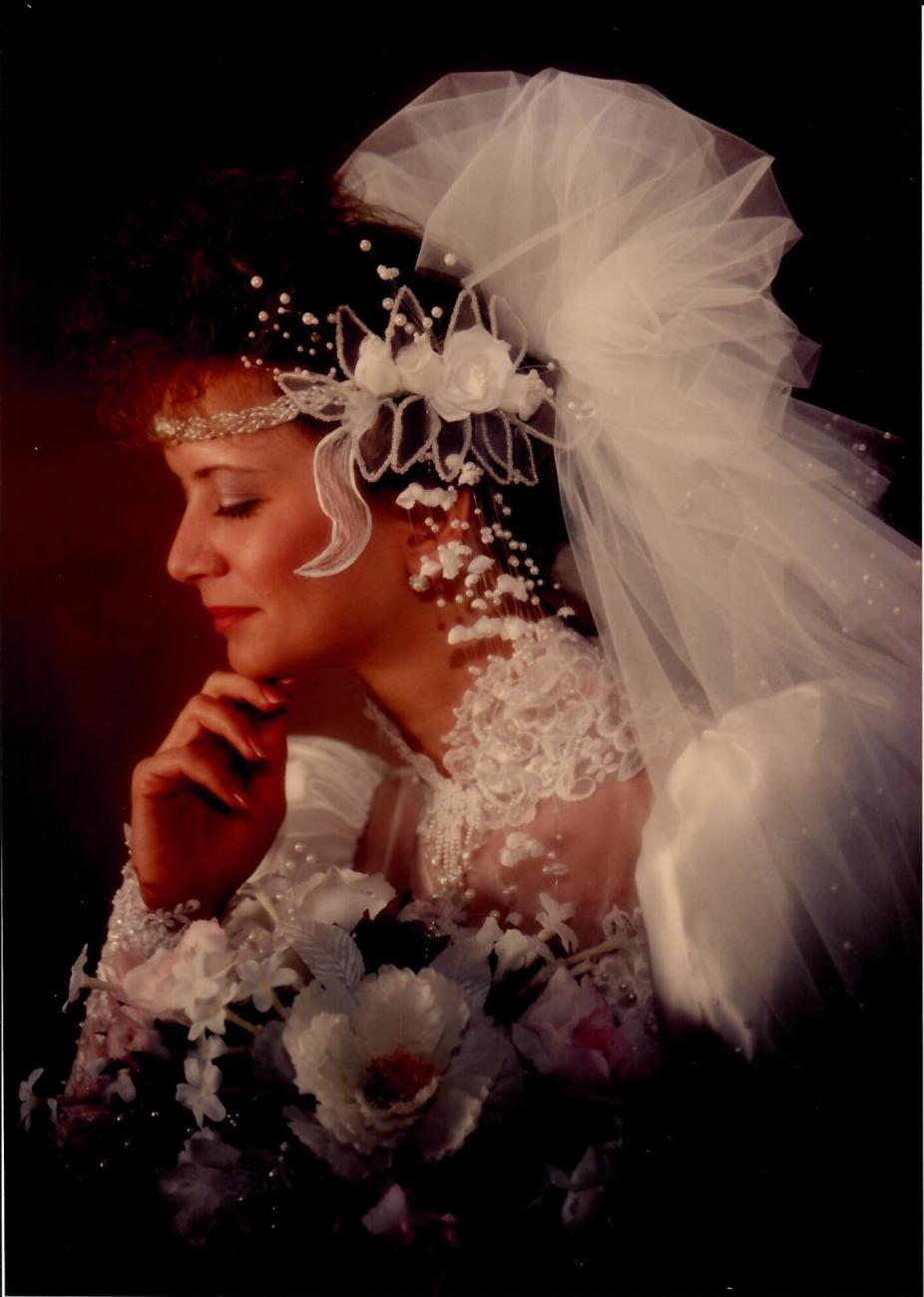 Gina (nee Squires) LeGrow, 1990. Image courtesy The Rooms. 
A summer wedding in Newfoundland - with five kinds of cold mashed potato salad - what could be more quaint? And yet, as a new exhibition of wedding dresses, keepsakes, photographs and favours at The Rooms is once again proving, the peoples of Newfoundland and Labrador have always been (socially as well as geographically) at the forefront of fashion. Featuring fifty objects dating from 1823 to the present, Tying the Knot: Weddings in Newfoundland and Labrador is an invitation through history, courtesy the people who lived it. 
We spoke to Maureen Peters, curator at The Rooms, to find out more. This conversation has been edited and condensed for length. 
Foyer: What inspired this exhibition? 
Peters: This exhibition has been in the works for about 14 years. My background is in history, textiles and clothing. I have a MA in Fashion Curation from the London College of Fashion in England. When I returned home to Newfoundland to pursue my PhD at Memorial University I started working at The Rooms.  The Rooms has a large textile collection and I started to identify items that would make a great wedding display. The earliest wedding dress in the collection is from 1823 and the latest is from the early 2000s. It really was a passion project of mine and it has resonated with the public as the focus was on personal histories. 
Foyer: How did you source the personal histories for this exhibition? 
Peters: Oral history and the stories behind our collections are a big part of my collecting ethos.  I tracked down the family members of donors through online research. I used the digital archives initiative, hosted by Memorial University of Newfoundland, to look up any mention of individual weddings or the people related to the artifacts. I also interviewed lenders to tell their story, such as David and Robert, who are a gay couple that got married as soon as they could after gay marriage was legalized in Canada. By sitting and talking to them I hope that I captured their story.
This exhibition is more than just beautiful objects but a story of someone's life, someone's history, and, therefore a part of all of our history. The stories are what make this exhibition interesting and beautiful. It is an exhibition full of love and the expression of love by Newfoundlanders and Labradorians.
Foyer: Cake toppers are not typical in museum collections. What led to the acquisition of these objects?
Peters: The Rooms was once called the Newfoundland Museum and its collection dates back to the 1850s when the first museum opened. Some of the items in this exhibition are from donations in the 1950s to the – present day. Our mandate is to collect items relating to Newfoundland and Labrador's history and culture. For this exhibition, I focused on items in the collection that had a story behind them. There was a lot of archival and genealogical research done to tell the stories of the people whose items are on display in the exhibition.
Foyer: Is there a distinctly Newfoundland sensibility that these objects reveal? 
Peters:  No longer customary, the phrase "tying the knot," refers to a Celtic ritual of 'hand fastening' to bind two people together. This tradition likely crossed the Atlantic with Irish settlers to Newfoundland but is not often part of ceremonies in the province today.
This exhibition demonstrates that we are more connected to the wider world than people think we are. Often Newfoundland and Labrador is considered the periphery, but this exhibition illustrates how our location allowed us to be on the cutting edge of fashion in the 1800 and early 1900s. We had a much more close connection to Europe and we were the first port of call bringing in high-end textiles and clothing.   

Tying the Knot: Weddings in Newfoundland and Labrador is on view at The Rooms through October 1, 2023.