Duane Linklater on view in Chicago
The Omaskêko Cree artist brings his work to Chicago in his first major survey exhibition.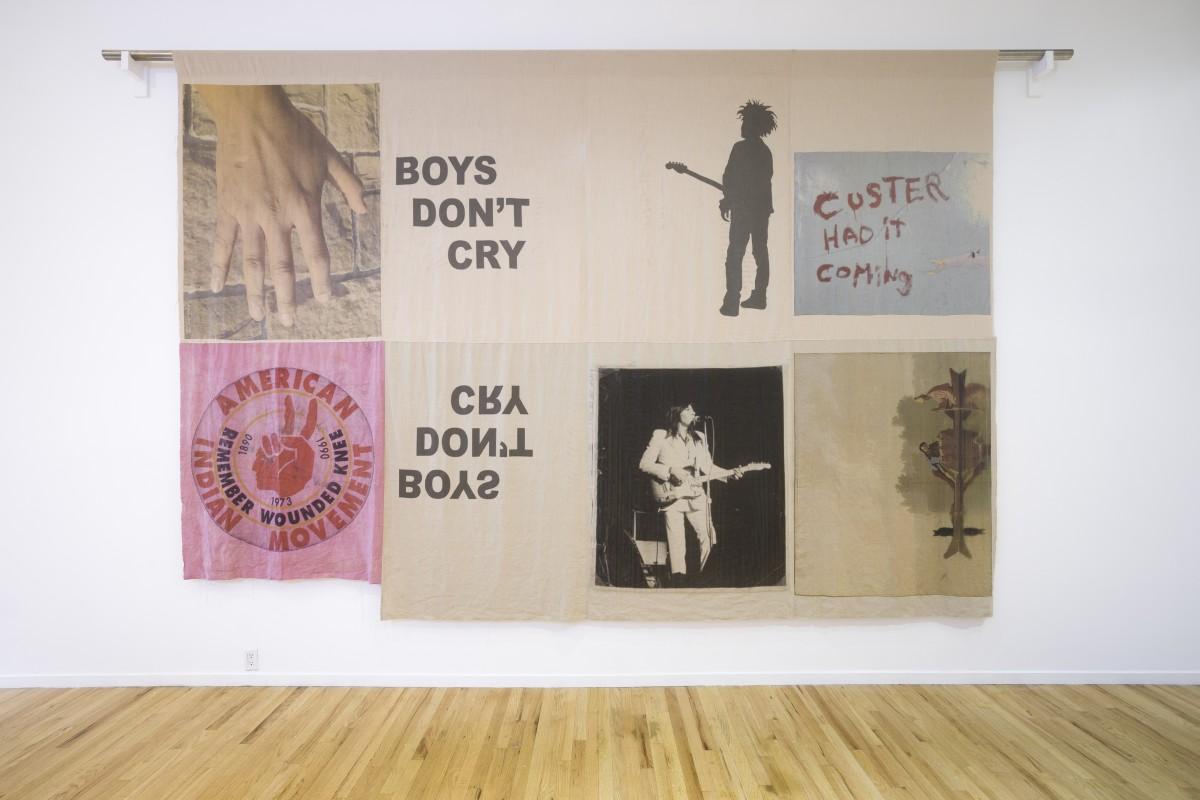 Duane Linklater, boys don't cry, 2017. Digital print on hand-dyed linen, 120 x 180 in. (305 x 457 cm). Art Gallery of Ontario, Purchased with funds from the Dr. Michael Braudo Canadian Contemporary Art Fund and the Art Toronto 2019 Opening Night Preview, 2019, 2019/2305 Photo: Dennis Ha, courtesy Catriona Jeffries, Vancouver
Duane Linklater: mymothersside, brings together multimedia works that address "the contradictions of contemporary Indigenous life within – and beyond – settler system of knowledge, representation and value." On view now through September 3, 2023, at the Museum of Contemporary Art Chicago (MCA), visitors will encounter sculptures, video work, digital prints on linen and new adaptations of installations Linklater has continually revisited and revised for different sites throughout his practice. 
Integral to his practice and this exhibition, Linklater challenges reductive notions of Indigenous identities, such as the processes of erasure, extraction and dispossessions that hinder the potential of Indigenous peoples with what he calls "a zone of non-interference" – a space of sovereignty and self-determination through art. On view are sculptures and videos that focus on enduring ancestral practices like hunting, 3D copies of tribal objects held in the Utah Museum of Fine Arts's collection, a series of large-scale sculptures made of teepee poles, and linen teepee-cover paintings.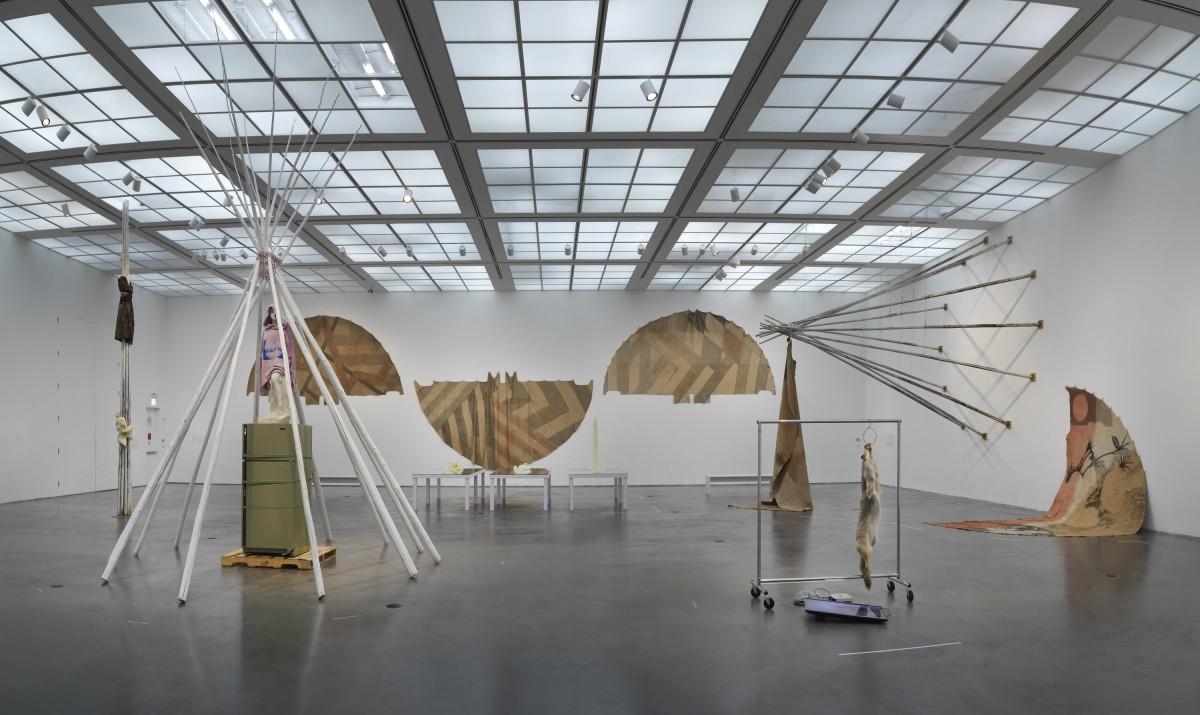 installation view of Duane Linklater: mymothersside at the Museum of Contemporary Art (MCA), Chicago. Courtesy of MCA.
Through the artworks on view, visitors can learn about the complexities of Linklater's identity through references to the artist's familial and ancestral Cree heritage, childhood home and favourite bands, films and garments. Taking over the gallery, he breaches the boundaries of the constructed space and opens the much-needed conversation on the historical exclusion of Indigenous content in museums. 
Debbie Johnsen, AGO Manager of Modern and Contemporary Collections, visited the exhibition recently. "Linklater uses culturally significant forms like a teepee cover as a backing onto which he transposes digital prints to create objects that reflect the complexities of Indigenous identities in the contemporary world," she says. "Beyond the content of his work, the artist also uses dimension and scale in the teepee sculpture what grief conjures, which physically displaces the ceiling tiles. This powerful gesture of asserting and taking space in museums contrasts histories of excluding Indigenous artists."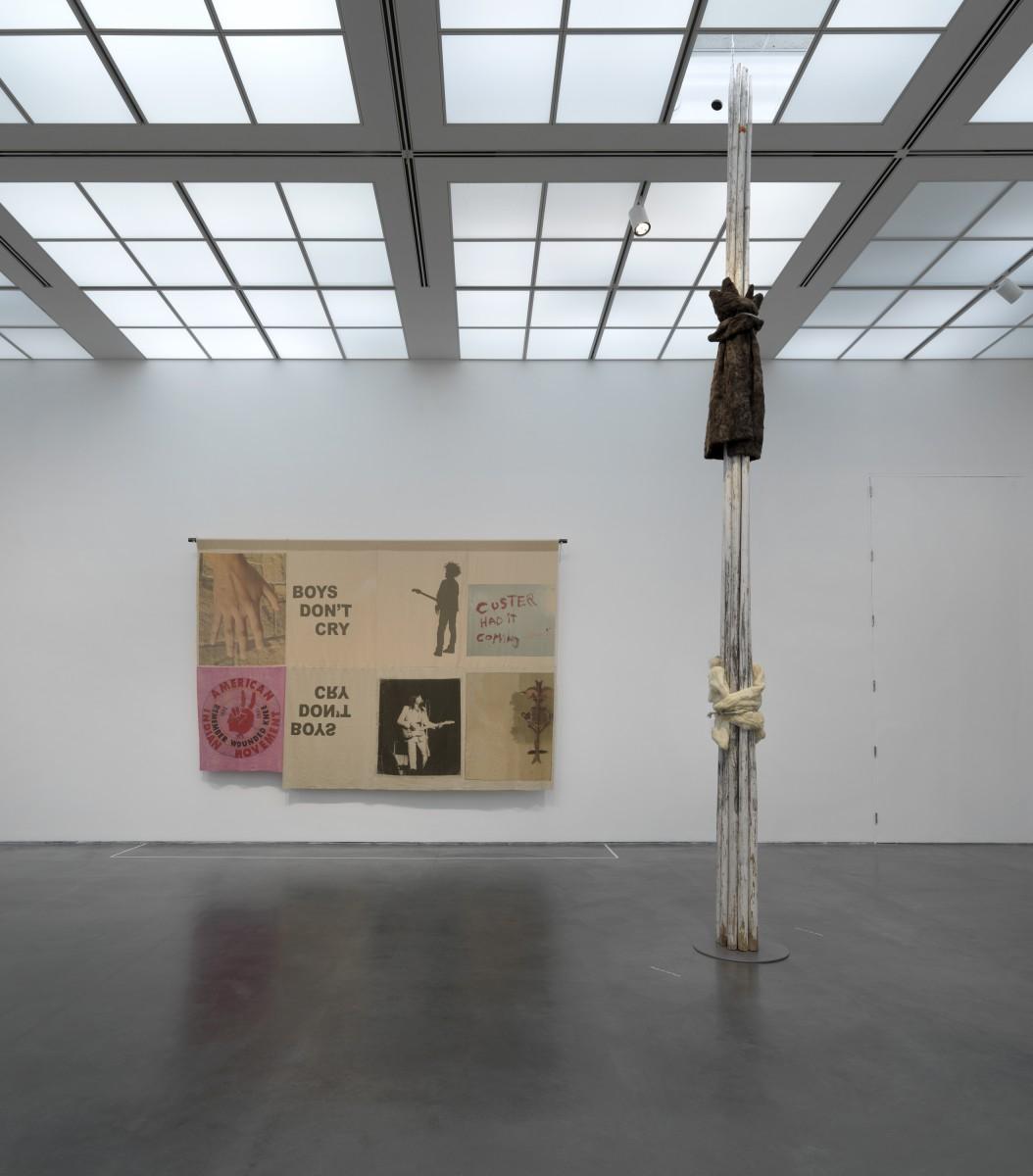 Installation view of Duane Linklater: mymothersside at the Museum of Contemporary Art (MCA), Chicago. Courtesy of MCA.
Among the works on view is boys don't cry (2017), a large-scale assemblage comprised of sewn linen that juxtaposes imagery of The Cure's Robert Smith, alongside Kiowa Tribe sessional musician Jesse Ed Davis. The piece is a part of the AGO Collection and was lent to the MCA for this presentation. Johnsen explains, "The title of this work [boy's don't cry] alludes to traditional notions of masculinity, along with the misrepresentation and inequality of Indigenous people." The AGO currently holds seven works by Linklater in its Collection. 
Duane Linklater: mymotherssisde was originally presented at the Frye Art Museum, Seattle, and was curated by Amanda Donnan, Chief Curator, Frye Art Museum. At the MCA, it is organized by Marilyn and Larry Fields Curator Carla Acevedo-Yates, with Iris Colburn, Curatorial Assistant, MCA Chicago. To learn more, visit https://visit.mcachicago.org/exhibitions/duane-linklater-mymothersside/.