one man's trash is another man's trash
Soulpepper Theatre's wardrobe team takes us behind the curtain with an upcycled textile installation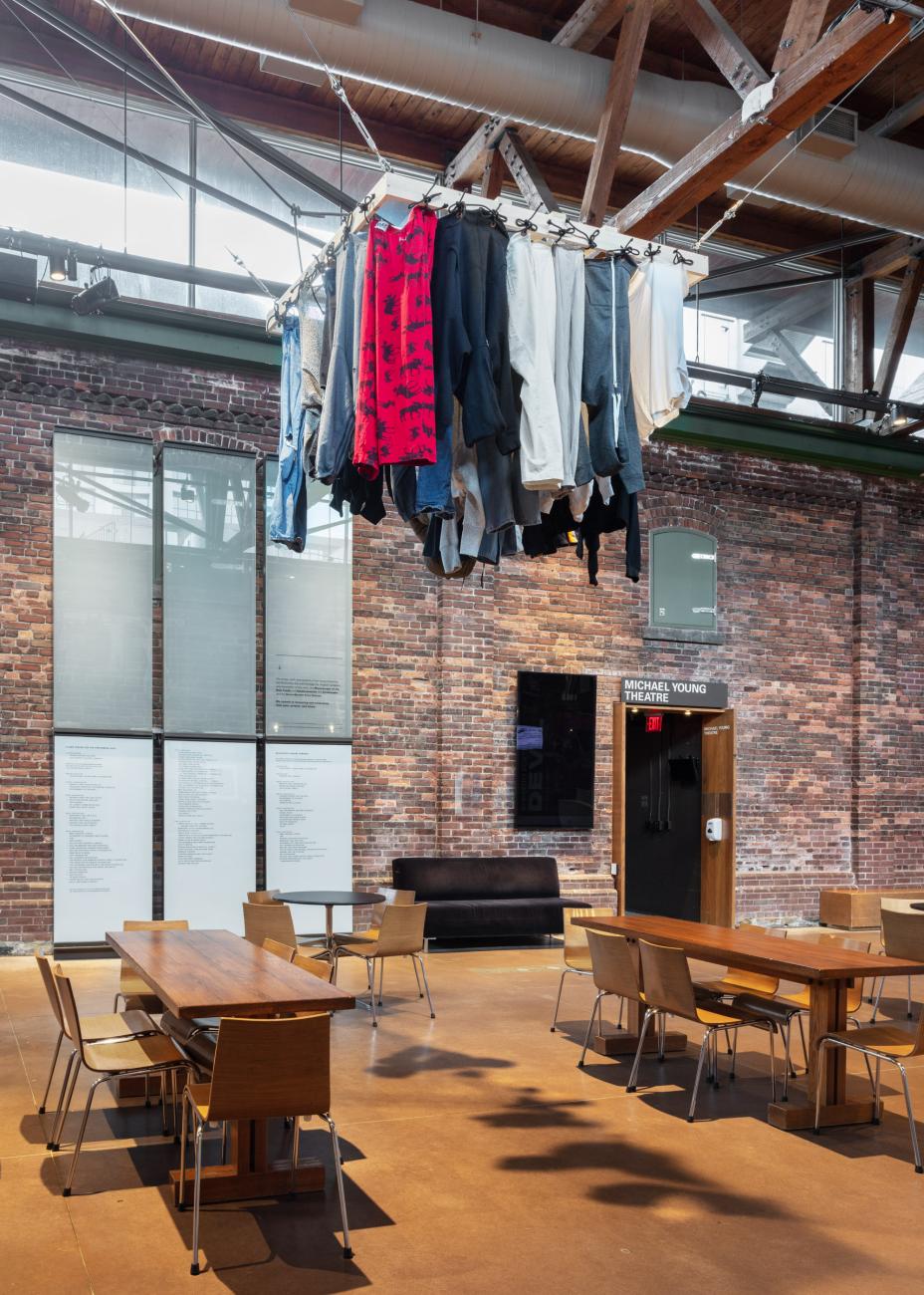 Part of the theatregoing experience is taking in the many dazzling costumes actors wear on stage. Have you ever wondered what happens to them after the final curtain call? A new textile installation at the Soulpepper Theatre invites visitors to think about just that. 
On view now until September 26, 2023, 30 square feet of clothing hangs from the ceiling of the theatre's atrium. Titled one man's trash is another man's trash by artist Camila Salcedo, the site-specific installation is made from discarded clothing from the theatre's wardrobe department. Salcedo is a Toronto-based interdisciplinary artist, curator and facilitator who works primarily in textiles, digital art, and community art practices. Their work is centred around upcycling materially by reusing and mending textiles, and digitally by appropriating found audio and video footage.  
Salcedo's installation is a commentary on Canada's negative contributions to the toxic fast fashion industry and clothing waste. Through the installation, Salcedo invites viewers to reflect and think about their habits of consumption, urging them to consider the lifecycle of clothes in their own closets. Transforming waste into art, they investigate how the cycle of clothing begins and ends with the exploitation of humans, economies, and land in the Global South. 
 "The 30 square feet of clothes that hang from the ceiling," says Salcedo, "is a visual representation of the 1 billion pounds of clothes (about 5 billion times what you see) 'donated' by Canadians yearly to majority world countries such as Kenya, where second-hand clothes are imported and resold as mitumba or 'bundles' of largely unwanted clothes that often end up dumped and burned and diminish local sustainable fashion economies. Or Chile, where 60,000 tons of clothes are dumped yearly at the Atacama Desert, leaching chemicals into the waterways and contributing to the global climate crisis."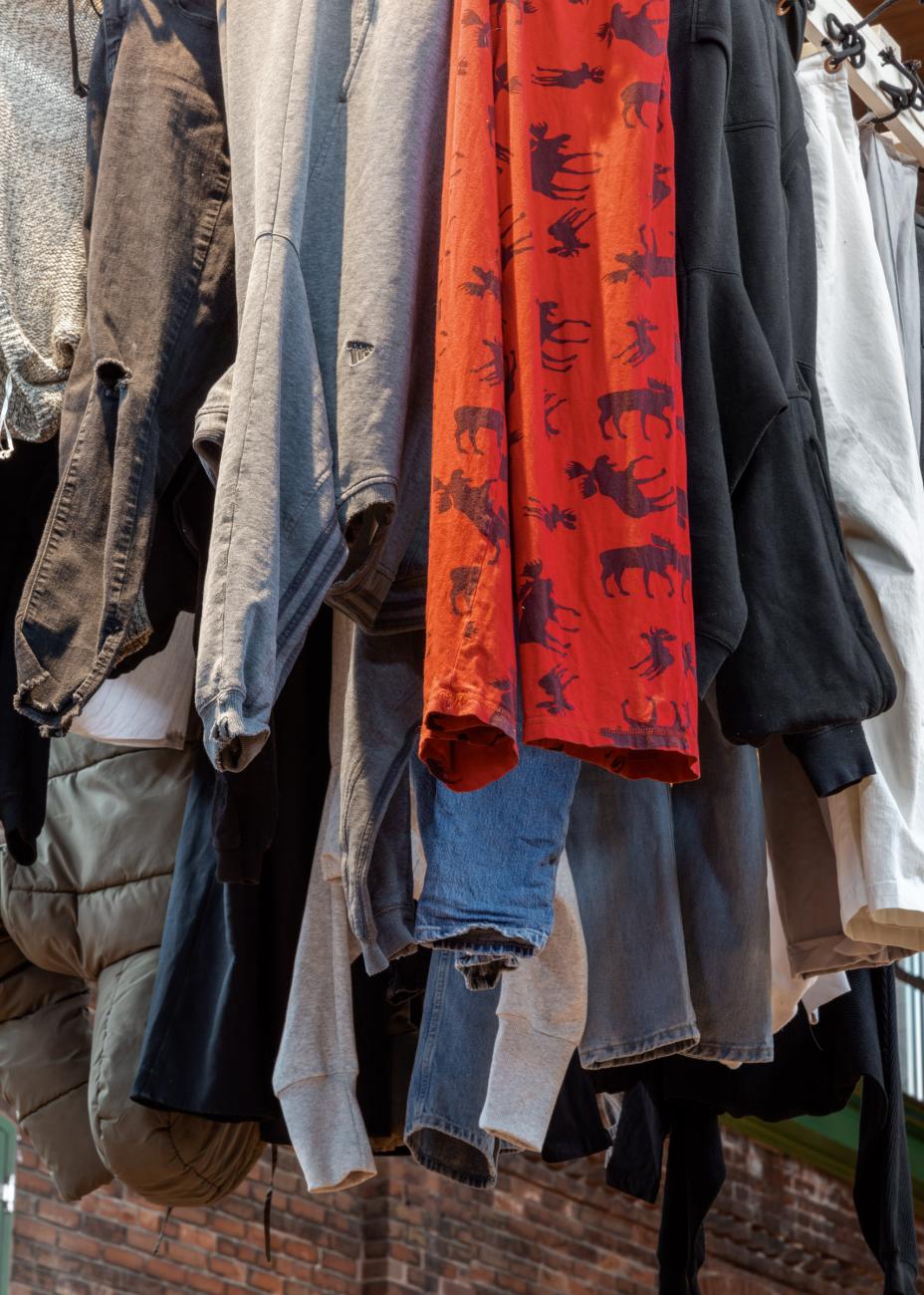 Jacqui Arntfield, Soulpepper Theatre's Community Activator, invited Salcedo to create the installation using retired wardrobe stock. Salcedo explains, "The idea of working with the retired wardrobe stock was exciting because of the possibility of giving those clothes a new life and upcycle them into an artwork within the same theatre space. Through this installation I want to encourage the viewer to consider the implications of the fast fashion industry and how we as individuals living in Canada are complicit in that system."  
Wanting to learn more about the process of upcycling at Soulpepper and the collaboration, we connected with Ellie Koffman, Head of Wardrobe, and Kalina Popova, Assistant Head of Wardrobe. 

Foyer: How is retired wardrobe stock usually disposed or recycled at Soulpepper?  
Koffman and Popova: At Soulpepper, we usually end up donating our retired stock to thrift stores or textile recycling programs. We will also make sure to use up any small, scrap pieces of fabric that would otherwise be thrown out by using them for testing certain machine stitches or even creating new pieces, such as personal patchwork projects, like tote bags. 

Foyer: Is this the first time that retired stock is being transformed into art? What is Soulpepper's experience with artist collaborations? 
Koffman and Popova: This isn't the first time we've upcycled textiles into art. Theatre is not the most sustainable industry, so we've been having a lot of open conversations about how we can prolong the life of costumes in our stock, beyond just donating them. Specifically, here at Soulpepper, we have used our costume pieces to create new art before, most recently in collaboration with photographer Ebti Nabag. Curated by Ahlam Hassan and Jacqui Arntfield of our Education and Community Engagement Department, an installation featuring portraits of community members wearing costumes from our stock was displayed in the Young Centre's lobby this summer. In this textile upcycling project with Camila Salcedo, we were happy to offer old, somewhat unwearable pieces, that could be turned into brand new items, designed with the intention of using the available fabrics!  
Collaborating with artists who are able to upcycle our costumes and turn them into new pieces of art is valuable to us on many levels. A lot of things in our stock don't get used every year and it is such a pleasure to be able to give those pieces purpose outside of productions we are putting on. We believe it is so important to try and reduce the need for brand new materials to create art, especially within the theatre industry, so we welcome the idea of prolonging and upcycling costume pieces we've put to rest (and even ones that are in stock but rarely used)! 
one man's trash is another man's trash by Camila Salcedo is on view at the Soulpepper Theatre's Atrium now through September 26, 2023. Complementing the textile installation, Salcedo is also running wardrobe upcycling workshops through September 21 at the theatre. Inviting immigrant youth to transform items from the theatre's wardrobe into their own wearable art, participants are encouraged to tell their own personal stories through pieces of clothing.