Volcanic interiors
A Q&A with acclaimed Icelandic artist Jónsi on his volcanic sound installation at the AGO.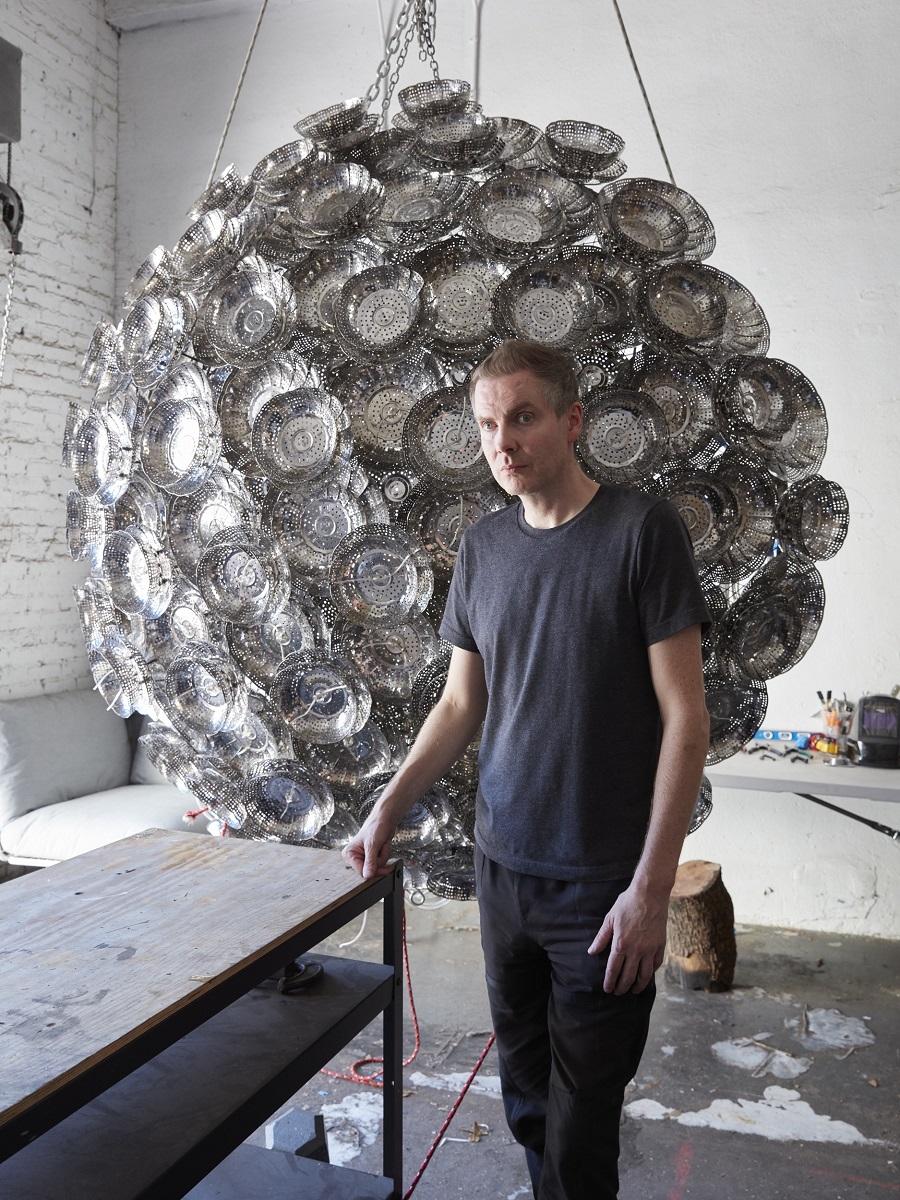 Jónsi, 2021. Photo: Paul Salveson.
Jónsi: Hrafntinna (Obsidian) is on view in Signy Eaton Gallery (gallery 224S) on Level 2 of the AGO until August 7, 2023.
One of Iceland's most acclaimed artists – Jón Þór "Jónsi" Birgisson – is inviting visitors to step directly inside a volcano. Hrafntinna (Obsidian) (2021) immerses you in a dark ring of sound, scent, lighting and reverberation, poetically reimaging the 2021 eruption of the Fagradalsfjall volcano. Visitors will sit on a bench, surrounded by a ring of 195 speakers and shrouded in darkness, while experiencing various scents, along with an Icelandic choral-music-inspired soundscape. 
Jónsi is internationally renowned as the lead singer of the band Sigur Rós, and for more than two decades has collaborated with musicians, visual artists and filmmakers to build an art practice spanning multiple disciplines.  
Debbie Johnsen, AGO Curatorial Coordinator, Modern and Contemporary Art, recently connected with Jónsi to find out more about Hrafntinna (Obsidian), his inspiration for creating it, and why multisensory experiences mean so much to him.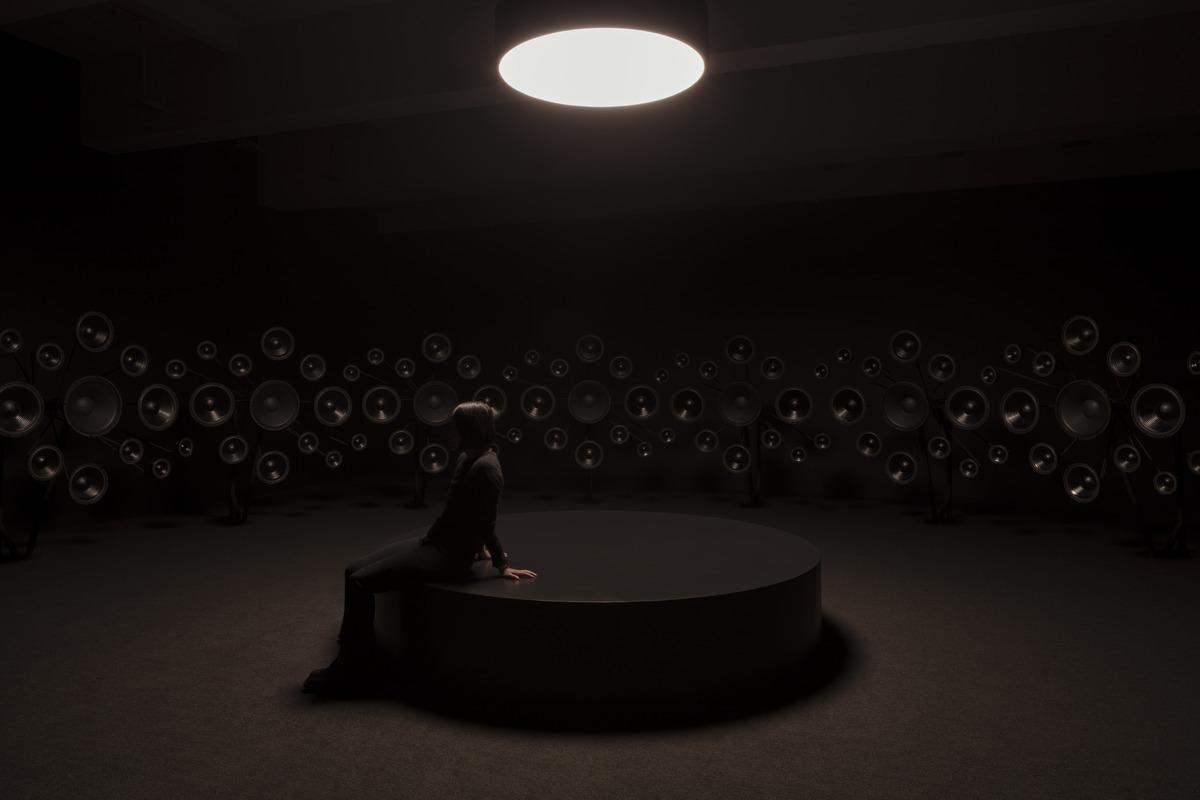 Jónsi, Hrafntinna (Obsidian), 2021. Sixteen-channel sound installation, chandelier, speakers, subwoofers, carpet, fossilized amber scent. Dimensions variable, diameter of installed speakers: Overall: 1061.7 cm. Running Time: 25 mins. 33 secs. Purchase, with funds by exchange from Mr. and Mrs. Gordon Conn, Hellenic Canadian Cultural Society, Jessie and Percy Waxer, Ontario Heritage Foundation, Women's Committee in memory of Lady Kemp, its first president, Howard Burnham, Professor James Mavor, Mr. and Mrs. Donald B. Strudley, Stratford, Ontario, Mr. and Mrs. Neville Burston, Douglas M. Duncan, Leon Katz, E.R. Rolph, Toronto Press Club, Joseph Alfred Whealy, Canadian National Exhibition Association, and Massey Foundation, 2022. Courtesy of the artist and Tanya Bonakdar Gallery, New York / Los Angeles. Photo by Pierre Le Hors. 2021/1321.
Johnsen: Can you tell us about what you wanted visitors to experience when they walked into the space to see Hrafntinna (Obsidian)?
Jónsi:  By being surrounded by [almost] 200 speakers, I wanted people to feel really engulfed in darkness and sound and scent. I wanted to have this 360-degree experience where you would be walking into a volcano. 
Johnsen: Your work is very sensorial. How did you balance sound, light and smell? How did you think about all of the senses that people would experience when you're developing the work?
Jónsi: I have been doing perfumery and scent experimentation for more than 10 years and I'm also really into everything scent-related and sensory things. So I think there is also just a big part of adding to people's senses. I just wonder how can you activate the most senses as possible, such as your eyes and ears and your nose? 
Johnsen: Your album Obsidian was released at the same time when your show at Tanya Bonakdar Gallery in New York City opened. How did you differentiate the musical composition for the album and the sound composition for this installation work? How are they different? And how are they the same?
Jónsi: The album is definitely more of an "album" album, with more song structures and stuff like that. While this is more like one whole piece with a base in four parts. I had started the album a little bit earlier. But then I got more into this idea about the obsidian and the volcano. I kind of started to merge things together. So there's stuff on the album that also appears in the exhibition and vice versa. 
Johnsen: Can you talk a little bit more about how you developed your art practice? And how did your working relationship with Tanya Bonakdar Gallery start?
Jónsi: I'm good friends with artist Olafur Eliasson, and Tanya is also his gallerist. I met Tanya through him. So we started talking and I said, 'I really want to expand my music by going into gallery spaces, and maybe curate that more.' It's just a different environment from concerts or rehearsal spaces. It's just way more – you can really tune into that space and make it yours, basically, and really control how people react and how they feel when they are in the space.
Johnsen: Collaboration is a dominant thread in your practice. Can you talk about how these partnerships have influenced or shaped the direction of your music and your visual arts practice?
Jónsi: I like to work alone, actually, but [collaboration] is really fun. It's really healthy. I just have to remind myself again, and again, it's just actually healthy for you. I'm a big loner and I love being alone. It's a good balance between the two, I think. The extra pair of ears or eyes are always really helpful.
Johnsen: Iceland is a very small country, but there are a lot of talented artists and musicians that have come out of Iceland. What or who are your artistic influences, Icelandic or otherwise?
Jónsi: Iceland is a weird, peculiar place; it's so small, so tiny, it's in the middle of nowhere and it has intense winters. Just intense darkness, intense depression. You just have to do stuff to not go crazy. I think that's why a lot of people are artists.
My favourite visual artist is probably Ragnar [Kjartansson], my friend, he's probably my favourite. He has a really good understanding and handle on the world. I'm inspired by Ragnar also bringing music into his work, because I think it's really important. I always thought it was lacking when you go into a museum, there's so much silence, which is also great. But it's nice to trigger that sense, because the ears aren't triggered enough, I feel like.
Also this idea of music. It is invisible. It's just in the air, and it's so powerful. It's like nobody understands it. Nobody can explain why it moves you this way. And everybody is moved in different ways. It's the same with scent, it's also invisible. I just love working with these two things. It's the invisible things in the air that move you in some kind of invisible way. I think it is really precious somehow.
Johnsen: I know you're touring at the moment, however, what are you thinking about for your next artistic project?  
Jónsi: I love creating sound installations. I definitely want to do more of those. Also, I really want to make more sculpture work.
Jónsi: Hrafntinna (Obsidian) is on view in Signy Eaton Gallery (gallery 224S) on Level 2 of the AGO until August 7, 2023.