Alan Michelson's Theatre
Mohawk contemporary artist Alan Michelson reflects on his complex video installation.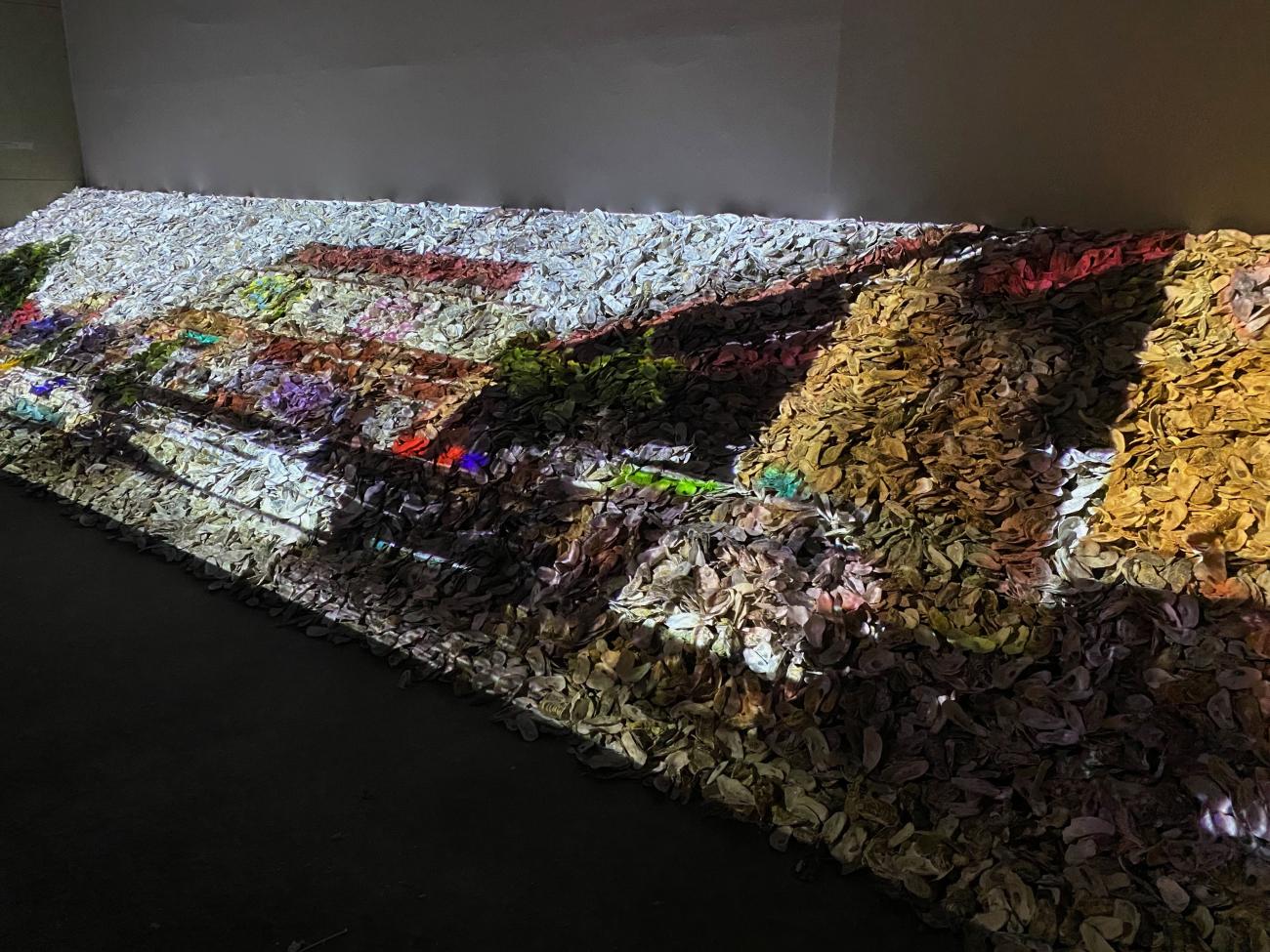 Alan Michelson, Midden, 2021, Single channel video, color, sound, oyster shells. 12 minutes, 17 seconds. 29 x 6.5 x 3.75 feet. Image courtesy of the 14th Gwangju Biennale
Alan Michelson's dynamic video installation Theatrum Orbis Terrarum (Theatre of the World) has been on view at the AGO since December 2021. Using the power of juxtaposition to depict the impact of colonization while celebrating Indigenous ways of knowing, the work consists of four videos projected in sequence onto large white globes stationed around a room. The globes are placed in the cardinal directions, referencing the Universal guidance of the Indigenous four directions and the Renaissance-era European understanding of the four parts of the world. Each video uses a striking contrast of imagery and sound to unpack the lies of the colonial archive.
Before the installation closes later this month, Michelson shared with Foyer more about how the work was conceptualized. After offering insights about Theatrum Orbis Terrarum, he reflected on the process of making public art and details about his upcoming projects.   
Foyer: Theatrum Orbis Terrarum is such a complex work, both physically and conceptually. Can you share its creative inception story with us? What sparked your idea for the work, and how did that idea develop? 
Michelson: In 2019 I was invited by Zuecca Projects, a Venetian arts organization, to create a new work for an exhibition entitled Volume 0, timed for the Biennale, that would be informed by Venice's role, as an early center for cartography and publishing, in the exploration of Turtle Island.  My research led me to an iconic atlas, the 1708 Harmonia Macrocosmica of Andreas Celarius, and an illustration of the Copernican model of the Universe, showing a sun orbited by four globes.
It gave me the idea of projecting video onto four globes, video containing maps, illustrations, paintings, photographs, and videos. Once I had the structure, I organized the videos according to the following themes: Les Sauvages, which features Jean-Phillipe Rameau's Harpsichord Suite in G major, "Les Sauvages",  musical impressions of two Hurons who performed a dance in a Paris theatre in the 1720s, synchronized with footage of a Haudenosaunee boy performing a traditional dance; Viaggi (Voyages), which focuses on the early "explorers"; War Dance, which addresses colonial violence and Native resistance over 400 years; and Relations, which features portraits of Native figures, overlaid with illustrations from the Codex Canadensis of a wolf, bear, and turtle, the Mohawk clan animals.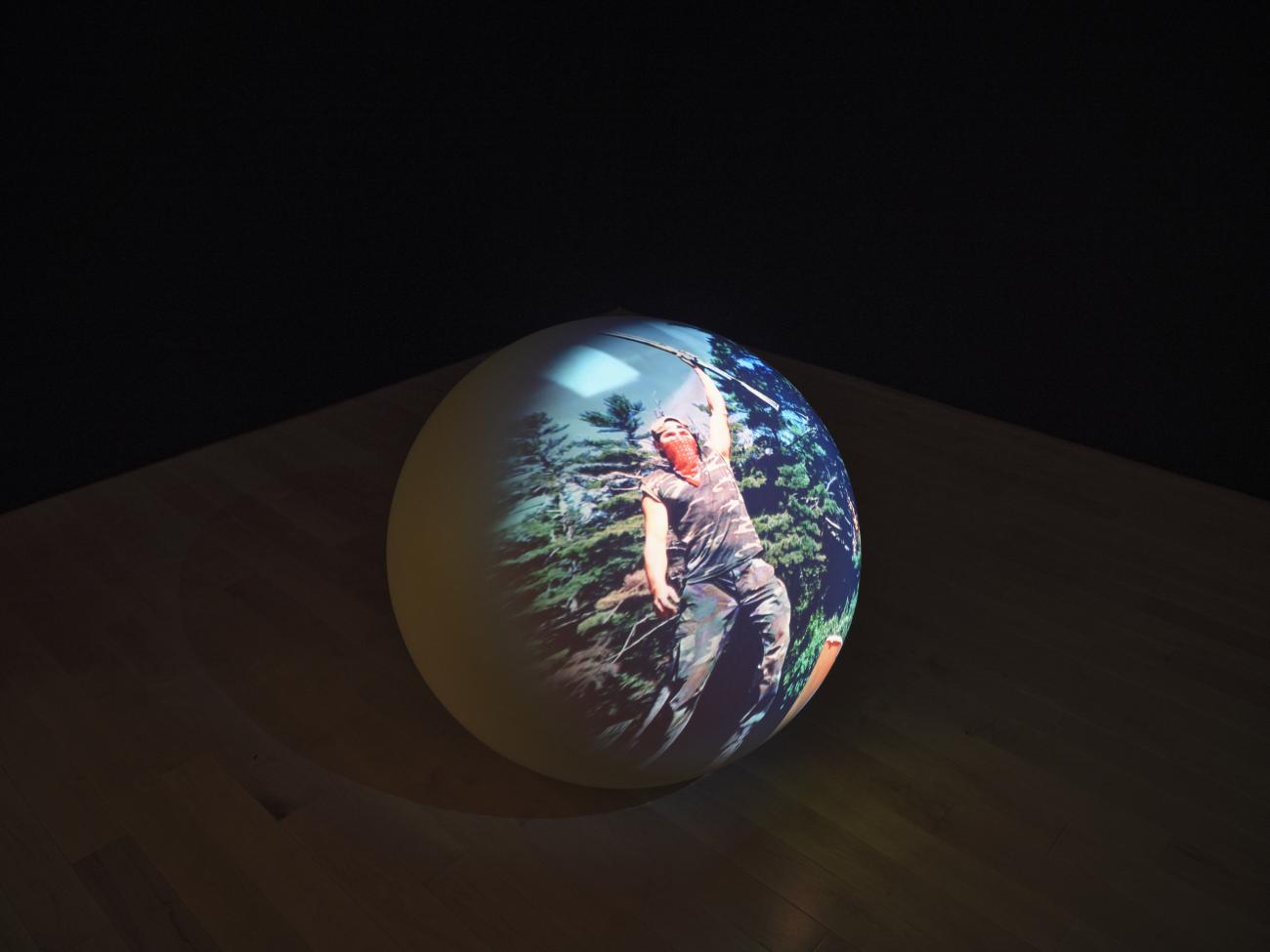 Installation view: Alan Michelson. Theatrum Orbis Terrarum (Theatre of the World), 2019. Four-channel video installation with sound; 4 fiberglass orbs with bases, Running Time: 11 Minutes, 36 Seconds. Overall (marine buoys): 90 cm, 15 kg. Purchase, with funds by exchange from a gift from the J.S. McLean Collection, donated by the Ontario Heritage Foundation, 2020. © Alan Michelson. Photo: AGO
Foyer: The Viaggi and War Dance globes feature the powerful voices of activists Ellen Gabriel and Richard Oakes. What is it specifically about these two individuals – and their stories – that led you to include them? 
Michelson: With War Dance, I wanted to show the continuum of colonial violence directed at Native people and Native resistance.  Mohawk Richard Oakes led the 1969 occupation of Alcatraz, and Mohawk Ellen Gabriel was a leader and spokesperson of the 1990 Kanehsatake Resistance, aka the Oka Crisis.  Their truth-telling eloquence is both powerful and undeniable, and I felt it belonged in the work. 
Foyer: You've created a number of significant and award-winning public works, like Mantle and Third Bank of the River. What differs between your approach to creating public works and in-gallery installations? Why do you feel public art is important? 
 Michelson: Many people, including Indigenous people, do not care to visit art museums but nevertheless have some involvement with art.  Public art can reach a far wider audience than museums or art galleries.  When I make a public artwork, I have to carefully consider everything about the site it will occupy, its geophysical as well as social and symbolic properties, and work with them in a way that is more demanding than when I make work for gallery installation. Public art also requires much more collaboration, with all of the stakeholders associated with the project and site, which can include commissioners, architects, engineers, contractors, fabricators, lawyers, public officials and communities, so its production is a more social and political process than that of a typical gallery installation. Scale, budget, and materials are also larger considerations.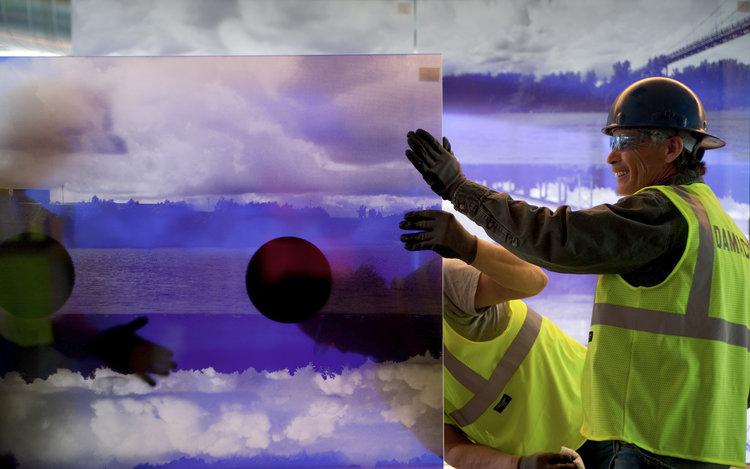 Installation view: Alan Michelson. Third Bank of the River, 2009. Etched glass, 69 × 489 inches. Image courtesy of Alan Michelson. 
Foyer: What's next for you artistically? Are there any new projects or current works in progress that you can share some details about?
Michelson: Midden (2021), my large video installation with oyster shells that I originally made for Greater New York at MoMA PS1, has been on view in the 14th Gwangju Biennale in Korea, which is closing this weekend. Mespat (2001), my first video installation, is currently being shown in New York Now: Home at the Museum of the City of New York.  
I have two new pieces in the works, one a steel sculpture and the other a video installation.
And I'm working on a couple of presentations, including one for an upcoming conversation on art and climate change with Miranda Massie of the Climate Museum and artist Mary Mattingly at Anderson Ranch Arts Center, part of their Critical Dialog program. 
Theatrum Orbis Terrarum is on view now until July 23, 2023 in The Mary & HarryJackman Gallery (gallery 238) on Level 2 of the AGO.