ᓛᒃᑯᓗᒃ Laakkuluk on her powerful new AGO exhibition
Naak silavit qeqqa? is on view through June 2023.
---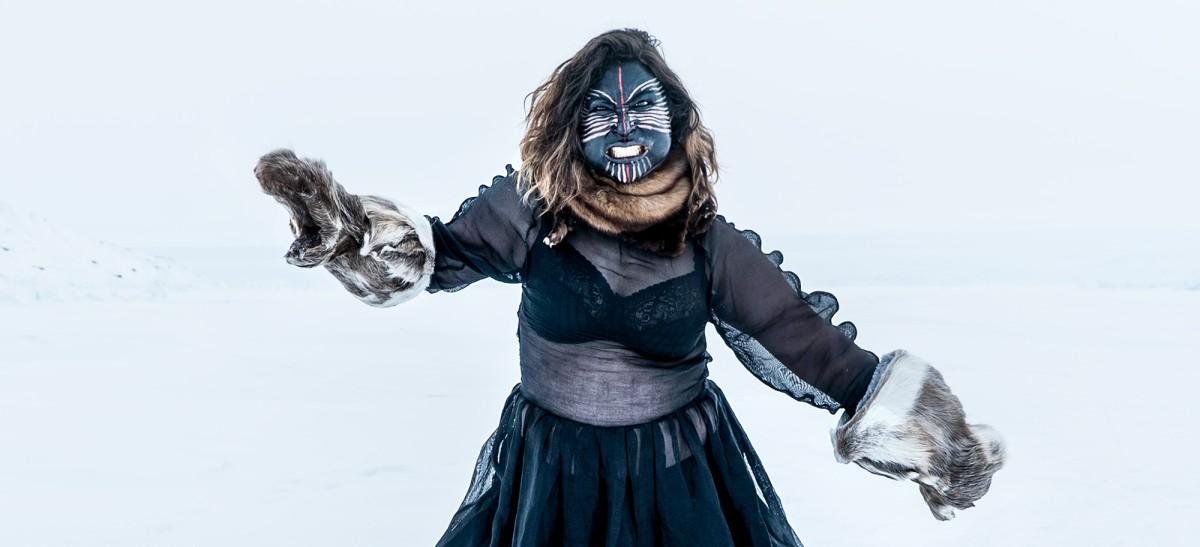 Laakkuluk Williamson Bathory, Jamie Griffiths. Silaup Putunga, 2018. Soundscape by Celina Kalluk and Laakkuluk, dual screen projection onto custom translucent screen, four channel sound (video, sound, 35 minutes). Purchase, with funds from the Joan Chalmers Inuit Art Fund, 2019. © Laakkuluk Williamson Bathory and Jamie Griffiths. 2019/2324
On July 16, 2022, acclaimed Kalaaleq (Greenlandic Inuk) artist – and winner of the 2021 Sobey Award – ᓛᒃᑯᓗᒃ Laakkuluk unveiled her brand new multimedia installation, Naak silavit qeqqa?, which incorporates video, soundscape and sculpture. The installation seeks to describe sila, the all-powerful Inuktitut word that captures the universe, the environment and the intellect. At the heart of the installation, is Silaup Putunga (2018) – a large-scale double-sided video, created by Laakkuluk and her long-time collaborator Jamie Griffiths. Additionally, the installation includes a selection of Inuit soapstone sculptures from the AGO's Williamson Collection, donated by Laakkuluk's parents – Dr. Robert G. Williamson, O.C. and his wife, Dr. Karla Jessen Williamson.
We recently connected with Laakkuluk to learn more about the concept of sila, the Williamson Collection, and her collaborative work with Griffiths. 
Foyer: Could you share with us what the concept of sila means, and how it directly relates to the installation?
Laakkuluk: The name of the exhibition is Naak silavit qeqqa? It's a riddle that children are asked. My mom was always very enthralled by that. She's passed it down the generations. It asks, 'Where's the middle of your sila'? And sila has this multifaceted meaning. It means your intellect, it means the environment, it means the universe, it means outside. As a child when we're asked where's the middle of your sila is, it's very confusing. And of course, there's no right answer – but you have to think about it like, 'Where do I point'? My reaction as a kid was to point between my eyes. But when we asked my kids – when they were little – they'd either do the same thing, or they point out the window.
Foyer: And does the installation seek to answer that question? (Where is the middle of your sila?)
Laakkuluk: No, it seeks to ask you as a visitor. There's the piece in the middle, the film installation is Silaup Putunga, the hole in Sila. It's an exploration of the layers of reality that you touch upon – or that I touch upon – as a uaajeerneq performer or a mask dancer. All the layers of mask to get to my face, and what's on my face, and also what it means to be expressing my identity as a human being on the land. And just being able to pierce through realities like that.
Foyer: With respect to the Williamson Collection of soapstone sculptures – originally put together by your parents – could you describe your research and preparation process for including the collection in Naak silavit qeqqa?
Laakkuluk: Most of the artists have passed away by now. They're all from my father's era of carvers, from the 1950s and 1960s. On the nameplates [of the sculptures], it has the colonial locations of where their birthplaces are. And obviously at that age, they were not born in the hospitals. I used Facebook to talk to their family members to verify their actual birthplaces. It was so beautiful. Because they'd be like, 'That's my beloved grandmother! She died in whatever year it was, and I haven't seen her artwork in a while.' I'm planning on posting all the carvings once they're installed so they [the family members] can all find them. And everybody [all the artists] was in the process of colonization and were forcibly moved into settlements. Everybody's real birthplaces are all over the place, and I wanted to make sure that we captured that.
How it whittles down to what we see in the exhibition is that we see all the artists actual birthplaces and their Inuktitut names. But during the process of getting all of that information, they were sending me pictures and telling me stories. Things like one of them traveled from the very tiny place where he was born to become a carver and then went all the way to Japan to exhibit without speaking a word of English, or any other language but his own.
Foyer: Within the Williamson Collection, are there any particularly significant sculptures that you have a connection with, have a story about, or that resonate with you?
Laakkuluk: I can't really choose a favourite. One of the things that my dad always loved, was to see a carving in our house – our house was covered in them – take it out and say, 'Look, this was made on an uneven surface, I put it on an even surface and it's gonna fall over.' A lot of them have little stanchions and stuff so they can be upright. And they're all hand-carved, so it's very recognizable that they come from this initial era of Inuit peoples creating art for sale, when there was no electricity or power tools. 
Foyer: What was the process for selecting which of the sculptures would become part of the installation?
Laakkuluk: I did that with Georgiana Uhlyarik [AGO Fredrik S. Eaton Curator of Canadian Art]. Basically, I chose pieces from the Williamson Collection, so that people could understand that, as an artist, I live in a family that thinks a lot about art. And that it's not just me expressing it. It's us engaging as a family with community all the time. I went through and chose pieces that pointed towards that question, Naak silavit qeqqa?
Foyer: When making Silaup Putunga with filmmaker Jamie Griffiths, how would you describe your collaborative process? 
Laakkuluk: Jamie and I have been working together since 2016. Mostly making film ideas that have to do with a lot of exploration of body on land. And the way that we've developed our working relationship is totally based on feminist ideals of creating trust. When we did Silaup Putunga, it was just her and me, and my son at my cabin, 23 kilometres out of town, with no power. I have an oil heater for making the cabin warm, and we were just out there for three days. And there was actually very little speaking. We just kind of check each other out then go to explore different areas [of the land], and then come back towards [each other], looking at me as a mask bearer. We've ended up doing a number of different films where, we do exactly that: turn towards each other, then turn back outwards and see what we see. It's a really special thing.
Foyer: Can you briefly describe what it feels like for you to embody the mask ritual while you're filming?
Laakkuluk: You can feel the mask. I'm always conscious of it. It's made out of grease paint. Especially when we're outside in March in the Arctic, it's cold. I'm always very conscious of it. And the purpose of doing the mask dancing is to unsettle people, to push their boundaries, to see where fear exists, and what the limits of your sense of humor is. And to do a joyful and affirming celebration of sexuality. It's always kind of like, coming close and being scary, being funny and pulling back and then seeing if they can see whatever sort of the ephemeral thing that you've created. As soon as I put the mask on, I can feel like it's starting to come out. It's based on being spontaneous and improvisational, so Jamie has to be ready for me.
Naak silavit qeqqaa? is on view on Level 1 in the AGO's Fudger Rotunda (gallery 126) through June 2023.