In conversation with Wolfgang Tillmans
The acclaimed German artist gets candid about his retrospective exhibition, on view at the AGO.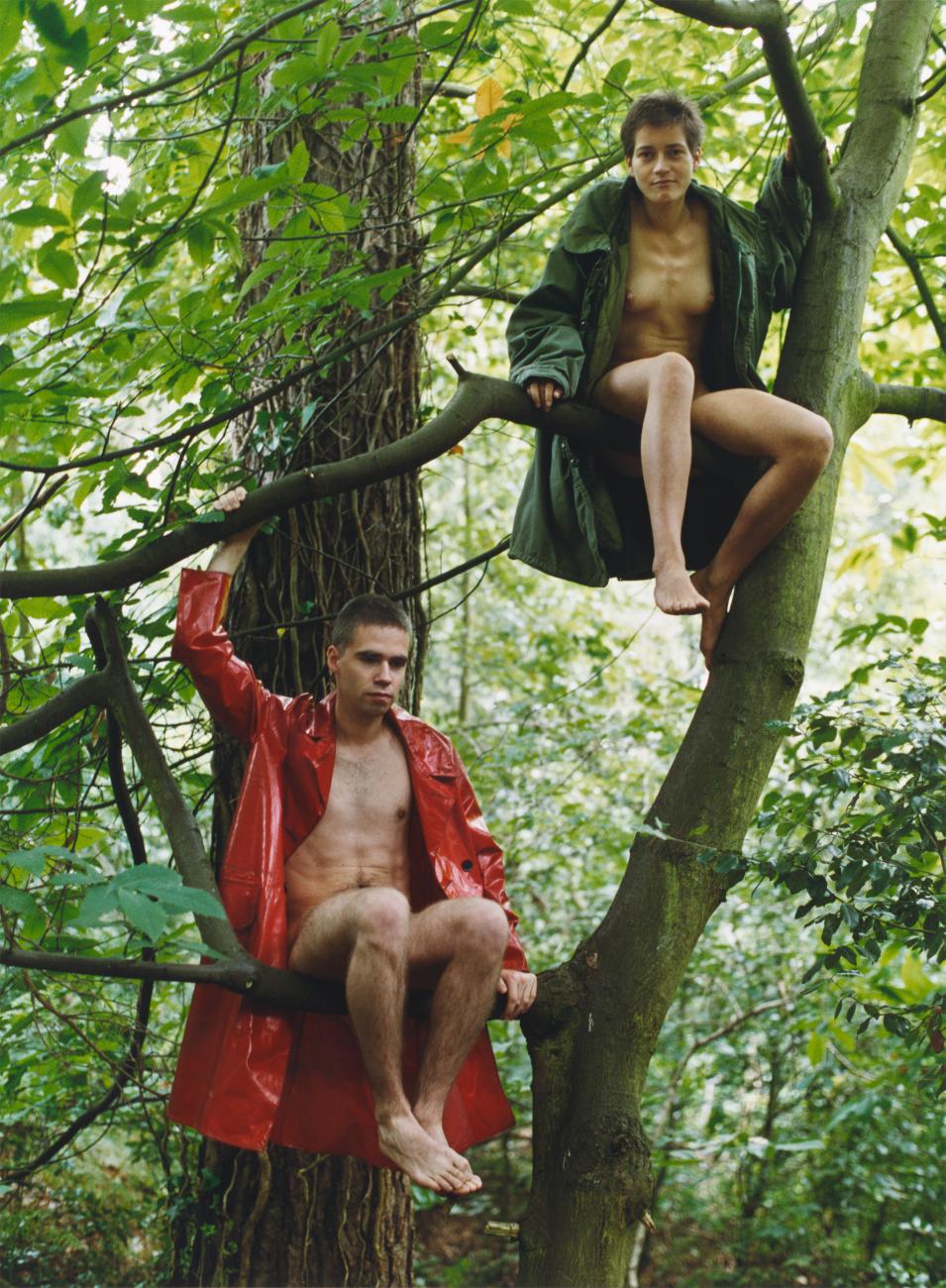 Wolfgang Tillmans, Lutz & Alex sitting in the trees, 1992. Image by Wolfgang Tillmans. Courtesy of the artist, David Zwirner, New York/Hong Kong, Galerie Buchholz, Berlin/Cologne, and Maureen Paley, London
Wolfgang Tillmans was recently named by TIME as one of the one hundred most influential people of 2023. His extensive oeuvre of photographs, video projections, sound installations, and his ongoing project Truth Study Center spans almost four decades, symbolizing his ardent passion for the human condition. On view now at the AGO, Wolfgang Tillmans: To look without fear represents the world-renowned German artist's first-ever comprehensive survey exhibition in Canada. 
Organized at the AGO by Sophie Hackett, Curator, Photography, with Marina Dumont-Gauthier, Curatorial Fellow, Photography, To look without fear debuted last year at The Museum of Modern Art in New York. The show features more than 400 artworks, including vivid images of nightlife, intimate portraits, documents of social movements and the 2SLGBTQ+ community, astronomical phenomena, abstract works and rarely-seen videos. 
Three days before the exhibition's opening, we met with Tillmans during the final stages of his famed, site-specific installation process. Among his stunning photographs of varying dimensions – often taped directly to the walls or hung with clips – the artist offered candid insights about his approach to photography, the multilayered meanings of the exhibition title, and his insatiable fascination with the life and culture around him.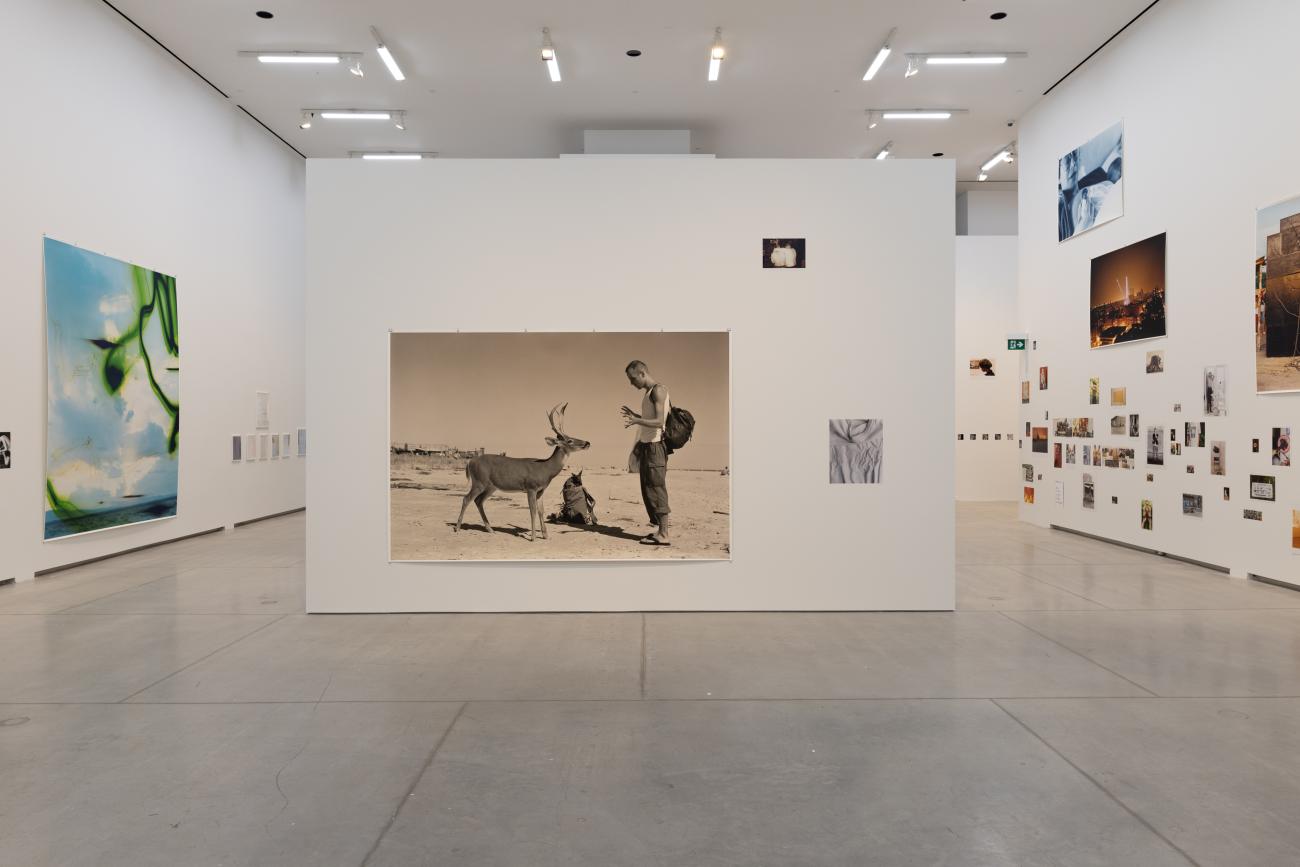 Installation view, Wolfgang Tillmans: To look without fear, Art Gallery of Ontario, April 7 - Oct. 1, 2023. Photo by Wolfgang Tillmans.
This interview has been edited for length and clarity.
Foyer: In the exhibition, works that vary greatly in scale and medium are hung side by side using mostly clips and tape. This calls up the concept of visual democracy that has often been associated with your method of installation . When did you develop this approach, and how would you describe it?
Tillmans: It's curious because what I've done with the work – with the diversity and the development of subject matter, material and media for over 35 years – really doesn't have much to do with visual democracy. It is more attributed to my never-ending appetite for innovation, to try and make new pictures. Even though in the early 90s, I was lauded for creating a new picture of the here and now, by the mid-90s – around the publication of my first major book – I felt restless and ready to release a whole different group of pictures of still lifes and studies of drapery. Then in 2000, I began making camera-less works that are drawn with my hands and light and colour - that has nothing to do with visual democracy. It's a highly specific process that I invented and somehow happened to sit well within the pictures of the previous 10 or 15 years. So it went on over the next 20 years, as well, that by the end of the 2010s, I wanted to see what this highly technologized new world would look like with a digital camera. So I moved on into the sort-of high definition grit of the here and now.
But the democratic aspect to my work lies elsewhere and  is not a byproduct, it is quite deliberate. There are many artists that make work look complicated so that it will be admired. I have found that I can speak more fluently when I don't put up barriers between the viewer and the picture. All of the easiness in the installation, and in the exhibition, is the product of constant questioning and rethinking, but not then festering on what I found, but  questioning it again, and being playful – and not always making sense. And allowing chance in. Because it isn't only logic that advances us or lets us experience new things, it's chance and play.
Foyer: The exhibition title, To look without fear, feels almost like an invite or instruction to visitors on how they should view the work. How would you describe the meaning of the title?
Tillmans: I see the title as an encouragement or invitation. Originally, when it came to me, I thought, yes, this is an encouragement, and also a hope, and a demand. I want to invite the audience to approach my work without fear but also to not be afraid of their own eyes and how they see. I hope that I will always be open-minded myself, and that I will continue to be able to do so – that I'll have the privilege of living in political and economic circumstances to allow that freedom. We know there are many places on the planet where people are looking with fear or where journalists can't look without fear and report what's going on. And so there are multiple resonances that I touch on [with the title].
It is a slightly provocative title. Titles are poetic – at least I strive for my titles to be poetic – meaning they are not descriptive or absolute, and so, in that poetry, there is also something provocative. It's asking questions back: Who are you to ask that of us? Are we all free to do that? I'm actually including myself in this question, acknowledging that not everybody is free to choose.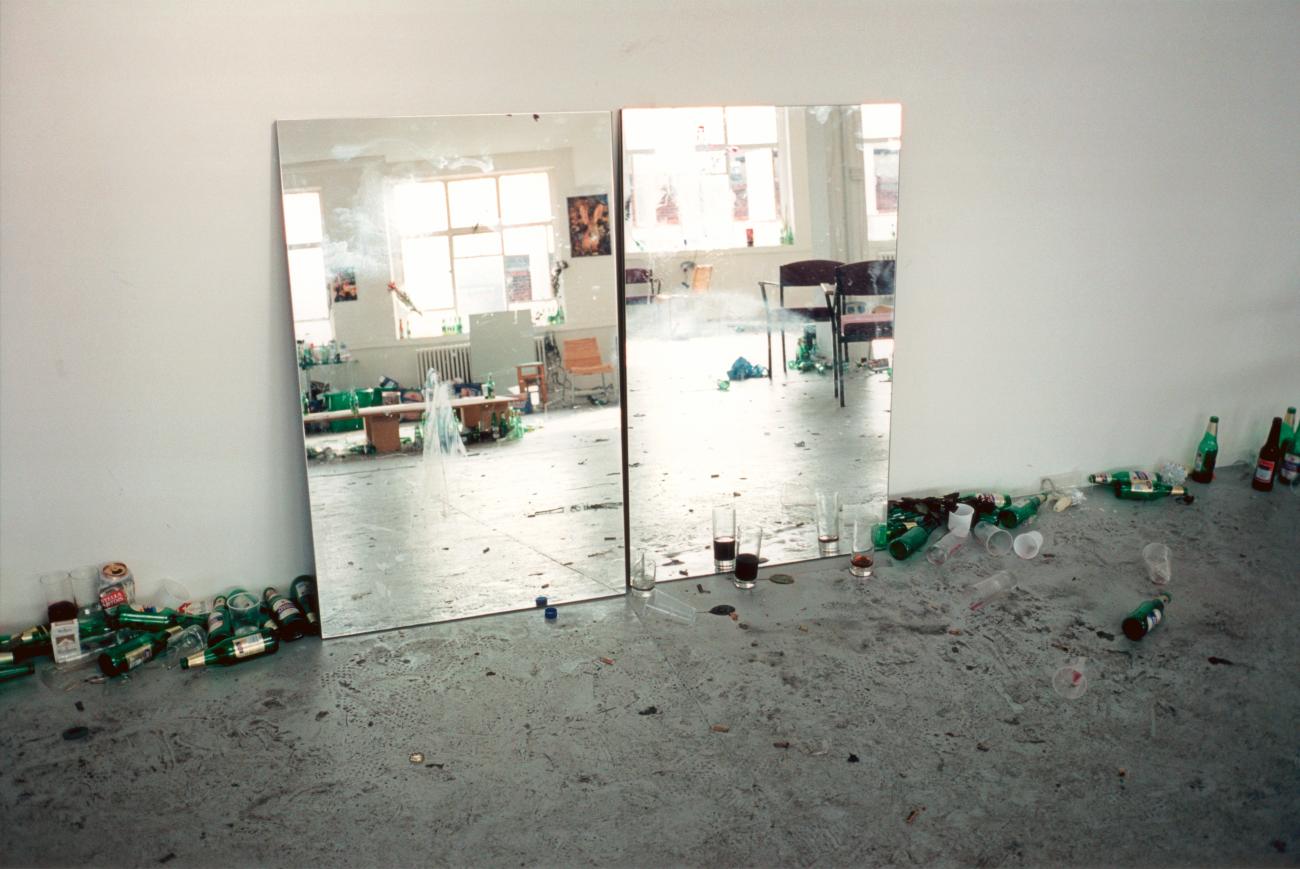 Wolfgang Tillmans, after party (c), 2002. Image by Wolfgang Tillmans. Courtesy of the artist, David Zwirner, New York/Hong Kong, Galerie Buchholz, Berlin/Cologne, and Maureen Paley, London
Foyer: Considering the composition of your photographs, the way you position objects and human forms, and the way you shoot structures, so much of your work carries a sculptural element. Can you talk a bit about your understanding of sculpture in your work?
Tillmans: I engage and think about the world with two eyes, which are brilliantly designed to receive three dimensions. Photography has this big disadvantage – or one can also call it a quality –  it's that photography only looks with one eye or one lens. A photographic image is always the flattening of space into two dimensions. I wasn't disheartened by that, but I felt rather empowered thinking, I can talk about architecture, about forms, the body, three-dimensional folds of fabric, and I can arrange things three-dimensionally. Then instead of keeping them as sculptures, when I translate them in a smart way, preserving a feeling of their tactility and their texture and surface, it is a very economical way to make work. This may sound a little flat, but it is quite powerful. You can talk about one hundred three-dimensional situations, in an economical way that fits into a few boxes, rather than complex three-dimensional installations.
[Photography] has a lower threshold for accessibility, because people are happy to look at a photograph, and feel invited. Sculpture however comes into my work as well, as you and I sit here [in the exhibition] experiencing the volumes of the walls and the volumes of the very, very shallow photographs, if you think of them as shallow cubes. Even though I've taped a lot of them to the wall, they still protrude a tiny bit, and the large inkjet prints have this beautiful paper tension that has to be in front of you as an object. I find that this sculptural awareness and pleasure is in the pictures, but it's particularly also in the space; how you maneuver it and feel the elegance of the sheets of paper or the sharpness of the framing.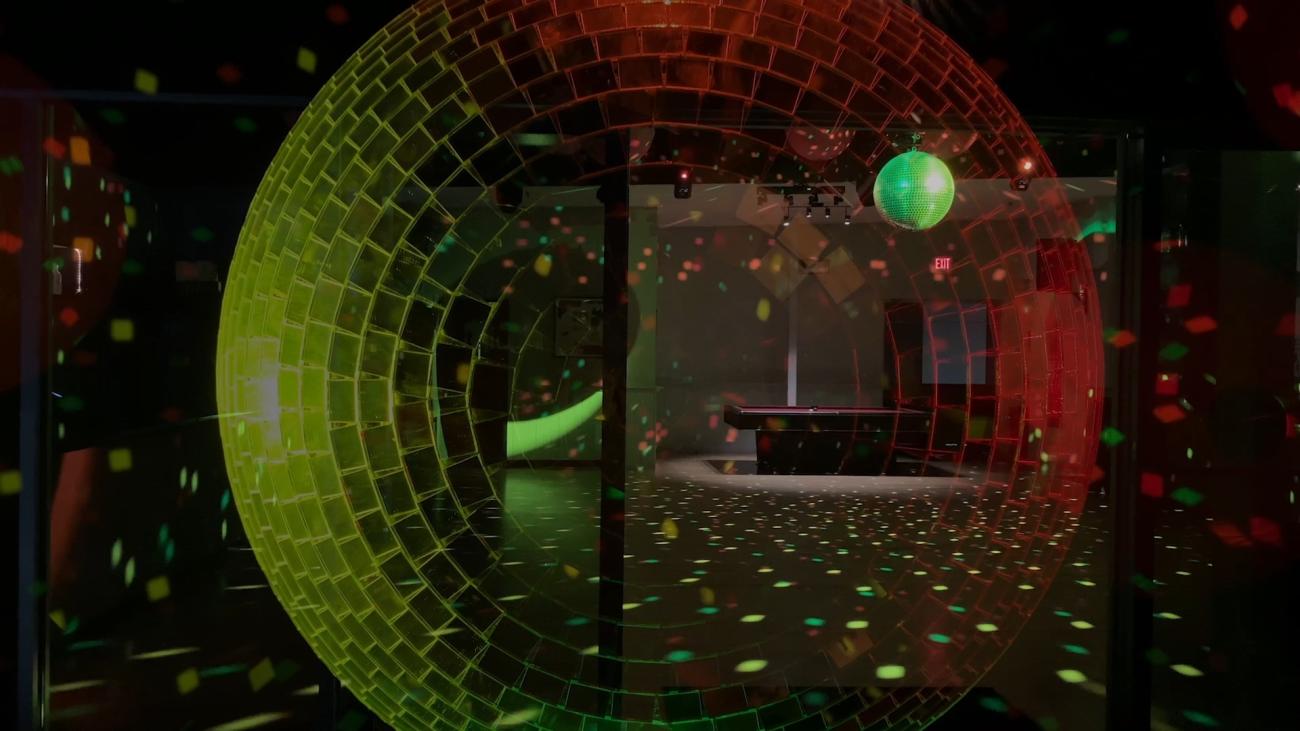 Wolfgang Tillmans. Still from Moon in Earthlight, 2021. 4k video (color, sound), 52:55 min. Image by Wolfgang Tillmans. Courtesy of the artist, David Zwirner, New York / Hong Kong, Galerie Buchholz, Berlin / Cologne, Maureen Paley, London.
Foyer: You created your first-ever full-length album, Moon in Earthlight, during the pandemic, along with an accompanying film. What were some of the most memorable parts of your journey working on the album? Can you describe your process for creating the film?
Tillmans: It was first the music. In a way, this music, listened to without visuals, creates its own visuals in your head. The sound is a collection of different pieces. Some stem from literally recording found sound on the street, a rain gutter or the sound of my heartbeat in a cardiogram. These are combined with jam sessions that are sort of quasi-momentary scenarios that I could just as much capture with the camera, of people being together. Then it turns into a fully produced studio track that has few elements left for chance, which is mirrored in other photographs where I also 100% set up the situation. So I liken this music practice – of these different elements and their origination – to how I photograph. I don't just photograph in one way; just seeing and photographing. A lot of what you see is made by me; it's pre-arranged. My abstract pictures are literally made with my hands and drawn by me.
I also have a pot where I collect moving images that have potential, but they are not stand-alone. So when I made the film, I put together elements of a dancer, an actor or myself performing . Some were  not even made for that song. There is a beauty that they then somehow gel in a different way – I can't say that it's better – but maybe it's not worse than if it was a very directed music video. That's a thin line that I often walk in my work: it's not amateurish, and it certainly doesn't want to be shambolic, but it is sometimes low tech and lo-fi, in a way that I hope is not irresponsible, arrogant or careless.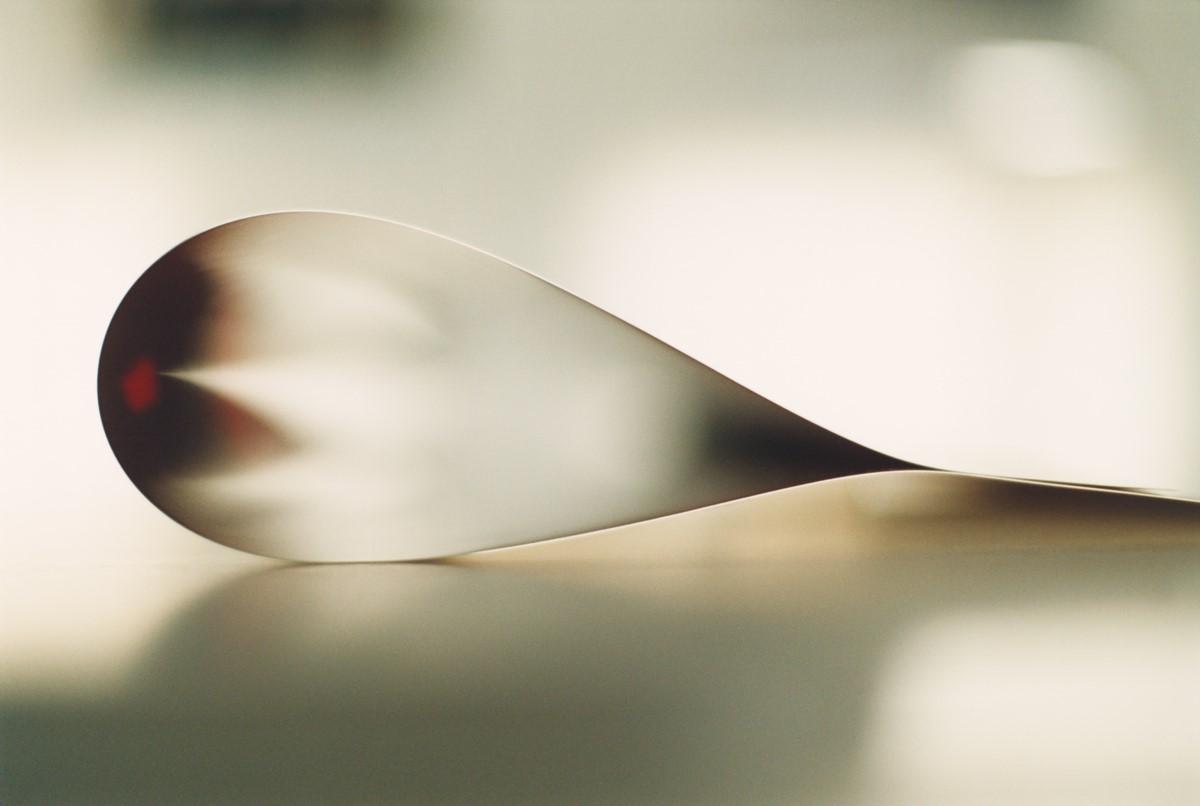 Wolfgang Tillmans, paper drop (star), 2006. Image by Wolfgang Tillmans. Courtesy of the artist, David Zwirner, New York/Hong Kong, Galerie Buchholz, Berlin/Cologne, and Maureen Paley, London
Foyer: This show and your body of work, in general, explores such a diverse variety of subjects, mediums and materials. What would you describe as the main throughline that connects all your work?
Tillmans: What is surprising is that, even though [the works] are so distinct and different, they are all united, and they flow together and speak to each other. Perhaps what does unite all these different groups of pictures is that one has to talk about them as innovations or inventions. [Tillmans motions to paper drop (star), 2006] Even though this looks spacey or different, it is also made with a simple professional camera with no retouching and no digital intervention. I want everything to look like you can look at it with your own eyes as well. That sort of accessibility is what I deliberately chose, and developed, as a stylistic device – but it is sometimes misunderstood as a sort-of snapshot, or easy. But, of course, it is often the hardest to make things look easy.
Since this [interview] is for the keen AGO visitor, I would like to invite them not to look for me and my logic in the installation, but to follow their own trail just as much. Photography always points naturally at the person behind the camera, but even though I am aware there is a whole lot of my life in these rooms, it is actually not about my life. From the perspective of my experience and what I stage or set in a scene, it is an attempt to create a universal experience that others can feel. So they can say, "I have seen that." or "I understand that." I guess that's what it means to be touched by an artwork or a film. Those moments of connection, they don't happen all the time. When you visit a museum, they happen a handful of times. That's wonderful – and one shouldn't be disappointed when you don't get every picture.
In my case, I am completely traversing all different types of staging and documentary and hard journalism. It's almost as if that is what ties the work together; I am totally fascinated with the life and culture around me. I try to somehow communicate what it feels like to live today whilst offering a more positive understanding: That a common experience of art – or the world seen through art – allows you to be more at peace with yourself and us to be at peace with each other.
To look without fear was developed by Roxana Marcoci, The David Dechman Senior Curator, Department of Photography, The Museum of Modern Art, with Caitlin Ryan, Curatorial Assistant, and Phil Taylor, former Curatorial Assistant, Department of Photography, The Museum of Modern Art. The AGO presentation is organized by Sophie Hackett, Curator, Photography, Art Gallery of Ontario with Marina Dumont-Gauthier, Curatorial Fellow, Photography, Art Gallery of Ontario.
Wolfgang Tillmans: To look without fear is on view on Level 5 of the AGO until October 1. Throughout the run of the exhibition, a number of Tillmans's video works - including Moon in Earthlight - will be screening in Jackman Hall (free with AGO admission). Check the exhibition page for a screening schedule.