Spike Lee: Creative Sources
The Brooklyn Museum presents an expansive exhibition exploring the iconic director's work and influences.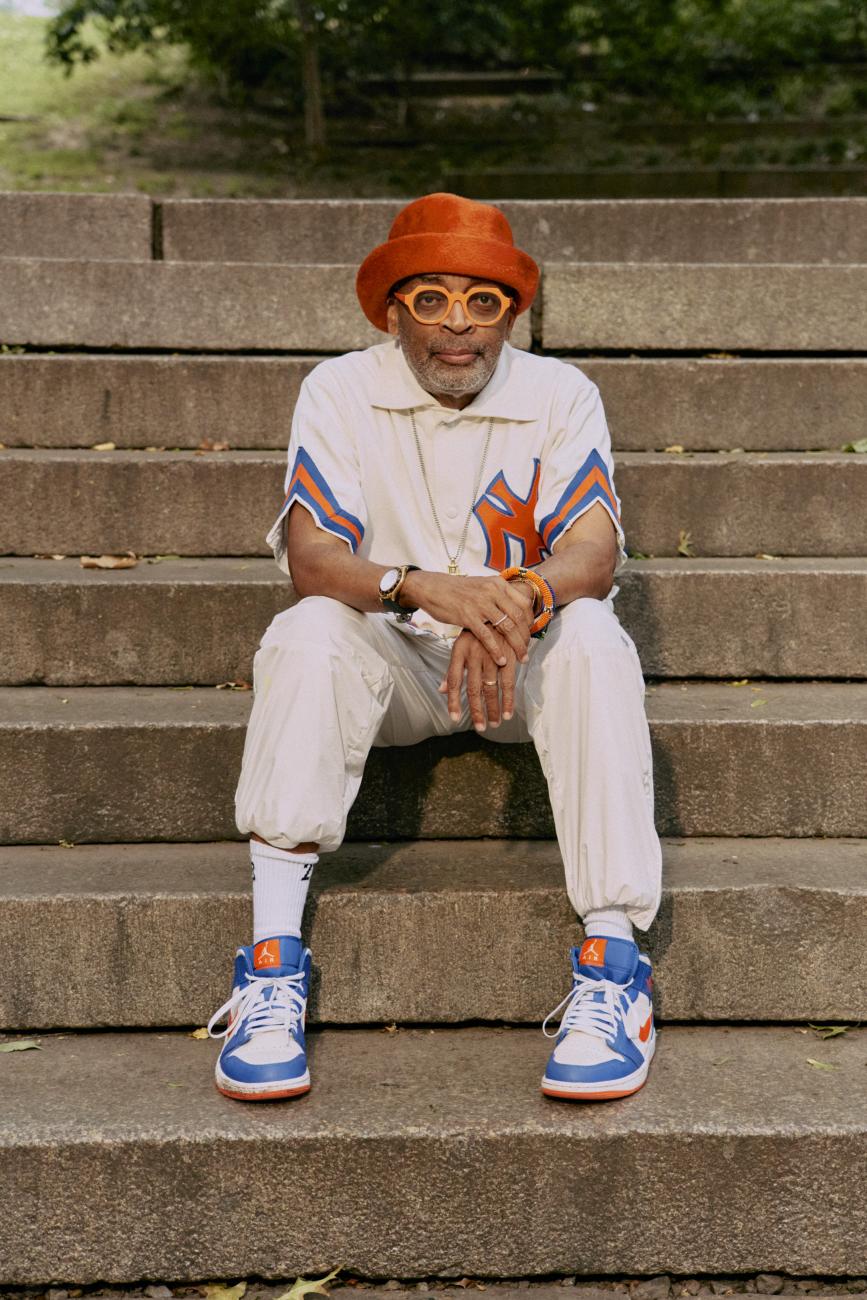 Spike Lee, 2023. Photo :©Jamel Shabazz
When visitors first enter Brooklyn Museum's newest major exhibition, their eyes are met with an expansive wall of framed movie posters, all commemorating the filmography of one of the most influential directors in American (and global) history. From She's Gotta Have It (1986) to Da 5 Bloods (2020), Spike Lee's nearly 40-year run of ground-breaking films has cemented his legacy as an icon of contemporary cinema and an artistic luminary. For the first time in his hometown, select pieces from the Brooklyn native's extensive personal collection are on public view – illustrating Lee's profound cultural impact while highlighting his key artistic influences.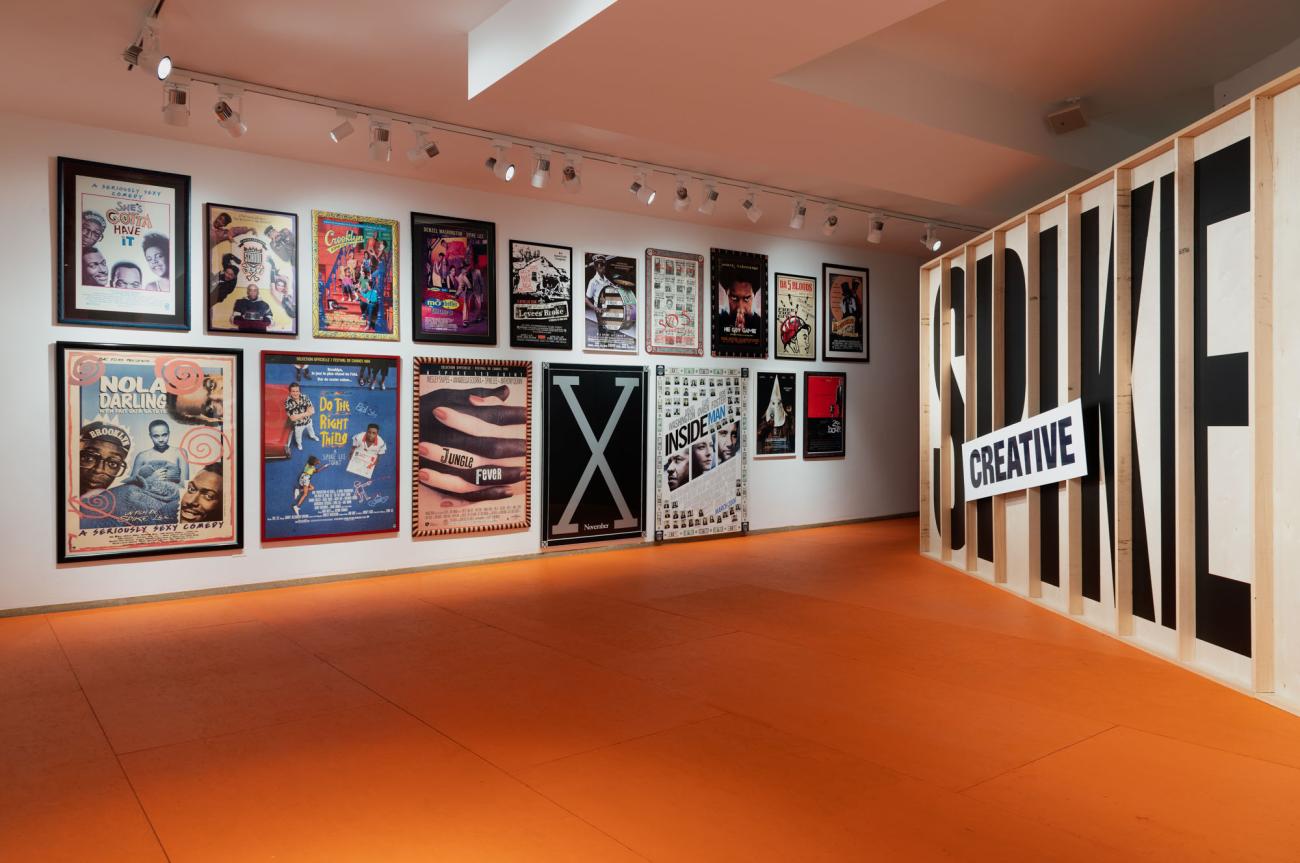 Installation view, Spike Lee: Creative Sources. Brooklyn Museum, October 7, 2023-February4, 2024. Photo: Paula Abreu Pita
Spike Lee: Creative Sources brings together more than 350 objects representing various mediums that have inspired Lee, including historical photographs, paintings, album covers, movie posters, letters, first-edition books, costumes, and film memorabilia. The exhibition is arranged thematically in seven sections – Black American history and culture, Brooklyn, sports, music, cinema history, and family – each featuring a clip from one of his iconic films. Organized by Kimberli Gant, Curator, Modern and Contemporary Art, with Indira A. Abiskaroon, Curatorial Assistant, Modern and Contemporary Art, Brooklyn Museum, Creative Sources recently opened to the public on October 6, 2023, with a massive kick-off event held in collaboration with the museum's First Saturday's event series.   
The anchor of Lee's oeuvre, Black American history and culture is the subject of the exhibition's introductory section. The sound of an epic Malcolm X speech performed by Denzel Washington in Lee's 1992 biopic fills the room, as visitors encounter artworks, photographs and ephemera reflecting the speech's sentiments. Among them African-American painter Michael Ray Charles' work Bamboozled (1997) (which inspired Lee's 2000 film of the same title), an autographed Angela Davis FBI Wanted poster, and photographs of legendary Black figures James Baldwin and Fedrick Douglas. The section serves as a foundational statement for the remainder of the exhibition, firmly rooting visitors in the realities of the Black American experience.    
Raised in the Crown Heights and Cobble Hill neighbourhoods of Brooklyn, Lee has frequently set his films in the New York City borough, making his filmography synonymous with his hometown. This, coupled with the museum's location, adds extra emphasis to the Brooklyn section of the exhibition. Do The Right Thing (1989) character Mookie's iconic Jackie Robinson jersey, photographs taken by Spike's younger brother David Lee, and large banners and posters for Lee's Brooklyn-based film company 40 Acres and a Mule are among the key objects accenting the section. How Lee has featured Brooklyn not only as a setting, but as a consistent presence of cultural identity is made clear as visitors experience this leg of Creative Sources.  
Installation view, Spike Lee: Creative Sources. Brooklyn Museum, October 7, 2023-February4, 2024. Photo: Paula Abreu Pita
The rest of the exhibition continues to illuminate a full spectrum of the acclaimed filmmaker's interests and experiences. In a room dedicated to Lee's family, rarely seen portraits of his wife Tonya and children Satchel and Jackson are juxtaposed beside a family montage from Mo' Better Blues (1990). Other highlights include a music section featuring Prince's love symbol guitar, a sports section peppered with news clippings of Lee's New York Knicks court-side antics, and a cinema history section including an autographed group photograph of Lee with Martin Scorsese, Robert DeNiro and Joe Pesci.  
Providing profound insight on one of history's most important Brooklynites, Spike Lee: Creative Sources is on view now until February 4, 2024 at Brooklyn Museum.