Indo-Caribbean herstory at the Gardiner Museum
In her mixed-media ceramics-based exhibition, Heidi McKenzie enshrines collective memory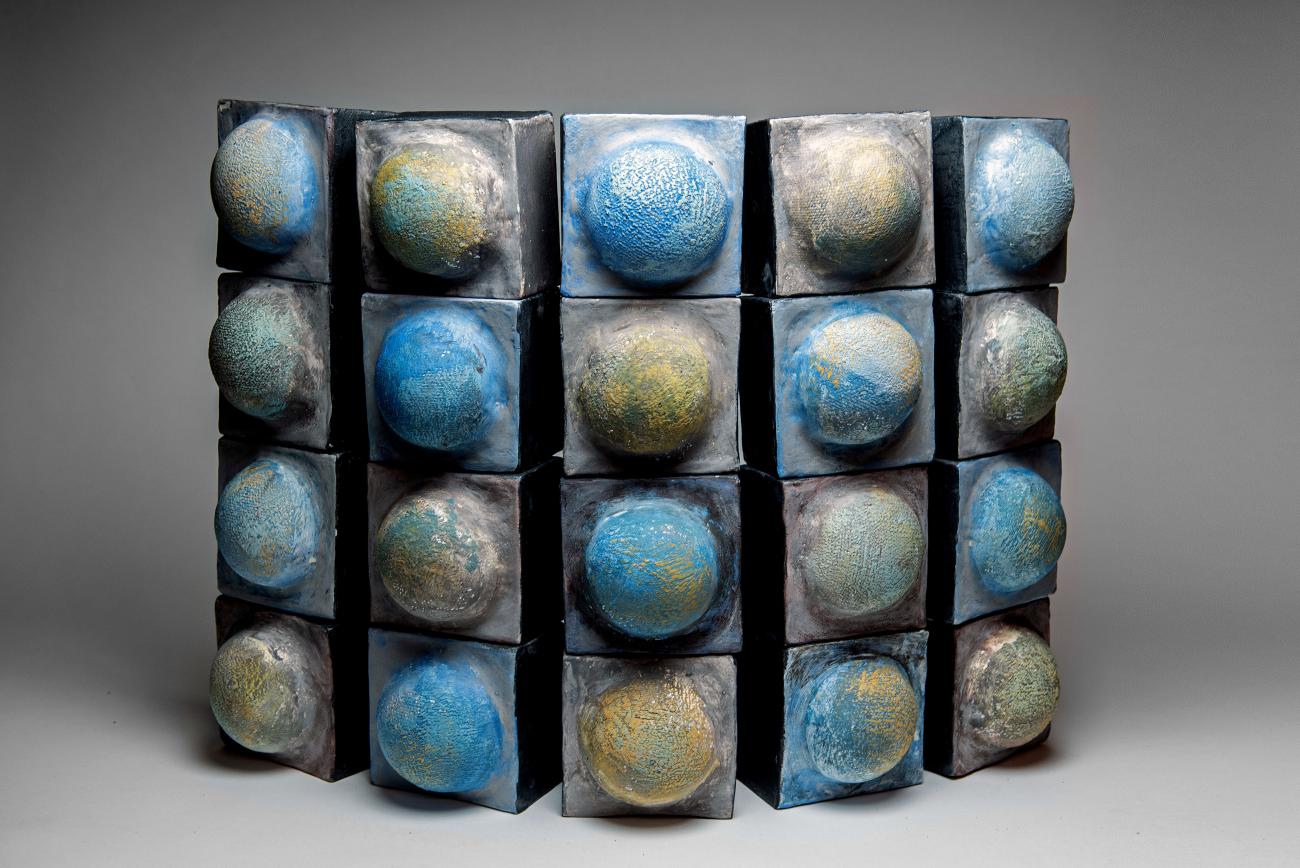 Heidi McKenzie. Bangle, 2023. Stoneware, porcelain drybrush, glaze, silver acrylic pen. 18" x 26" x 8". Photo: Dale Roddick
Some stories are told and re-told, yet still not widely known as they should be. In her solo exhibition at the Gardiner Museum, Heidi McKenzie aims to change that for Indo-Caribbean women, bringing centuries-old herstories into focus through a feminist lens. On view through August 30, McKenzie's mixed-media, ceramic-based work is a record of the past and present lived experiences of Indo-Caribbean women from the mid-19th and early 20th centuries through to today. The Toronto-based artist is of mixed Indo-Trinidadian and Irish American heritage and explores themes of ancestry, race, migration, and decolonization through her practice. 
Installation view of Reclaimed: Indo-Caribbean HerStories. Gardiner Museum, 2023. Photo: Toni Hafkenscheid
As explained in the exhibition, 1833 was the official end of the legal trade of enslaved people in the British Empire. This shift resulted in the rise of indentured labour in the British colonies, particularly among Indian people. Of the estimated half-million Indians who migrated to present-day nations such as Trinidad and Tobago, Guyana, Jamaica and more with the promise of a brighter future, it is further estimated that 20 percent of these indentured labourers were women. These women, sometimes widowed and often seeking refuge from situations in their homeland, came to be referred to as "coolie belles". As featured in Reclaimed, they were photographed in archival studio photography and postcards of time, left nameless with little personal details. The ornate jewellery they wore in these photographs signified status, cultural expression, and currency. The jewellery "became associated initially with the labouring classes and, more recently, with craft-based ties to matrilineal heritage." Indentured labour continued in the Caribbean into the early 20th century until 1917.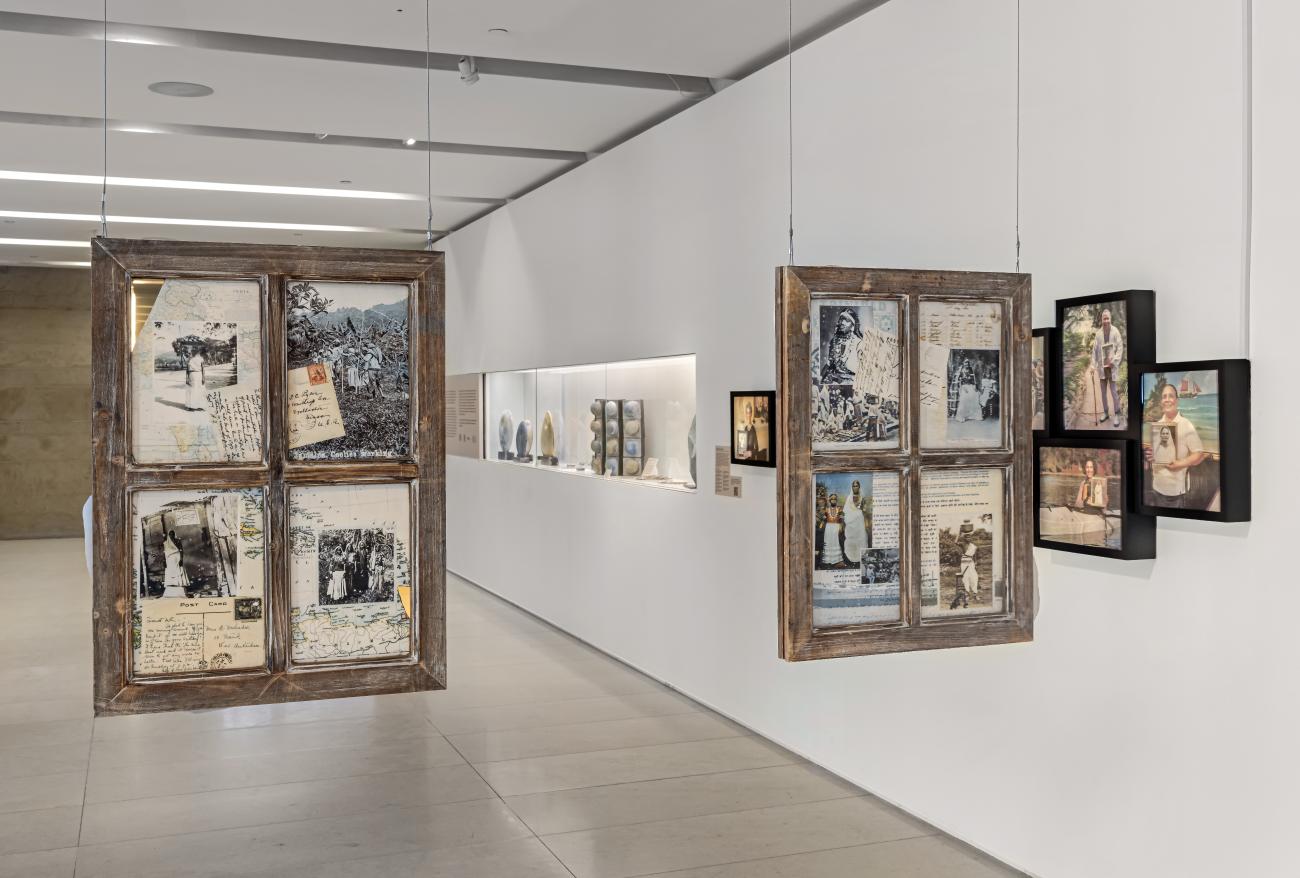 Installation view of Reclaimed: Indo-Caribbean HerStories. Gardiner Museum, 2023. Photo: Toni Hafkenscheid
With poetic sensitivity, Reclaimed connects these women through archival and family photographs to their descendants based in and around Toronto. Included and on view are "wall-mounted portraits on porcelain, lit from behind, depicting contemporary Indo-Caribbean women with portraits of a female ancestor; a collage of "coolie belles" on porcelain windowpanes, inspired by turn-of-the-century postcards and ephemera; and a series of abstract figurative sculptures that respond to the work, alongside select pieces of Indo-Indentureship silver jewellery."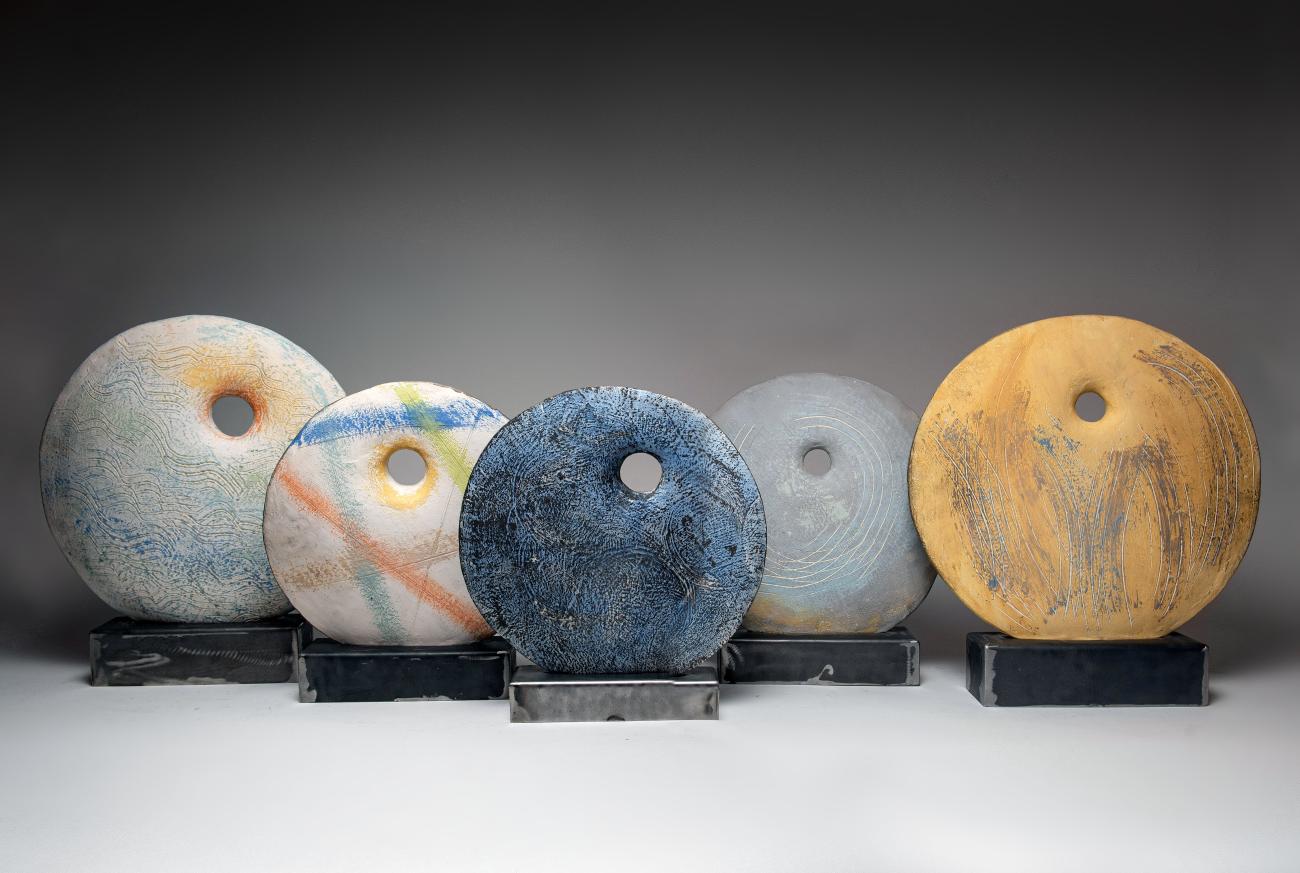 Heidi McKenzie. Coinage, 2023. stoneware, porcelain drybrush, steel stands. 56" x 16" x 2". Photo: Dale Roddick
"Following the ideas of cultural theorist Arielle Azoulay," McKenzie explains in the exhibition, "my work engages the socio-political landscape of my Indo-Caribbean ancestors, purposefully shedding light on the under-represented stories of Indo-Caribbean women. The 'coolie belle' portraits were shot on glass plates by male colonial photographers and hand-processed. The postcards were exoticized and commodified for Western tourists at the turn of the last century, hardships erased. My process of transferring portraits to ceramic tile is an act of both reclamation and decolonization. The courage and defiance of these women uplifted their 'new slave' status, as they fought for better working conditions and increased wages. They wore their savings on their bodies, jewellery fashioned from their earnings. I also give voice through portraiture to us, we, the descendants of the 'coolie women,' to reclaim our herstories."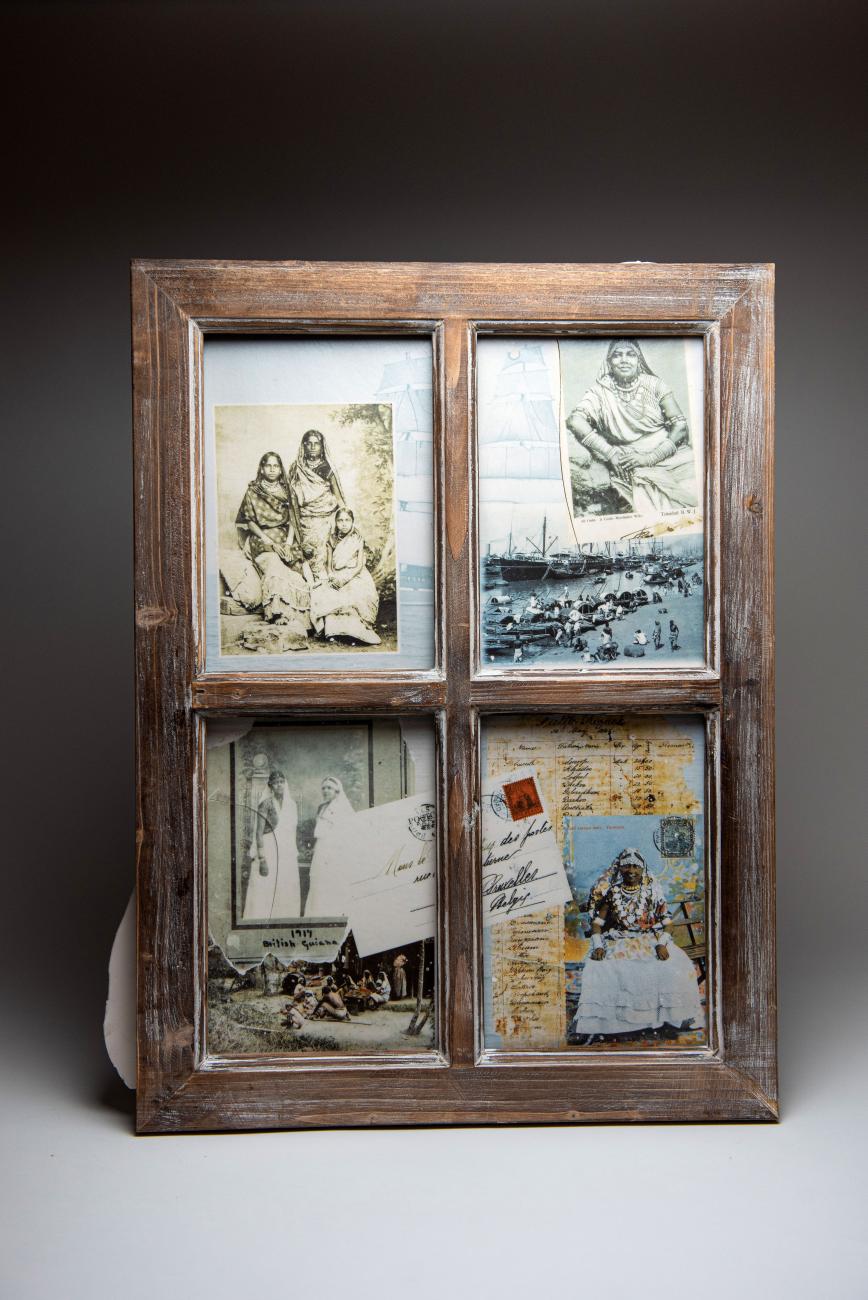 Heidi McKenzie, Looking Back: No. 1, 2023. Ceramic pigment photo decals fired onto hand-rolled porcelain, cedar frame, hardware. 24" x 18" x 3". Photo: Dale Roddick.
The exhibition is also accompanied by a series of video herstories by contemporary Indo-Caribbean women: Lancelyn Rayman-Watters; Talisha Ramsaroop; Ramabai Espinet; Suzanne Narain; Kamala-Jean Gopie; Preeia Surajbali; LezLie Lee Kam; Shanta Saywack Maraj; Cheryl Khan and McKenzie.
Reclaimed: Indo-Caribbean HerStories is on view in the lobby of the Gardiner Museum until August 30.