Presented by Signature Partner

Self-Portrait with Blue Handkerchief
We focus on Alma Duncan's self-portrait, featured as part of the exhibition Her Flesh.
---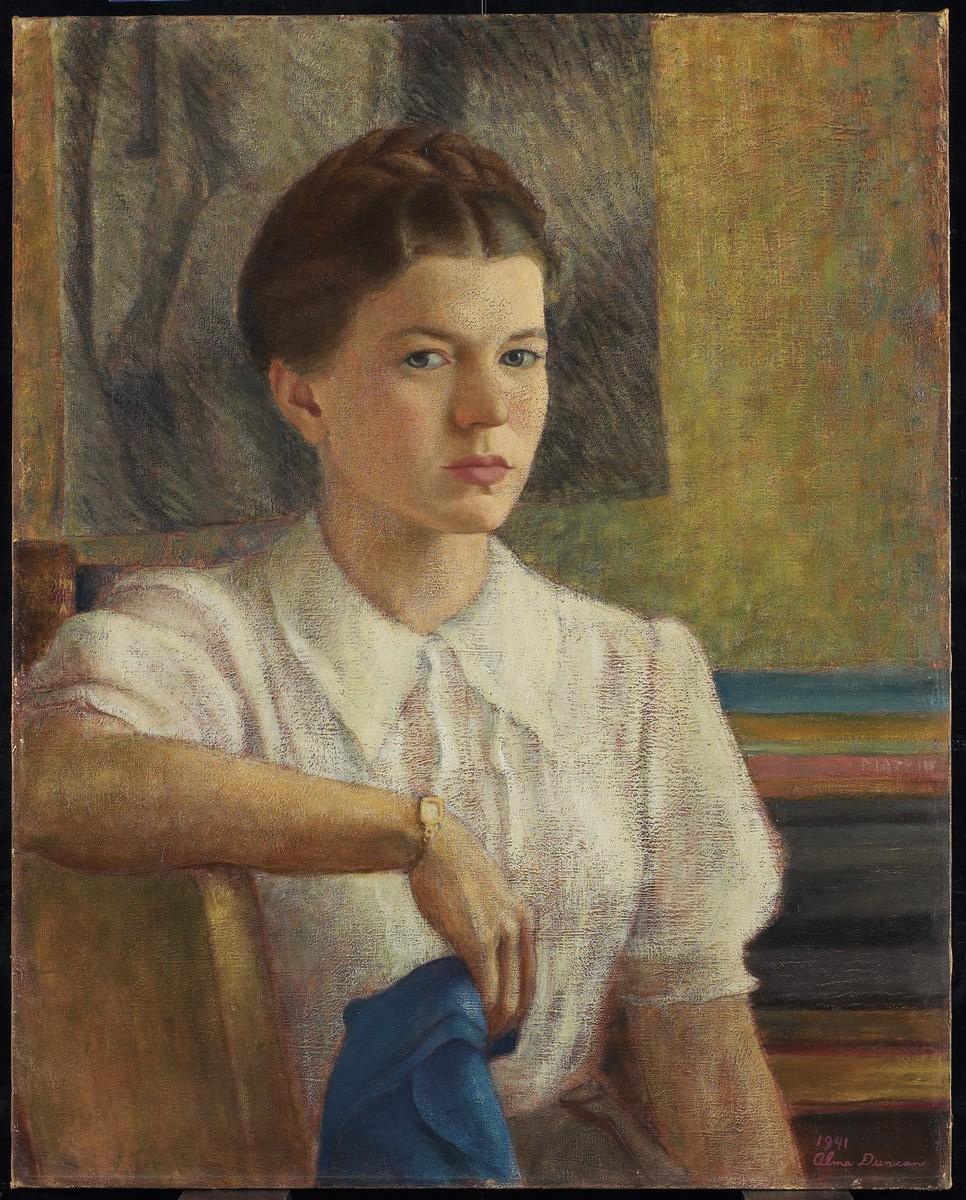 Alma Duncan. Self-Portrait with Blue Handkerchief, 1941. oil and egg tempera on canvas, Overall: 63.5 x 50.9 cm. Art Gallery of Ontario. Purchase, 1989. © Art Gallery of Ontario. 89/3
What is it about self-portraits that captivate us? Is it just about aesthetics, or is it more about the story behind the artist? Pondering this question, a self-portrait caught our eye for our next RBC Art Pick. Featured as part of Her Flesh [closed at the AGO in March 2023], a group exhibition highlighting modern and contemporary women artists creating art about feminine bodies.
Alma Duncan's 1941 Self-Portrait with Blue Handkerchief is one of three paintings by the artist featured in Her Flesh. Place yourself in front of it, and as a viewer, you can't help but meet her gaze. It's a gaze that's stern yet calm and fixed squarely on you. Duncan presents herself as a confident and self-assured woman, seemingly unafraid to take up the space around her. She wears a white short-sleeved blouse, and her hair is braided like a crown. She sits with one arm draped over the back of a chair with the golden glint of a watch around her wrist and a blue handkerchief in her hand. These accessories, while demure, draw your attention and add an even more personalized element to the painting. 
Duncan defies gender biases by adopting what could be thought of as a masculine pose along with her gaze and the styling of her appearance. In the way that she chose to represent herself, she pushes back, or better said, she challenges how some male artists have sexualized and fetishized women's bodies for centuries. Duncan was 24 years old when she made this self-portrait.
Born in Paris, Ontario in 1917 and later based in Ottawa, Duncan broke barriers as a queer woman navigating the male-dominated art world in the 20th century, across Canada and abroad. For forty years, she shared her life with photographer Audrey McLaren, who was both her romantic and professional partner. 
"Duncan was ahead of her time in so many ways," explains Renata Azevedo Moreira, former AGO Assistant Curator, Canadian Art and curator of Her Flesh. "She was a cross-media artist before that term even existed. She experimented with animation and puppetry while running her own film company, Dunclaren Productions, which she created with McLaren. She was what we can legitimately call a new media pioneer and explorer." 
Duncan's prolific career in painting, drawing and filmmaking began in the mid-1930s. By 1943, two years after she dated this self-portrait, she was working for the National Film Board (NFB) in the Graphic Arts Division, and eventually the Animation Department. By the early 1950s, she left the NFB and set out together with McLaren to establish Dunclaren Productions. 
The 1960s and onwards brought a renewed and lasting focus on painting and drawing for Duncan, while she continued to forge a path for herself: experimenting with abstraction, designing stamps for Canada Post, exploring Canada's north, teaching art and much more. Her work is not only represented here at the AGO but also at the Canadian War Museum, the National Gallery of Canada, the Canada Council Art Bank and others. Duncan travelled the world, exhibiting her art in Canada and internationally. 
Curated by Renata Azevedo Moreira, Her Flesh was on view through March 2023 at the AGO.