Presented by Signature Partner

The Pile Drivers–The Yard
We look at legendary French impressionist Maximilien Luce's The Pile Drivers–The Yard. 
---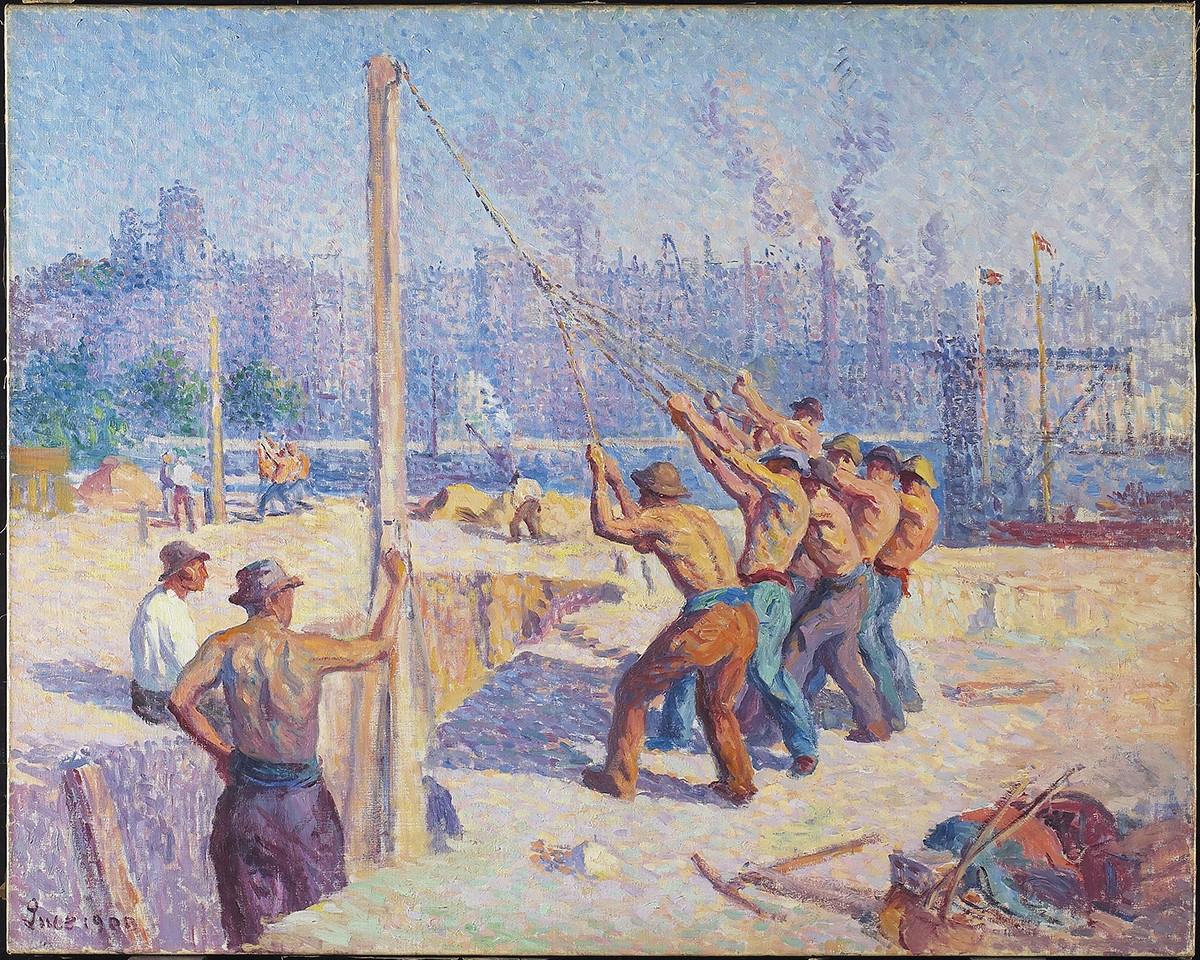 Maximilien Luce, (French, 1858 - 1941), Les Batteurs de pieux, le chantier, 1900, oil on canvas. Overall: 73.4 x 92.2 cm (28 7/8 x 36 5/16 in.) Gift from the Estate of R. Fraser Elliott, 2005. 2005/177
In 2019, the AGO highlighted a pivotal moment in Impressionist history with the popular exhibition Impressionism in the Age of Industry. There were so many amazing works in the exhibition, but one, in particular, stood out as a visitor favourite – Maximilien Luce's The Pile Drivers–The Yard. 
Created in 1900, The Pile Drivers–The Yard depicts a group of shirtless workers on a city harbour construction site, raising a large wooden beam by pulling rope. The valiant poses of the men and the dramatic pyramidal composition are meant to depict these individuals heroically, elevating the labour of the working class. Behind them, we see a dense city skyline of brown brick buildings, complete with billowing smoke stacks which, when combined with an image of construction, effectively reference the era's industrial boom. Luce utilizes pointillism throughout the painting, most notably in the background, blending the buildings and blue sky into a sort-of pixelated gradient. This is a technique he was famous for.
Born in Paris, France in 1858, Maximilien Luce grew up in the working-class district of Montparnasse as the son of a railway clerk. After starting an apprenticeship in wood engraving as a teenager, he began taking drawing lessons and experimenting with oil paint. By 26 years old, following a four-year stint in the French military, he was painting full-time. He then joined the famed Société des Artistes Indépendants and became one of most influential Neo-Impressionists of his time, exhibiting beside the likes of Henri-Edmond Cross and Henri Matisse.
Like many Neo-Impressionists, Luce was not only known for his artistry, but for his political views. He contributed to several anarchist and socialist publications including Le Père Peinard and Le Chambard. The themes and imagery that are often present in Luce's work show his genuine respect for the working class, no doubt a reflection of his politics.