Into the next world
Preparatory paintings on paper by Denyse Thomasos are included in just beyond.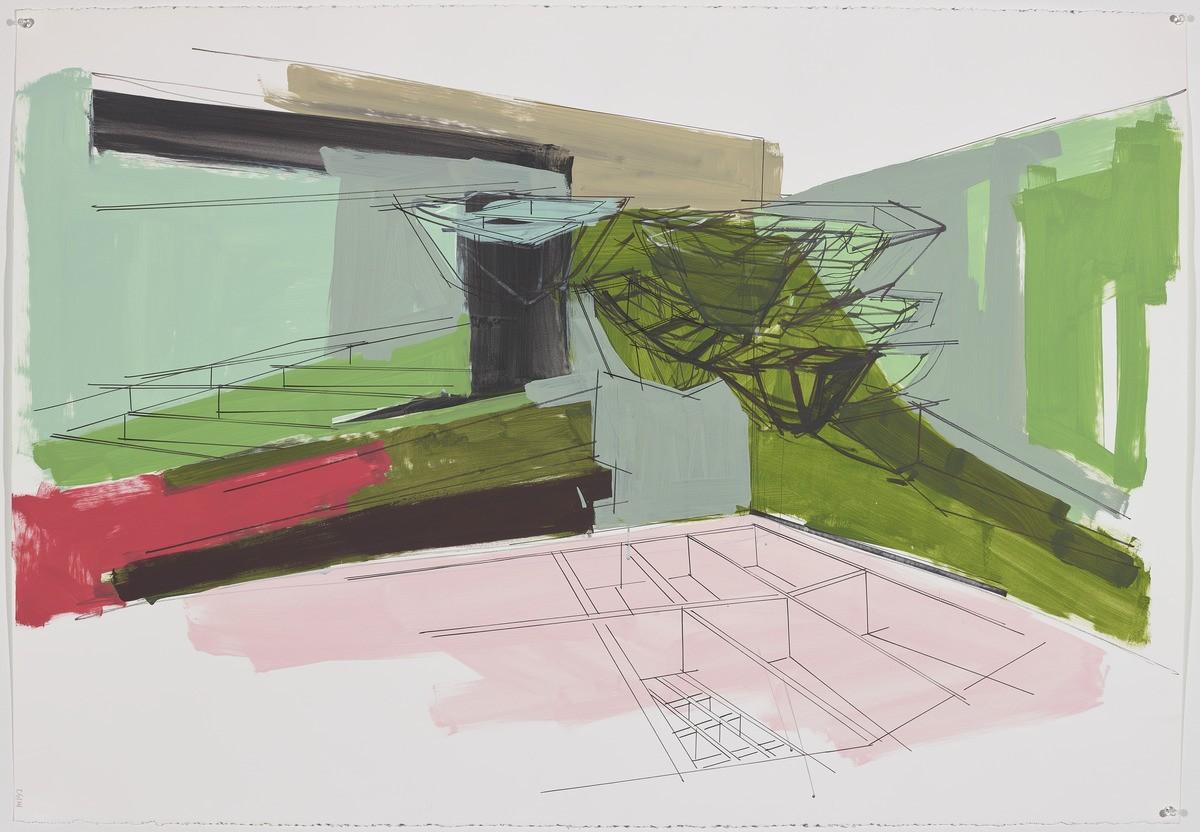 Denyse Thomasos. Untitled (Kingdom Come), 2011. Acrylic on paper, preparatory drawing for Kingdom Come, a site-specific installation at Oakville Galleries, 77.5 × 111.8 cm. Collection of Oakville Galleries, purchased with the support of the Elizabeth L. Gordon Art Program of the Gordon Foundation, administered by the Ontario Arts Foundation, and the Corporation of the Town of Oakville, 2022. © The Estate of Denyse Thomasos and Olga Korper Gallery, Photo: Craig Boyko.
'Thy kingdom come'—a phrase with Biblical connotations, referring to heaven, the next world, a promised land, the end of time, a future period of happiness. Denyse Thomasos, in perhaps a more cryptic usage of the phrase, used it to title her 2011 site-specific installation at Oakville Galleries. In Kingdom Come, she painted a futuristic urbanscape where all is not well, a vision of a "green utopia gone awry." Kingdom Come was one of the last installations Thomasos made before her untimely passing in 2012. This work signalled a shift in her thematic focus beyond the dismantling of slavery, confinement and imprisonment and toward so-called green architecture and its cultural impact. It was the beginning of a new chapter Thomasos was looking forward to, and she said as much in a 2011 conversation with Marnie Fleming, curator of the installation. 
Over a decade later, the new AGO exhibition Denyse Thomasos: just beyond charts the breadth of Thomasos's artistic output and stylistic developments throughout her career, from her early figurative works to her massive abstract paintings. While the monumental work she is most acclaimed for forms the majority of the exhibition, we're taking a closer look at a selection of rarely seen paintings on paper she made in preparation for Kingdom Come, also on view. 
Oakville Galleries invited Thomasos to create an in-situ wall painting in celebration of the fortieth anniversary of Sheridan College's Art and Art History program – of which she was a graduate. She worked in collaboration with college students and recent graduates to create, as just beyond co-curator Sally Frater describes, an "installation within an installation". The outer gallery featured a mural painted directly on the walls, and the inner gallery functioned as a studio/workshop space. The presentation of these preparatory works at the AGO replicates the arrangement of this studio/workshop space: untitled paintings on paper on the walls and paint containers mixed by Thomasos's former studio assistant Linda Martinello on a table at the centre of the room. Also on display are photographs of the finished installation and a pair of paint-splattered clogs the artist wore. Thomasos, it seemed, was not only heavily invested in the final installation of her art, but the labour and conceptualization it took to complete it.
All oriented horizontally, these preparatory paintings measure two-and-a-half by three-and-a-half feet approximately. They offer a glimpse into the mind of an artist at work: moving through an exploratory exercise, processing ideas not quite fully realized. On one, she scribbles words and phrases like "prisons as pods," "boats, coffins," "high tech. cutting edge," "roof innovation," "green garden," and "moss insulation." She paints with shades of green, grey, blue, pink and red, brought together in yet another vibrant colour palette. There's a feeling of urgency and confidence being conveyed in her brush strokes and handwriting. These paintings serve as the foundation Thomasos built on. With them, she incorporated tropes carried over from previous works into the final installation—digitally-generated drawings, indigenous dwellings, linear markings and pods floating at the top of the space. The pods—cocoon-shaped, painted with moss green in some of the preparatory paintings—are of particular interest. Thomasos described them to Fleming as "not only represent[ing] vernacular structures but also allud[ing] to the prison structures that appeared in my previous works. In those works, I considered the way that prisoners from urban centres serve as metaphorical compost heaps for the rural economies where super jails are located; the decay of one economy feeds another. It's not much of a stretch to think about the relationship between indigenous architectures and sustainable design in a similar way."  
The 2000s and into the 2010s were when terms like "greenwashing" and "green sheen" became more mainstream. These are terms to describe when an organization or corporation deceptively claims that its practices, products and policies are environmentally friendly. Thomasos was investigating green architecture in Kingdom Come; highlighting class, racial and environmental disparities within this kind of architecture, though it was thought to be for the betterment of society and the fight against climate change. "It is increasingly becoming clear," she said, "that green living is a movement of the elite. 'Sustainability,' the catchword of the day, suggests a kind of lifestyle that is often only attainable through a certain kind of wealth, further exacerbating the divide between rich and poor. I am not sure costly measures aimed at benefiting the well-being of future generations is something the poor can rally around, given that many are concerned with merely surviving the present moment." 
As artist John Armstrong writes in an essay about Kingdom Come, "Thomasos wonders what the politics of responding to climate change might be across economic strata. Who will be left adrift, exposed in a chain of empty vessels, and who will be lodged somewhere beneath a canopy of temperate and lavish science?"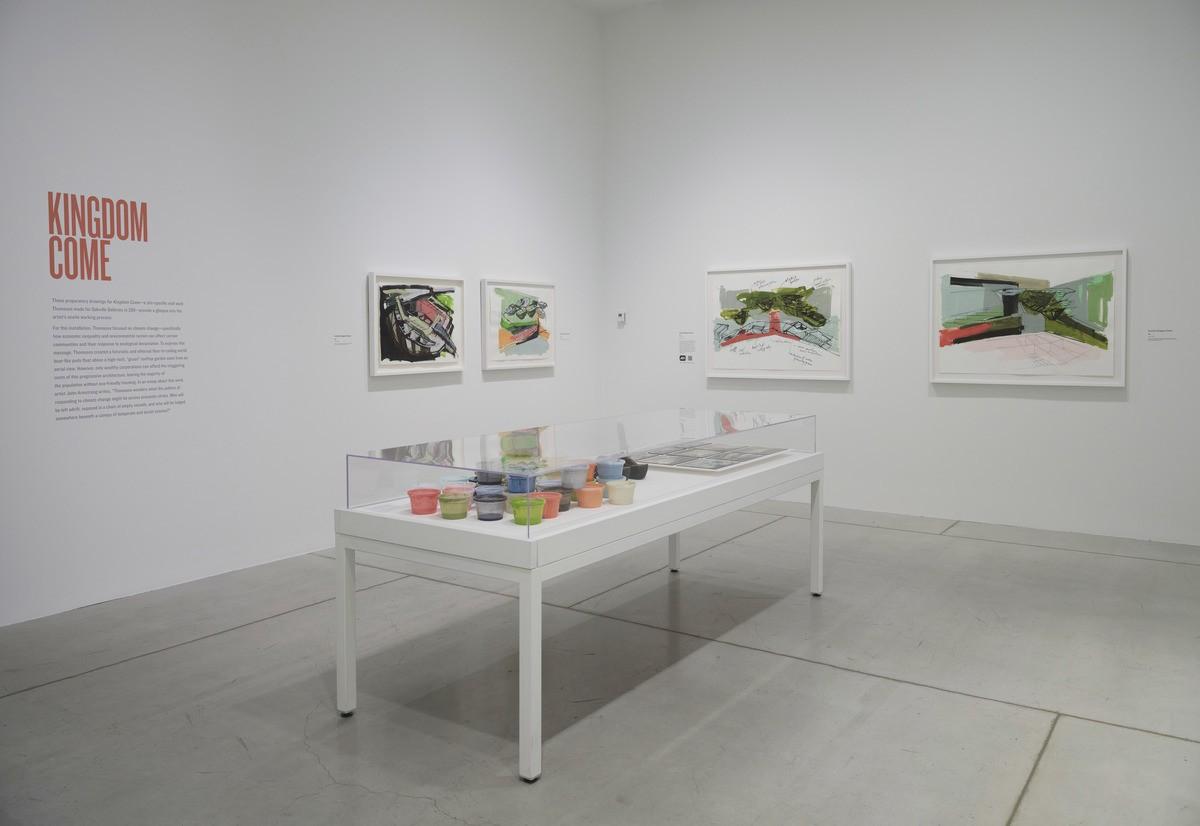 Installation view, Denyse Thomasos: just beyond, October 5, 2022 - February 20, 2023. Art Gallery of Ontario. Artwork: Untitled (Kingdom Come), 2011. Preparatory drawings for Kingdom Come, a site-specific installation at Oakville Galleries © The Estate of Denyse Thomasos and Olga Korper Gallery, Photo © AGO.
Denyse Thomasos: just beyond is on view on Level 5 at the AGO until February 20, 2023.