Matthew Wong's paintings on paper
Get a glimpse into dreamlike scenes bathed in blue.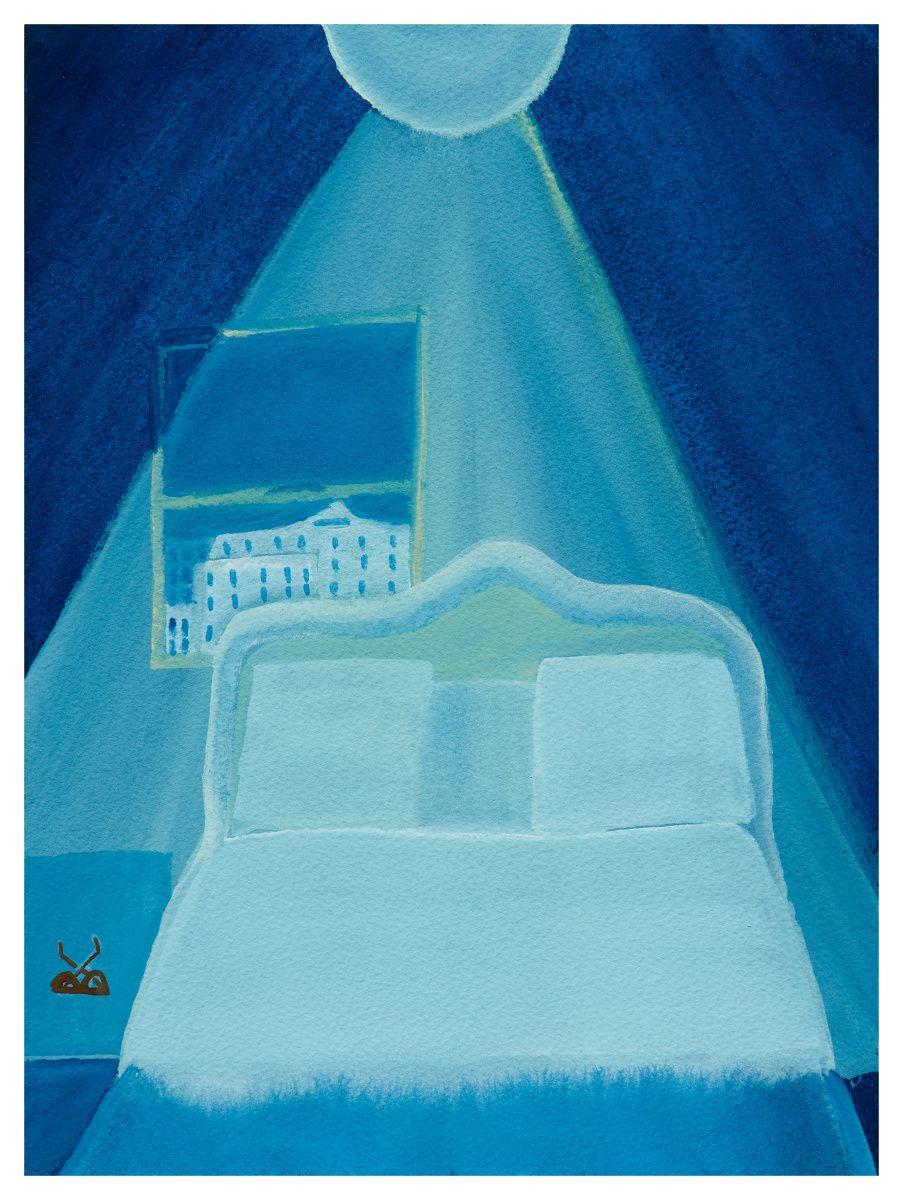 Matthew Wong, Untitled, 2019. Gouache on paper, 30.5 x 22.9 cm; framed: 48.6 x 40.6 cm. © 2019 Matthew Wong Foundation / Artists Rights Society (ARS) New York. Image courtesy of Karma, New York.
Matthew Wong: Blue View, curated by Julian Cox, AGO Deputy Director & Chief Curator with the guidance of the Wong family, is the first major museum showing the Toronto-born, Chinese-Canadian artist's work. While a series of monumental oil on canvas paintings form the majority of the exhibition, we're taking a closer look at a selection of ten untitled paintings on paper also on view.
Most of these paintings measure nine-by-twelve inches, framed with a thick white border. They draw viewers into atmospheric, dreamlike imagery saturated in blue gradients: a bathroom light shining across a tiled floor; the last glimmer daylight appearing across the horizon; semi-sheer curtains softly blowing in the wind. Shades of yellow, orange, pink, red and white stream through the many blues to contrast, adding depth and detail where needed. There's a familiarity and nostalgia that stirs in the recesses of the viewer's mind as well as a sense that Wong is incredibly observant of his surroundings. His lingering presence—though rarely seen aside from a discreet solitary figure—is certainly felt. The placement of Wong's dark-rimmed glasses on the nightstand beside a softly lit bed for example (image above), suggests an inviting place to dream as if Wong just stepped out of frame.
When Matthew Wong began painting in 2013 and 2014, he taught himself through experimentation, starting with Chinese ink on rice paper. At the time, he had just graduated with an MFA degree in photography from the City University of Hong Kong's School of Creative Media. He soon moved away from photography, instead, pouring himself into drawing, poetry, art and art history with the guidance of research and social media connections. His skill as a painter rapidly became fully formed and his influences—far-ranging from historical to contemporary—became more evident. He diligently studied the work of some of the greats like Edvard Munch, Vincent van Gogh and Shitao, and contemporaries such as Yayoi Kusama and Lois Dodd among others. His visual language soon emerged, impressively balancing elements of Post-Impressionism and Fauvism with traditional Chinese and Japanese ink painting.
By 2017 until his passing in 2019, Wong's career as an artist was on a meteoric ascent. He found his stride as a painter and created the works that formed his Blue Series (some now on view in the AGO exhibition) while living in Edmonton, Alberta. He alternated between oil on canvas and gouache and watercolour on paper. The biggest difference between the two mediums was seemingly more practical than anything else for Wong. He produced many of his gouache and watercolour paintings on a small corner table in his family home, whereas painting with oil and the scale of those canvases required him to work from his studio space elsewhere in the city. Wong treated both mediums equally—neither was more important than the other, just a different approach. He painted consistently, every day, seldom planning and mostly picking up the paintbrush intuitively whenever he felt the urge and inspiration was most accessible. Creating at least two paintings on paper a day, the pace at which he worked was marked with urgency. Painting, it seemed for Wong, was less about the outcome and more about the process. 
"My process is not limited to the time spent in my studio painting," he said in a 2018 interview, "in fact I would say over the past year the making of my work has come to a rhythm where most of [it] is done in idle moments when I am at home daydreaming, or watching movies and listening to music, drinking coffee or going out on walks that have no destination or purpose in mind." Painting with gouache and watercolour lends itself well to the speed and immediacy Wong gravitated towards. One has to be somewhat sure of the image in mind in the moments before the paintbrush hits paper, while oil paint tends to be more forgiving; its tactility can be easily maneuvered on the canvas while still wet. With oil paint, Wong enlivened his richly imagined landscapes and interiors with an energized use of colour and brushstroke distinctly his own. The gouache and watercolour paintings offer more of the same virtuosity, yet, perhaps because of their scale and medium, they translate into quieter moments suspended in time.
Matthew Wong: Postcards brings together a collection of Wong's paintings on paper along with an essay by art historian Winnie Wong. The volume accompanies the posthumous exhibition of his work at ARCH, in Athens, Greece. 
Matthew Wong: Blue View was on view on Level 1 in Philip B. Lind Gallery (galleries 131-132) until spring May 15, 2022. The exhibition catalogue, co-published by the AGO and DelMonico Books/D.A.P., is available for purchase at shopAGO online and in-store.