From India to Guadeloupe
Kelly Sinnapah Mary uses a surreal flair to paint the journey of her ancestors.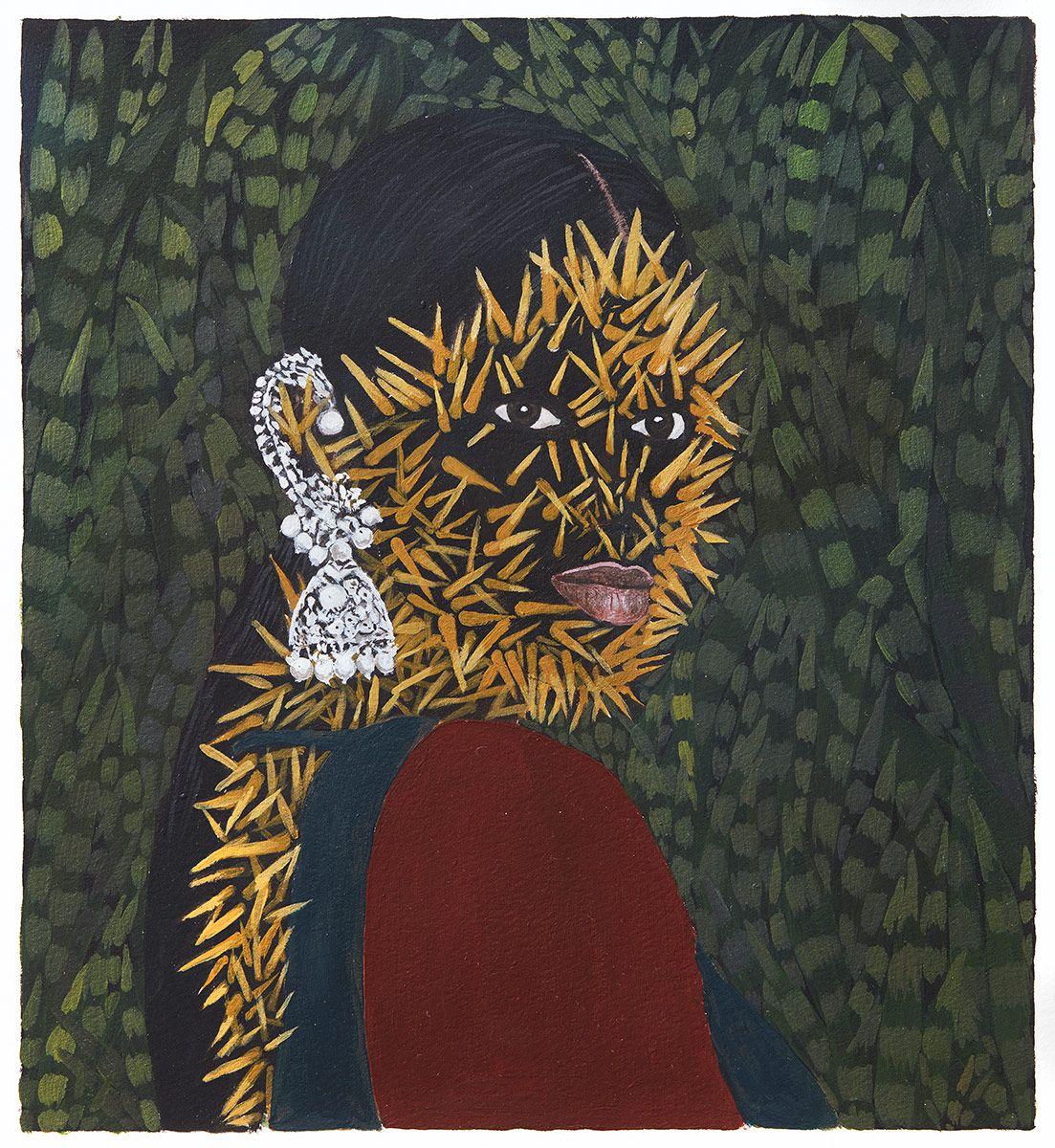 Kelly Sinnapah Mary, Notebook of No Return, 2017. Acrylic painting on paper, 43.2 x 50.8 cm. Private Collection © Kelly Sinnapah Mary.
First published December 2021
The work of Guadeloupian contemporary artist Kelly Sinnapah Mary is informed by the diasporic journey of her ancestors. She is the descendant of indentured labourers sent from India to Guadeloupe by the French Government in the 19th century to replace the free labour of the Trans-Atlantic slave trade after it was abolished. In her 2017 series Notebook of No Return, Sinnapah Mary boldly explores her Indo-Caribbean identity by unpacking the details of her ancestors' middle passage to Guadeloupe – using a surreal, sci-fi flair. An acrylic painting from this series – also titled Notebook of No Return – is part of Fragments of Epic Memory, [previously] on view until February 21, 2022, at the AGO.
We spoke with Sinnapah Mary to find out more about the Indo-Caribbean diaspora, Sea Urchin spikes, identity reconstruction, and her practice at large.   
Foyer: The many complexities of your ancestors' journey from India to Guadeloupe form a common theme in your work. Can you share some of the ways your heritage inspires your art practice?
Sinnapah Mary: When I was a child, I considered myself to be Afro-descendant, the story of my ancestors was never told to me – either in my family or at school – except for a few anecdotes from time to time. Many descendant Indo families have become so integrated into Caribbean society that they have almost forgotten their heritage and their duty of transmission. I had this need to seek out and to shed light on a missing part of my story. The series Notebook of No Return was a pretext to address the question of the identity reconstruction of the descendants of Indian workers.
Foyer: In your Notebook of No Return series, most of the figures you painted have spikes protruding from their skin, resembling sea urchins. Can you share the symbolic/conceptual meaning of these spikes?
Sinnapah Mary: Indians hired as labourers had to brave the deep waters (Kala Pani "black water"), which is a Hinduism taboo forbidding crossing the dark or black waters of the ocean. My characters are mutants and go through different stages of transformation. The series with white sea urchin thorns is one of them. The writer Khal Torabully approaches the Kala Pani and places it at the centre of his aesthetic. He speaks of a "coral imaginary" that we can compare to my characters, where the ocean so feared is no longer just a space of deconstruction of identities but also a space of beauty and reconstruction.
Foyer: You've spoken about being influenced by Caribbean literature in your work. In relation to Notebook of No Return, you mentioned being inspired by poet Khal Torabully and writer Aimé Césaire. What specifically stood out to you about their work?
Sinnapah Mary: I really like to cross my readings, which tends to complicate my paintings a little more. Césaire and Torabully have both written about oppressed peoples. I found it interesting to feed off their writing and to confront their concepts of Negritude and Coolitude. 
Foyer: You work with paint, fabric, sculpture and installation. When you get an idea for a new work, how do you decide the form it will take and which materials you will use?
Sinnapah Mary: Before I start painting on the canvas, I do a lot of Photoshop work as soon as I have an idea. I try to combine experimenting with shapes and colours and assess what best fits my ideas. My installations arise from a painting and then expand into a universe.