Shuvinai Ashoona, Robert Houle and more
Five exhibitions on view this summer featuring First Nations, Métis and Inuit contemporary artists.
Darcie Berhardt, sinnaktuq, 2023. © Darcie Bernhardt
As National Indigenous History Month begins, we explore traditional and contemporary art made by Indigenous artists on view now at art museums and galleries. 
At the AGO, there are works by Indigenous artists on view throughout the Gallery. On Level 2, there is a rotating collection in the J.S. McLean Centre for Indigenous + Canadian Art, including works by Rebecca Belmore, Bill Nasogaluak, Davidialuk Alasua Amittu, Daphne Odjig, Kent Monkman and more. As well, on Level 1 of the Gallery (gallery 132), sculptures by David Ruben Piqtoukun are on view through June 25, read our interview with the artist in Foyer's Interviews & Profiles. Rosalie Favell and Tarralik Duffy will also unveil their work at the AGO later this month. 
Take a look below for four more exhibitions highlighting art by First Nations, Métis and Inuit artists. 
In Montreal, Quebec, La Guilde presents ᐃᓗᒻᒧᑦ ᑕᑯᓂᐊᕐᓂᖅ Looking Inside, a group exhibition in collaboration with Inuk author and graphic artist Napatsi Folger. On view now through July 16, 2023, it gathers the work of 20 Inuit artists from the likes of Eldred Allen, Shuvinai Ashoona and Ningiukulu Teevee. Visitors can see an intimate look at modern Inuit lives, from daily activities, community celebrations to peoples' workspaces. Artworks on display include interior camp scenes of Shuvinai Ashoona and Moe Pootoogook's stone-carved rock and rollin' electric guitar player.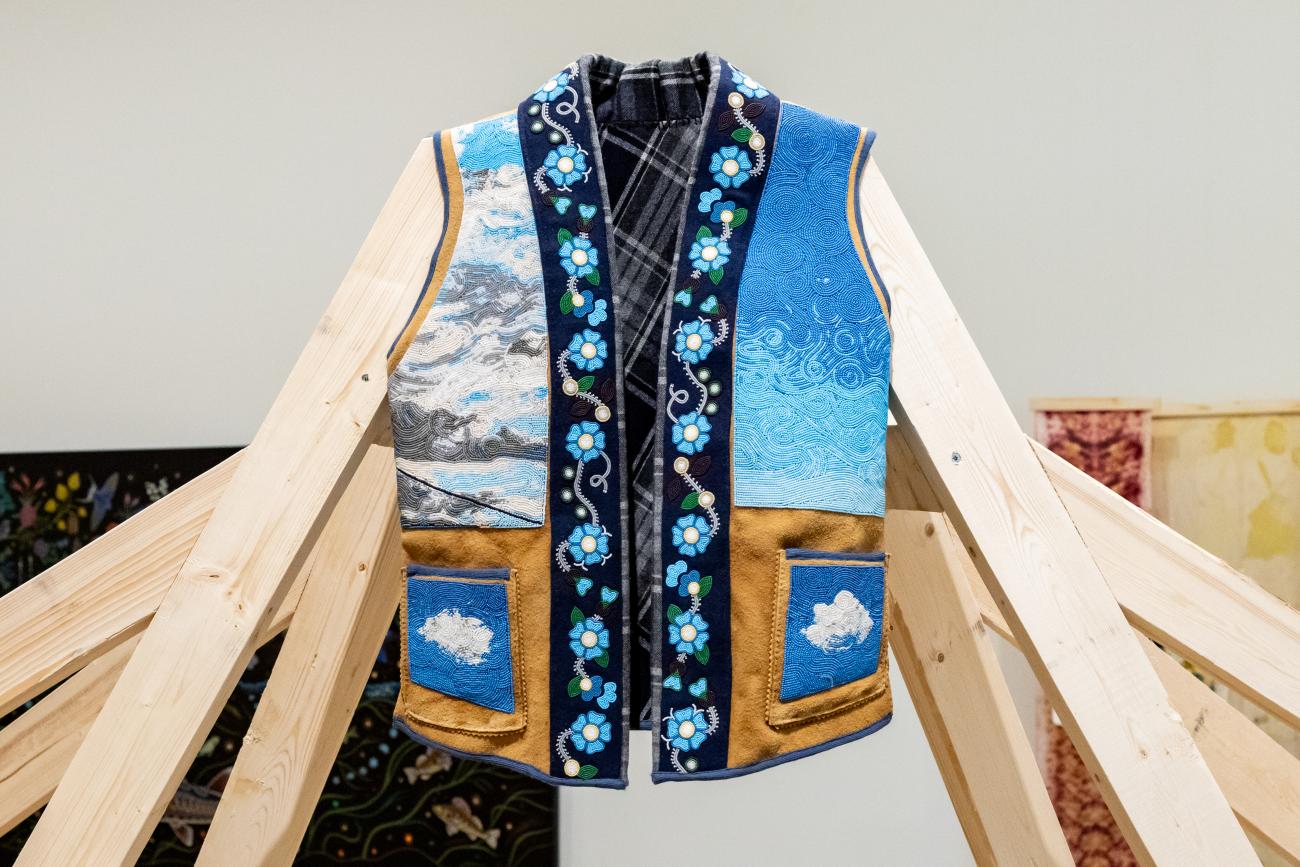 Katherine Boyer, The Sky Vest (detail), 2021, 2x4 boards, seed beads on smoked hide. Courtesy of the artist. Installation view, Storied Objects: Métis Art in Relation, 2022, Remai Modern, Saskatoon. Photo: Carey Shaw. © Katherine Boyer 
On the West Coast in Saskatoon, Saskatchewan, explore the beauty and intricacies of traditional and contemporary Métis art in Storied Objects: Métis Art In Relation at Remai Modern on view now through July 2, 2023. Looking at how objects act as memory devices for recalling memories, the exhibition gathers works by Métis artists that have adapted, translated and transformed ancient media and practices into new forms. Visitors can see traditional art forms like beadwork but also dynamic multimedia installations that invites people to engage and ponder on its narratives. Artists featured include Jason Baerg, Christi Belcourt, and David Garneau. Tarah Hogue, Curator of Indigenous Art at Remai Modern, curated the exhibition alongside exhibition advisor Sherry Farrell Racette.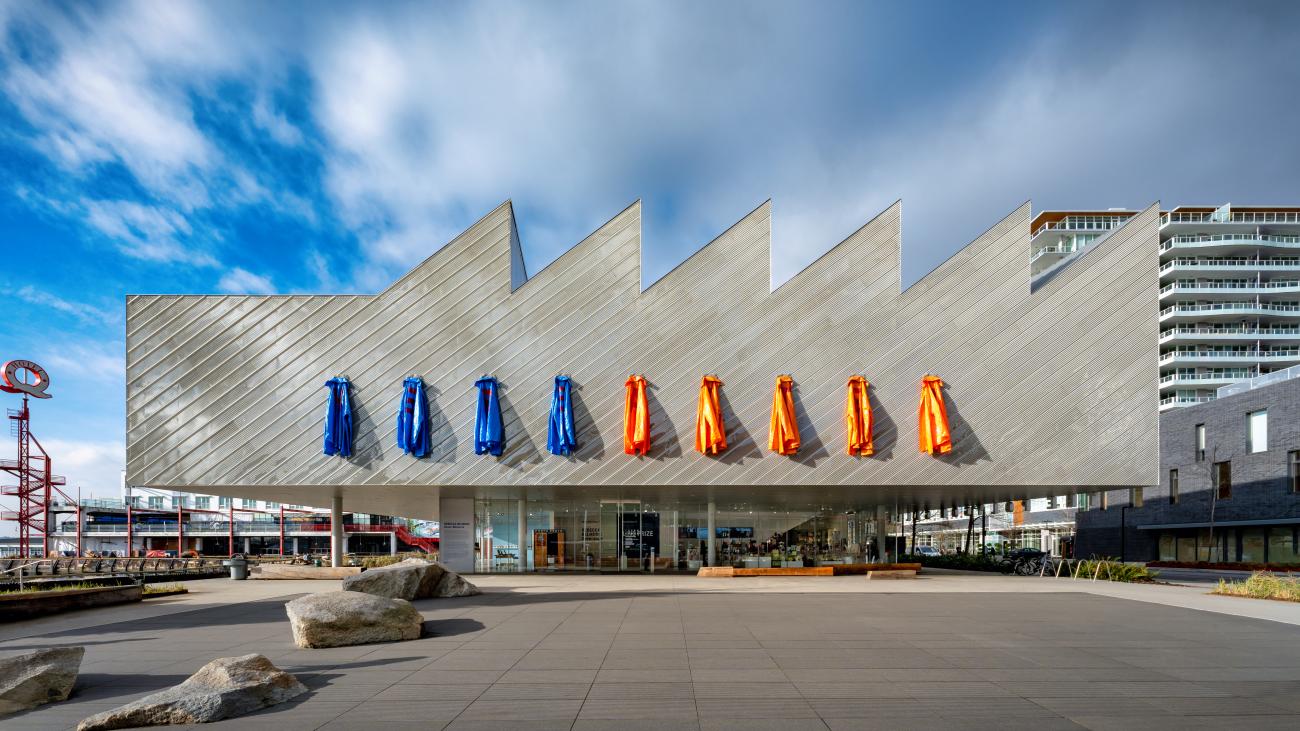 Installation view of Rebecca Belmore's Hacer Memoria, 2022. Photo by Akeem Nermo. © Rebecca Belmore
For our North Vancouver art patrons, Lac Seul First Nation (Anishinaabe) artist Rebecca Belmore adorns the east façade of the Polygon Gallery with a striking outdoor sculpture titled Hacer Memoria. An ongoing installation, this public artwork consists of nine oversized blue and orange shirts sewn from tarpaulin shirts, each emblazoned with a single letter. Together, the letters spell "hereafter." Belmore took inspiration from the Pope's penitential speech on the importance of remembering the impacts of the residential school system. She co-opts his phrase "hacer memoria", or "try to remember," highlighting the challenges of not forgetting. The colour blue represents the colour Indigenous students wore and orange was used to mark the resilience of survivors. Invoking the word "hereafter," the artist places emphasis on the troubled present and unknown futures. This commissioned work is in collaboration with the Burrard Arts Foundation. 
"Robert Houle: Red is Beautiful" is on view at the Smithsonian's National Museum of the American Indian in Washington, D.C., through June 2, 2024. Image courtesy of the National Museum of the American Indian. © Robert Houle. 
Travelling to Washington, D.C., you may encounter a major retrospective that our visitors from 2021 may remember seeing at the AGO. Robert Houle: Red is Beautiful is on view at the Smithsonian's National Museum of the American Indian now through June 2024. A dive into the five-decade career of Saulteaux Anishinaabe artist Robert Houle, the exhibition explores his transcultural approach in bringing his Indigenous cultural heritage together with Euro-American ways of making and thinking about art. It was organized by the AGO and curated by Wanda Nanibush, AGO's Curator of Indigenous Art.