Gathering together
The Textile Museum of Canada's exhibition Gathering centres community and artist collaboration.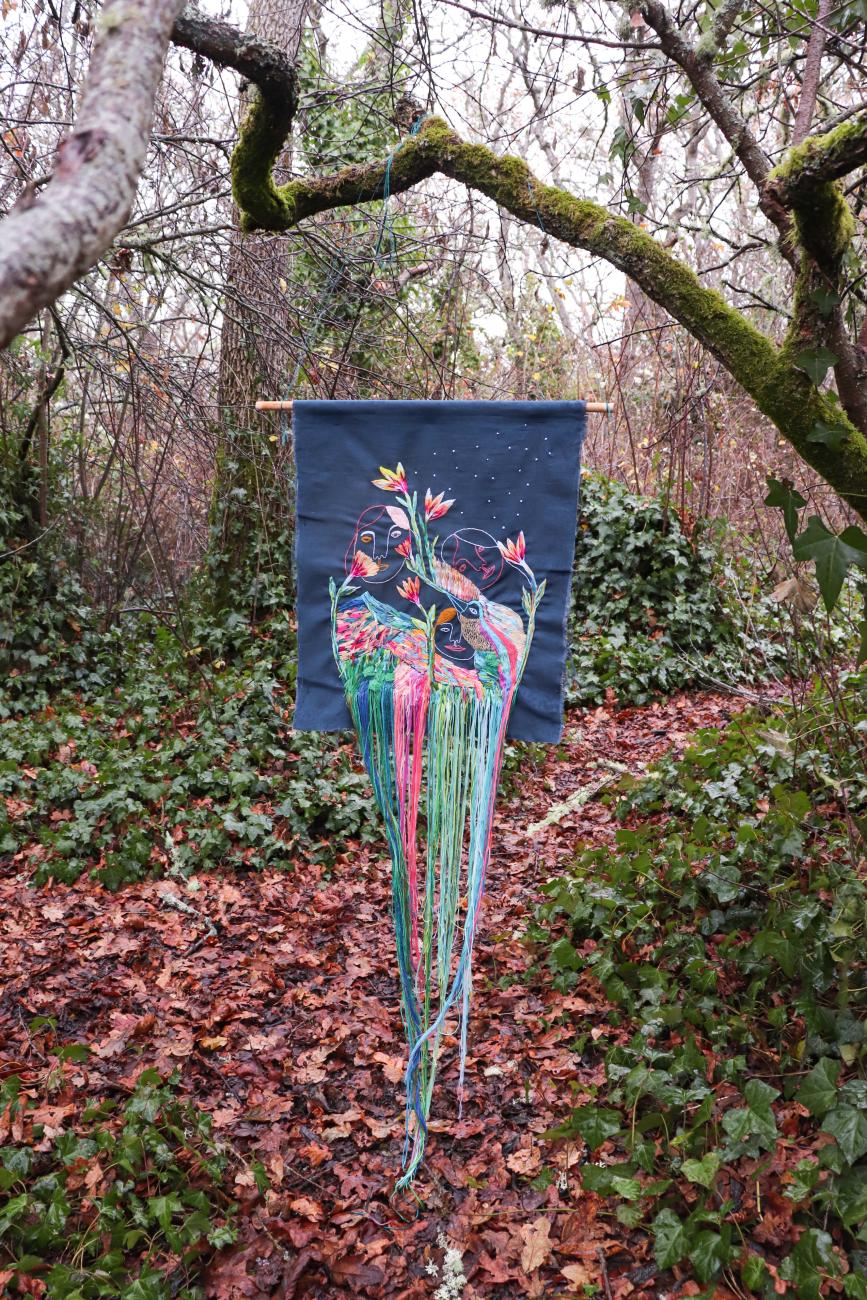 Photo courtesy of Katy Biele.
Baby blankets, passed-down clothing, and traditional cultural attire  — textiles provide some of the first and most significant places where we find comfort, identity and belonging. In its current installation Gathering, the Collection Gallery at the Textile Museum of Canada explores human experiences through themes of diaspora and migration, ancestral reclamation, resilience, and everyday life. 
Filled with over 40 international pieces from the Textile Museum of Canada's collection of over 15,000 objects, the curation process for Gathering was a collaborative feat with objects chosen through an online call for reflection. Ranging from the 18th to the 21st century, objects were chosen in part by local artists and community members reflecting on their personal connections to items in the collection.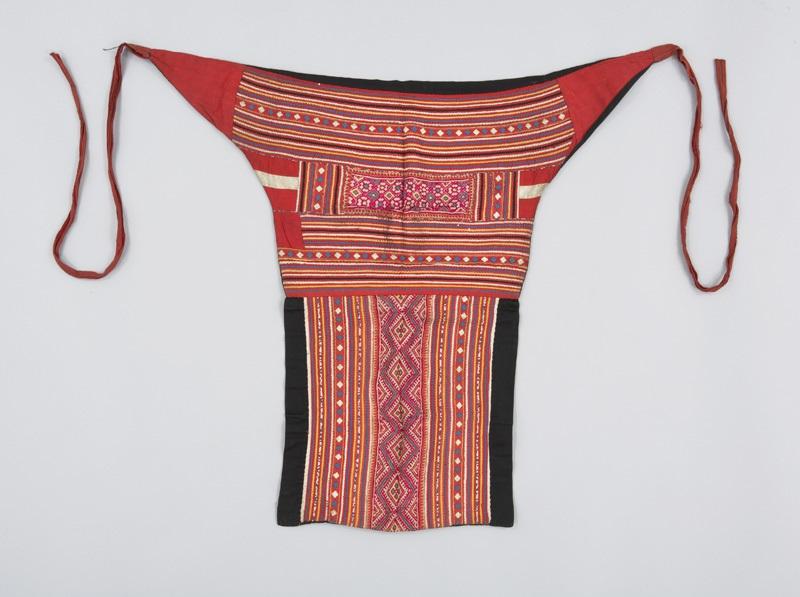 Baby Carrier, Akha, Thailand, 1930-1970, cotton, silk; plain woven, reverse appliquéd, embroidered, machine-sewn. From the Opekar/Webster Collection, T94.0873., Courtesy Textile Museum of Canada.
Community members and artists who helped curate Gathering also shared digital and artistic responses to their selected objects. In line with themes of diaspora, migration and resilience, the Afghan Women's Organization (AWO) created Weaving Journeys, a short film series featuring immigrant and refugee Afghan women responding to various objects in the exhibition including Afghan War rugs, a sari, and a food covering.  
Rug, Afghanistan, 2001-2007; wool; knotted pile, plain woven. Gift of Max Allen, T2008.1.115. Courtesy Textile Museum of Canada.
Local artists responded to objects through various mediums including original works, video responses, zines, and stop-motion animations. A yarn painting by Mexican artist Francisco Carillo Zamora caught the eye of Katy Biele, a Victoria, B.C.-based Chilean artist. Drawn in by the traditional use of vibrant yarn paint by the Huichol, an Indigenous group in Mexico, Biele created Something to Hang On To (feature image), a colourful embroidered work depicting themes of plants and animals. Temporarily installed in the forest, Biele created this piece in honour of three things she pays daily homage to: Mother Earth, the ancestral women in her family tree, and the cosmos/non-material world.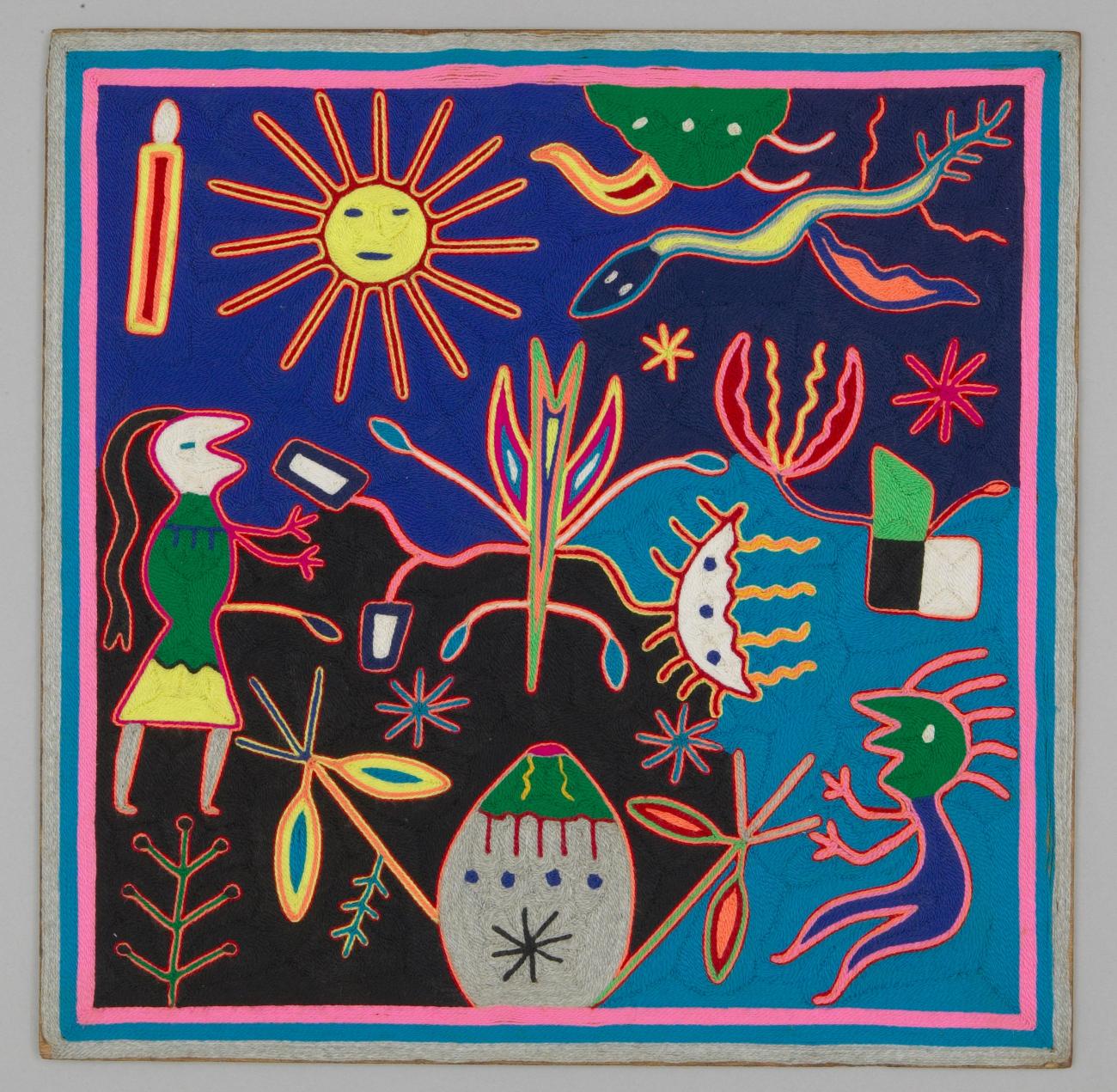 Francisco Carillo Zamora, Huichol, Yarn Painting, Nayarit, Mexico, 1990s; wood, beeswax, wool. Gift of Penny Bateman, TS03.23.124. Courtesy Textile Museum of Canada.
From a well-used and carefully repaired Thai baby carrier representing the everyday lives of the Akha people to a colourful quilt representing a family's 1831 migration from Scotland to Quebec, experience how textiles are an essential part of the human experience. Gathering is on view now through March 31, 2024. To learn more visit https://textilemuseum.ca/event/gathering