Making sense of style
On view until October 9, Fashion Fictions at the Vancouver Art Gallery explores future fashion worlds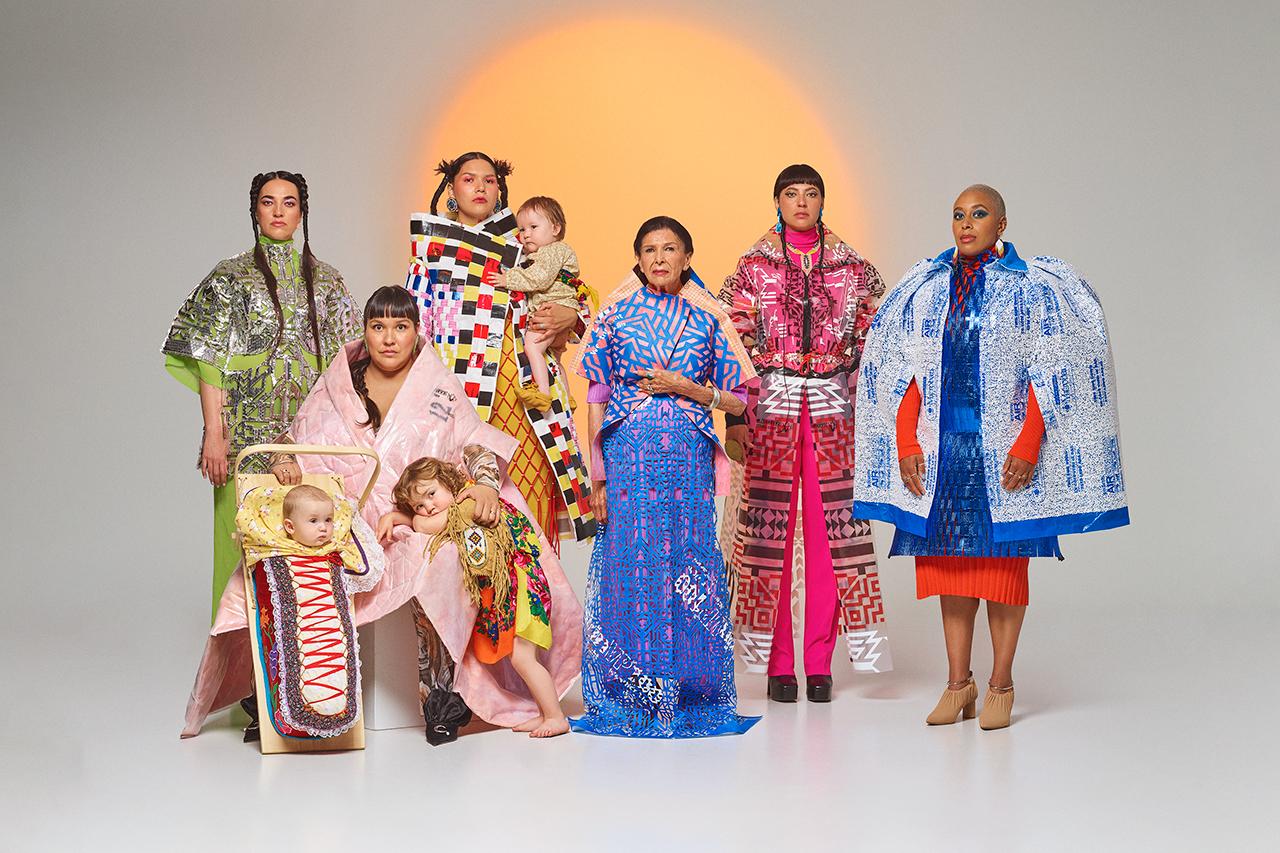 Caroline Monnet, Echoes from a Near Future, 2022, inkjet print mounted on aluminum, Courtesy of the Artist
New York, London, Paris and Milan – fashion month is well underway around the globe for yet another season. While fashion designers are sending their ready-to-wear collections down the runway with spring 2024 already in mind, at the Vancouver Art Gallery, Fashion Fictions looks further – much further – beyond 2024 and well into our future unknown. On view until October 9, 2023, the exhibition dives into the experimental design practices that exist at the intersection of fashion and other modes of cultural production with some of the industry's biggest names.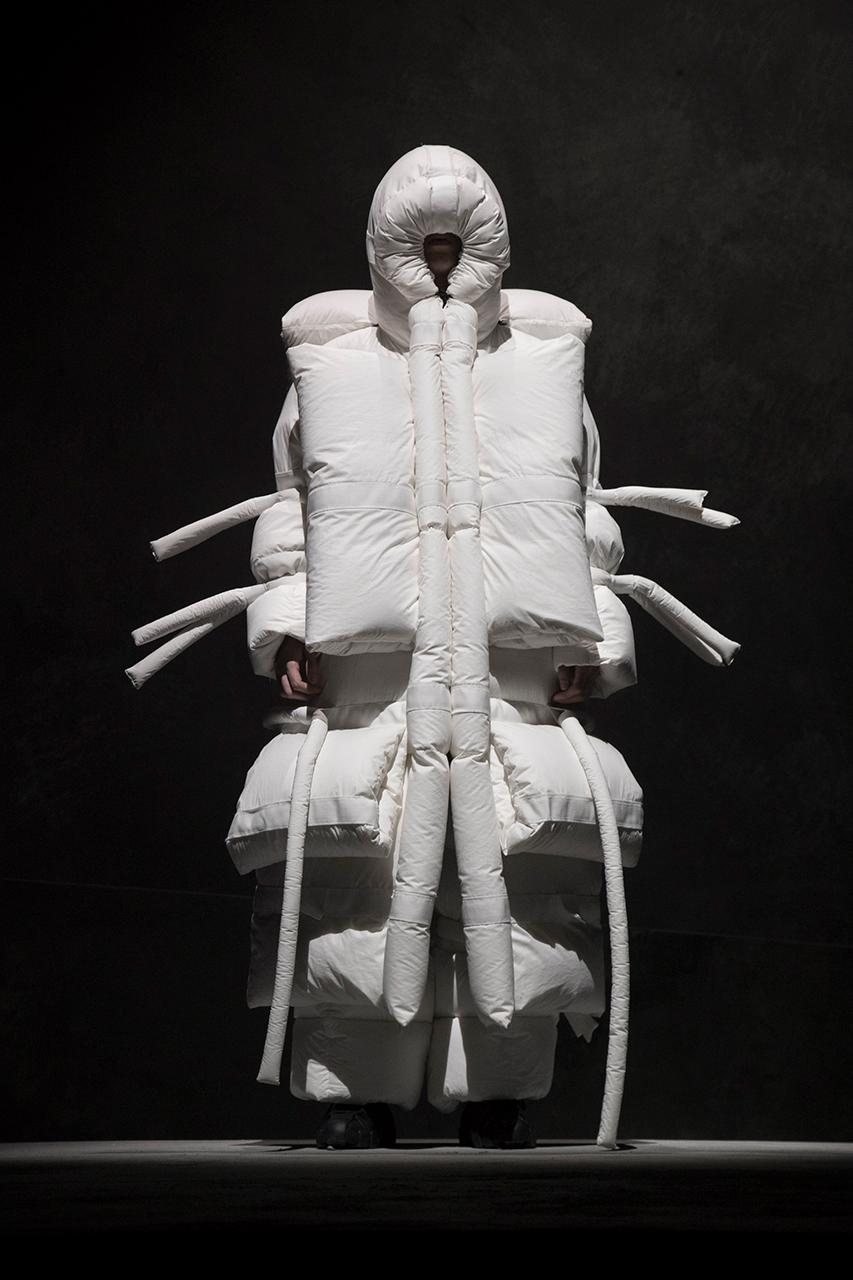 Craig Green for Moncler Genius, Ensemble, 5 Moncler Craig Green collection, Fall/Winter 2018, micro ripstop nylon, cotton down, Courtesy of Moncler
On view are more than 50 fashion designers, including luxury fashion houses with global recognition – Iris van Herpen, Alexander McQueen, Maison Margiela and Comme des Garçons - juxtaposed with emerging designers, sportswear labels – adidas, Nike, Crocs – and contemporary artists. Also featured are several Indigenous designers and contemporary artists like Barry Ace, Caroline Monnet and Celeste Pedri-Spade, addressing social and environmental issues through design, selected by contributing curator Amber-Dawn Bear Robe. She explained, "The Indigenous designers curated into the show represent such a tiny fraction of the extraordinary work being fashioned by Indigenous designers across Native North America. Many more fashion stories of the original designers of this land need to be shared."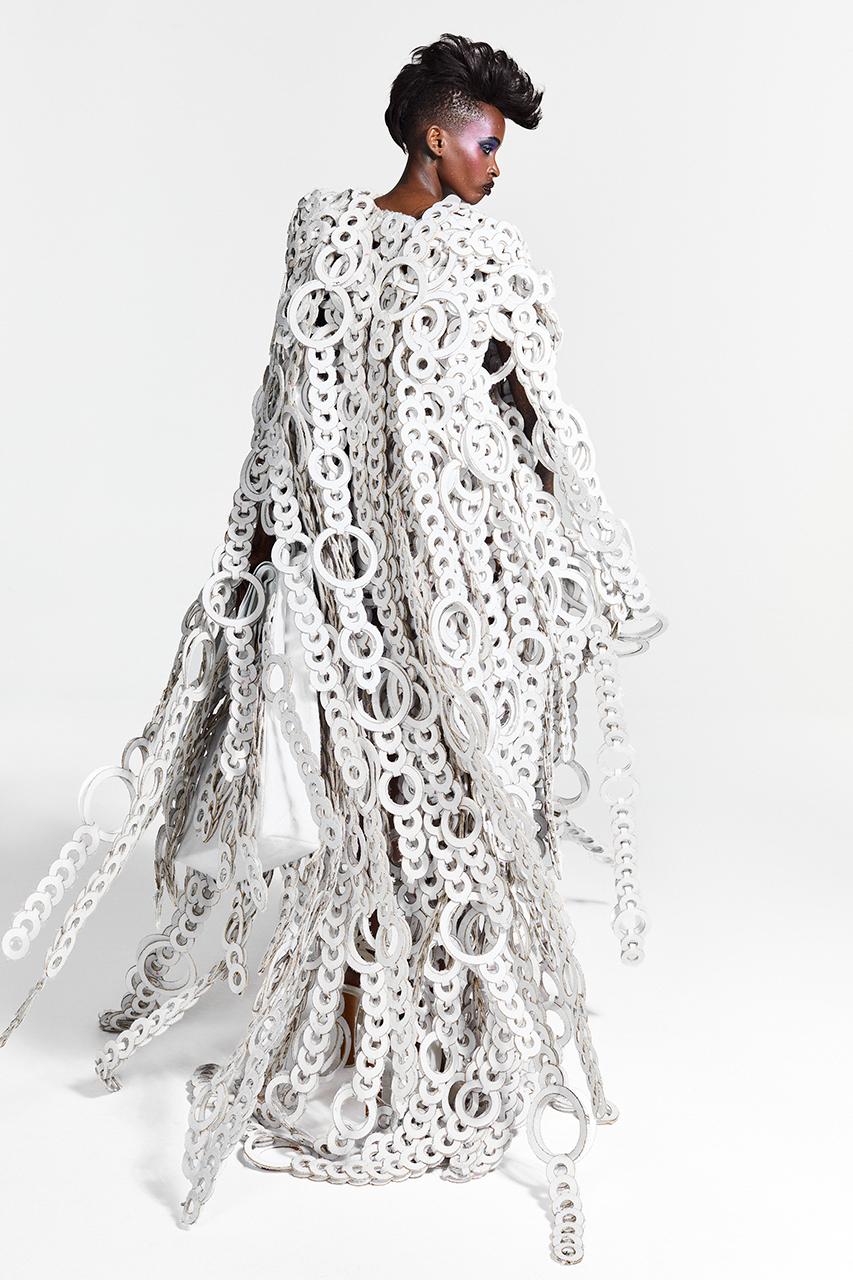 Ronald van der Kemp, Overcoat, The Mind Vaccine collection, Fall 2021 (Look 34), felt made from textile trash, Courtesy of RVDK Ronald van der Kemp, Photo: Marijke Aerden
Much more than just good-looking clothes, the exhibition is international in scope, using fashion as a jumping-off point to explore themes of sustainability, nature, cultural traditions, science fiction and technology. Fashion Fictions is "divided into three thematic sections: Material Futures, which explores the relationship between technological and scientific innovations in material research to create fabrics; Aesthetic Prophesies, which highlights the fusion of cultural traditions with speculative creations and designers that push the boundaries of wearability with extreme fashion and; Responsible Visions, which explores the importance of sustainable discourse in fashion culture, with designers incorporating adaptive reuse, upcycling and digital design into their explorations."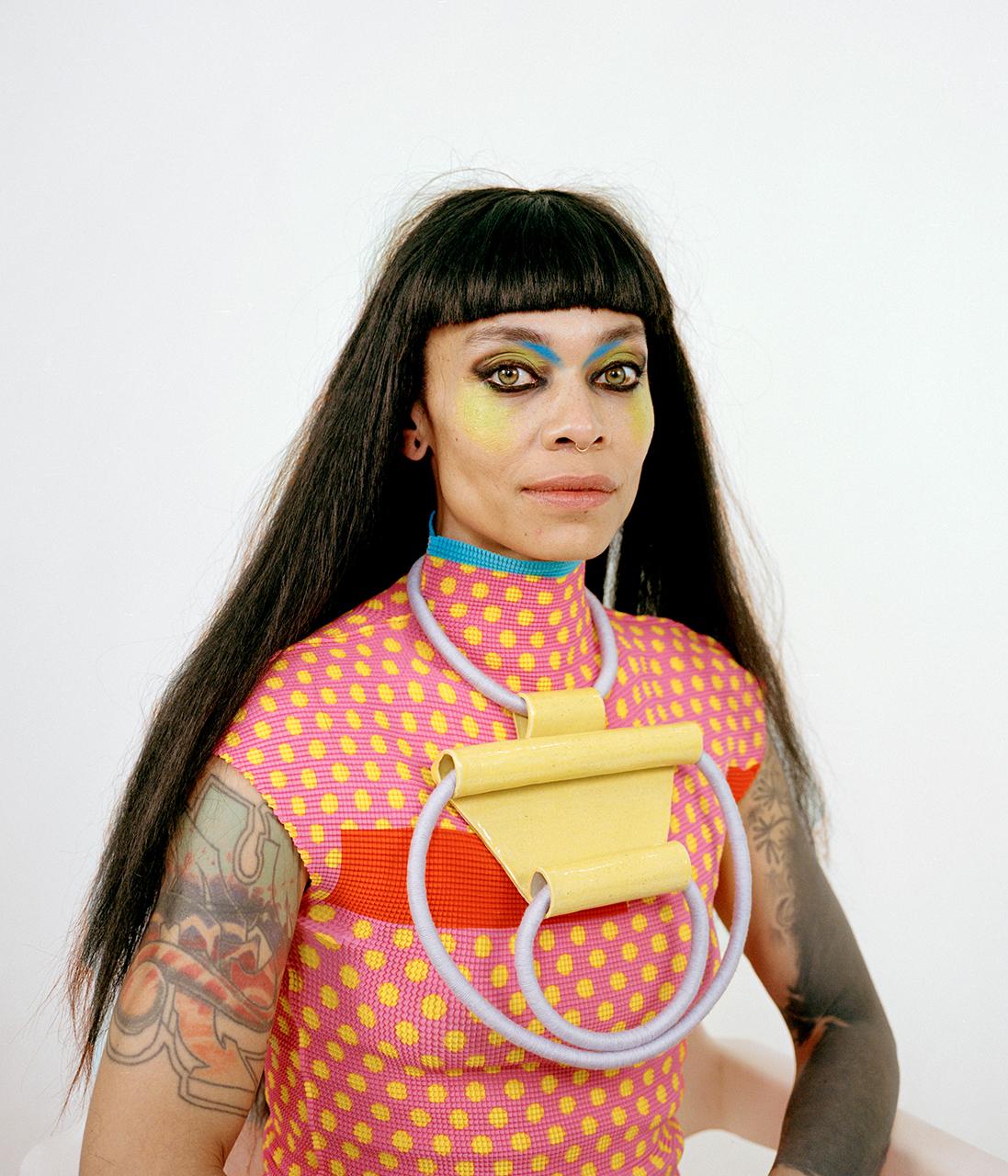 Shaya Ishaq, Circle of Lite 3, 2019, inkjet print, Courtesy of Shaya Ishaq, Photo: Brandon Brookbank
As exhibition curator, Stephanie Rebick, Vancouver Art Gallery's Director of Publishing and Content Strategy, explains, "Fashion Fictions has been many years in the making, and this timely exhibition reveals how fashion can be used to understand, describe and shape the world around us, as well as to envision modes of living very different than our own." The exhibition's title, Fashion Fictions is inspired by artist and technologist Julian Bleecker's essay "Design Fiction" (2009), where he "argues that the most innovative, transformative design work is produced in the spaces between fact and fiction, the present and the near future, and the scientific and the fantastical."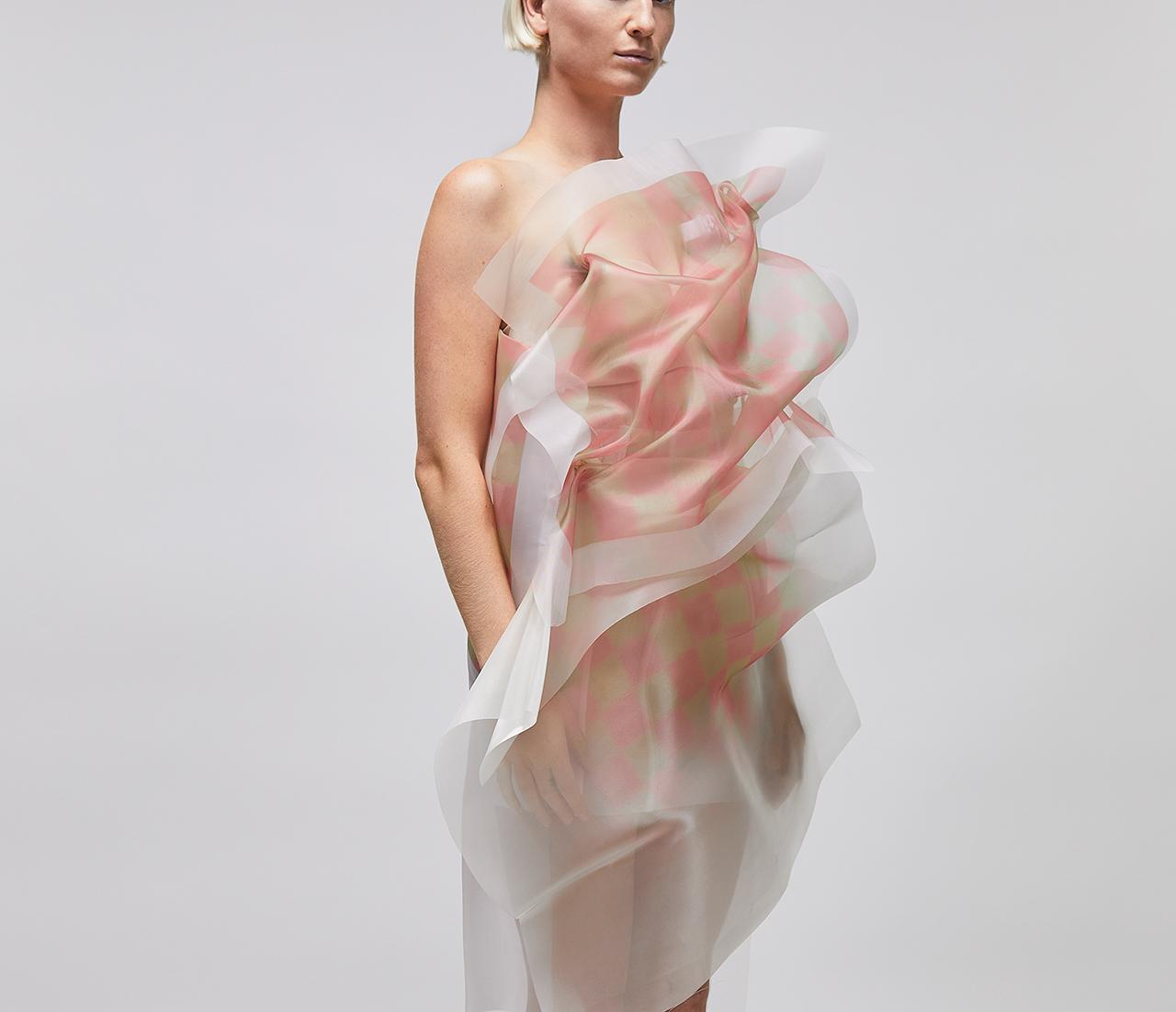 Ying Gao, 2 5 2 6, 2022, PVDF, organdy, glass, silicone, electronic devices, Courtesy of the Artist, Photo: Maude Arsenault
The Vancouver Art Gallery has also partnered with luxury fashion department store Holt Renfrew to bring a part of the Fashion Fictions experience to shoppers with a window installation featuring artists Yimeng Yu, threeASFOUR, Taskin Geoc and The Fabricant.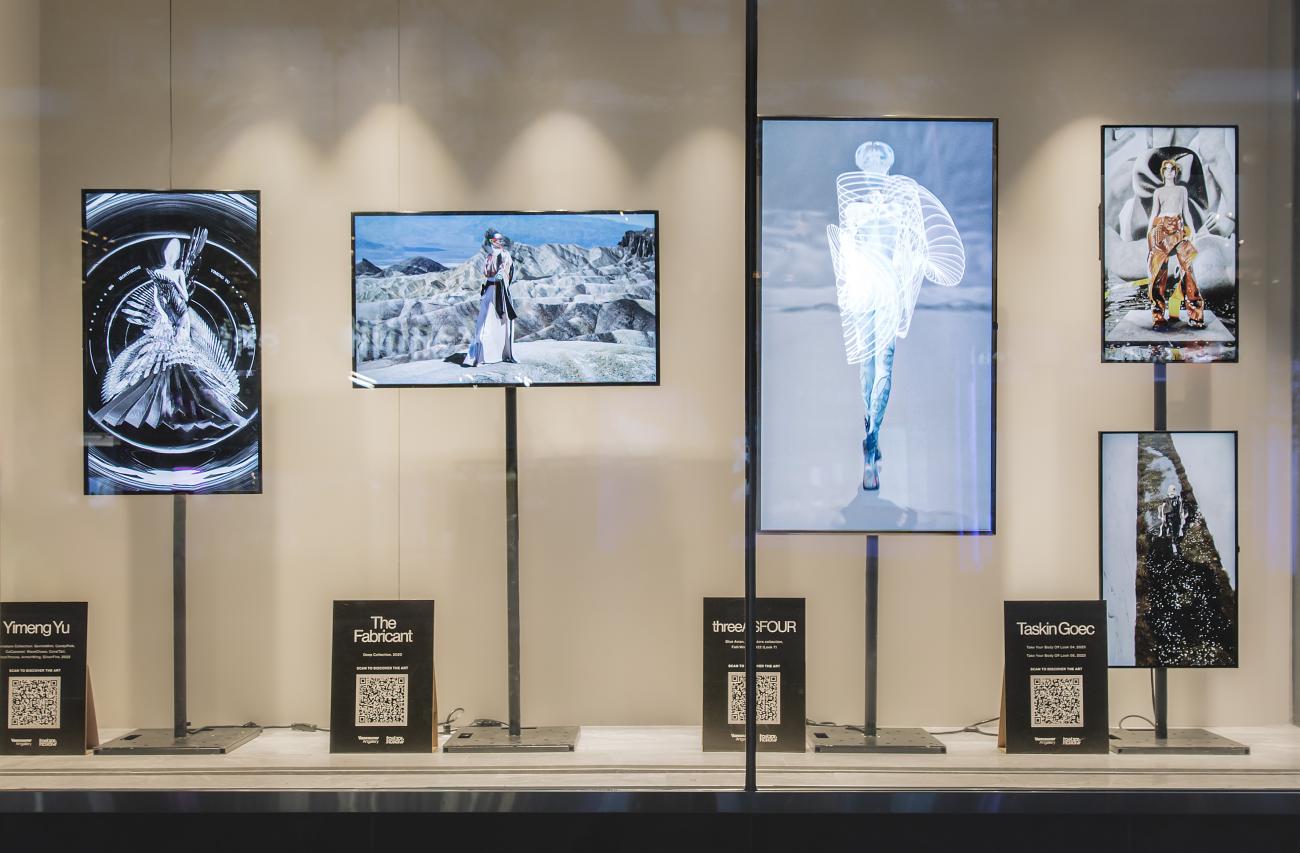 Image courtesy of the Vancouver Art Gallery. 
Fashion Fictions is on view at the Vancouver Art Gallery until October 9, 2023. The exhibition is organized and curated by Stephanie Rebick, Director of Publishing and Content Strategy; with contributing curators Amber-Dawn Bear Robe, Independent Curator and Indigenous Fashion Show Director, SWAIA; Siobhan McCracken Nixon, Assistant Curator; and curatorial advisor New Order of Fashion.