Upcycled entities
Tau Lewis intuitively builds grand portals to other realms.
Tau Lewis, Opus (The Ovule), 2020. Various recycled and hand dyed fabrics, recycled leather, acrylic paint, recycled polyester batting, jute, metal frame, PVA glue, secret objects, safety pins, metal hooks, wire. Dimensions variable. Image courtesy of Cooper Cole.
The vibrant cultures, historical traumas and many acts of resistance that comprise the African Diaspora are a complex assemblage. In an attempt to unpack this complexity through her work, Canadian artist Tau Lewis flirts with the supernatural. She creates sculptural portraits and quilts with otherworldly backstories, functioning as entities who can traverse the ancestral plane. Lewis is meticulous about the found, gathered and recycled materials used in her works, often considering the life cycle and voice of each individual object she touches.  
In a 2021 AGO Art in the Spotlight discussion, Lewis was joined by Hammer Museum curator Erin Christovale. The two shared insights about Lewis's practice, specifically two works included in 2021 Hammer exhibition No Humans Involved, curated by Christovale. After the conversation, we connected with Tau to find out more about her unique creations and the methodology behind them.    
Foyer: You've mentioned that the objects you work with have their own voice/power and that you feel like the conduit they speak through. Have you always felt this way, or is this an awareness that developed over time? How do you actively listen for their voices?  
Lewis: It's an awareness that I've always been more or less tapped into, but I would compare it to a form of empathic sensitivity. It's stronger and more focused when I'm actively engaging with objects, and when I'm being very isolated in my studio. I learn and process information about objects with all of my senses, but touch is very important to my developing an understanding of something. I hold things and study them. Sometimes not for very long, sometimes for what feels like ages. I've held certain materials, revisiting and returning to them for several years.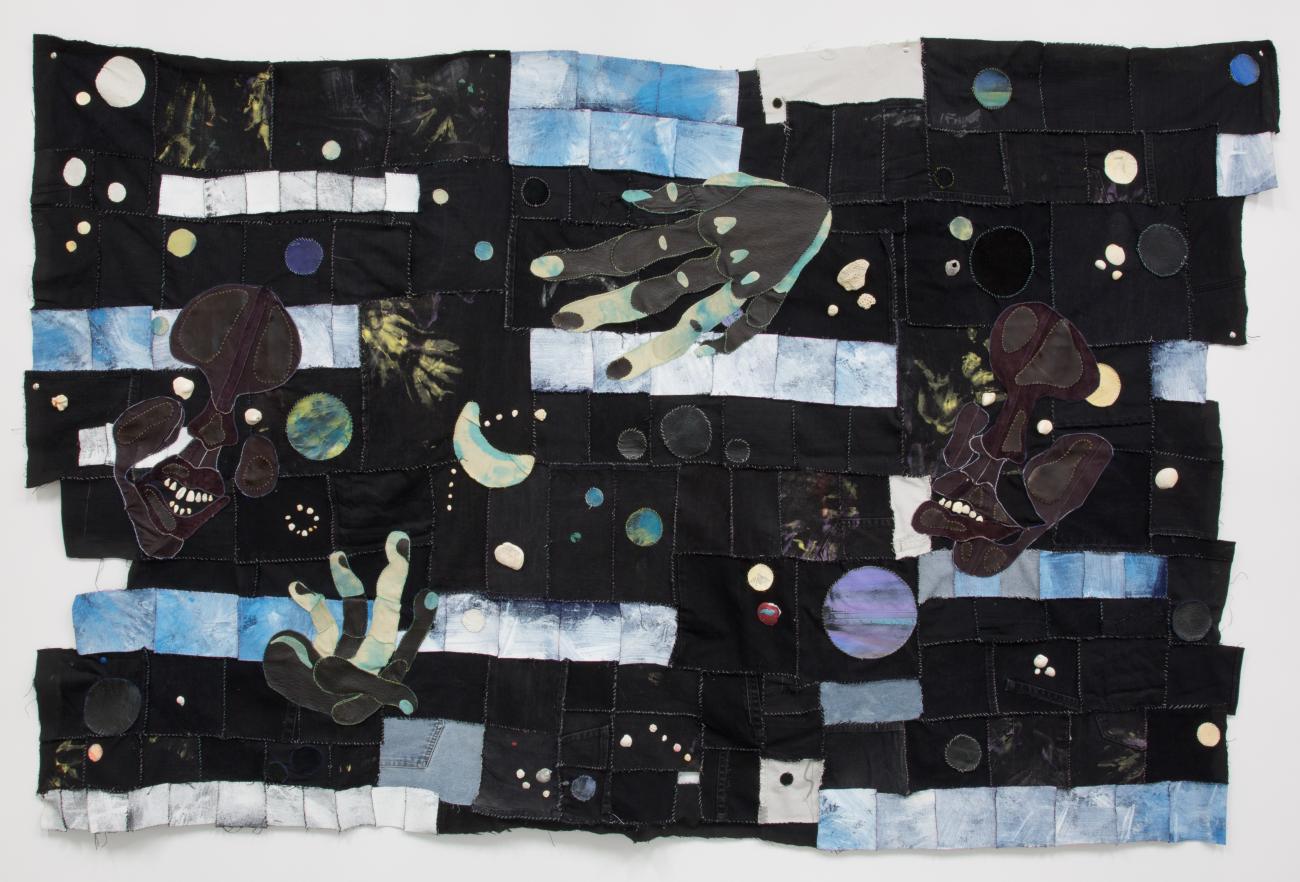 Tau Lewis, Passing the green specimoon, 2020. Recycled fabrics and leather, acrylic paint, stones, sea shells. Image courtesy of Night Gallery.
Foyer: Your pieces come with such rich backstories. Whether sculptural portrait or quilt, how do you approach creating the complex identity of each piece? Does the story come before the work or vice versa? 
Lewis: The narratives reveal themselves to me in many ways. As I've touched on before these are, in a sense, portraits of the various landscapes which they are constructed in and out of. Materials also engage in dialogue with one another, I become a composer, guiding them together like a puzzle, trying my best to let things speak to and for themselves. 
I imagine and envision other temporal and spatial realms and draw inspiration from these. The physical form of each artwork is heavily inspired by the imaginary. I consider each piece to be in dialogue with one another, across every body of work. There is a familial connection in the material DNA of my artworks, they are often connected in their narratives as well. I draw inspiration from my dreams, the cosmos, and ancestral stories and allegories.
Foyer: Your practice is deeply rooted in physical material – gathering, archiving and reassembling objects in real-time. As we increasingly experience more of our lives online, what do you hope your work can provide for a generation of people entranced by screens?
Lewis: In many ways the screen is a helpful bridge for people across borders to access one another and to engage with art. I think viewing artwork through the screen is better than not at all. Mostly I like to hope that everybody in their own world has access to some form of art that stimulates and inspires them. I hope that my artwork can provide someone with what they need at that moment in time. Maybe a mental departure, or inspiration or wonder. I'm just grateful to be able to share and for people's honest engagement.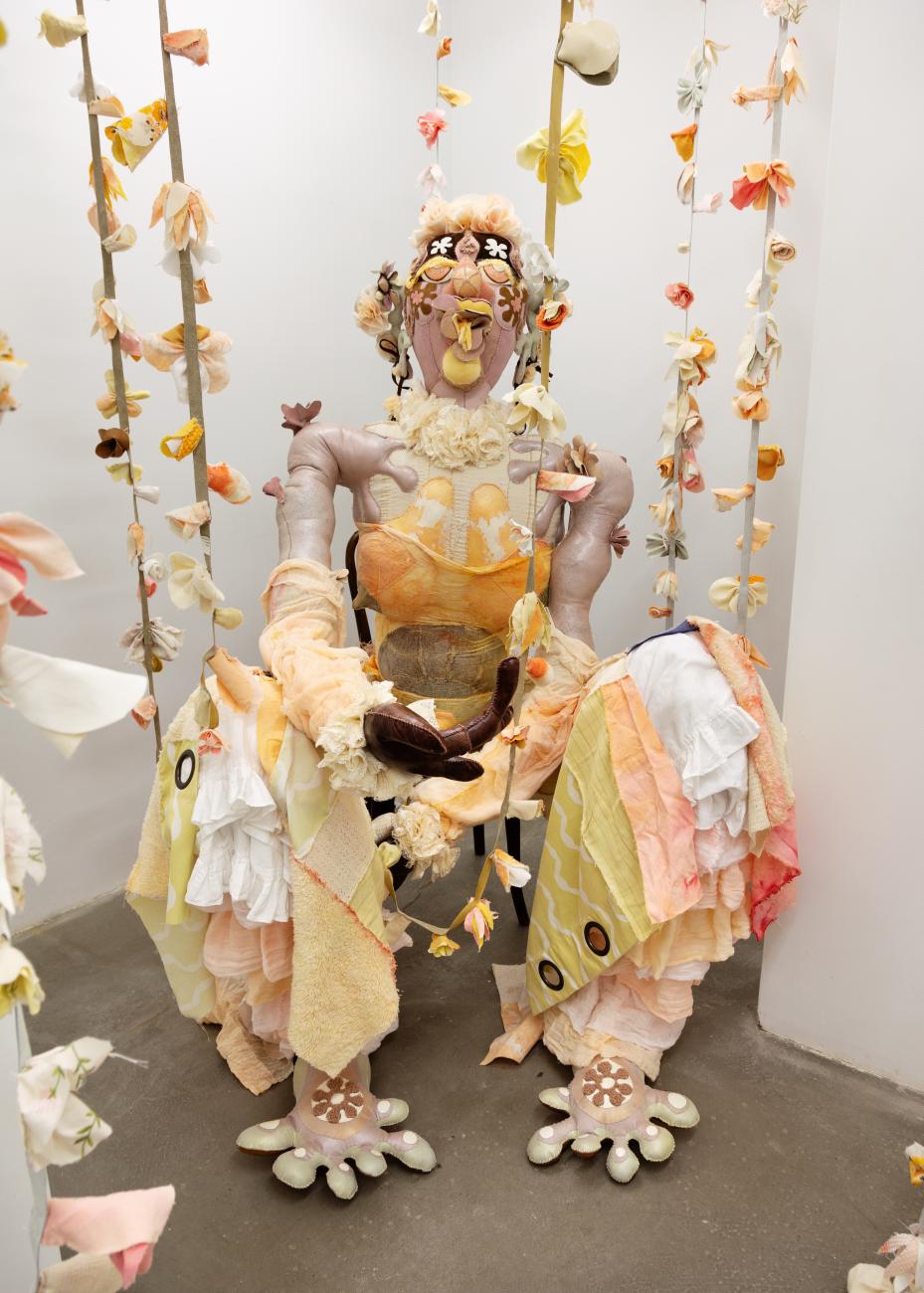 Tau Lewis, Delight, 2020. Various recycled and hand dyed fabrics, recycled leather, cotton and recycled polyester batting, acrylic paint, PVA glue, seashells, stones, beads, pipe, wooden chair, hand sewn. Dimensions variable. Image courtesy of Cooper Cole.
Foyer: Are the many characters/beings you create part of one universe? If so, have you ever imagined them being brought to life through another medium like illustration, film or literature?
Lewis: Through my work I'm uncovering a sci-fi chronicle, the stories will continue to unfold throughout my career, and the overall narrative will never be completed. So I'm exploring a multiverse. All of these beings are in conversation throughout the multiverse. I do like to envision these being brought to life across different mediums. Film is something that I've dabbled in and plan to continue exploring. Literature and writing are monumental to my practice. I write as I move through a body of work, I keep the writing, it becomes a part of my material archive, I draw from it in the same way that I do found objects. At some point I may release some of my writing, I let parts of it trickle through, maybe in an exhibition text, or in a zine or monograph. I often incorporate poetry into my exhibitions and use excerpts to title my artworks. 
I never want to limit myself, sculpture is a medium that I love using to express my ideas, however I have so many ideas it can sometimes be overwhelming to think of everything I want to do, and wondering when I'll be available to fulfill my ideas. But I am always willing and hoping for opportunities to branch out and expand my knowledge and processes.