Get to know L'Uomo Strano
Mic. Carter talks the art of designing gendermore clothing and Fashion Art Toronto.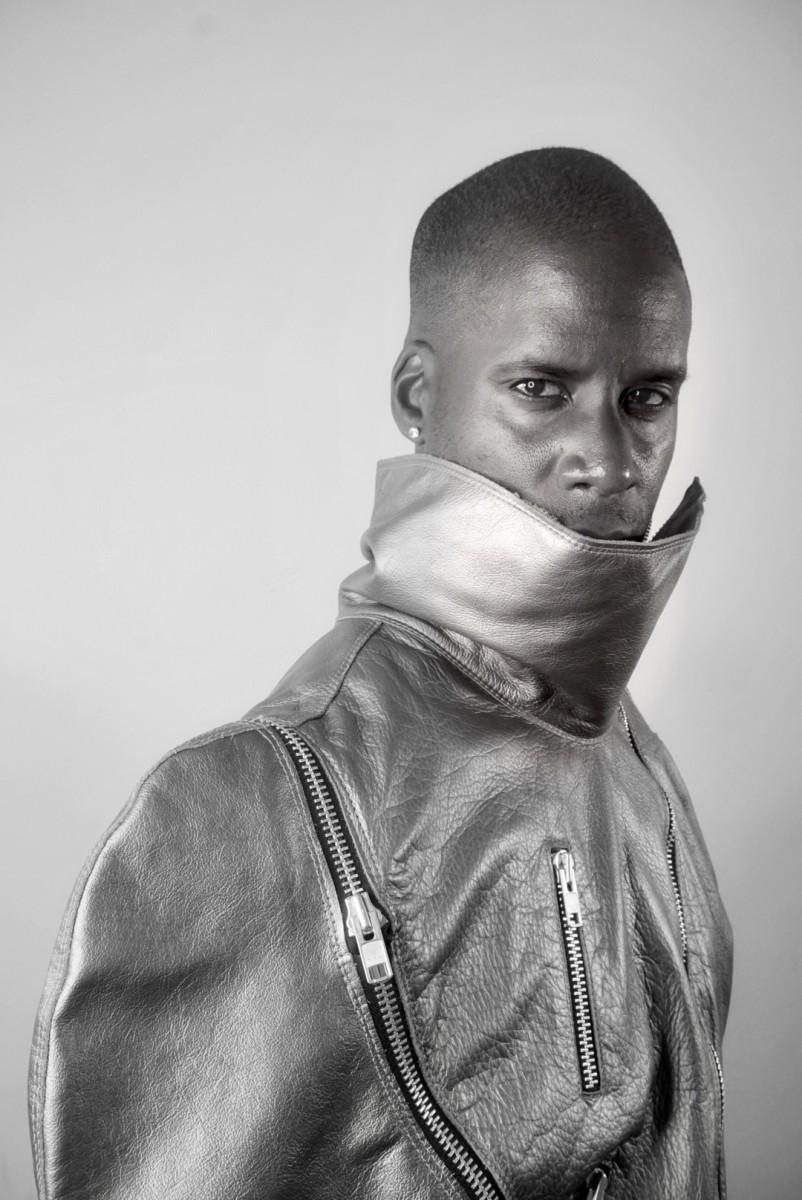 Image courtesy of Mic Carter
Fusing social justice, futurity, abjection, and community with fashion, Mic. Carter, a Toronto-based creative has been creating space for the gender non-conforming community for the past decade. Through his fashion label, L'Uomo Strano, or "the strange man", Carter creates affirming, fun-loving wardrobes for non-binary people and their allies. 
Carter recently made a splash at Fashion Art Toronto 2023, where he presented a capsule and archive collection titled all my life, inspired by Afro-Futurism and featuring bright colours, graffiti and textures. This year was his tenth year showing at Fashion Art Toronto. 
L'Uomo Strano began ten years ago in response to challenges Carter and his community were experiencing in finding clothes that affirmed their gender. Faced with microaggressions and marginalization, Carter decided to make his own clothes and found solace in the club scene – a liberating space of community for Black and Brown queer bodies. Fashion design soon became more than just a hobby and he studied fashion design at George Brown College and Central Saint Martins. Now, on top of being the designer behind L'Uomo Strano, Carter is also a full-time elementary school teacher and a part-time lecturer at Toronto Metropolitan University's School of Fashion.
We connected with Carter to learn more about L'Uomo Strano, his recent presentation at FAT 2023 and his biggest fashion inspirations. 
L'UOMO STRANO at Fashion Art Toronto 2023. Photo by @photogeneeq
Foyer: Fashion Art Toronto highlights the intersections between art and fashion. How do you see that reflected in your work overall and, in particular, in this year's fashion presentation of L'Uomo Strano? 
Carter: I do love a "multi-arts" moment as well as an integrated arts moment. One exciting thing that was unique to this presentation was it was so deeply collaborative. I worked with Imago Millinery by Sebastian Blagdon, a hat designer who has modelled for the brand since 2014, and they had made hats that I found were quite aligned and inspired by L'Uomo Strano. Similarly, we worked again with Grey Heaven Grey Earth by Patrick Mathers, a septum jewelry maker who has contributed pieces to my shows in the past and who really spoke to the aesthetics of Strano. I think this was one of the first collections where I really sought to create an ecosystem in which these individual art pieces would and could synthesize together, in a way that communicated a new understanding of what Strano is and where it can go. 
My twin brother Matthew Carter always creates sound art pieces for my shows. His band is called Golden Ohms. They really seek to create a sound that is at the intersection of grunge and hip-hop in a way that is quite innovative. They once again did that for this collection, and I found it really helped to cleanse the palate before the clothes sort of came out. 
More specific to the actual designs, I really sought to engage in the art practice of assemblage, particularly with the archival pieces. I wanted to ensure though people had seen them before and have loved them in their initial way of presentation, they can take on new life in a way that speaks to sustainability - a concept that is so important to me. How these pieces can last, morph, change, breathe over time, and be mutable. I think that also speaks to the amorphousness of the gender non-conforming community, the non-binary community and speaks to the resilience of that community and of ultimately, my own community.
Foyer: Are there creatives working in the art or fashion world you draw inspiration from?  
Carter: Yes, absolutely. I would say locally, the artist Diseiye Thompson inspires me. They are a black trans woman who has been creating work within the Voguing community in the city. I really appreciate the kind of work they do, the passion and the attention to detail. Kyle Gervacy, another black Toronto-based designer, is similarly inspirational. He so adeptly and consistently engages with a global design aesthetic that is deeply innovative.  
On a national level, I work with this incredible human named Vivek Shraya quite consistently. They are many things, but currently a theatre artist, a professor, a singer and a social media darling. I really appreciate the way they are able to incorporate their art in so many different facets and infuse it into so many different kinds of manifestations. I think that is so genius and so thoughtful. 
Lastly, I would say on an international level, I really like Christopher John Rogers, who is a fashion designer out of New York. I am deeply inspired by the optimism and Afrocentrism in his designs.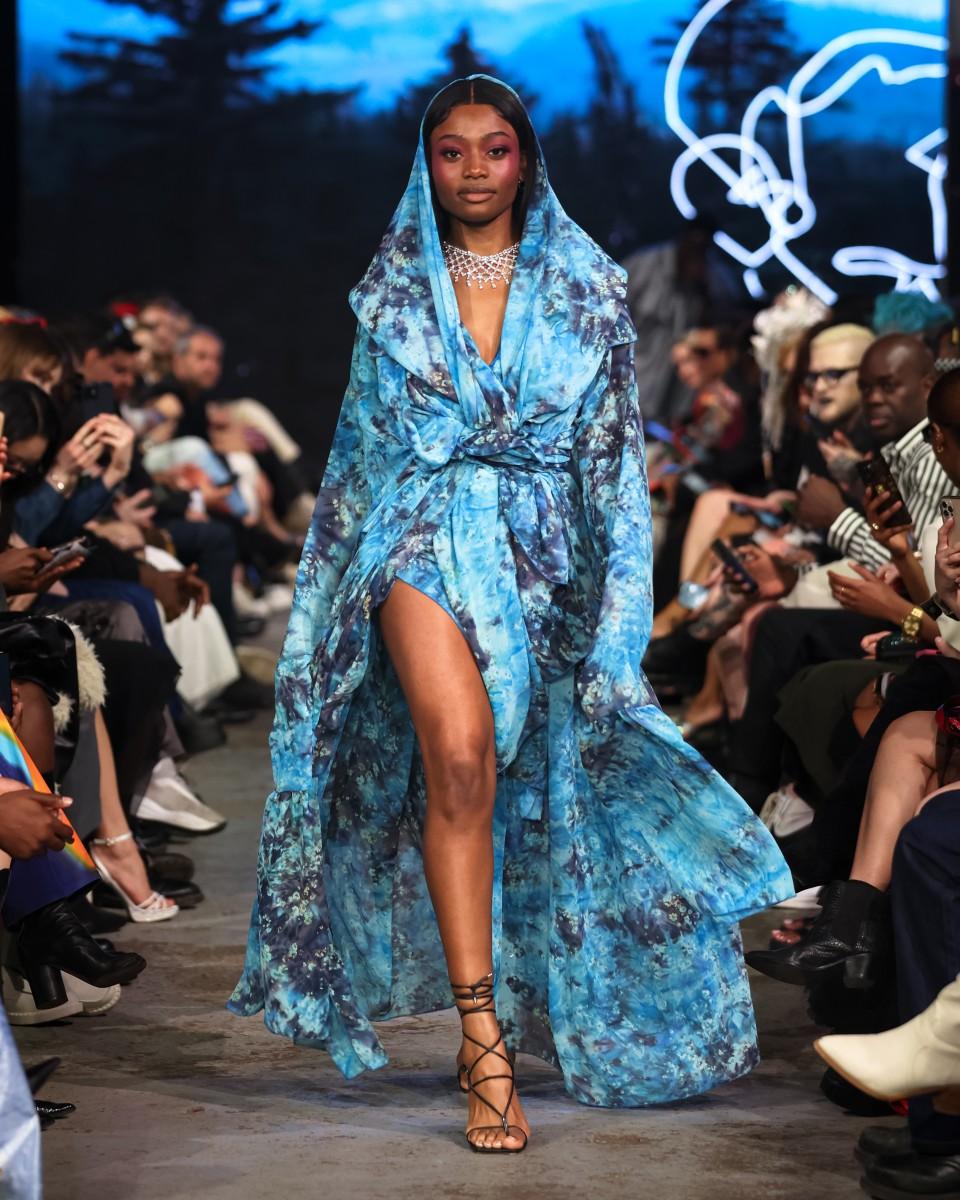 L'UOMO STRANO at Fashion Art Toronto 2023. Photo by @photogeneeq
Foyer: As a designer who champions gender-neutral and non-binary clothing, what excites you the most about it? What motivates you to keep doing what you're doing? 
Carter: I think what is encouraging and what keeps me going is definitely the Strano Squad. They are a group of gender nonconforming and non-binary models, stylists and artists who come through, access the clothing, and bring it to life. As I see the different ways they interpret these garments, the individuality they add, the way they style it and how affirming the garments end up being for them… I am just like, yo, I want to keep this going. I am passionate about equipping folks who have not really imagined a different way of engaging with everyday garments. I really enjoy creating that space for them. 
Foyer: How have people responded to your work? Have you found that peoples' perceptions changed over time?
Carter: Definitely – 110 percent. I would say initially, when I started the conversations around gender and non-binary identities, and them having a space, relevance and an ownership of certain aspects and fashion, that was not part of the conversation. Not only was it not part of the conversation, but it was boarded off, as if we were not welcomed. 
More specifically, I remember quite early on, I was invited to participate in a Fashion Week here in the city. I was told, after a very public fitting experience, that I needed to "masc" up the designs or the stylization – which acted as a mode of erasure. It was in that moment when Fashion Week ultimately removed me that the queer community rallied around and behind me, insisting on a discourse and a public discussion. The media also got involved, and as a result, Strano was re-invited to participate in Fashion Week. That moment is when it hit me that this is why I do what I do. This is who I do it for, and I am going to keep this up. That was about nine years ago.
Now, a lot of people are much more open. I don't want to say genderless design, but I would say gender-more design. I think that is by way of stylists, as they are such an important part of this fashion ecosystem and are such incredible artists. They are excited by and engaged by designs that can fit and animate all different sorts of bodies. Therefore, I'm just really grateful for the relationships that we've been able to invest in, particularly in this kind of stylist community.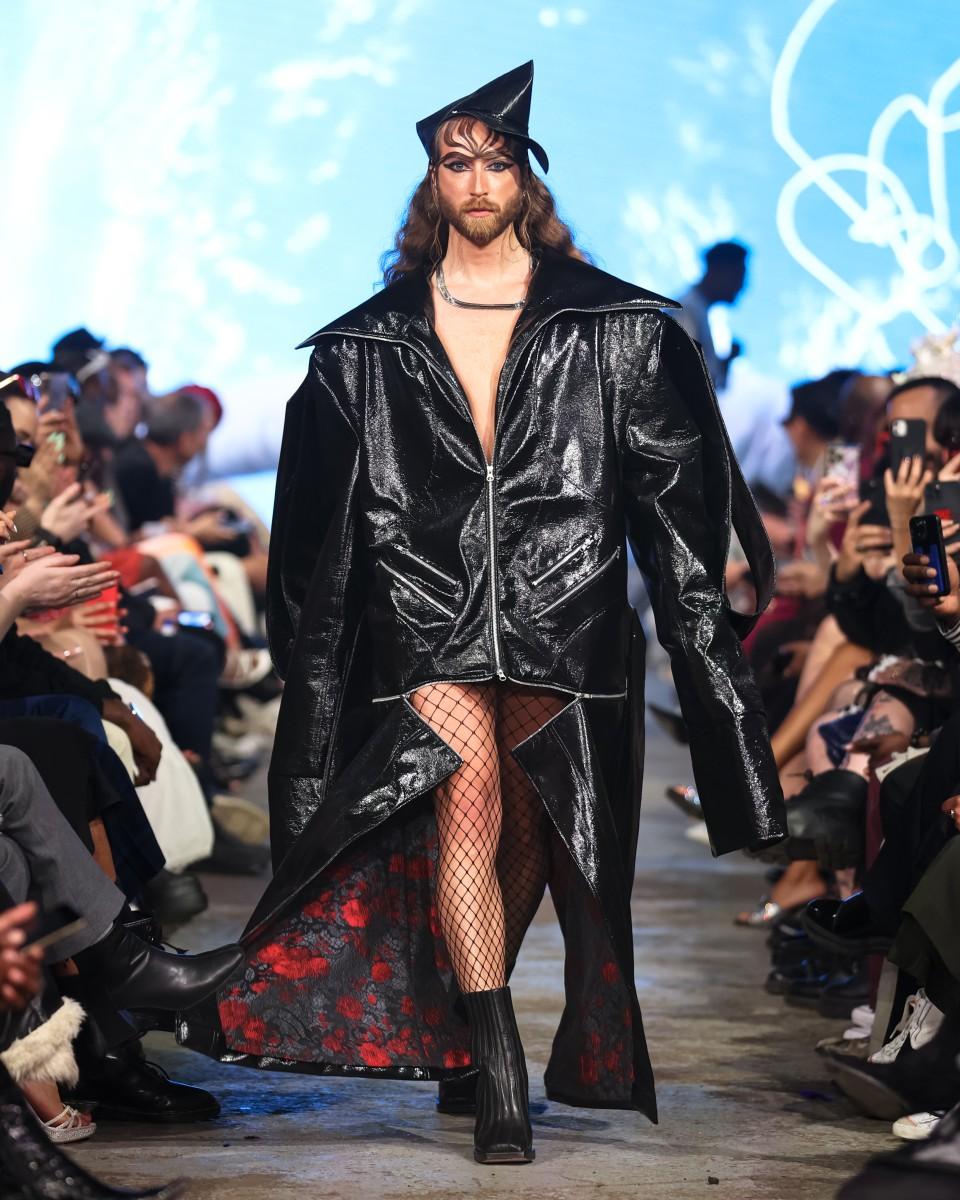 L'UOMO STRANO at Fashion Art Toronto 2023. Photo by @photogeneeq
Stay tuned to L'Uomo Strano's Instagram and website to see what Carter does next.