A conversation with Judy Chicago
The trailblazing artist, educator and writer talks about her Smoke Sculptures™.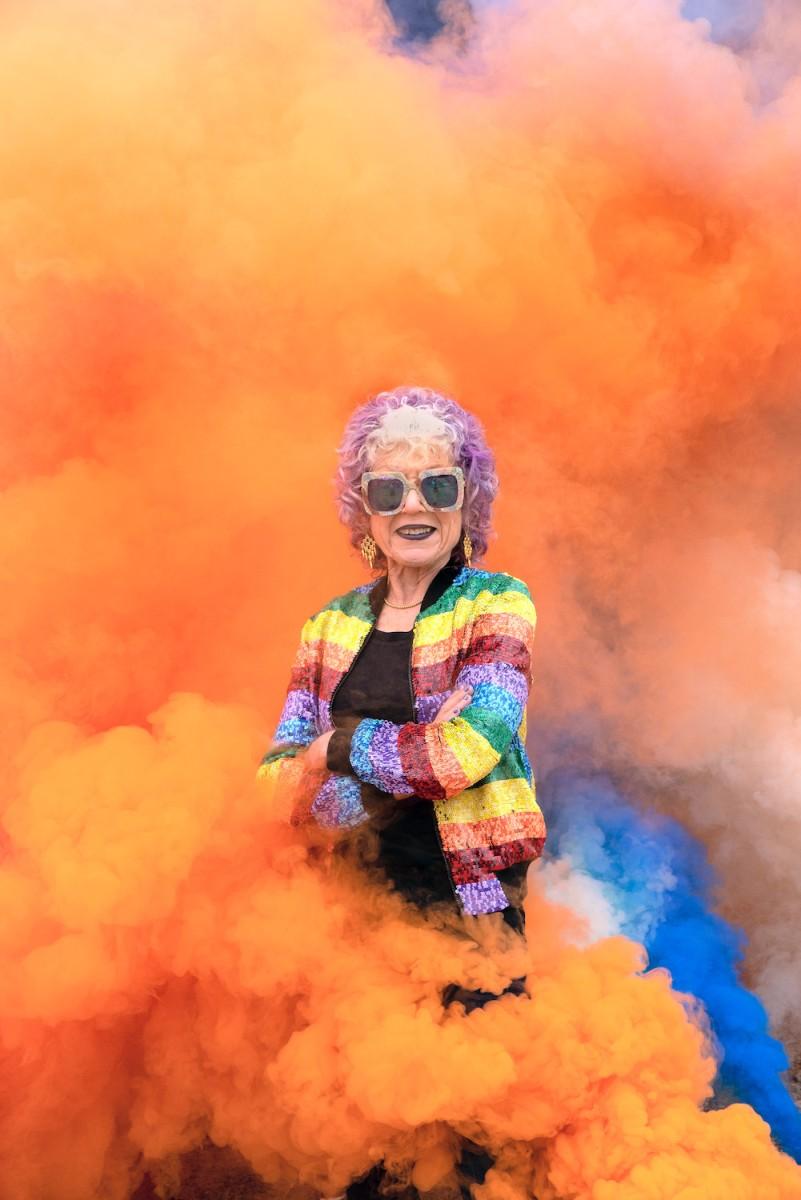 Judy Chicago. Photo by Donald Woodman.
This June [2022], Toronto is in for a spectacle to be seen courtesy of Judy Chicago. In a much-anticipated return to the city, the renowned multi-hyphenate and champion of feminist art will transform Sugar Beach with A Tribute to Toronto to close out this year's Toronto Biennial of Art (TBA). From a barge on Lake Ontario, non-toxic plumes of colour will swirl together in the air, illuminated with LED lights for a dazzling effect. A Tribute to Toronto – the first of Chicago's Smoke Sculptures™ presented in Canada and the first presented on water – comes decades after she began experimenting with pyrotechnics in the 1960s and 1970s, paralleling the emergence of Land Art at the time. 
Chicago's connection to the AGO is well-documented. In 1982, the artist presented her seminal work, The Dinner Party (1974–1979), here. Four plates and two drawings created for The Dinner Party are on view now on Level 4 of the Gallery, having been acquired for the AGO Collection in 2019. And this June, Chicago will be here for a conversation with Candice Hopkins, TBA Senior Curator, moderated by Xiaoyu Weng, AGO Carol and Morton Rapp Curator, Modern and Contemporary Art.
Leading up to her AGO appearance and Smoke Sculpture™ performance, we asked Chicago a few questions about her current practice.  
Foyer: Your Smoke Sculptures™ have a deliberately ephemeral quality to them, being that they are one-of-kind and site-specific. What is your reasoning behind those choices, especially concerning the male-dominated Land Art tradition?
Chicago: For many years, my Atmospheres and Smoke Sculptures™ were not seen in the context of Land Art which was associated with many male artists whose work permanently affected − and in some cases − disfigured the landscape. Philipp Kaiser was the first curator to recognize that my work represented a philosophical and aesthetic alternative to the 'domination' ethos that underlies that approach. In contrast, my pieces are ephemeral and intended to bring attention to the beauty and fragility of our shared environment which is threatened by the same system of domination.
Judy Chicago in collaboration with Pyro Spectaculars by Souza, Diamonds in the Sky, 2021. Fireworks performance Belen, NM © Judy Chicago/Artists Rights Society (ARS), New York; © Donald Woodman/ARS, New York.
Foyer: Tell us a bit about the preparation that goes into creating a Smoke Sculpture™ project and working with Pyro Spectaculars by Chris Souza. Given that A Tribute to Toronto will be situated on Toronto's waterfront, a first for you, what considerations had to be made?
Chicago: We have been working on A Tribute to Toronto for several years - and with Chris Souza of Pyro Spectaculars since 2011. In preparation for the piece, we have done extensive colour tests and once I decided on the hues and their sequence, Chris worked out the timing of the various elements which is done by the second. The one consideration in terms of the waterfront was having to do the piece on a barge but that is customarily done by Pyro Spectaculars for some of their major presentations around the world. But for me, it was a first and came with challenges including designing a scaffold structure to hold the different effects so that I could mix colour in the air horizontally, vertically and dimensionally. 
Foyer: You've said that art can educate, empower and inspire people to act and make social change. As you continue to be committed to art and artmaking from your perspective, what feels most urgent for you to express today?
Chicago: My long career has been defined by my commitment to making a contribution to art history, challenging the lack of representation of many marginalized groups and also, creating art as a 'gift from the heart'. My ephemeral work is my way of doing what (in my opinion) is what art is intended to do, that is, offering viewers a moment of pure beauty.
A Tribute to Toronto is commissioned by the Toronto Biennial of Art and made possible with the generous support of the City of Toronto, ArtworxTO, the Delaney Family Foundation, Menkes Developments, Waterfront Toronto, the Waterfront BIA, and the Women Leading Initiative.