Into the woods
Five Canadian outdoor theatre productions using nature to help set the scene this August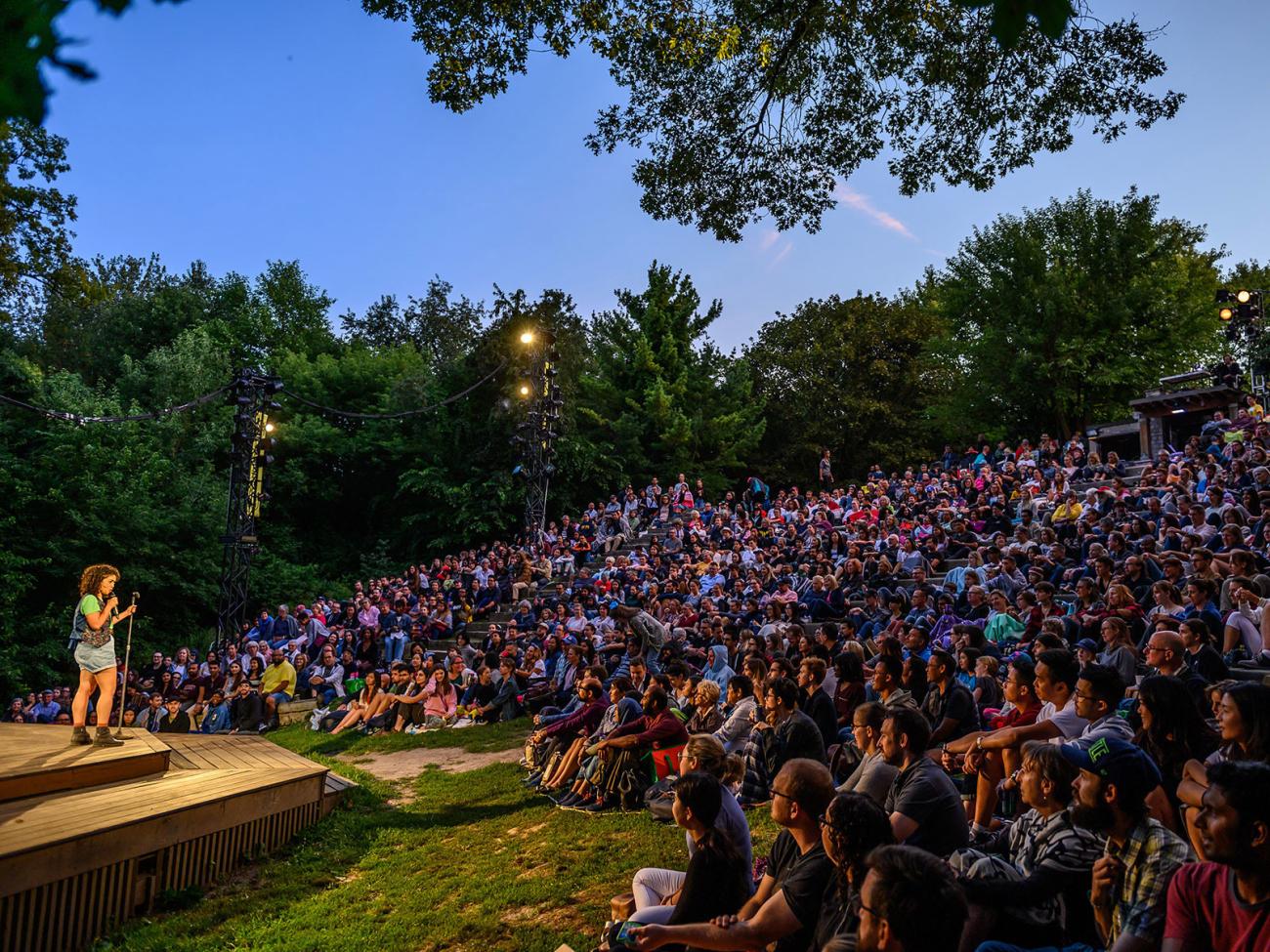 Image taken by Dahlia Katz
Whether you're enjoying the beach, hiking mountains, or taking in the blue sky against the vast prairies, we can all agree that Canadian summers in all their diverse forms are beautiful. Artists and theatre companies are taking advantage of the warm weather by performing in parks, amphitheatres, and even on farms. From the classic summer tradition of Shakespeare in the Park to guided audio walk soundscapes, check out these open-air performances happening across Canada this August. 
1. 

Toronto, Ontario

— 

Dream in High Park
A Toronto classic, the performing arts organization Canadian Stage transforms High Park's Amphitheatre into a different Shakespeare play every summer through Dream in High Park. This year Dream in High Park is celebrating its 40th anniversary by presenting Shakespeare's A Midsummer Night's Dream, the same inaugural production they presented at their first-ever performance in 1983 (see an image of this performance below). At the time, the performance took place on the grass at the bottom of the hill without a proper stage or seats. Fast-forward 40 years, and Dream in High Park is performing this same production on a scenic amphitheatre nestled within the lush trees of High Park. Grab tickets here. 
2. 

Scarborough, Ontario — Guild Festival Theatre
If you want to feel like you're in Ancient Greece watching a Greek tragedy, a trip to Scarborough, Ontario, might get you close enough. The Guild Festival Theatre (GFT) creates outdoor theatre performances at the Guild Park and Garden's Greek Theatre, one of the many beautiful architectural pieces featured within the park. Started in 2011, GFT is Scarborough's only professional theatre company, aiming to reimagine classical theatre through a diverse, inclusive, and equitable lens.
This August, GFT is showing an adaptation of Jerome K. Jerome's Three Men in a Boat and The Drowning Girls, which marries true crime with Greek Theatre. Grab your tickets here.
3. 

North Okanagan, British Columbia — Caravan Farm Theatre
Some farms produce food. Some farms produce art. 
Not technically a farm, Caravan Farm Theatre produces productions on an 80-acre rural property located on the unceded territories of the Secwepemc and Syilx First Nations. Caravan Farm Theatre got its start in the early 1970s as Caravan Stage Company, a horse-drawn touring company producing experimental, left-wing populist theatre across British Columbia and Alberta. Purchasing the land in 1978, half of Caravan Stage Company stayed behind to birth Caravan Farm Theatre. 
This August, Caravan Farm Theatre is hosting an Audio Land Walks series which features three immersive audio-guided walks around the property created by local British Columbia artists. Each audio transports visitors into a different storyline as they explore the natural world around them. Also on view through August, Every Brilliant Thing is an interactive play that explores the meaning of community through audience participation. Grab tickets for both here. 
4. 

Vancouver, British Columbia — Theatre Under the Stars
The stars aren't the only things shining at night this summer in Vancouver. Located in the scenic Malkin Bowl of Stanley Park, Theatre Under the Stars (TUTS) puts on popular musical theatre productions under the twinkling night sky. A not-for-profit organization, TUTS was originally founded in 1940 when local theatre performers came together to produce professional quality musicals in the summer. Staying true to its roots, TUTS aims to be a professional training ground for amateur performers and technicians of all ages. During August, TUTS will be showing well-known musicals The Prom and Roald Dahl's Matilda The Musical. Grab tickets here.
5. 

Montréal, Quebec— Théâtre de Verdure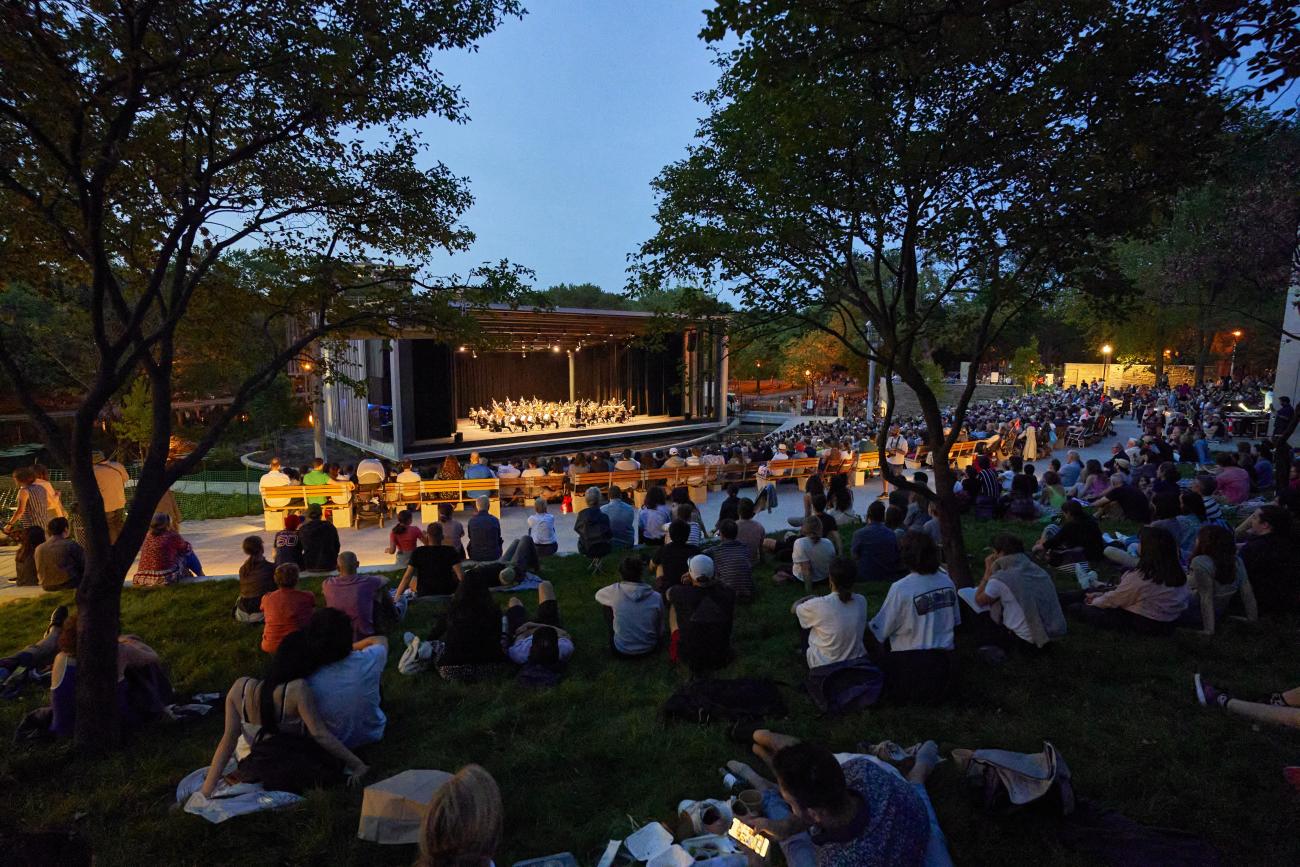 Mathieu Sparks - Ville de Montréal
From contemporary dance to percussion ensembles and circus performances, Théâtre de Verdure captures the diverse and lively arts and culture scene of Montréal. Located in Parc La Fountaine, Théâtre de Verdure is dedicated to offering free outdoor programming until August 26. The repertoire for this August includes a performance from dancer and choreographer José Navas; a screening of the documentary The City of a Dream, which retraces the history of Montreal; a performance from Montréal-based quartet Architek Percussion and much more. Click here to see the full list of performances hitting Théâtre de Verdure this August.