Commemorating National Day for Truth and Reconciliation
Charlotte Big Canoe, AGO Program Curator, Indigenous Projects, shares ways to commemorate the day in Tkaronto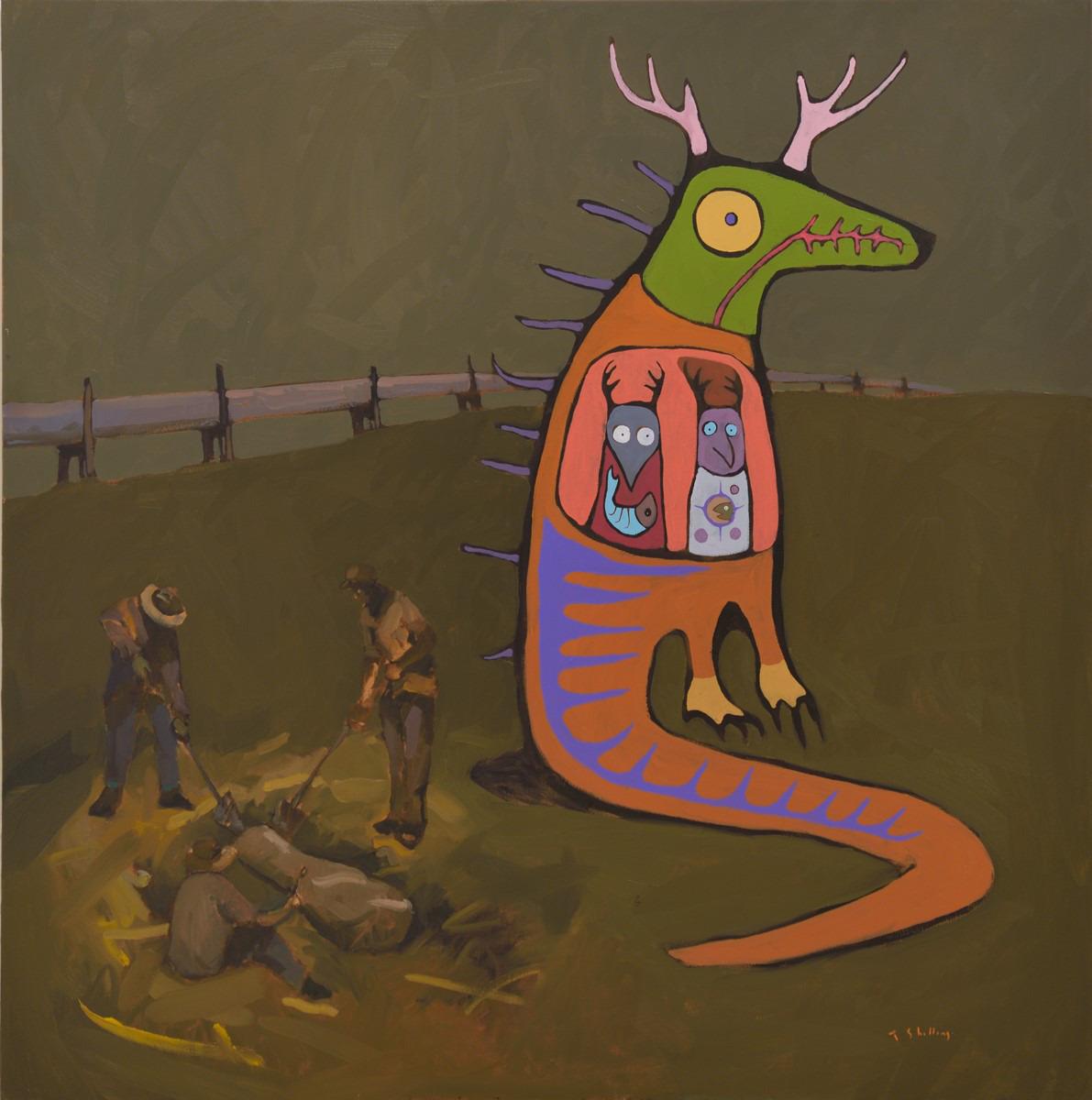 Travis Shilling. The Excavators #2, 2019. Oil on canvas, Overall: 121.9 × 121.9 cm. Art Gallery of Ontario. Purchase, with funds by exchange from the J.S. McLean Collection, by Canada Packers Inc., 2020. © Travis Shilling, Courtesy Ingram Gallery. 2020/99
September 30 marks National Day for Truth and Reconciliation and Orange Shirt Day. This day honours the experiences of Residential School Survivors and the children who never made it home.  
The Canadian government used the Residential School System to systematically separate Indigenous children from their families and erase Indigenous cultures and languages. With the first residential school established in 1831 and the last residential school closing in 1996, it is estimated that 150,000 Indigenous children attended residential schools.  
Orange Shirt Day, and subsequently National Day for Truth and Reconciliation, originates from the experiences of Residential School Survivor Phyllis Webstad. Before she was sent to St. Joseph Mission Residential School, Webstad's grandmother brought her a bright orange shirt to wear on her first day. Upon arrival, Webstad was stripped of her orange shirt and forced to wear the school's uniform. She never saw her orange T-shirt again. Webstad's story became the catalyst for recognizing the experiences of Residential School Survivors, as well as the intergenerational harm residential schools have caused in Indigenous communities.
Charlotte Big Canoe, the AGO's Program Curator, Indigenous Projects, has created an itinerary of events commemorating National Day for Truth and Reconciliation and Orange Shirt Day across Tkaronto, starting with a 7 am Sunrise Ceremony in the heart of downtown and concluding with a virtual audio play you can access from home.   
As Big Canoe shares reflecting on the day: 
"On Orange Shirt Day, we honour and lift up every person, family, and community impacted by the Residential School System. The loss is immense, and we feel it every day. We spend today taking time to heal, connect with each other, and celebrate Indigenous culture in bold and joyful celebrations. As you experience these activities, you have the opportunity to hear from Indigenous storytellers, view local artists and artisans, try some great Indigenous cuisine, and even enjoy some theatre. Indigenous joy and resiliency come through in so many art forms. Join us in celebrating that we are still here and thriving. Every Child Matters today and every day, and I hope you enjoy exploring Tkaronto through these events." 
Toronto  Council Fire Native Cultural Centre: Indigenous Legacy Gathering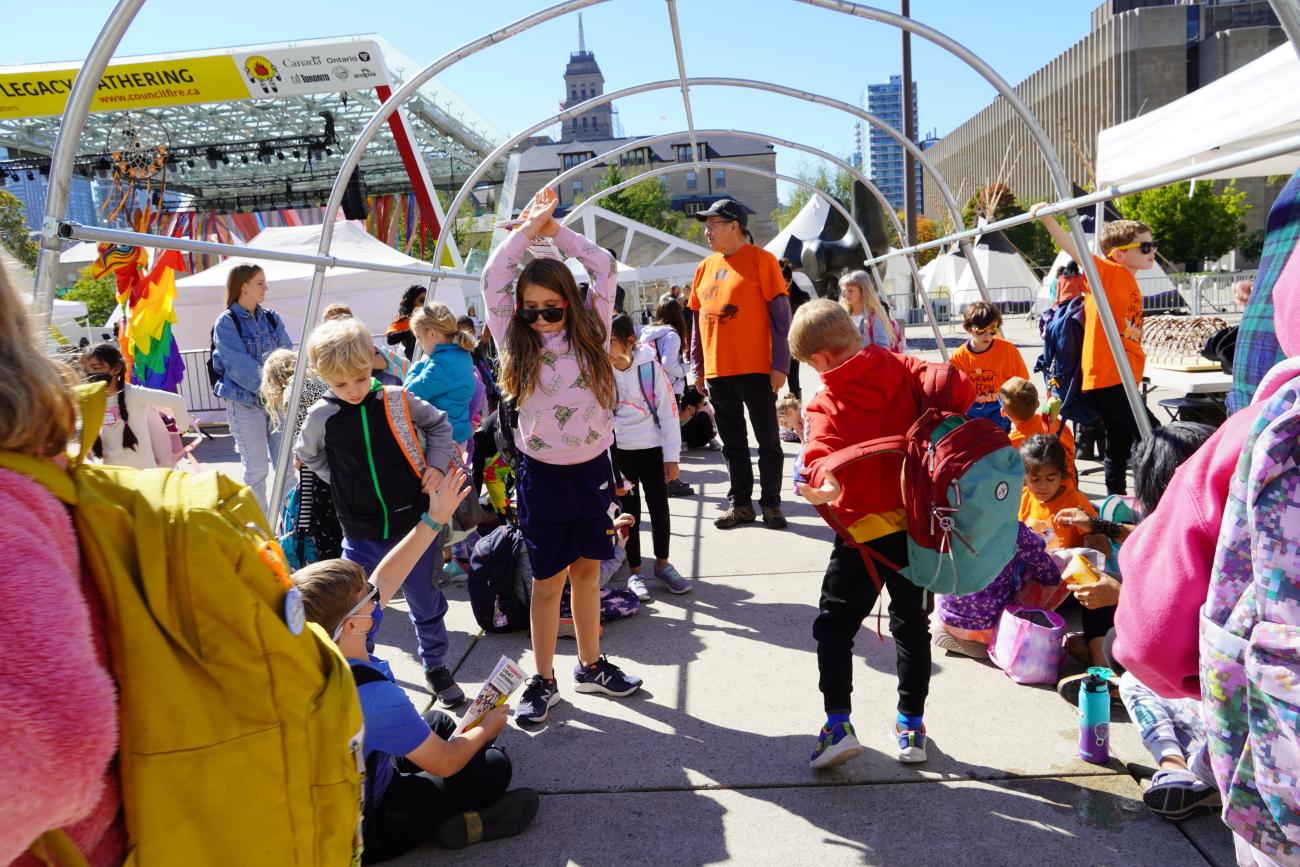 Knowledge Keeper, John Keeshig, giving a workshop/teachings to a school group about 'Teaching Lodges'. Photo taken by Erik Watkinson (Wakegijig).
Opening September 29 and 30 with a Sunrise Ceremony at 7 am, The Toronto Council Fire Native Cultural Centre turns Nathan Phillips Square into the site of a two-day celebration of Indigenous culture, resiliency, and joy. The Indigenous Legacy Gathering consists of two full days of free events: shop the artisan market for a selection of locally made Indigenous arts and visit the main stage for all-day performances from prominent speakers, dancers, and drummers.   
Toronto International Festival of Authors
While the Toronto International Festival of Authors (TIFA) may first make you think of books, their programming includes a unique experience to explore the Indigenous Peoples Atlas of Canada Giant Floor Map from Indigenous Peoples Atlas of Canada. A giant floor map you can step onto, the atlas identifies unsettled land claims, treaties and settlement lands, reserves, and the locations of former residential schools in Canada. The atlas is open from 10:30 am to 5 pm at TIFA's Imagelab at the harbourfront. 
For some story time, Brittany Luby will be hosting Bursting with Life: The Gift of Mnoomin,  a free storytelling and illustration session based on her book Mnoomin maan'gowing / The Gift of Mnoomin. Written in Anishinaabemowin and English, the picture book focuses on the circle of life and the wonders of nature, starting with one tiny seed. The event starts at 10:30 am at TIFA's Wordlab, located at the harbourfront. Register for the event here.     
Truth and Reconciliation at Stackt Market 
Hosted by aaniin Retail Inc, Stackt Market's Truth and Reconciliation Event features a marketplace for all your shopping, performances from contemporary and traditional Indigenous artists, and an Indigenous fashion showcasing traditional and contemporary designs. The event runs from 12 pm to 9 pm. Receive a complimentary ticket to the event with the purchase of an Orange Shirt from aaniin. 
The J.S. McLean Centre for Indigenous + Canadian Art at the AGO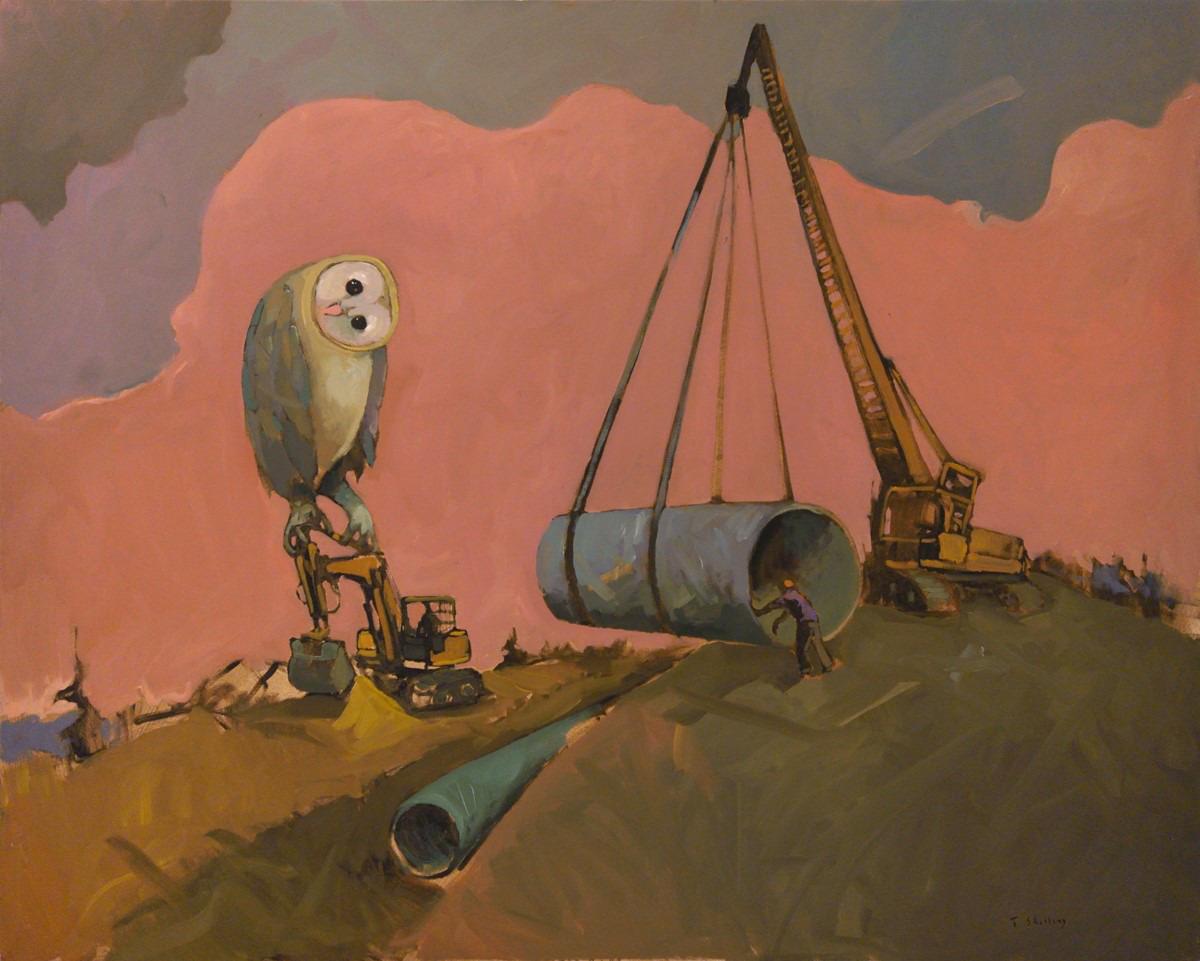 Travis Shilling. Owl, 2019. oil on canvas, Overall: 121.9 × 152.4 cm. Art Gallery of Ontario. Purchase, with funds by exchange from the J.S. McLean Collection, by Canada Packers Inc., 2020. © Travis Shilling, Courtesy Ingram Gallery. 2020/100
Located on Level 2, the J.S. McLean Centre for Indigenous + Canadian Art features a selection of works from both Indigenous and Canadian artists in the AGO Collection. The works rotate regularly, with new artists continually introduced. Currently on view are works by Rebecca Belmore, Rosalie Favell and Bill Nasogaluak, among several others. All wall texts throughout the AGO are translated into Anishinaabeemowin, English and French. Labels for the Inuit collection are translated into Inuktitut. Admission to the AGO is always free for all Indigenous Peoples. 
Owl (2019) and The Excavators #2 (2019) are two works on view by Travis Shilling, an Anishinaabe artist based in Orilla and Rama, from Chippewas of Rama First Nation. These oil paintings are from Shilling's series Tyrannosaurus Clan, which explores the relationships between humans, animals, and industry. Look closely at these Woodland style paintings and you'll find pipelines encroaching through the land. The works both question what it will take to survive but also point to the adaptability of humans and animals. Take a closer look at Owl and The Excavators #2, located on Level 2 in the Max & Madeleine Studio and Mezzanine (gallery 235).  
Tkaronto Open: Jingle Dress Dance Tournament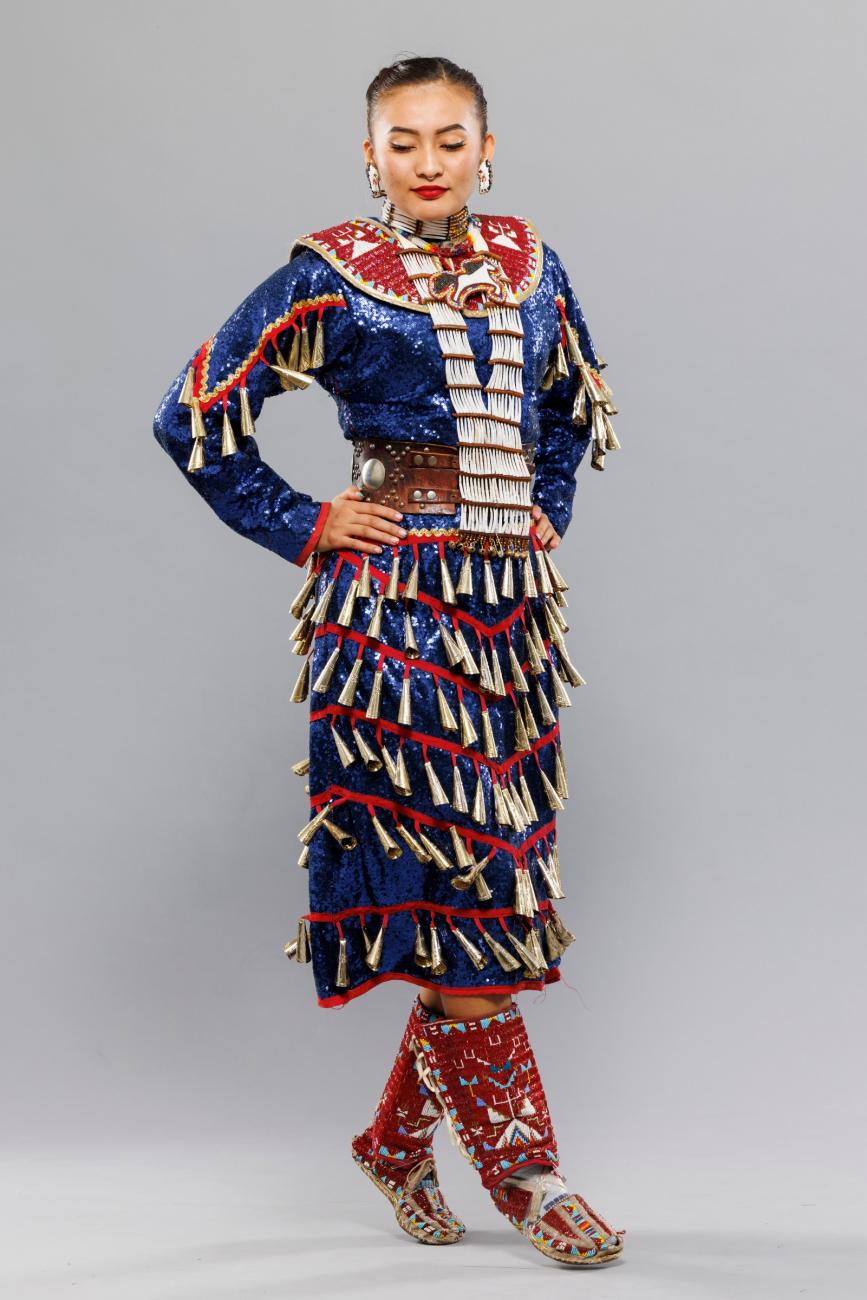 Jingle Dress Dancer Nanabah Kadenhii. Photo by Bruce Zinger. 
Head to the West Wing of Union Station for this tournament-style dance competition of Jingle Dress Dancers. Tkaronto Open was co-produced by award-winning Indigenous dancer Freddy Gipp (Indigenous Liberation, FFDN 2022). Enjoy the showmanship of local dancers and performers in this competition, and the unique healing powers of the Jingle Dress Dance, Indigenous music, and culture. This event is free to attend and begins at 12 pm. 
They Know Not What They Do – Native Earth Preforming Arts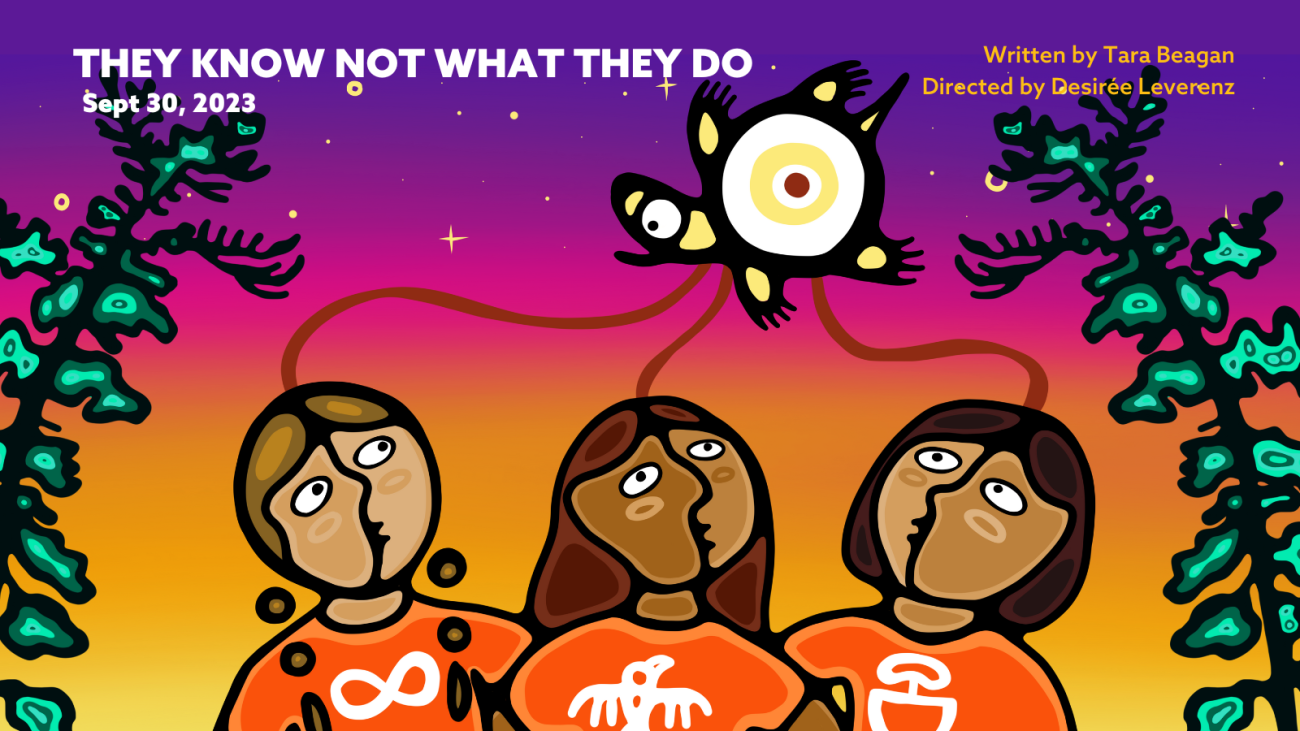 Visual art by Mishiikenh Kwe.
Marking National Day for Truth and Reconciliation, our friends at Native Earth Performing Arts are presenting They Know Not What They Do, a virtual audio play by Siminovitch Award winner and former NEPA Artistic Director, Tara Beagan. This audio play follows three separate yet parallel journeys through residential school. The play tells a story of survival, featuring Elders recounting their experiences as children in residential schools in their own voices. They Know Not What They Do is available for free on multiple streaming platforms on September 30.