At The Japan Foundation, sports go from 3D to 2D
Enter the world of Japanese sports posters through the decades
Nagai Hiroaki, PRGR Tobby eggman, 2013. 
On view through September 9, an exhibition at The Japan Foundation, Toronto dives into the rich world of Japanese graphic design culture with sports posters from the 1960s to present. A Sense of Movement presents 68 poster works from 24 Japanese graphic designers. Through these works, visitors get a deeper sense of how these graphic designers creatively illustrate sports and movement using two-dimensional printed media.
Past presentations of A Sense of Movement in Sydney and Paris featured a selection of 31 posters by eight designers. Toronto's presentation is the first to showcase an extended range of works, totalling 68 pieces. This exhibition was planned and inspired by an online lecture by Eishi Kitazawa, curator at Ginza Graphic Gallery's Conjuring a Sense of Movement: Japanese Graphic Designers & Sports Posters, organized by The Japan Foundation, London, in September 2020. 
Immediately upon entering, you'll encounter an iconic 1964 Tokyo Summer Olympics original poster. When walking through the gallery, you will spot a variety of typography, design elements, colours and motifs used in each poster. Some are minimal and have lots of white space with a focus on intentional composition, while others use an abundance of subjects and motifs with a dash of humour. 
Designed by Hiroaki Nagai 永井裕明, PRGR Tobby eggman (2013) (image on top) is a striking advertisement poster for a professional gear golf club that takes a unique spin on the purpose of ads used as a medium to sell products for profit. Nagai combined several golf clubs in the style of Italian artist Giuseppe Arcimboldo's works. The result is an imaginative portrait head made of clubs. 
Designed by Katsumi Asaba 浅葉克己, this poster was created for 41st World Table Tennis Championships in 1991. Asaba creatively incorporated motifs drawn from traditional Japanese art, the bijinga (portraits of beautiful women) by Japanese painter Nakamura Teii (1900‒1982), to illustrate the sport. Currently 81 years old, Asaba was once a competitive table tennis player ranking 6-dan. He took part in suggesting changing the colour of the table tennis table from the former green to blue, and his suggestion eventually became the international standard. 
Fast forward 14 years but illustrating the same sport, this minimal poster series produced by art director and graphic designer Yuri Uenishi 上西祐理 was created to advertise the TV screening of the World Table Tennis Championships 2015. Said to be the fastest of all ball sports, the poster imagines how the players experience time during the match, using graphics to capture that split-second moment on which the fate of the match hangs. The ball stopping mid-air suggests that the players' physical senses are so expertly sharpened that the ball appears as if it were stationary. This poster is not an illustration but unretouched photographs. By excluding the players from the shot and focusing solely on the equipment, Uenishi "portray[s] the tension, restraint and austerity of the world of table tennis."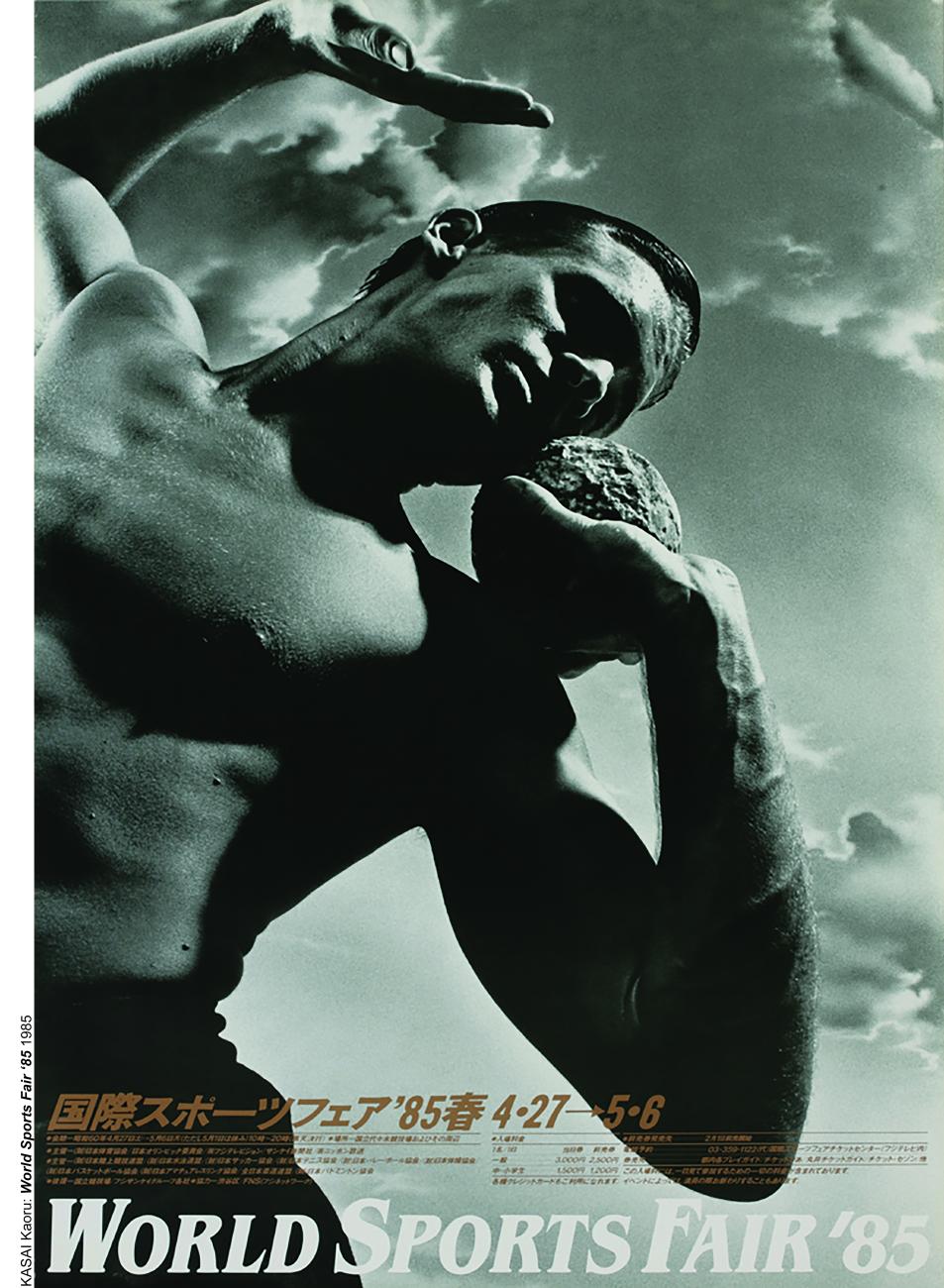 Kasai Kaoru, World Sports Fair '85, 1985
Displaying a wide range of aesthetics and trends in the sports poster industry, this event poster for the 1985 World Sports Fair is striking with its dynamic take on showing the beauty of the athlete's body. From a distance, the subject appears almost statue-like. 
A Sense of Movement: Japanese Sports Posters is on view at The Japan Foundation Toronto now through September 9, 2023. This exhibition is co-presented by The Japan Foundation, Toronto and the DNP Foundation for Cultural Promotion.