Fall 2023 at MOCA
The exhibitions on view explore the Wedge Collection, works by Liz Magor and Phyllida Barlow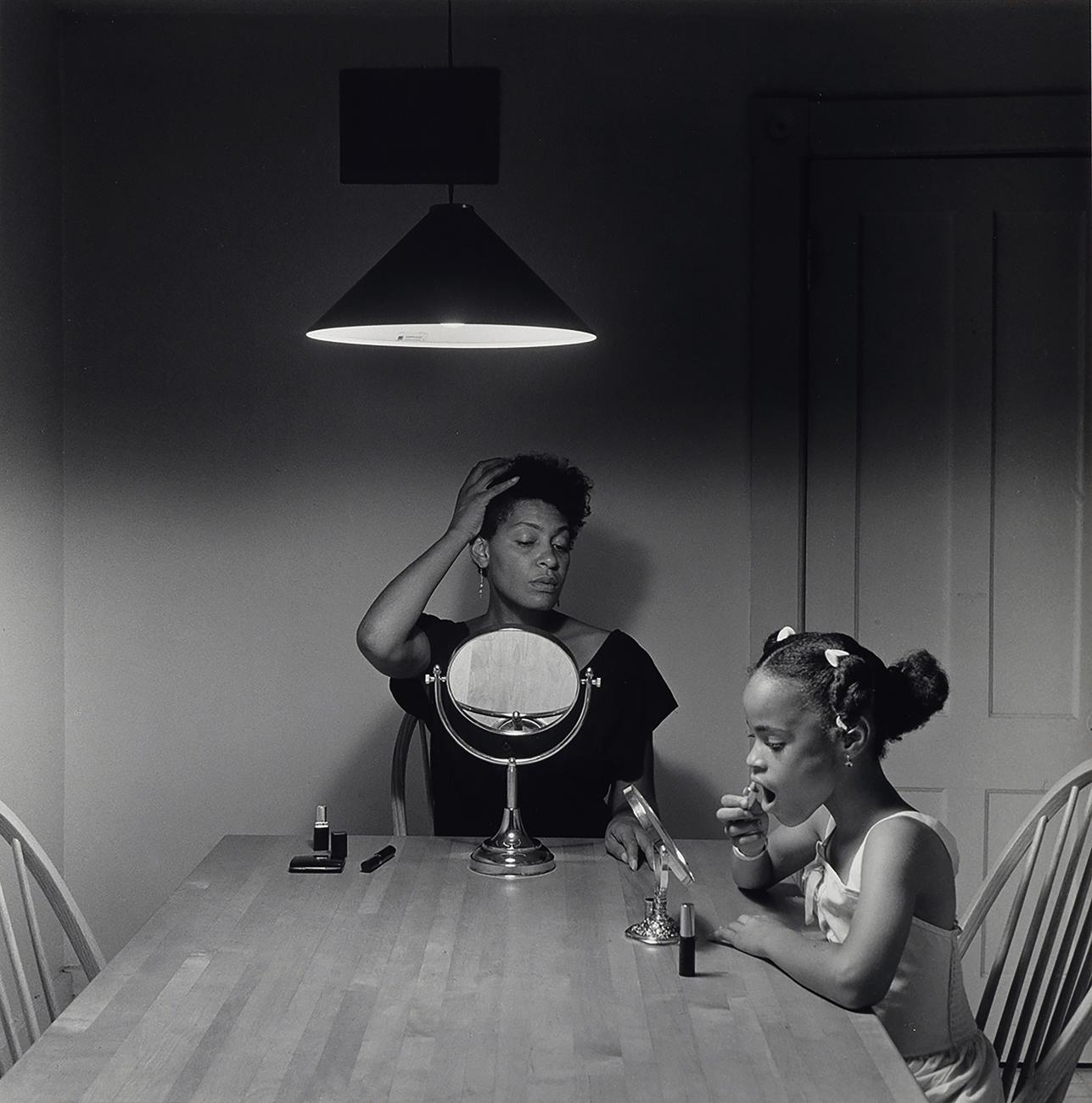 Carrie Mae Weems, Untitled (Woman and Daughter with Make-up) from The Kitchen Table series, Gelatin silver print, 10 x 9.75 in., 1990/2010 © Carrie Mae Weems.Courtesy of Dr.Kenneth Montague | The Wedge Collection Toronto.
Playing off the museum's industrial architecture, highlighting internationally celebrated artists, and bringing private collections to the public eye, the Museum of Contemporary Art Toronto (MOCA) is entering fall 2023 with a rich line-up of exhibitions. Travelling across the mediums of sculpture, painting, drawing, photography, moving image, and sound, MOCA's fall 2023 exhibitions aim to immerse viewers in various thought-provoking textures, attitudes, and postures. All exhibitions are on view until February 4, 2024.  
Travelling up to the third floor, viewers will come across the exhibition Dancing in the Light, which draws works from the Wedge Collection. This exhibition is part of MOCA's ongoing series This City is a Collection, which is dedicated to putting private collections from around Toronto on view. Started in 1997 by Dr. Kenneth Montague, a Toronto-based dentist and art collector, the Wedge Collection is one of Canada's largest private collections examining Black identity and African diasporic culture. Montague is also an AGO Trustee and acts as an advisor to the AGO's Arts of Global Africa and the Diaspora curatorial department. 
The Wedge Collection is named after its original location: a small gallery wedged inside the narrow halls of Montague's home. The collection has grown to include over 400 works, over 40 of which are on view in Dancing in the Light, including the works of artists Sandra Brewster, Jonathan Lyndon Chase, and Lynette Yiadom-Boakye.  
The exhibition features portraiture of various mediums, aiming to examine the nuances of Black experiences and to work against flattened, fragmented, and commodified images of Blackness often present in art history and popular visual culture. A site of gathering and study, Dancing in the Light invites visitors to take time to conceive a more inclusive, loving, and nuanced understanding of Blackness, offering books and music to engage with, as well as comfortable seating. 
Down on the second floor, Canadian artist Liz Magor's solo exhibition The Separation is dedicated to tension, using found materials to create sculptures that place rough against refined, flimsy against sturdy, fashionable against passé, and custom-made against mass-produced. Continuing her work exploring sculpture as a narrative form, viewers will be caught in moments of suspense across the second floor, watching objects intercept each other as they fall, slip, and tumble from safety and grace. Her work described as both sarcastic and sympathetic, The Separation marks a change in values and a shift in fate for the artist.  
On the ground floor of MOCA, the exhibition Eleven Columns showcases the work of late British artist Phyllida Barlow, who passed in 2023. Barlow is known for creating immense installations that are both playful and menacing, using low-grade materials such as cardboard, cement, polystyrene, and plywood to create them. Before her passing, Barlow was collaborating with MOCA to create an on-site installation after a previous visit left Barlow inspired by MOCA's industrial architecture, specifically the cement columns on the museum's ground floor.  
Barlow's first major exhibition in Canada, Eleven Columns features works of the late artist that she referenced in discussions with the MOCA team, as well as a collection of her works on paper. In tribute to Barlow's fascination with MOCA's architecture, the exhibition also includes her work untitled: eleven columns; standing, fallen, broken (2011), which features massive cement columns of various lengths and positionalities, each wrapped with multi-colour fabric strips incorporated into the cement. 
Dancing in the Light, The Separation, and Eleven Columns are on view at MOCA until February 4, 2024.