Poetic refuse
Ethiopian artist Elias Sime repurposes electronic waste into grand mosaics.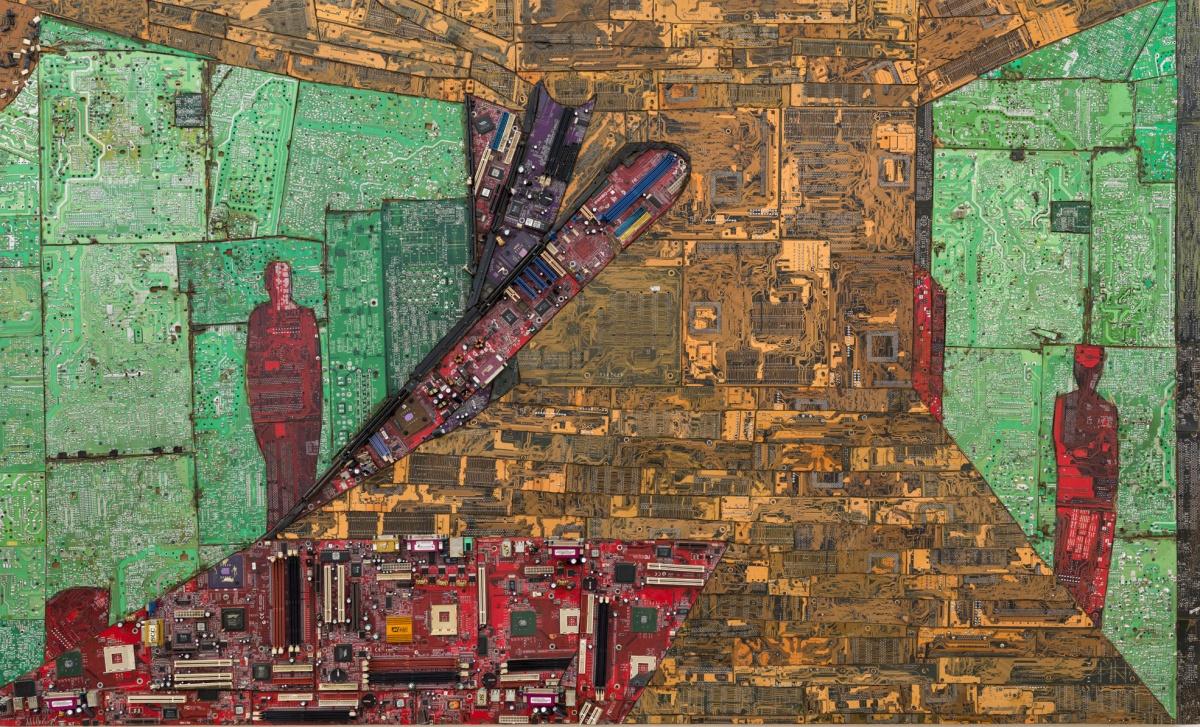 Elias Sime, Tightrope 8. 2009–14. Reclaimed electronic components on panel, 44 1/16 x70 13/16 in. (112 x 180 cm). Private collection, New York. © Elias Sime. Photograph by Adam Reich Photography
Elias Sime's groundbreaking work is both a love letter to Ethiopia and a vivid snapshot of global capitalism. He creates meticulously detailed assemblage art using a unique collection of found materials – primarily tech refuse from the markets of his home town, Addis Ababa. On view at the ROM in 2021, Sime's debut Canadian exhibition, Tightrope, offered a window into the immense complexity of his practice and the important social commentary behind it. 
The show consists of 24 large-scale works, showcased in the ROM's Roloff Benny Gallery (4th floor), and arranged by Dr. Silvia Forni, Senior Curator of Global Africa. This marks Tightrope's second run, having been originally organized in 2019 at New York's The Ruth and Elmer Wellin Museum of Art. "Sime's Tightrope series is a meditation on humanity and nature, technology, and poetry,'' says Forni. "While we often tend to think of these things as separate, contained in different boxes, Sime invites us to let go of rigid frameworks and think poetically of how we may find beauty in surprising places." 
Born in 1968, Elias Sime lived the first years of his life in Addis Ababa under the oppressive Derg regime, which formed in Ethiopia after the deposition of long-time emperor Haile Selassie. By 1990, Sime had received his degree in Fine Art and Design from Addis Ababa University, where he worked in mixed-media collage. He later evolved these techniques into the sculptural assemblage practice he's most known for today. Over the last decade, he has traveled widely throughout rural Ethiopia, researching the rituals and production techniques of local artisans, incorporating them into his practice. During this time, he developed a fascination with the materiality and functional history of electronic waste (motherboards, keyboards, telephone wires and more). It is through the foraging, manipulating and repurposing of these materials that Sime's artistic voice is most amplified.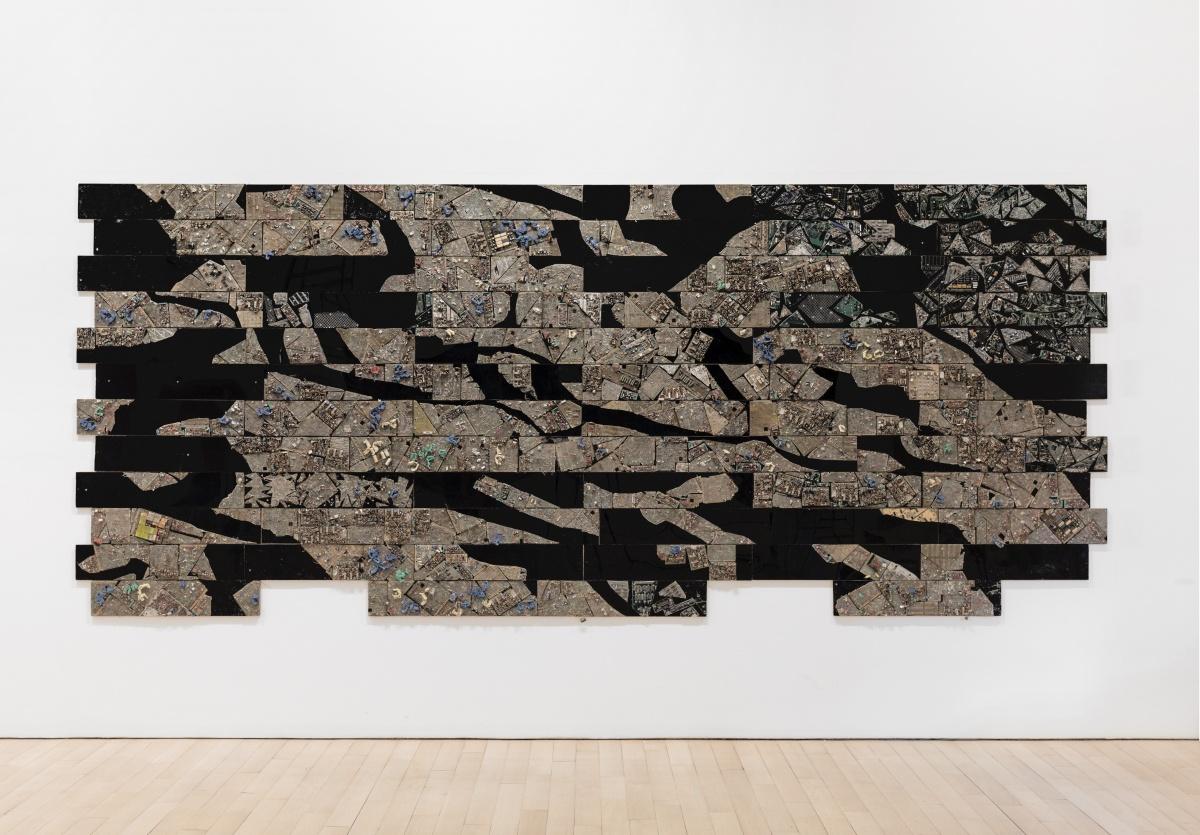 Elias Sime. Tightrope 3, 2009–14. Reclaimed electronic components and fiberglass on panel, 81 1/2 in. x 16 ft. 3 in. (207 x 495.3 cm). Private collection, New York.© Elias Sime. Photograph by Adam Reich Photography.
The patchwork of his large-scale collages is breathtaking from a distance, but reveals its true complexity when one leans in closely. With compositional influences including Impressionism, abstraction and topographic photography, each work in the exhibition embodies a unique identity. Featuring various electronic components and fibreglass set on a jet back panel, the five-metre-long Tightrope 3 is Sime's take on an aerial photograph of a city at night. Upon closer inspection, intricate details of land masses, abstractions of architecture/city structure, and the infinite nighttime sea become clear. Reflecting on Tightrope 3 during the exhibition's audio guide, curator Dr. Silvia Forni adds "Sime is interested in making us think of all the ways that as humans we interact with technology in very tactile and personal ways."  
In stark contrast to Tightrope 3, the three-by-four metre Tightrope: Whirlwind feels like a riff on Impressionism and features important commentary about the rise of social media. Made from thousands of pieces of insulated wire mounted on square panels, the monstrous work depicts two birds flying face-to-face, in dialogue with each other. These figures are Sime's reinterpretation of the well-known Twitter logo, which is a small illustrated blue bird in flight. In Tightrope: Whirlwind, his juxtaposition of social media symbolism and chaotic electronic wire speaks to the profound negative effect platforms like Twitter, Instagram and Facebook have had on genuine human connection.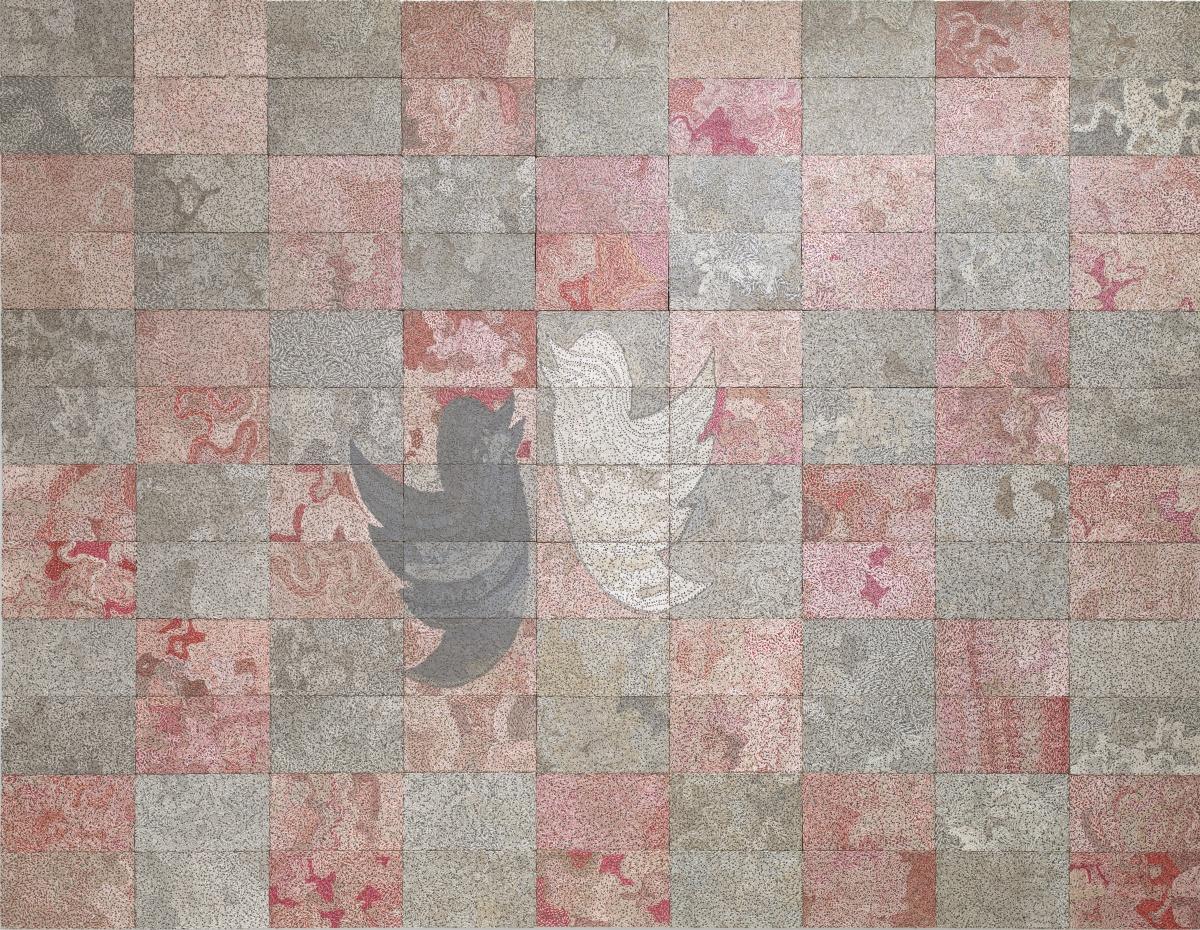 Elias Sime. Tightrope: Whirlwind, 2017. Reclaimed insulated wire on panel, 9 ft. 1 3/4 in. x 11ft. 10 1/2 in. (278.8 x 362 cm). Courtesy of the artist and James Cohan, New York.© Elias Sime. Photograph by Christopher Burke Studios.
Elias Sime's impressive resume also extends beyond artmaking into institution building. In 2019, he co-founded Zoma Museum in Addis Ababa with his friend and collaborator Meskerem Assegued. In addition to gallery space, the museum includes a garden, school, farm and restaurant. Its mission is to showcase contemporary art and research ancient forms of art production and architecture. Tightrope concludes with the screening of a  short, captivating documentary about the creation of Zoma and Sime's practice at large.  
Though this exhibition marks his first major Canadian show, Sime's work has been widely exhibited and acquired by significant art museums globally for a number of years.