Postcard from Montreal
Visit Leonard Cohen's hometown with Zev Moses and Alyssa Stokvis-Hauer of the Museum of Jewish Montreal.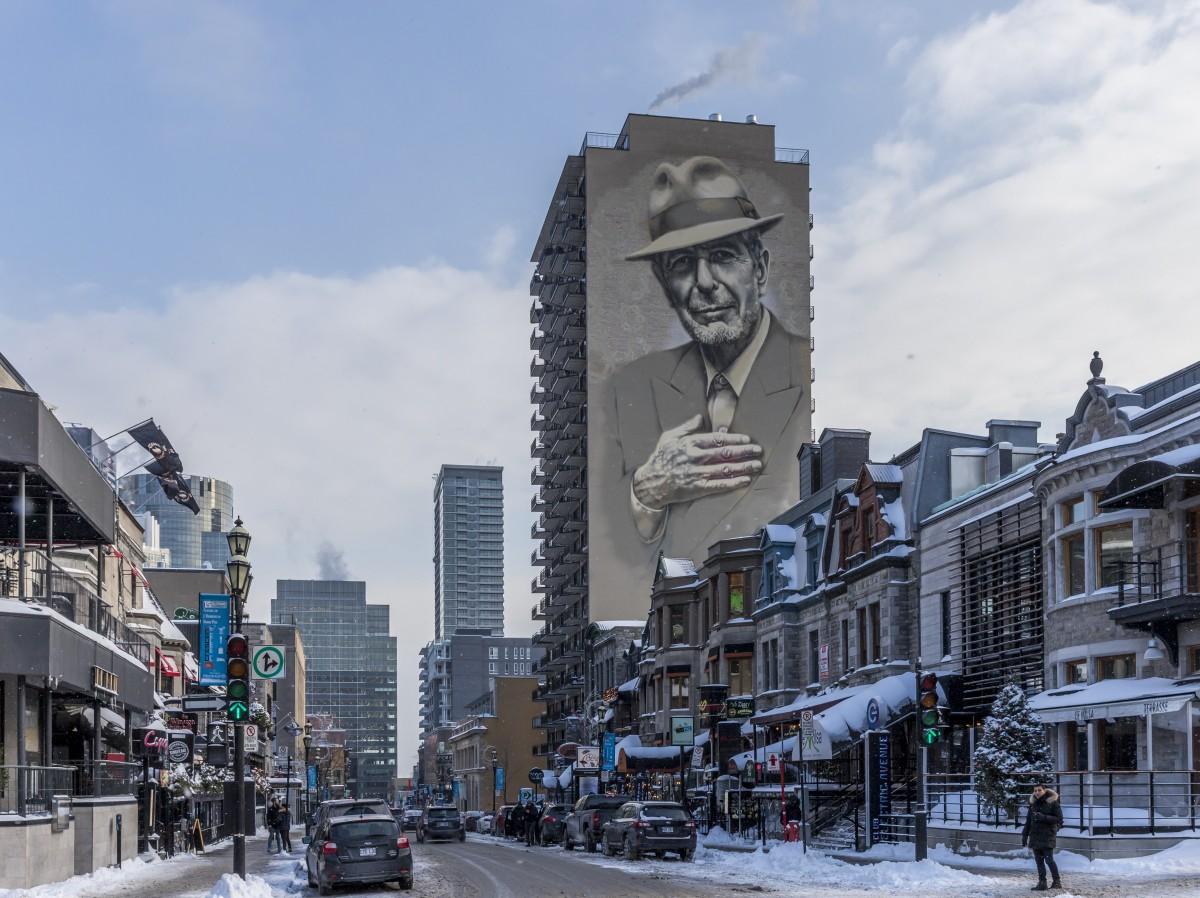 Leonard Cohen Mural - Crescent Street © MU, Ville-Marie, El Mac Gene Pendon (2017) - Photo: Eva Blue.
Any discussion of Leonard Cohen's life must include Montreal. Born there in 1934 and raised in the affluent Westmount neighbourhood, it's the city of his formative years and perhaps one of his most enduring relationships.
"I have to keep coming back to Montreal to renew my neurotic affiliations," he is often cited as writing on the dust jacket of his 1961 book of poetry, The Spice-Box of Earth. By 1959, he left Montreal for Israel, London, and, eventually, Hydra, continuing to wander the globe as his fame grew. But he always seemed to find his way back home, no matter how high his star ascended.
Trace his footsteps in the city. You'll find that Cohen's Montreal is that of playing in Murray Hill Park by his childhood home, finding an audience for his poetry and novels as an undergrad at McGill University, early-morning allongés at Bagel Etc. and dinners at Moishes Steakhouse. It's the setting of Suzanne, where he bought a triplex on Saint-Laurent boulevard across from the Parc du Portugal and where his children, Adam and Lorca, were born.  
The affection was mutual. Many Montrealers who knew Cohen still speak fondly of him. In 2017, MU, a not-for-profit organization, honoured his legacy with Tower of Songs, a 10,000-square-foot mural by artists Gene Pendon and El Mac – one of two murals dedicated to him in the city.
As the first-born son and second child born into a family of rabbis and Talmudic scholars, Cohen was also a man fascinated by religion. His family synagogue Shaar Hashomayim – walking distance from his childhood home – has a history with the Cohen family that goes back generations.
For this edition of our Postcard series, we reached out to Zev Moses and Alyssa Stokvis-Hauer, Executive Director and Artistic Director at the Museum of Jewish Montreal, to learn more about the city, its Jewish community and Cohen's place in it.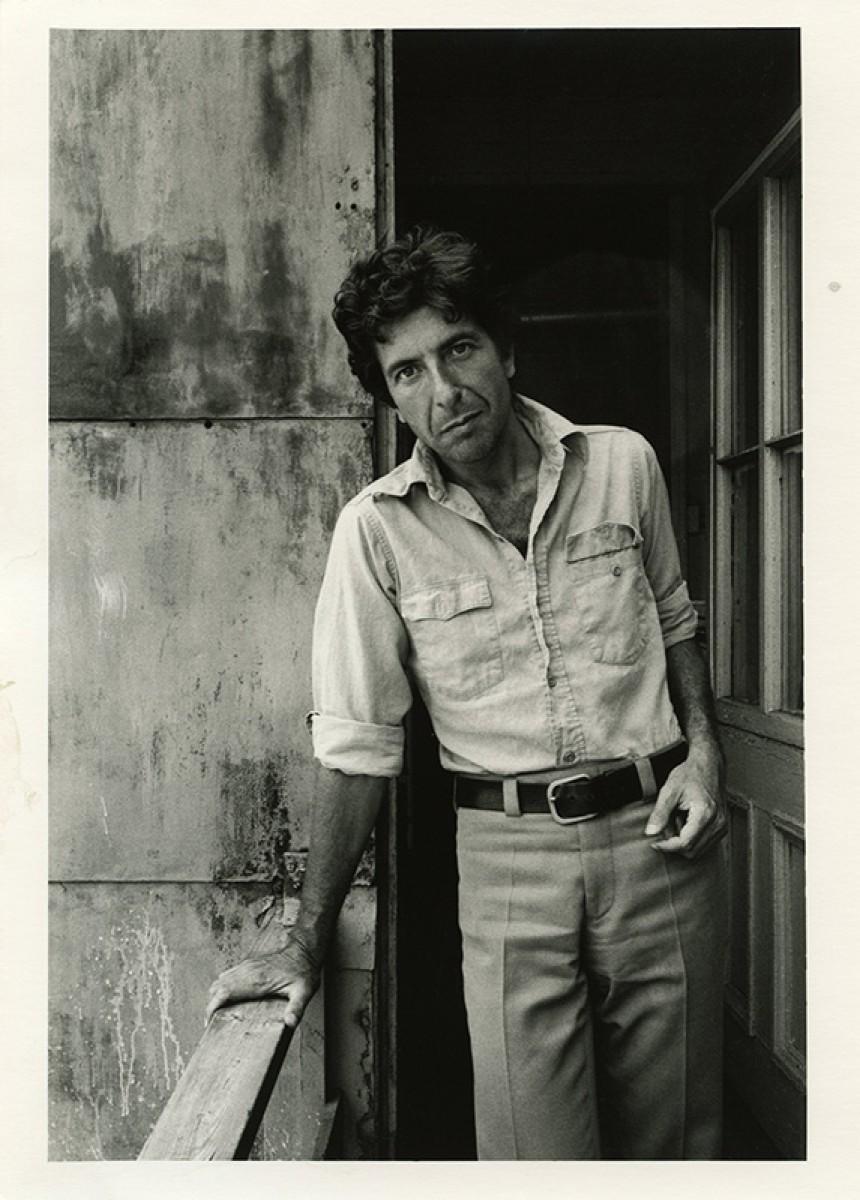 Sam Tata. Leonard Cohen, Montreal, 1973. Gelatin silver print, Overall: 17.8 × 12.7 cm. © Estate of Sam Tata / Courtesy of Stephen Bulger Gallery.
The following interview has been edited for length.
Foyer: The Museum of Jewish Montreal is the first Jewish museum of its kind in Canada. Can you tell us about the inception of the museum and its goals? 
Moses: Our Museum began as a digital project to collect, map and share Montreal's Jewish history online in 2010. We quickly expanded to lead historical walking tours and then food tours. We opened our first storefront space in 2016, where our mandate expanded to include contemporary art (exhibitions, installations and murals), an extensive culinary program, and dozens of cultural events each year. The first space was tiny, but it became a creative factory that brought together thousands of visitors each year. When it closed in 2020, we went digital again. We focused on community-building, creating connections between visitors and investing in young people to explore Jewish art, culture and identity in new, inclusive, and experimental ways. We envision transforming Montreal into an international destination for Jewish art and culture, inspired by our city's unique Jewish heritage and centred around a thriving Jewish arts and culture ecosystem. We recently moved into an amazing new building in the heart of Mile-End. Our community has been gathering anew to connect around new cultural experiences rooted in Jewish art, music, food and heritage.
Stokvis-Hauer: As a community-centred museum, we want to act as an open space for exploration and discovery – whether that is as a visitor to our contemporary art exhibitions, a student researcher helping to develop a new museum walking tour, an attendee to a workshop, or a practicing artist creating new work that explores Jewish themes. We aim to generate and support a thriving, diverse, and inclusive Montreal Jewish cultural ecosystem as part of Montreal's broader arts and cultural landscape. We do this by bringing varied and accessible programming to life and offering educational and funding resources to young historians and artists through our research fellowships and creative microgrant programs. With our move into a new, much larger space, we are excited to be able to expand these offerings and act as a hub to share Montreal's Jewish history and new cultural creations.
Foyer: How would you describe Leonard Cohen's legacy in Montreal?
Moses: Montrealers don't always agree on everything, but everyone seems to agree on Leonard Cohen. He represents so much of the city's unique spirit. A product of one of our city's most thriving immigrant communities, Cohen chose a more artistic and bohemian path for his life that has influenced generations of young people who move here and dedicate themselves to experiencing a way of living more in touch with art and culture. While that could also conjure up an old stereotype of a city where no one works and spends all their time in cafes philosophizing and making music, the truth is that most Montrealers are just other Canadians. Cohen is one of the many reminders for Montrealers that we can live differently and connect more deeply.
For Montreal's Jews, Cohen is perhaps our most famous export, along with bagels, smoked meat, and maybe Mordecai Richler. He had a complex relationship with his Jewish identity, but he kept returning to it in his songs and poetry throughout his life. That's a testament to the richness and diversity of Jewish traditions passed down in our community over centuries. You don't have to look further than his final records, which feature recordings with Cantor Gideon Zelermyer and the Shaar Hashomayim Choir. Even if you're not that religiously observant, it's a point of pride for many Montreal Jews that our cantors and choirs won a Grammy alongside him.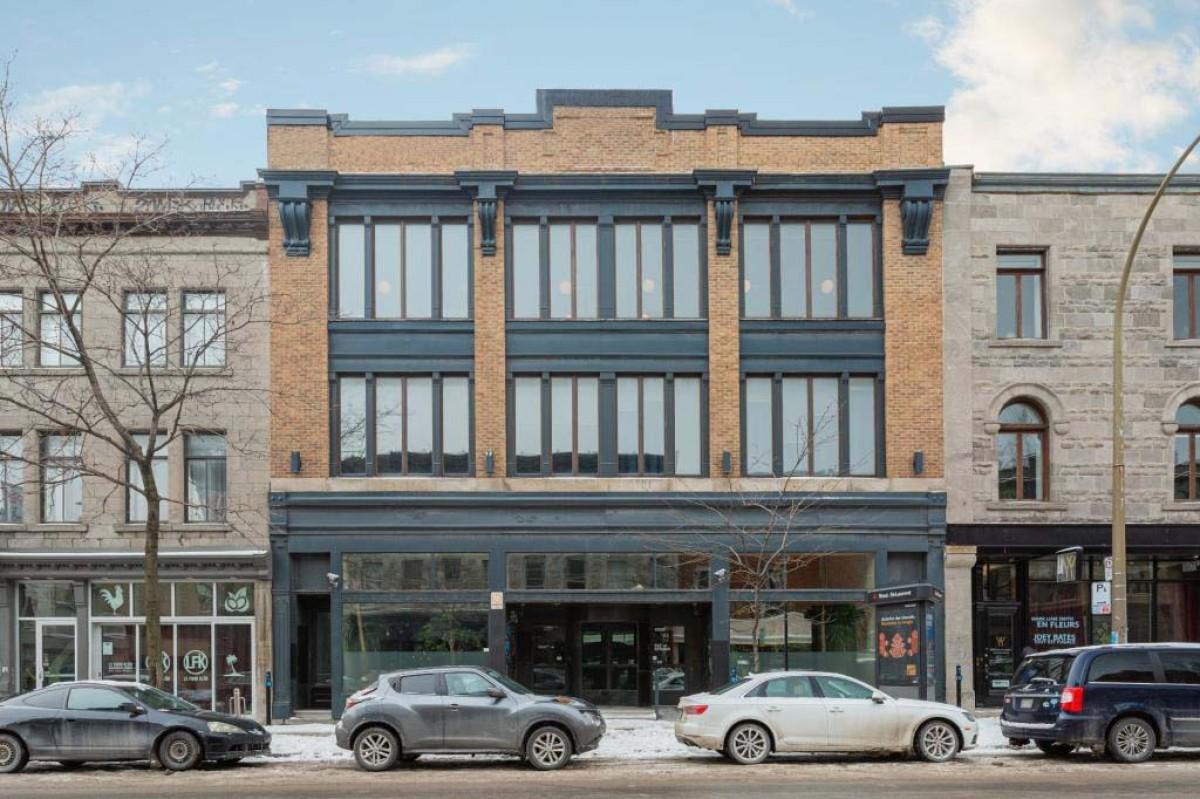 Exterior view of the Museum of Jewish Montreal.
Foyer: What roles do art and culture play in Montreal's Jewish community?
Moses: Art and culture have been central to Montreal's Jewish vitality since at least the beginning of the 20th century. Starting with the development of a thriving Yiddish literary and intellectual community based around newspapers and the Jewish Public Library (JPL), there has been a major presence of Montreal-based Jewish writers and thinkers with international followings who ultimately influenced Cohen. You can trace a throughline from Yiddish writers like J.I. Segal and Ida Maze to English writers A.M. Klein, Irving Layton, Cohen and Mordecai Richler. In the same Plateau milieu in the early to mid-20th century was an influential group of Jewish painters based in Montreal, including Alexandre Bercovitch, Sam Borenstein, Louis Muhlstock, and others who sometimes crossed cultural boundaries to work with non-Jewish artists in Québec. They were joined a generation later by Jewish women painters like Betty Goodwin and Ghitta Caiserman-Roth and by artists of Sephardic and Mizrahi descent, including Yehouda Chaki and Sylvia Safdie, whose careers continue to thrive to this day.
The original Yiddish-based artistic ecosystem in Montreal was buttressed by the JPL's cultural events (including a series of infamous panel lectures with Cohen in the early 1960s) and a growing Yiddish theatre scene led by Chayale Grober and then later Dora Wasserman. By the 1960s, the Saidye Bronfman Centre had become the home to Montreal's Jewish theatre and visual arts scene. It's now called the Segal Centre and continues to be a hub for performing arts and Yiddish theatre. The '60s were also the time of immigration from North Africa. The growth of a Sephardic Jewish cultural scene centred around the world-renowned Festival Sefarad.
As the community diversified, the Yiddish scene gained new life in the 1990s with the establishment of Klez Kanada, which has returned to Montreal being a major hub of the international Jewish music scene. Home-grown talent today includes Black Ox Orkestar and Socalled, a rapper who often samples old klezmer and cantorial recordings, a tradition that has a long history in Montreal. Montreal was at one time home to perhaps the second most important cluster of Jewish cantorial and choral music after New York in the 20th century. Dozens of synagogues employed cantors and choirs, and many recorded their liturgical music and toured it internationally. This musical tradition was strongest at large Ashkenazi synagogues like Shaare Zion, B'nai Jacob, and Shaar Hashomayim (home to Leonard Cohen's family), as well as at the Spanish and Portuguese Synagogue, where Cantor Salomon Amzallag, a former Moroccan pop star known as Samy Elmaghribi brought back old Sephardic liturgical traditions.
Montreal Jews have also been involved at every angle of the secular arts scene as musicians, writers, visual artists, filmmakers, actors and comedians. The city's Jewish comedy tradition lives on with YidLife Crisis, a Yiddish-language web series with millions of views on YouTube. Even though the Jewish community is smaller than in the 1960s, it continues to punch above its weight culturally and has experienced a recent artistic revival. Our Museum is one of the institutions at the forefront of this resurgence.
Stokvis-Hauer: Montreal has a deep and rich history of cultural and artistic production within the Jewish community, and that practice continues. For many Jewish Montrealers, especially young adults, arts and culture – notably food culture, though across disciplines – can act as an alternative and low-barrier gathering point to explore and share Jewish cultural identity in new, celebratory, and insightful ways. We've noticed a deep desire and excitement for members of our community (myself included!) to have space to explore intersectional or underrepresented Jewish identities and find connection through artistic or cultural collaborations both within the community and interculturally.
Foyer: If you're in Montreal for a weekend, what do you need to see and why? Art, music, food and history?
Moses: I'd start in Old Montreal. Make sure to browse vintage posters at L'affichiste and see Crew Cafe in the former Royal Bank headquarters, and maybe get a sandwich or pastry at Olive & Gourmando or a cocktail at Po di Piu.
The Phi Centre has become a must-visit for contemporary art and immersive VR experiences. Not too far away to the west is Fonderie Darling, which has transformed an industrial-era building into a large and meditative space to see local artists. If you want to see contemporary art in an even more monumental space, head further west into Little Burgundy along the canal towards Arsenal. It's just down the hill from the CCA, which continues to present some of the best architecture and urbanism exhibitions. If you're looking to dig a bit deeper into the local art scene, check out Artexte (a 30,000-document library and exhibition centre dedicated to Canadian and Quebec visual arts) and Fondation Guido Molinari. Projet Casa (in a former Jewish doctor's office in the Plateau), Dazibao, Diagonale, Produit Rien, Oboro, and Optica are closer to our Museum well as artist-run centres like Centre Clark, Ada X, daphne, and articule.
For a bit of nature, wander around Mont-Royal. I like to visit the Mont-Royal Cemetery instead of the main park for a different view and to see all the 19th and early 20th-century monuments that track the city's history. You can visit Cohen's gravesite as well.
Visit the Plateau, where Cohen kept his Montreal home from the late 1960s until his passing. Many people make a pilgrimage to his home or come on one of our Museum's walking tours to learn about the rich literary history of Yiddish and then English Jewish writers who influenced him. 
For Jewish food, our Museum is the best jumping-off point. We're around the corner from Fairmount Bagel, St-Viateur Bagel, and Wilensky's, all classics of Eastern European Jewish cuisine. A few minutes further away is the brunch classic Beauty's and Hof Kelsten, one of the city's best bakeries, which also has incredible challah and babka. Equally superb is Cheskie's in Outremont, the go-to place for treats popular in the Hasidic community - including my favourite: cheese crowns! Next door is Deli 365, the kosher spot for smoked meat, just down the street from Lester's (a classic and not kosher.) Many people visiting for the first time will head to Schwartz's as it's the most iconic, but if the line is too long, many locals prefer the Main across the street. And this is just the Jewish food in our neighbourhood! Across the street from our Museum is Larry's, which is quickly becoming a Montreal classic, and newcomer Nili on St-Viateur is a gem for cocktails and Moroccan/French-inspired small plates.
I have recently noticed more visitors to Montreal in the fall and winter, but remember that summer is the festival season when there are often dozens of extra things happening at once. So if you're visiting from June to September, look at festival calendars first.
Stokvis-Hauer: Zev's mentioned most of my go-to's, but I'd suggest Concordia's FOFA Gallery and Galerie de l'UQAM to see work from the Fine Arts students. I also highly recommend grabbing a coffee from Dispatch or poutine from Patati Patata, sitting in Jeanne Mance Park (formerly called Fletcher's Field, and a popular gathering spot for 19th or 20th-century Jewish families to picnic and socialize). Finally, walk through the Plateau, Mile End, and Outremont neighbourhoods to see the "outdoor gallery" of graffiti and murals. Montreal boasts some truly extraordinary street art including two murals of Leonard Cohen, one downtown on Crescent Street and the other in the Plateau neighbourhood on St-Laurent and Napoleon. The Museum has also contributed two works - C'ést Compliqué by Sara Erenthal, and L'amour de Maman by Lana Cohen-Solal – to the Plateau neighbourhood, which can be found at St-Dominic and Duluth.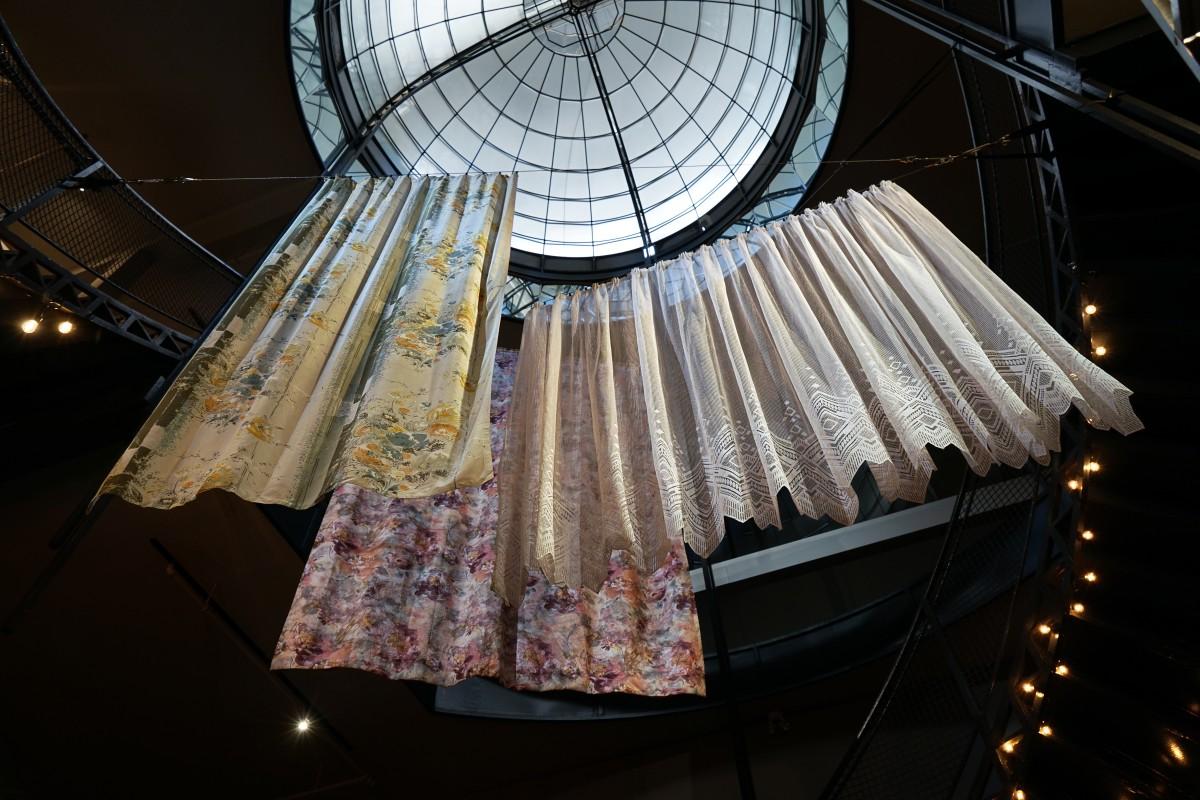 Installation view, Public Intimacy, ongoing. Museum of Jewish Montreal. Photo by Johannes Mundinger.
Foyer: What exhibitions and programming are you looking forward to sharing with audiences at the Museum of Jewish Montreal in the future?
Stokvis-Hauer: As we settle into our new Museum building on Boulevard St-Laurent, we'll soon start redesigning and renovating our new home. But, we have programs planned over the coming months, as well as an ongoing exhibition Public Intimacy, by Berlin-based artists Sophia Hirsch and Johannes Mundinger. This summer, we're looking forward to welcoming Johannes and Sophia back to reignite our public art programming with a mural and related events that explore how identity and notions of "home" are not fixed but rather shaped by migration and interaction over time.
This winter into early summer, we will also showcase the work of five young Jewish creatives whose projects are being funded and developed through our microgrant program. These range from new musical compositions to queer-feminist workshops on Jewish ritual practices to short documentaries exploring diverse Jewish identities and creative histories. Though their projects are still developing, the artists we are working with are bringing some incredibly fresh ideas to life and spotlighting underrepresented or untold Jewish stories and experiences through their work.
 Visit here for more information on the Museum of Jewish Montreal, and follow the museum on Instagram @museemtljuif.