Randell Adjei reflects on Leonard Cohen
Ontario's first-ever Poet Laureate contemplates the lyrics of a Leonard Cohen classic.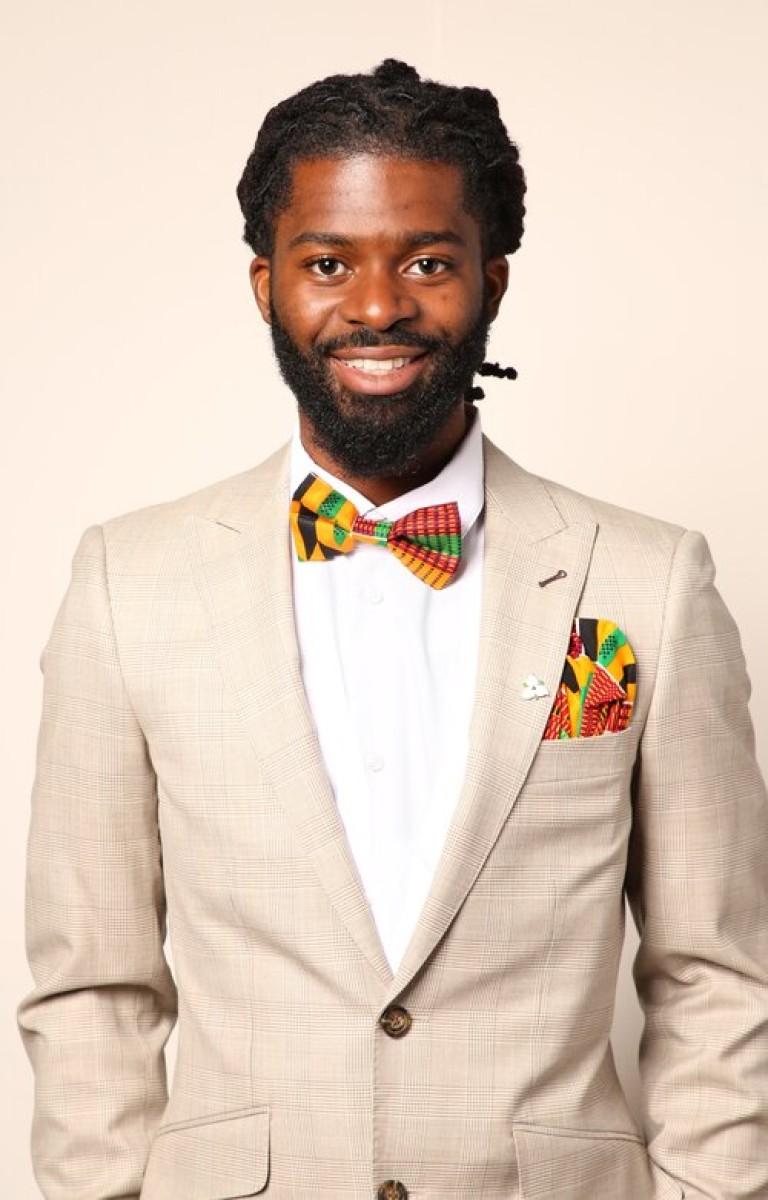 Image courtesy of Randell Adjei. 
Before Leonard Cohen ever recorded one note of music, he was a prolific writer, having published books of poetry and novels starting in the late 1950s. Cohen's affinity for poetic language paved the way for his transition into songwriting, eventually creating one of the most well-respected lyrical catalogues in music history. The  AGO exhibition Leonard Cohen: Everybody Knows pays tribute to Cohen's profound words, whether in poetry, prose or song. 
In an effort to further grasp the potency of Cohen's pen, we tapped one of Toronto's keenest poetic minds – Ontario Poet Laureate Randell Adjei – to share his thoughts about a Cohen classic. After giving us the rundown about his role as Ontario's first-ever Poet Laureate, Adjei shared some of the ground-breaking projects he's worked on since taking the position. Finally, he reflected on Cohen's 1984 fan-favourite song, Dance Me to the End of Love. Check it out below.
Foyer: Tell us about your role as  Ontario Poet Laureate and what it entails.
Adjei: The role of the Poet Laureate is an independent officer of the Legislative Assembly of Ontario. The role was created to commemorate the life of Gord Downie, the lead singer of the Tragically Hip, who used his poetry and music to raise awareness of the issues across Canada. The position is the first of its kind and was created to help bridge and raise awareness of the role of Arts and Literacy with the people of Ontario. As the first, my goal is to inspire more connection and community building through vulnerability. My work primarily focuses on celebrating Ontarians, poets and youth to plant seeds for what Ontario can look like in our future. 
Foyer: What are some of the projects or endeavours you've engaged in since you took on the role? Which aspect of the role are you most passionate about? 
Adjei: I've done a lot since I have been in this position. Some projects have included working with Kids Help Phone to raise awareness of youth mental health across Canada. I have hosted events, workshops and assemblies at many schools across Ontario. I've hosted and connected Poet Laureates across Ontario in one space for a poetry reading. I've also had the opportunity to platform poets on stages where their message and stories could be amplified. 
I am most passionate about the youth who have heard my story and poems and have been inspired to write their own. Poetry has the power to heal and help us express things deemed to be vulnerable. I am an advocate and ambassador for vulnerability.  I am also passionate about seeing a more expressive Ontario in the future.
Foyer: After reading Cohen's Dance me to the End of Love, what strikes you about the lyrics? 
Leonard Cohen - Dance Me to the End of Love (1984)
Dance me to your beauty with a burning violin
Dance me through the panic 'til I'm gathered safely in
Lift me like an olive branch and be my homeward dove
Dance me to the end of love
Dance me to the end of love
Oh let me see your beauty when the witnesses are gone
Let me feel you moving like they do in Babylon
Show me slowly what I only know the limits of
Dance me to the end of love
Dance me to the end of love
Dance me to the wedding now, dance me on and on
Dance me very tenderly and dance me very long
We're both of us beneath our love, we're both of us above
Dance me to the end of love
Dance me to the end of love
Dance me to the children who are asking to be born
Dance me through the curtains that our kisses have outworn
Raise a tent of shelter now, though every thread is torn
Dance me to the end of love
Dance me to your beauty with a burning violin
Dance me through the panic till I'm gathered safely in
Touch me with your naked hand or touch me with your glove
Dance me to the end of love
Dance me to the end of love
Dance me to the end of love
Adjei: After reading the song, I loved the cadence and choice of words with which Leonard Cohen wrote this piece. For me, it isn't just about dancing to the end of love, it is about the eternal need to belong and of being held and loved as you are, where you are for who you are. We all need this kind of love - not just romantically.
It reminds me that we must keep moving/dancing through the good times and the bad together and with love. It is a reminder that our bodies are portals that hold emotions and memories. Our bodies are also the instruments with which we use to free ourselves and release ourselves from the harsh realities of love. So dance is the outlet.
I love the repetition because the term " Dance me to the end of love " doesn't necessarily mean the same thing each time for me. It reminds me of a mirror when it comes to dancing, as in, I follow your lead, and I will lead when you're ready to follow. An eternal dance.