Lina Bradford on living herstory and Keith Haring
The multihyphenate talks Haring and the magic of queer nightlife ahead of her DJ set at the AGO on November 17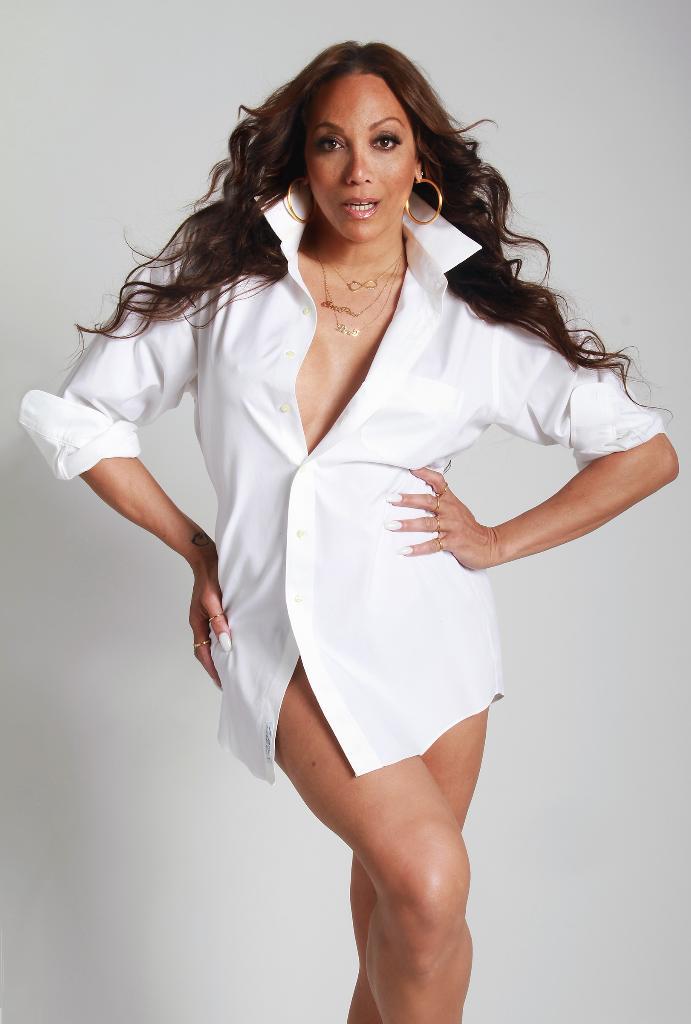 Lina Bradford. Photo courtesy of the artist. 
Calling all art lovers and partygoers -- Keith Haring: Art is for Everybody is on view with a bang at the AGO! For a can't-miss, one-night-only celebration of the exhibition, New York City's very own Lina Bradford will take over the DJ booth in the AGO's Walker Court on November 17.  
This interview below comes to Foyer courtesy of the AGO's partner for the exhibition's opening party, Yohomo, an online hub dedicated to uplifting Toronto's thriving LGBTQ2+ community through art, culture and nightlife. Bradford got candid with Philip Villeneuve, Yohomo's editor and co-founder, about several things, including seeing Keith Haring out and about, cutting her teeth as a DJ in the 1990s and her ongoing love affair with Toronto. 
See you on the dance floor on November 17 at the AGO.  
This interview appears on Yohomo and has been edited for length. 
Our interview with Lina Bradford was well over an hour long. She is living herstory, she is an archivist, she is an alien, she has seen and experienced it all and has a lot to say about it.  
This is why we thought she would be the perfect DJ to spin at the opening of Art Is For Everbody, the new Keith Haring exhibit at the AGO. She not only knew Keith and would see him out at the clubs with all of New York's truly legendary children, but she lived and was part of the culture of that era.  
If you're not aware of queen Lina Bradford, be prepared to be a new fan. She's a DJ, an activist, an archivist, a hostess with the mostess, and a soon-to-be author. She has been part of NYC, Fire Island, and LA nightlife history, throwing and creating parties in these places that shifted culture.  
It's hard to NOT talk to her for hours about everything she's seen and done, but we tried to capture what we can in our chat over Zoom from her infamous NYC closet. Sitting in front of racks and racks of looks and shoes, Lina spoke to us about her otherworldly experience in nightlife, culture and where things are headed.  
We can't wait to DJ alongside her on Friday, November 17 at the AGO and hope to see y'all there for this historic set. 
Yohomo: Can you tell us about your Toronto love affair and connections? 
Lina: I love my Toronto people. The funny thing is, living in Montreal back in the day, it was just boom, boom, boom. I never got a chance to go to Toronto. So, the first time I came to Toronto was when Jada [Pinkett-Smith] and I were filming Woo in '97.  
But Toronto has brought me up for lots of filming and lots of DJing, and with that, has come really great relationships with friends that I had met coming up through throughout the years. I've really just formed such a beautiful family up there. I love, love, love Toronto.  
And one of my favorite places to eat is on Spadina, Fo Hung, honey. I feel like I take gigs just to go to Fo Hung because baby, the best chicken wings you ever had in your life! 
For the Yohomo and AGO audience who might not be as well-versed in LINA as we are… and since you're coming to DJ the Keith Haring party… can you tell us a bit about your journey as a DJ? 
It's been 26 years. '97 is when I started actually. 
The year that I filmed Wu and Black and Blue, I started DJing. That's just me. An Aries multitasker. And it's funny to actually look back and talk about that because I'm like, oh my God, I didn't realize that all three of those monumental things were all in '97. 
Because I've had so many hats before and now, I never wanted to become a DJ. I mean, I think it's different for kids nowadays. They're like, "I want to be a DJ" [and they just do it]. But for me, I came from a dance background and acting. And then hosting every club under the rock and doing fashion shows. So that's the life that I came from.  
And then in '97, one of my mentors, Larry Levan was everything to me and my brother, rest in peace… Frankie Knuckles. It was a bunch of us. I was hosting this party called Boy's Life, and it was me, Junior Vasquez, David Morales, T-Pro, Carlos Petruz, Victor Polta, Frankie, Tedd Patterson, all my brothers that I had been working with. They were spinning the music and I was hosting, I was dancing, but I would always be up in the DJ booth. 
We were up there and we were cackling and I was sitting on Frankie's lap and Frankie's like, "girl, you need to DJ. You would be an amazing DJ".Frankie knew how to bait me he's like "I dare you," and I was like ah ha! Because you know I would take the Pepsi challenge and sure enough I did, and it changed my life. 
That is wild! 
I went up to DJ T-Pro's house in Harlem - I lived in East Village at the time -  and I got one DJ lesson. Now, you know 'cause you also DJ, the first time you ever looked at equipment you're like, "holy shit this is very overwhelming!"  So I was like, holy shit, like what did I get myself into? I remember thinking that. But I mean, there ain't a problem that I can't fix ... because I can do it in the mix. I paid attention, got the gist of it, and I've been from vinyl to CDs and that's where I'm at. 
I have to touch and feel and smell my shit, like I need to see the artwork, I need to see my handwriting, like that's how I work, and if I was gonna spin, it had to be movie that spoke to me. A fierce toss salad of all the things that I live for. I did the B-52s, I did Led Zeppelin, I did Heart, and then I went into early house, which is where we were in the 90s, of course. And the kids were living because of the way that I threw it in.  
You're taking people on a journey… 
I'm not a jukebox DJ baby, you don't come up to me for requests sweetheart. Burger King you can't have it your way. You come on my journey or baby, there's a club down the street if you want to hear some top 40. When you come and see me DJ, you're getting a performance, but you're getting me coming out of myself, into my element of love and light and music, and you feel my energy.  
I think that that's why one of the reasons is you know my life as a DJ for 26 years has only continued to go where I wanted to go. 
Can you talk a little bit about your experience or interactions with Keith Haring? 
I would always see Keith, I mean, everybody was like this back in the day. I would see Keith all the time. I never liked Limelight, but I would see him there… I would see him at Factory. He actually did some art at Factory, the original Sound Factory with Junior Vasquez, which was back in the day '90s. I've got videos. I've got videotapes, honey. MTV used to come and do House of Style. They used to come and videotape me and all of my children doing runway. I have that legendary footage.  
Everybody would be like, Blina's always got somebody with a video camera because as an only child, I was like, I have to tell a story one day. 
Lina spoke about how Keith would make artwork for mixtapes that DJs would pass around and give out to folks. You know she has some of those in her archives as well… 
Back in the day your cassette was your business card. How you gave your cassette out had everything to do with whether somebody was gonna listen to it along with art from an up-and-coming artist named Haring. That's fucking New York, and that's the school that I come from. 
Lina Bradford created a playlist ahead of Friday's party. Take a listen on Spotify. 
Looking back at your history in NYC nightlife specifically, it's a real journey… how electric were those days in the late 80's and early 90's? 
I was looking through the photos, and being an archivist, I've kept everything from videos to photos, and I have all the old cassettes that Frankie [Knuckles] and Larry [Levan] and every legendary DJ you could imagine would make and give to people. I have boxes and boxes of everything that Larry would do, and it was fucking everything. I actually got some shit that Keith used to do for other DJs mixtape artwork. He would do artwork for other DJs mixes. 
The fact that you're still DJing wild parties and being booked around the globe shows that your deep knowledge of music, flow and how to command an audience is truly unmatched… how does it feel out there as a DJ/artist playing… 
See, I'm a pastor. I'm an old school bitch. I'm a fucking artist and I will always be an artist, a real artist.  
I'm not supposed to be the best DJ. I do what I do. It's special. Every DJ should do that, but you shouldn't be a carbon copy of the next DJ. That's what I see with a lot of these random DJs today. You all, literally, you look the same, you sound the same. If any of you stole my purse, I couldn't pick you out in the lineup.  
This is called education. This is what you call not using words like "legendary" and "iconic" and ruining it for people who come from that demographic. I can't hear those words anymore. They make me cringe. They have been taken out of context. You are only a human on the planet for two minutes, baby. How are you iconic? And how are you legendary? And how are you both?! 
Lina is now writing a memoir and is a reflective mood these days… 
I've lived many lives, and I'm still living life. And I'm the fully realized version of the being that I always saw myself when I was playing Barbies with my girlfriends as a child. Storylines that I would put together to be like, girl, you have got an imagination that's on another level. I'm like, well, you know, I'm not from this planet.  
I've always known that my first gig on this planet is being a princess of light and bringing people together. That's the first thing. I have an ability to bring people together, whether I'm public speaking, acting, dancing, DJing, whatever. I do it effortlessly and I do it because I care and I love people, especially in the humanity that we're living in these days, honey. It is needed. 
Yohomo was founded in 2016 by writer, DJ and Youtube personality Philip Villeneuve and creative director, and DJ Armand Digdoyo. For more about Yohomo, visit their website.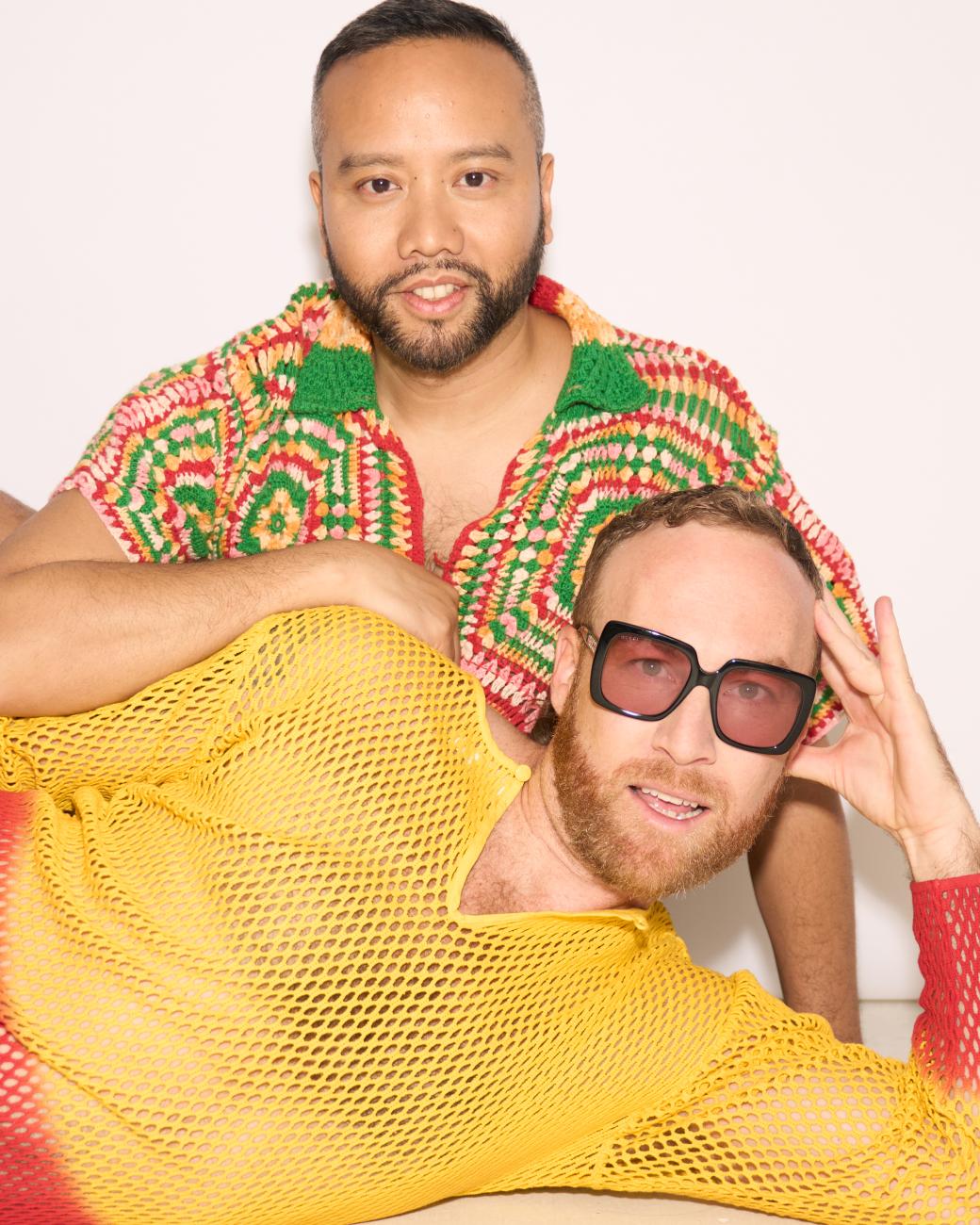 Yohomo co-founders Armand Digdoyo and Philip Villeneuve. Image courtesy of Yohomo. 
Keith Haring: Art is for Everybody is on view on Level 4 of the AGO through March 2024. Lina Bradford will headline the opening party on November 17. Tickets to the opening party are included with admission to the AGO.
For entry to the Keith Haring: Art is for Everybody exhibition, purchase an AGO Membership or Annual Pass. Visit the AGO website for more details on how you can see the exhibition.