Wolfgang Tillmans's Moon in Earthlight
Tillmans's film alongside videos Instrument, Peas, and Book for Architects are on view at the AGO.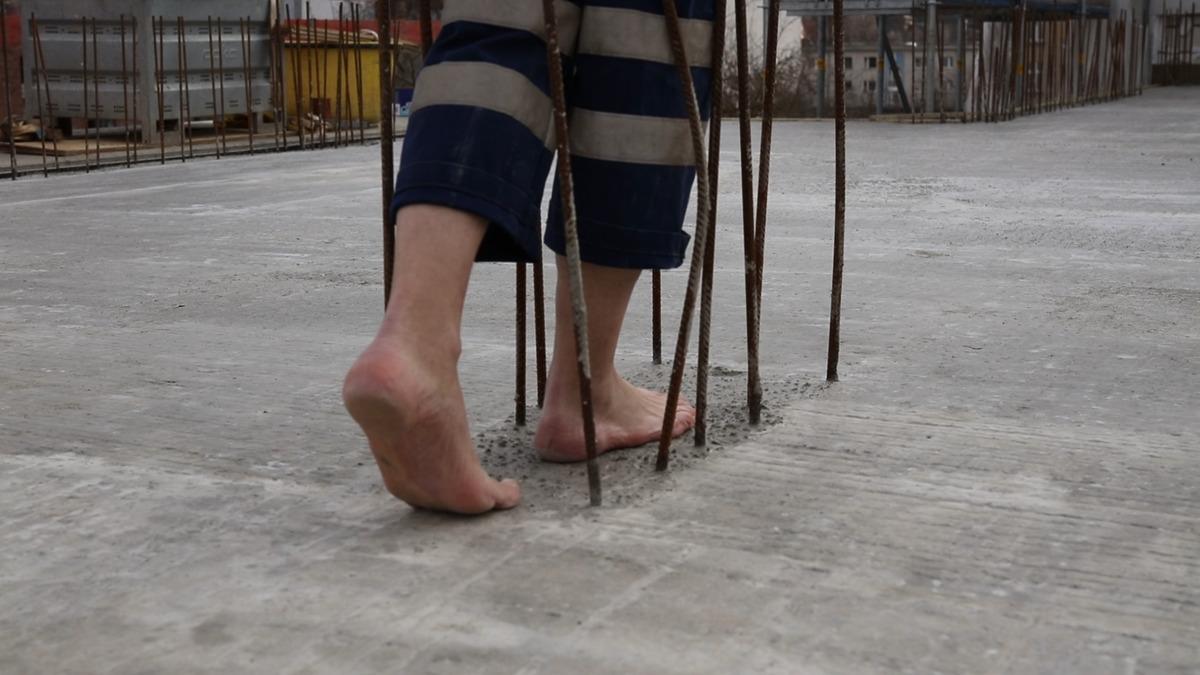 Wolfgang Tillmans. Still from "Moon in Earthlight", 2021. 4k video (color, sound), 52:55 min. Courtesy of the artist, David Zwirner, New York / Hong Kong, Galerie Buchholz, Berlin / Cologne, Maureen Paley, London.
While Wolfgang Tillmans is perhaps best known for his photographs, he started experimenting with making music in 1984, two years before he purchased his first camera. Accompanied by his friend on the synthesizer and drum machine, Tillmans created his own songs, recording them on a cassette before tucking them away for 30 years. He returned to songwriting in 2016 when he released 2016 / 1986 EP, featuring recovered songs from his cassette recordings as well as two newly written tracks.
Fast forward to 2021, Tillmans released his first full-length album Moon in Earthlight. Composed of recordings made in the four years prior — and produced primarily during the COVID-19 pandemic — it incorporates spoken word, ambient sound, and pulsating electronic beats, among other sonic elements. The artist's music deals with themes of freedom, democracy and togetherness. 
Running as an extension of To look without fear, the AGO is screening the film Tillmans created to accompany his album in Jackman Hall. The film, also titled Moon in Earthlight, features a variety of scenes and subjects shot with a mostly unmoving camera: a woman playing with a power washer on a roof, a gymnast in a blue leotard skillfully navigating a pommel horse, and close-ups of a spinning disco ball above an empty dance floor. Tillmans also makes an appearance in the film, running in circles on a rocky shoreline. Throughout the film, he repeatedly returns to nature, presenting footage of mushrooms, leaves, and close-ups of hermit crabs burrowing into the sand.
Tillmans records sound from environments around him as voice memos on his phone, using these as a starting place for songs. For Tillmans, the interplay of sound and image — what he calls "audio photography" — underscores the performative nature of music and its role in bringing people together. He sees the auditory and visual as similar mediums, inviting viewers to think about how music can influence how we understand photography.
Moon in Earthlight is not the only video where Tillmans's moving images play off sound. Also on view in the AGO exhibition on Level 5 is Instrument (2015), a video which is presented together with another video titled Peas (2003). Instrument consists of two juxtaposed videos: one video features Tillmans dancing in white briefs with his back to the camera, the footage taken in a Los Angeles hotel room. The other video features Tillmans's shadow similarly dancing, this time in Tehran, Iran. Both videos were then superimposed onto a rhythmic beat Tillmans created using the sound of his feet stepping on the floor, periodically featuring the sound of the busy Tehran streets. Peas features a close-up of peas boiling in water to the distant sound of a sermon given by a preacher, sampled from a Pentecostal church across Tillmans' former East London Studio. 
Also on view in the exhibition is Tillmans's silent two-channel video installation Book for Architects which displays images projected onto two adjacent walls. Featuring architecture from 37 countries across five continents, Tillmans took the images with a standard lens, aiming to capture various architectural elements in a way that mimics the perspective of the human eye. Projecting pictures of malls, billboards, plumbing fixtures, tiles and more, the installation provides different perspectives on the cultural and social fabric of our built reality.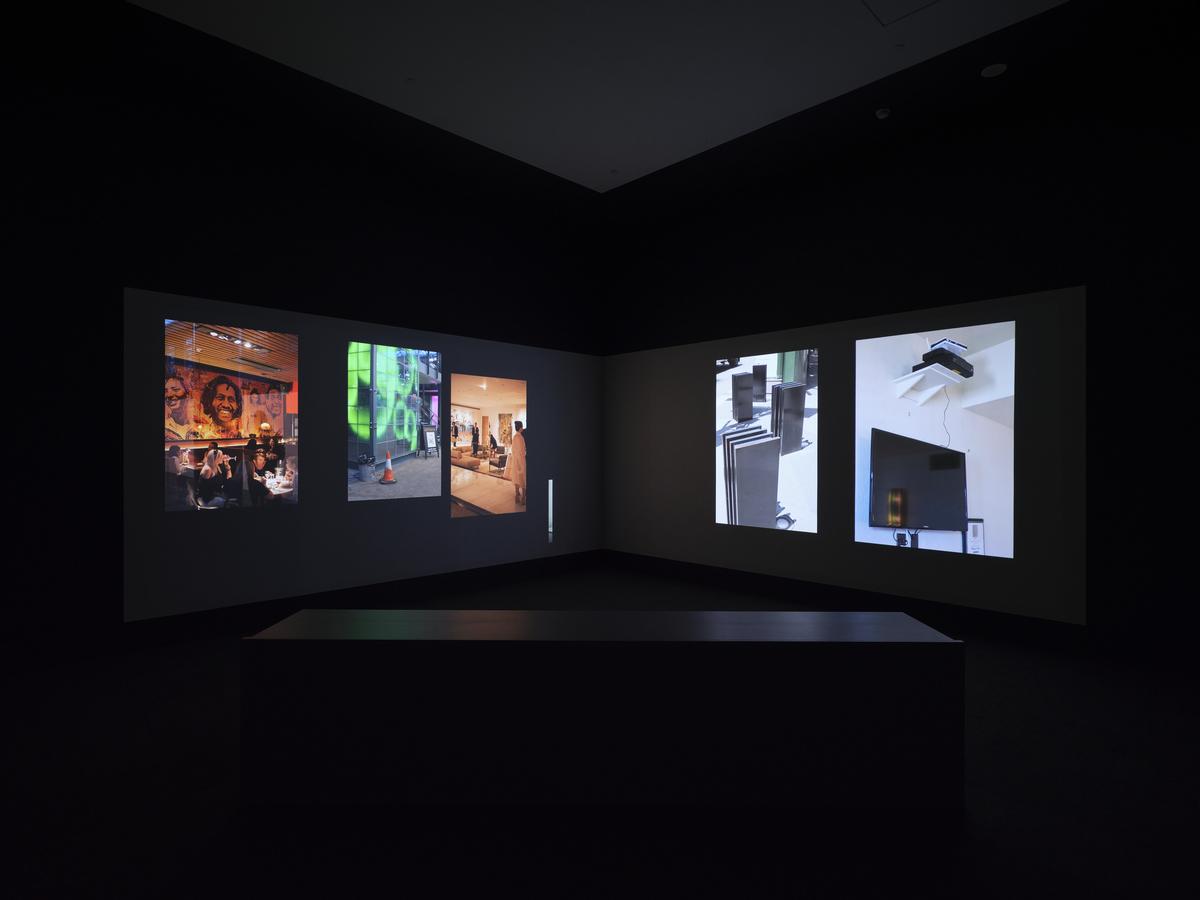 Installation view: Wolfgang Tillmans: To look without fear, April 7, 2023 - October 1, 2023, Art Gallery of Ontario. Artwork: Book for Architects, 2014. Two-channel video installation (colour, silent), 40 min. 55 sec. Courtesy of the artist, David Zwirner, New York / Hong Kong, Galerie Buchholz, Berlin / Cologne, Maureen Paley, London. Photo: AGO
Screenings of Moon in Earthlight are running in Jackman Hall on Wednesdays from 6 pm to 9 pm, Fridays from 11 am to 2 pm, and Saturdays from 2 pm to 5 pm. Access to screenings are included in General Admission. See the full schedule here. You can also catch a screening of various videos by Tillmans on September 6 from 7 - 9:30 pm, also in Jackman Hall. 
Moon in Earthlight will also be shown in Jackman Hall as part of Toronto's Nuit Blanche 2023. The film will play on a loop starting on Saturday, September 23, at 7 pm and ending on Sunday, September 24, at 7 am. 
Tillmans is returning to the AGO on Sunday, September 17 at 2 pm for a conversation with University of Toronto Computer Science Professor Kyros Kutulakos about image culture, technology, knowledge creation and the advancement of AI-generated images. Grab tickets here.
Experience Tillmans's visual and auditory work in To look without fear, on view until October 1, 2023 on Level 5 of the Gallery. To look without fear was developed by Roxana Marcoci, The David Dechman Senior Curator, Department of Photography, The Museum of Modern Art, with Caitlin Ryan, Curatorial Assistant, and Phil Taylor, former Curatorial Assistant, Department of Photography, The Museum of Modern Art. The AGO presentation is organized by Sophie Hackett, Curator, Photography, Art Gallery of Ontario, with Marina Dumont-Gauthier, Curatorial Fellow, Photography, Art Gallery of Ontario.