Ed Pien on the passage of time and aging
The installation Ed Pien: Present: Past/Future is on view at the AGO until June 4, 2023.

Ed Pien. Dionne Clementina Anyo Reyes, 2019. Diptych: two colour digital prints on rag-cotton paper, 53.3 × 78.7 cm each print. Courtesy of the artist. Photo: Claudio Pelaez Sordo.
Combining audio, video, photography and furniture into an immersive, multisensory environment, Ed Pien: Present: Past/Future intimately explores the passing of time. On view at the AGO until June 2023, the landmark exhibition surfaces the life stories of 13 Cuban seniors with whom Pien has been routinely meeting and interviewing in their respective homes for the past eight years, and plans to continue as long as life and circumstances permit. On Saturday June 3, 2023, Pien will appear live at the AGO with the exhibition's guest curator Catherine Sicot, for a conversation about his groundbreaking work. 
This extensive participatory art project has profoundly impacted Pien as both an artist and human being, leaving him with nearly a decade of insight into the complex process of aging. We recently spoke with Pien about his treasured time in San Agustín, his beloved cohort of elder participants, and the immersive exhibition that tells their tale.         
Foyer: This exhibition is described as a reflection on the passage of time. How has your perception of time and aging evolved since you began working on the project? 
Pien: Perhaps it's because I am working on a project that involves time, so it seems the speed of time has accelerated. I can hardly believe that the Elders and I have been collaborating for nine years. At the start of it, I was 56 years old, and now I am 65, officially a senior! Barroso was 71 then, and now he is going on 80!
One of the repeat questions that I pose is 'how old do you feel inside?' Zonia doesn't give a definite number but always insists that she senses herself to be a lot younger than her actual age. Barroso tends to feel 20 years younger, but due to recent health issues, he acknowledges that his perceived age is catching up. Personally, I reject the notion that I should act or live a certain way just because of my age. What I do acknowledge is that the end of my life is so much closer than the beginning of it.
Like other older people I know, we tend to sense time as hurtling by. Maybe the main reason I feel time accelerating, sometimes even seeming to be speeding out of control, is because six out of the 13 participating Elders have passed away. Given this palpable reality, it is essential that I engage more frequently with the seven remaining, in order to capture our interactions within the limited time we still have to spend together.
On the other hand, it seems time has slowed down and can, at certain moments, stand still. How, you ask? Well, when I work on photos or videos of them, or look at a previous work, these materials take me back to that moment of creation: when Mercedes recounted her house to me, Eva expressed her concern for her son, Lazaro, or when Zonia teared up while listening to her favourite music for the first time in decades. In my mind's eye, Barroso is still a striking 71-year-old young man.
In this ongoing project, having captured then distilled many moments, it seems that time could be slowed down or even stopped. There is a permanence to what we have collaboratively come up with and hence the refusal of our artwork to fade from public domain or disappear in time.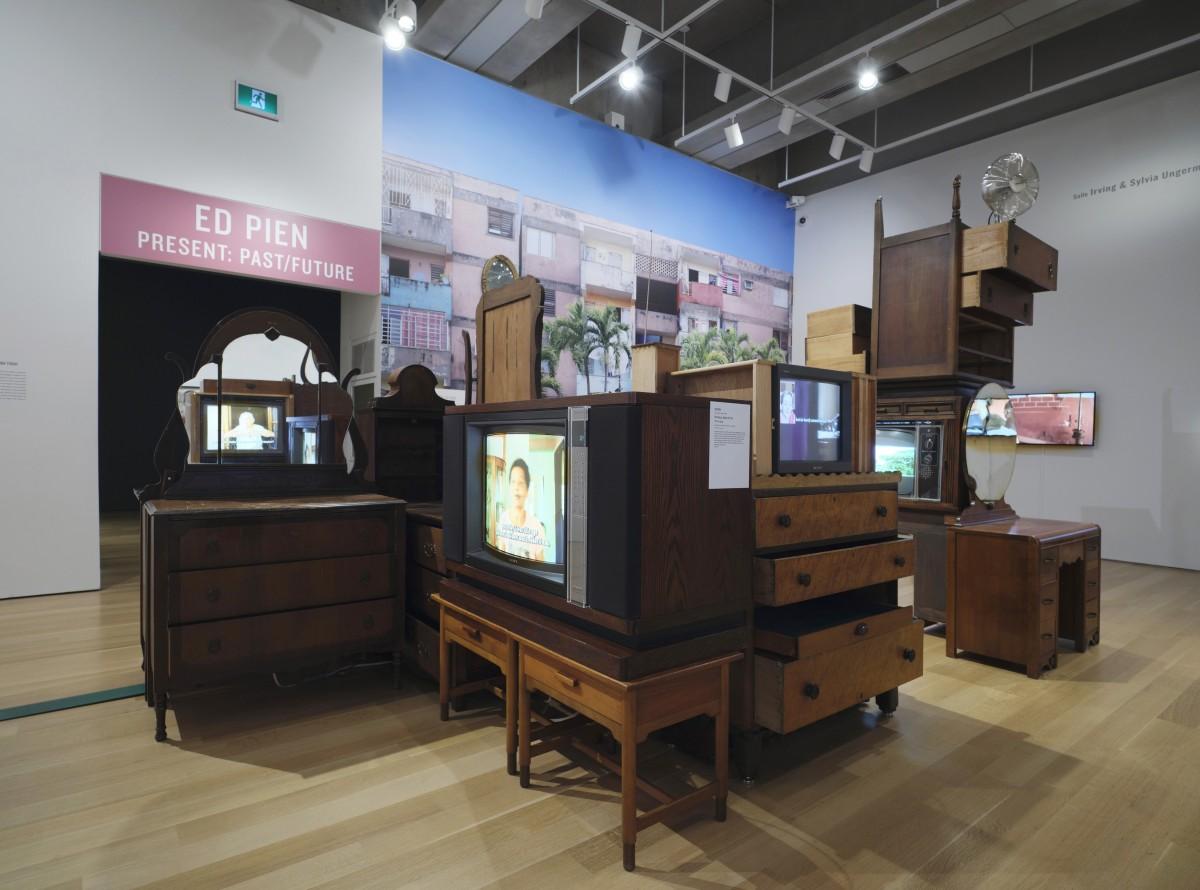 Installation view, Ed Pien: PRESENT: PAST/FUTURE, Art Gallery of Ontario. Artworks © Ed Pien, Photo © AGO
Foyer: Furniture and vintage television sets play an important role in the immersive experience of the exhibition. Why were they included in the installation, and what do they represent to you? 
Pien: In my experience as an artist, I have found that creating immersive installations is one of the most effective ways to engage viewers. I have often seen exhibitions showing only photographs on walls or videos screened on monitors, but I prefer to create something more tangible and captivating. With my installation at the AGO, visitors can enter a space rich with materials that evoke a sense of the past and lives lived.
The inspiration for my furniture installation came from two sources. The first was a comment made by Zonia. She had told her niece that she would inherit all of her possessions, but the niece responded by saying that the items meant nothing to her and that she would sell them after Zonia's passing. This conversation led me to start collecting furniture from second-hand stores, flea markets, and online sellers. I gathered pieces that had once held meaning for their previous owners but had since lost that significance or had been sold due to various circumstances. The fact that these objects hold traces of a past is crucial for my exhibition. I did not feel the need to bring furniture from Cuba, as that would have created an exoticized representation of the Elders and Cuba.
The second reason for including an installation with furniture is inspired by my research on the representation of trauma for another major body of work. Some years back, during a visit to Londres 38 in Santiago, Chile, a house where detention and torture once took place and is now a museum, I noticed that everything had been removed from the space except for some furniture that was haphazardly piled up and pushed against walls or left in alcoves. This arrangement gave the furniture an uncanny and almost anthropomorphic presence. To me, they seemed to speak by their refusal to be invisible. I find it fascinating how materials can impart such resonance based on what we impose onto them.
The vintage TVs not only augment the sense of times past but also function to display the majority of the videos. Additionally, Gladys had an old TV that always displayed content squished vertically due to a malfunction. In the installation at the AGO, one of the TVs is dedicated to Gladys. Entitled "Gladys In Her Reality," it presents Gladys alongside a selection of cartoons. She enjoyed watching cartoons, and as a child, Gladys loved listening to her mom recount tales from the 1001 Arabian Nights to her.

Ed Pien. Gladys, (L) 2017; (R) 2015. Diptych: two colour digital prints on rag-cotton paper, 53.3 × 78.7 cm. each print. Courtesy of the artist. Photo: (L) Claudio Pelaez Sordo; (R): Ed Pien.
Foyer: Can you talk about your decision to make this project open-ended (until all participants have passed away, or they no longer wish to participate)? When/how did you arrive at this decision? How does it feel to commit to a project for such an extended period of time? 
Pien: Almost right away, when I was invited by independent curator, Catherine Sicot, to realize a project in Cuba. I requested a couple of conditions to be met, including that the project would continue until either I died or the participants passed away, or until they lost interest in continuing with it. The reason for this was that I didn't want to be a "tourist" artist, if such a concept existed. Since it was a socially-based practice I was pursuing, I really wanted to convey my commitment to the participating Elders, provided that they were in full support of the project.
In fact, about a year after the start of the project, we held a gathering to screen the first iteration of the video interviews. After the viewing, the elders present at the time, signed a handwritten letter stating their approval of the project and their willingness to continue with it.
How did it feel to make such a commitment? For me, when I conceptualized an idea for a project and as it started out, it was somewhat hypothetical and theoretical until the undertaking accelerated into full speed. I didn't anticipate the complexities of some of the events relating to this objective that would eventually unfold, including the possibility of the participating Elders passing away during the course of the project. In my proposal, the idea of any of the Elders and me dying had always been abstract and deferred to an intangible, distant future. When some of them did start passing away, it really hit me hard. How could people actually die as part of an art project? It felt like an innocent game had turned deadly, and I couldn't help feeling guilty for having conceived it.
I also didn't anticipate that over time, some of the Elders would lose their memory or rational thought. Obviously, I couldn't continue engaging with them in the same way, but I still visited them and found alternate means to involve their participation. This was important for me to be ethically mindful, as well as to show care and respect.
Having known the participating Elders for so long, the demarcation between myself as the artist and them wore away, and sometimes the border broke down. In our own way, we became friends, and some of us even became like family. As a result, I took on more responsibilities and obligations. For one thing, there were increased social visits and phone calls, including helping with some of their expenses. From the start of the pandemic until now, the inflation rate in Cuba had risen beyond anyone's imagination, making it difficult for most people to financially cope with this stressful reality.
There were periods when the limitless time committed to this project seemed overwhelming and all-consuming, not to mention the economic impact of travelling to Havana, paying for translations, editing, etc. However, living through the COVID pandemic with the spectre of death always a stone's throw away, there were times when I lamented that the project would come to an end sooner rather than later.
With such a significant time commitment, there has been an accumulation of rich material. I am excited to combine past, present, and future elements to create new work. For example, in 2015, Walfrido shared with me the story of how he nearly murdered his sister's estranged boyfriend during the early 60s. To make a long story short, the boyfriend who had gotten his sister pregnant, left her. Walfrido searched and found him. A fight ensued, and because Walfrido was in the army at the time, he had a gun and was about to shoot the man, but was talked out of it. The sister and her boyfriend soon got back together, and they are still happily married to this day. When I visited Walfrido in December 2021, a woman named Yolanda was there. It turned out that she was the daughter of Walfrido's sister and the man Walfrido almost killed. Yolanda eagerly volunteered to be included in a video I am currently working on, in which Walfrido recounts this event.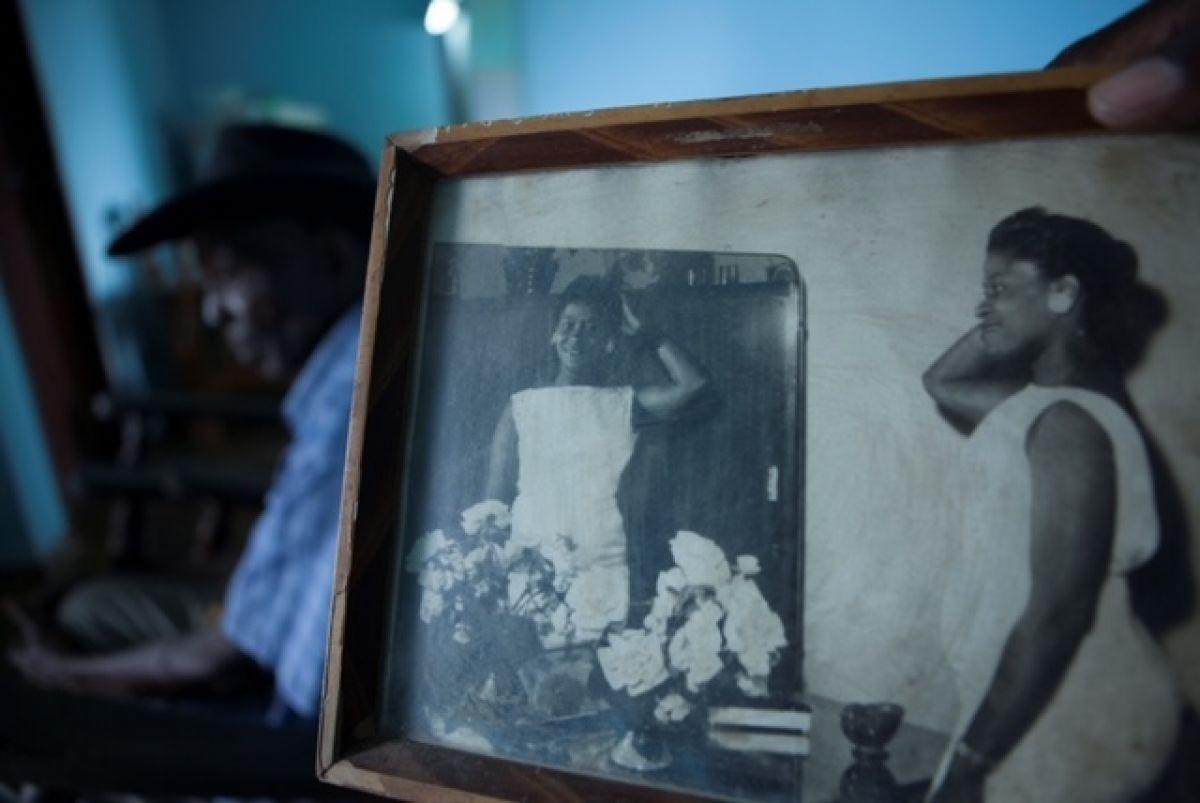 Ed Pien. Marcelino Povea Vives, 2019. Diptych: two colour digital prints. Courtesy of the artist. Photo: Claudio Pelaez Sordo and Ed
Foyer: You've been sharing moments and building relationships with these elders for close to a decade. Of all your time spent in St Agustín with them, is there a particular moment that stands out as your most treasured? 
Pien: There are so many precious and emotional moments. Here are two:
Marcelino:
Marcelino had already undergone two unsuccessful cataract surgeries before we first met. He refused to have a third operation and stoically accepted blindness as a reality that would continue to impact his everyday life. This past January, I saw him outside his apartment building, carrying a pail holding a few empty bottles and wet trash. He seemed to be able to vaguely make out where the trash bin was and slowly navigated his way towards it. When he finally arrived at the dumpster, he took one bottle and, with the other hand, searched for the opening. However, he didn't realize that the bin had been placed upside-down. When it finally dawned on him, he gently placed the remaining bottles on the side of the bin. I was so very impressed by how calm and collected he was throughout the entire unfolding of this event.
Mercedes:
As a habit, I ask each Elder if there is anything they need that I can bring to them during my next visit to see them. Mercedes asked for apples, and when I brought them to her a week later, she broke down in tears. She said, "I didn't want you to bring me anything. I asked for apples because I thought it would be impossible for you to find them here in Cuba, but you did!"
Ed Pien: Present: Past/Future is on view now until June 4, 2023 on Level 2 in gallery 231. And catch both Pien and Sicot live in conversation on June 3, 2023 at the AGO.