Feels Like Home Curator's Essay
Curator Emilie Croning reflects on the exhibition's guiding question: what does "Home" mean to you?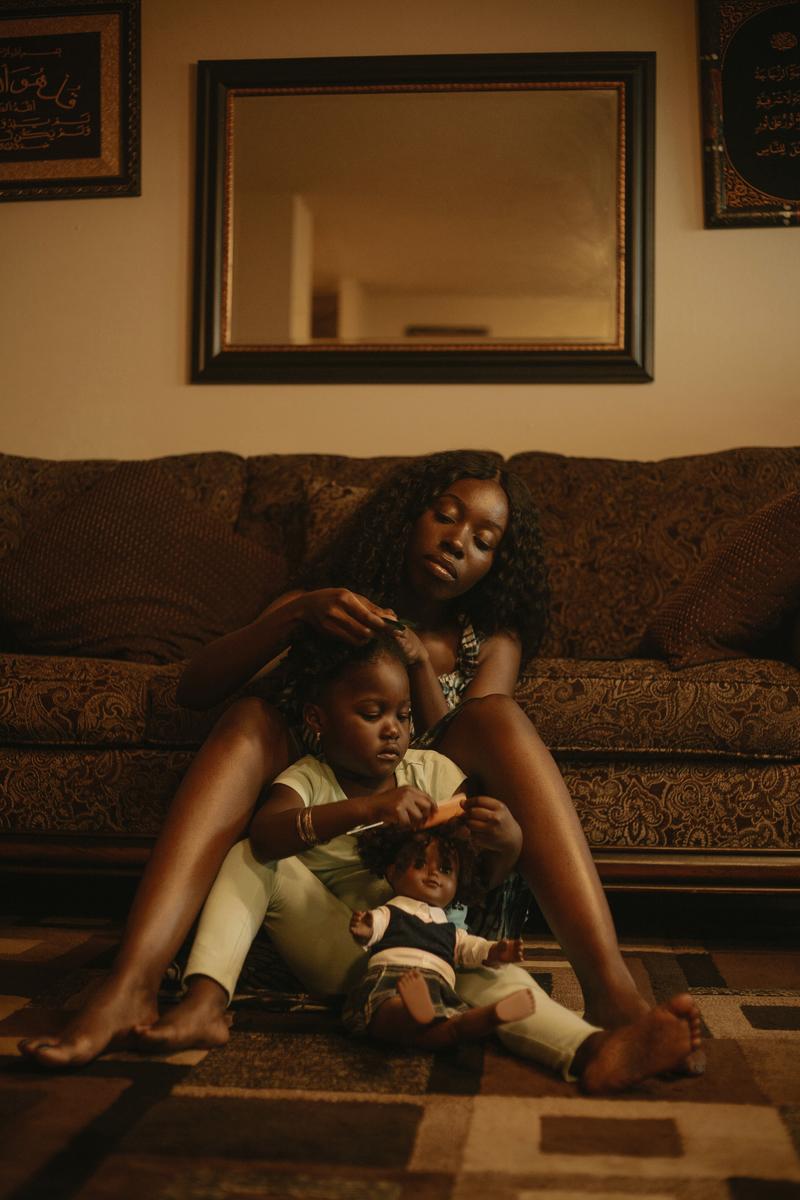 Jeremy Rodney-Hall, The Hair Appointment, 2018. © Jeremy Rodney-Hall. Image courtesy of the artist and Sunday School.
Feels Like Home is an exhibition of photographs and time-based media produced by the creative agency Sunday School. On view on Level 2 of the AGO until May 2024, the exhibition explores Black diaspora and identity through community, fashion, and culture at the intersection of art and education.
In this essay for Foyer, Emilie Croning, Curatorial Assistant, Arts of Global Africa & the Diaspora, reflects on her experience curating Feels Like Home and unpacks how each of the three series featured in the exhibition explore the idea of "home." 
—
A few years ago, I found myself aimlessly scrolling through "Black portraiture" search results on Pinterest, looking for visual inspiration for a drawing I was working on and was struck by a particular image. The photograph was of a little Black girl sitting patiently on the floor between her mother's legs as she gets her hair braided. This vignette - that felt all too familiar to me - was from a project produced by the creative agency Sunday School called The Hair Appointment (2018), photographed by fellow Torontonian Jeremy Rodney-Hall, and has stuck with me ever since. 
When Sunday School founder and creative director Josef Adamu and I sat down to discuss how best to ground these projects in a space such as the AGO, we were guided by the question: "What does home mean to you?" For some, home can be a place (be it private or public), people, a feeling of belonging, a scent, a sound, among other things. Feels Like Home, considers these nuances through contemporary discourses around the notion of home. 
Since its inception, Sunday School has been producing work that straddles commercial and art worlds, bringing together photographers, videographers, stylists, and models from across Africa and the diaspora to create striking visual stories that embrace Black identities, culture and community. For so long their work has predominantly occupied online spaces and the opportunity to share their work at the AGO further demonstrates its strength and impact. Feels Like Home is a homecoming of sorts, marking the Sunday School's sixth anniversary and their first major exhibition in Toronto - where they were founded. 
The exhibition highlights work from three series: The Hair Appointment (2018) photographed by Jeremy Rodney-Hall, Ten Toes Down (2021) photographed by Kreshonna Keane, and Jump Ball (2019 - ongoing) photographed by O'shane Howard and Joshua Kissi. The exhibition consists of a selection of framed photographs, vinyl enlargements, prints mounted to dibond, and a video work, carefully hung throughout its dedicated gallery space. The variations in depth and height create movement and dynamism to support the vibrancy of the work.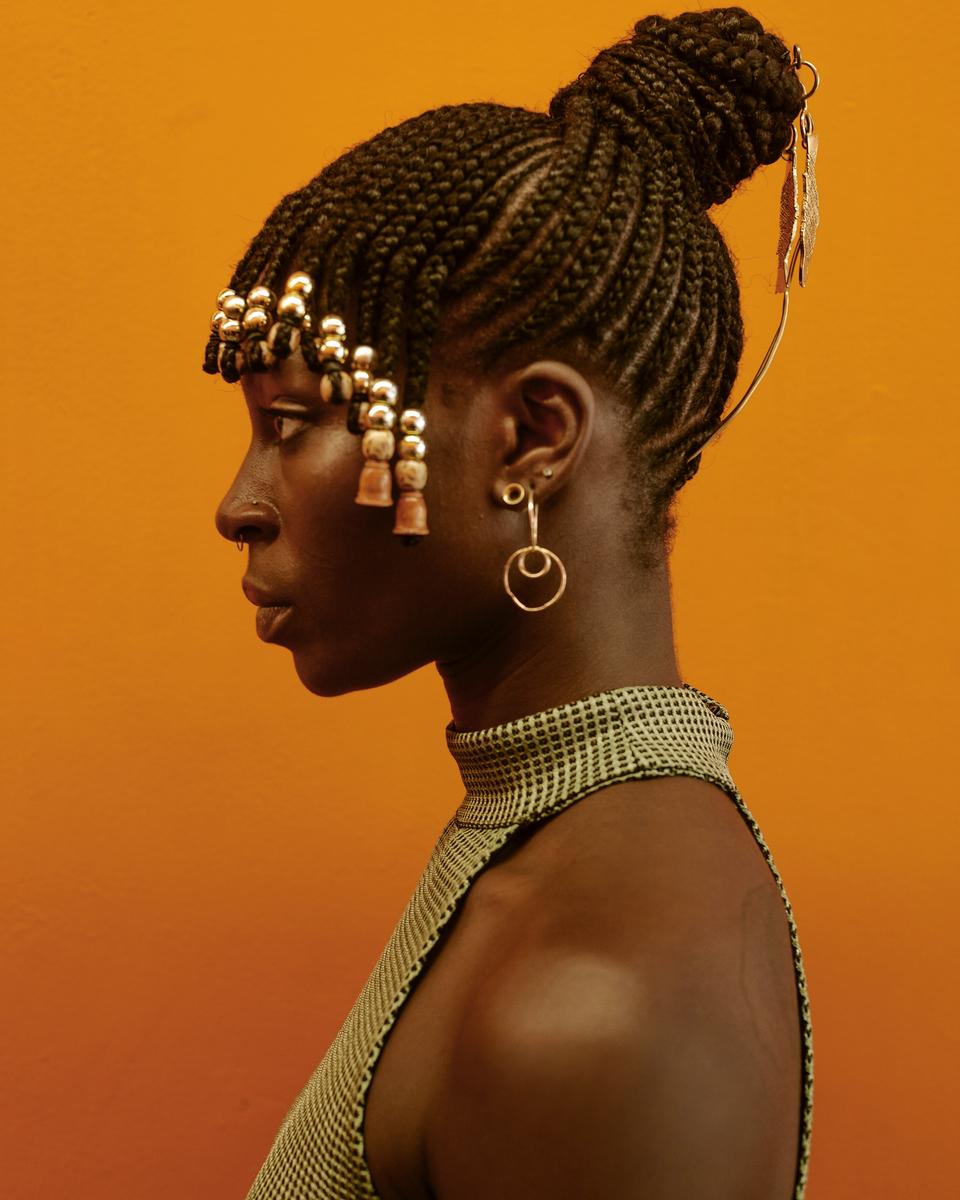 Jeremy Rodney-Hall, The Hair Appointment, 2018. © Jeremy Rodney-Hall. Image courtesy of the artist and Sunday School.
The Hair Appointment, one of Sunday School's most recognizable projects, speaks to themes relating to Black womanhood, beauty, and empowerment through hair braiding. The selected images take us on a journey from childhood to adulthood, from home to the hair salon – a cultural site where community and social support are rooted in the routine. Home is both familiar and comforting, and found through shared experiences. 
In Ten Toes Down, tender portraits of a Black ballerina posing in her own home shed light on representation in the dance world, revealing subtleties that address a longstanding lack of diversity in the field. Her flesh-toned pointe shoes – an extension of her melanated skin – symbolize recent advancements in the ballet industry. The production of brown and bronze pointe shoes attempts to resolve the tension between Black bodies and the spaces they inhabit, reminding us of the significance of being able to feel at home in our bodies - a site for self-expression.
Jump Ball is an ongoing series that explores the relationship between basketball and Afro-diasporic communities. Through portraits of young Black men, in both traditional African and Western street-style clothing, and families, this series underscores the ways in which many Black communities navigate the nuances of identity, evoking ideas of belonging, acceptance, and unity. Here, the orange Wilson basketball becomes a symbol of hope, aspiration, and kinship. 
The work of Sunday School is one of artistic collaboration and representation and provides a platform for Black stories to be shared by Black creative communities spanning across disciplines that push the boundaries of storytelling. Beyond representations of Black, African, and Caribbean youth, the carefully composed portraits present visual references reminiscent of works by famed African and African-American photographers such as the late Kwame Brathwaite, Seydou Keita, James Barnor; while contributing to an expanding repertoire of empowering and authentic imagery relating to Blackness. 
In the context of an art institution which, historically, has not always felt welcoming to marginalized communities, the photographs in this exhibition serve as a reminder that home is rarely one place and can be created in each other's company, inviting audiences to connect and embrace a greater sense of belonging.  
Feels Like Home is presented in collaboration with the 2023 Scotiabank CONTACT Photography Festival and is on view until May 2024 on Level 2 of the AGO in the west Irina Moore Gallery (gallery 248). Feels Like Home was curated by Emilie Croning, Curatorial Assistant, Arts of Global Africa & the Diaspora.
—
About Sunday School
Sunday School is a creative agency founded in Toronto by Josef Adamu in 2017 in an effort to offer unique perspectives through visual stories and experiences. Bringing together creatives from around the world, the agency aims to shed light on notions of identity, fashion and culture at the intersection of art and education. Sunday School has since gained international recognition for their many collaborations and projects, while actively pushing the boundaries of visual storytelling.