Cole's notes on surviving injustice
Hank Willis Thomas discusses the impactful work of South African photographer Ernest Cole.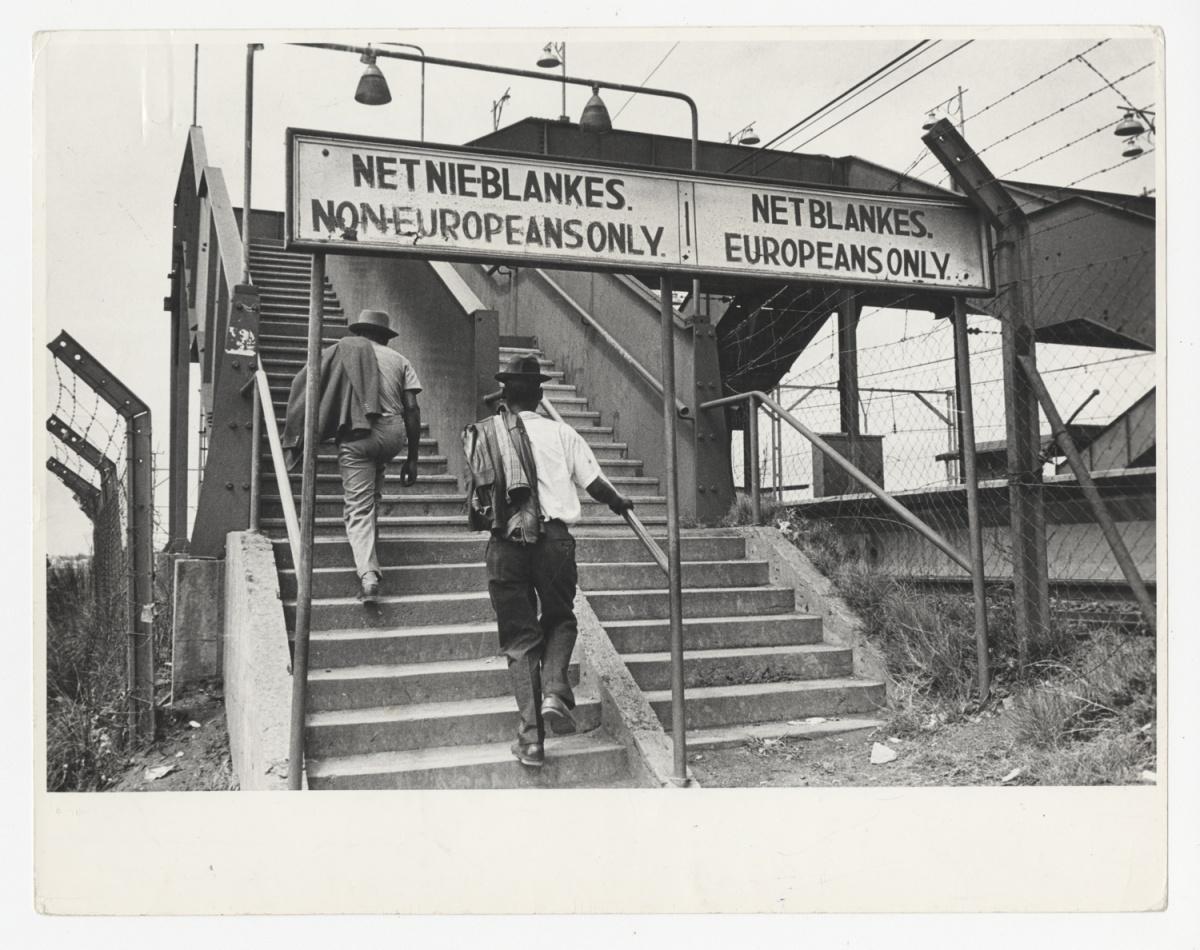 Ernest Cole, Apartheid Sign: Segregated Walkways, 1960. Gelatin silver print, 20.2 x 25.7 cm. Loan, Private collection, Toronto. © Ernest Cole / Magnum Photos.
The brutal histories of South African apartheid, Jim Crow-era America, and Canadian Residential Schools share more similarities than differences. Though segregation has been abolished for decades, the remnants of these ugly systems still deeply permeate the nations in which they originated. The profound work of South African photographer Ernest Cole (1940 – 1990) serves as both a document of apartheid's gross injustices and a chilling reminder that – in many ways – little has changed in the global struggle for Black lives. In a 2020 Art in the Spotlight, Sophie Hackett, AGO Curator, Photography, met via Zoom with renowned African-American artist Hank Willis Thomas to discuss the impact and implications of Cole's work.  
Born in Pretoria, South Africa in 1940, Ernest Cole started his career at 18, landing a job assisting the editor of photography, Jürgen Schadeberg, at Drum Magazine in Johannesburg. He immediately focused on documenting the lived experiences of Black South Africans during apartheid, boldly photographing candid moments of subjugation and conflict, risking prison – or even death – with every shot. Part of Cole's mobility and increased access to spaces as a photographer resulted from him outsmarting authorities and obtaining "coloured" status under the apartheid regime's Population Registration Act. In addition to photographing public acts of anti-Black violence and segregation signage, Cole was also able to capture uniquely intimate and vulnerable moments at settings like school houses, banks and medical examinations.     
By 1966, working as an anti-apartheid photographer became too grave of a safety concern, so Cole was forced to leave South Africa, relocating to New York City. Here, he cemented his legacy by publishing his first and only photo book (during his lifetime), House of Bondage, which would become one of history's most important collections of photographs illuminating the horrors of South African apartheid.       
For their Art in the Spotlight conversation, Hank Willis Thomas and Sophie Hackett discussed a number of Ernest Cole's key works. Having closely studied Cole's body of work and life narrative, Thomas offered fascinating insight about the powerful photographs. He noted the unfortunate contemporary relevance present in Cole's work, drawing multiple comparisons to modern day oppressive hardships faced by Black people across the globe. While observing one of Cole's most iconic photographs, Group Medical Examination For Miners, Thomas references the atrocities currently being experienced by workers in the Congo's coltan mines – a material used exclusively to manufacture smartphones.                                
Group Medical Examination for Miners is of particular significance for Hank Willis Thomas, as it inspired his critically acclaimed 2013 sculptural piece, Raise Up. Cast in bronze, it features the heads and raised arms of 10 men, meant to directly reference those of the subjects in Cole's original photograph. Raise Up was exhibited at the AGO in 2017 when Thomas was named the recipient of that year's Aimia AGO Photography Prize. After the tragic 2015 murder of Michael Brown, for many, Raise Up became synonymous with the popular Black Lives Matter protest chant, "Hands up, don't shoot". In 2018, Thomas constructed a life-size version of the sculpture at the National Memorial for Peace and Justice in Montgomery, Alabama – helping to further solidify the legacy and contemporary significance of Ernest Cole. 
Watch a recording of this conversation below.