Quilted legends
A quilted artwork by Hank Willis Thomas, commemorating the Raptors, has joined the AGO.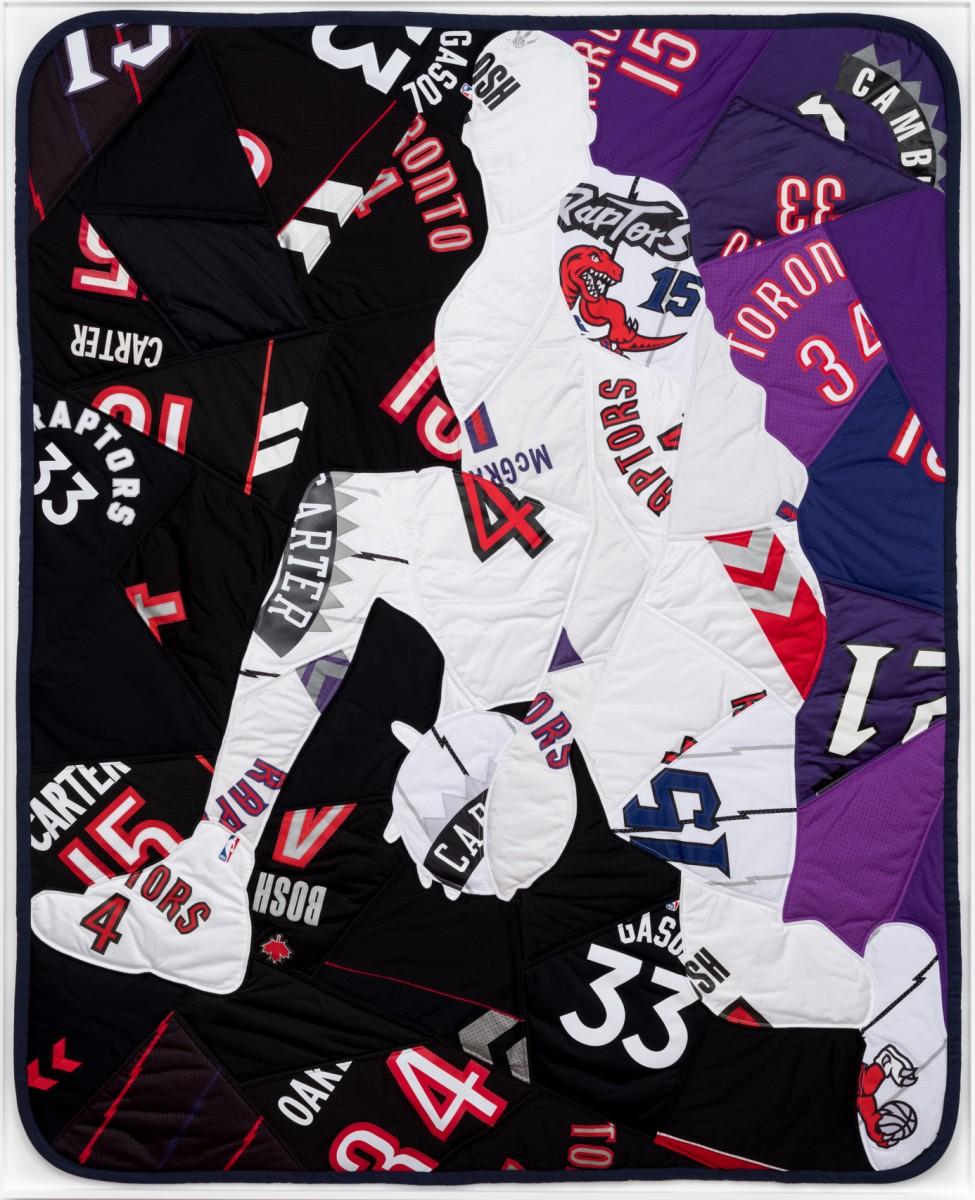 Hank Willis Thomas, No. 15, 2022. Mixed media including NBA jerseys, 190.5 x 152.4 cm.
The Raptors' basketball season kicks off today. And just in time for another potential championship run by Toronto's favourite team, a new piece of Raptors-themed artwork has been installed in the AGO's Maxine Granovsky and Ira Gluskin Hall – created by acclaimed artist Hank Willis Thomas. 
Inspired by the African-American quilting traditions of the southern U.S., No. 15 is a large-scale quilted work composed of Raptors jerseys from various eras of the team's history. Specifically, the work is an homage to Raptors hero Vince Carter and features an action silhouette from his famed Slam Dunk Contest performance in 2000. Other Raptors legends represented on this quilt include Chris Bosh, Marcus Camby, Marc Gasol, Charles Oakley and Tracy McGrady. 
The NBA-themed quilt marks a departure for Thomas, as he is known primarily for sculptural and photographic works. No. 15 is part of a larger series of textile works completed earlier this year. In conjunction with the 2022 NBA All Star weekend, Thomas exhibited the series in Cleveland (the host city) a few days before the big game. At the time, it consisted of six quilts immortalizing NBA Hall of Famers Kobe Bryant, Wilt Chamberlain, Michael Jordan, Shaquille O'Neal, Bill Russell and Jerry West. Originally, Thomas was commissioned by the NBA to create the Jerry West work in celebration of the league's 75th anniversary – he then proceeded to make the rest of the series independently. 
Thematically consistent with much of Thomas's earlier work commenting on the power dynamics of professional athletics, No. 15 is more complex than a mere ode to the 2019 NBA Champs. His use of NBA jerseys as source material brings to focus a commercially available product that allows athletes – specifically Black athletes – to be commodified and made purchasable by large corporate entities. The continued exploitation of the African-American experience for commercial purposes is a recurring theme in Thomas's practice.
No. 15 is the second work by Hank Willis Thomas to enter the AGO's contemporary collection. It will join the recently acquired photographic work, Hang Time Circa 1923 (2008) which speaks to the relationship of sports culture to acts of racial violence. A critically acclaimed artist, Thomas's work has been exhibited widely across the globe and can be found in numerous public collections. 
Enjoy the Raptors season, and come check out Hank Willis Thomas's No. 15, on view now in the AGO's Maxine Granovsky and Ira Gluskin Hall.