Bringing We Are Story to life
AGO Curatorial Fellow Marina Dumont-Gauthier discusses the newly installed image-based exhibition.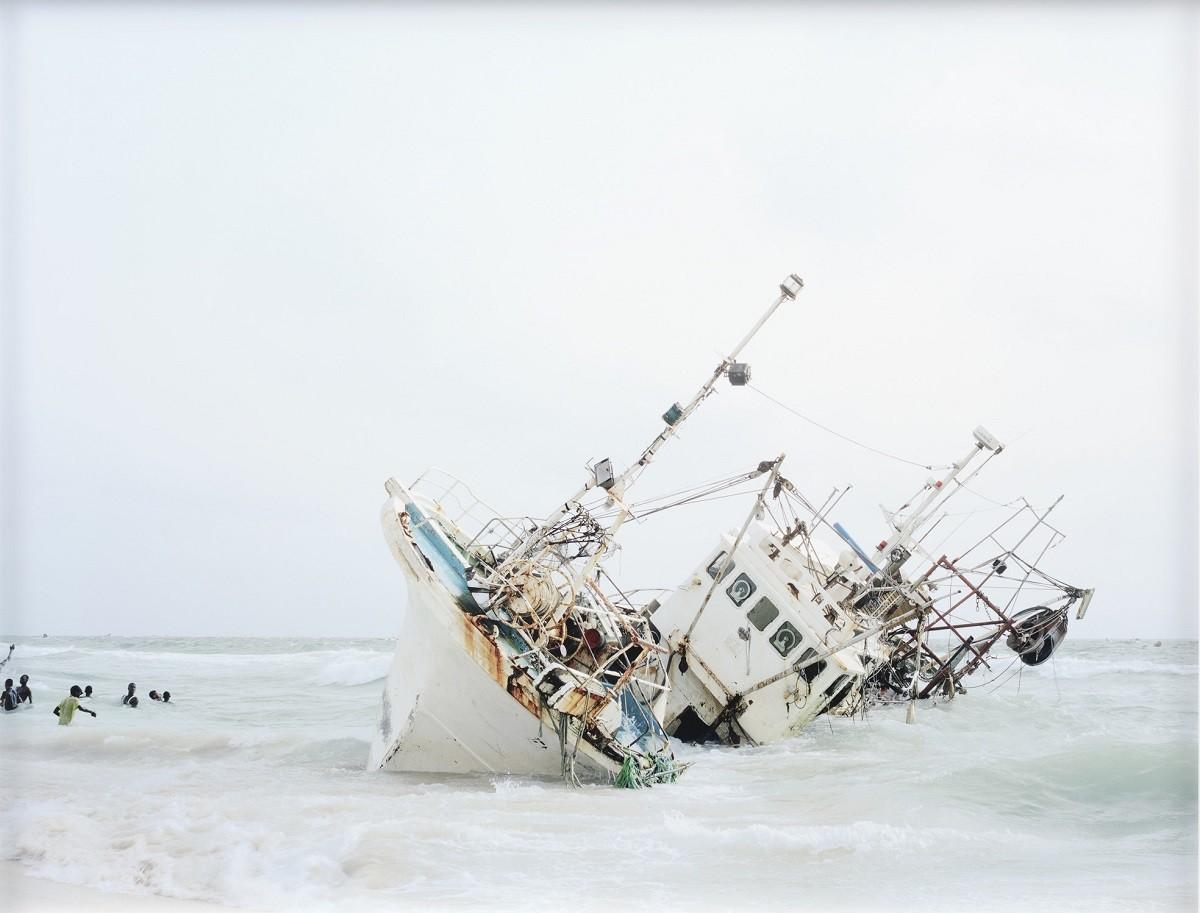 Dawit L. Petros, Act of Recovery (Part II), 2014, printed 2016. Archival pigment print. Overall: 50.8 x 66 cm. Purchase, with funds from the Canada Now Photography Acquisition Initiative, Edward Burtynsky and Nicholas Metivier, 2021. © Dawit L. Petros. Courtesy Bradley Ertaskiran. 2021/50.
We Are Story: The Canada Now Photography Acquisition brings together a collection of image-based works by ten contemporary artists in galleries 128 and 129 at the AGO. These artworks, recently brought into the AGO Collection, engage visitors to explore the creativity and range within contemporary photography in Canada. On view are works by asinnajaq, Raymond Boisjoly, Aaron Jones, Lotus Laurie Kang, Robert Kautuk, Gabrielle L'Hirondelle Hill, Sanaz Mazinani, Jalani Morgan, Louie Palu, and Dawit L. Petros. Visitors can explore how these artists use a variety of image-based media, from magazine cut-outs to drone photography, to spark conversations about the ways we experience our surroundings. 
We Are Story is curated by AGO Curatorial Fellow Marina Dumont-Gauthier with AGO Curator of Photography Sophie Hackett. All 27 works by the ten artists were purchased through the Canada Now Photography Acquisition Initiative, conceived in 2020 by Canadian artist Edward Burtynsky and gallery owner Nicholas Metivier. The initiative was built to support artists through the COVID pandemic.
We caught up with Dumont-Gauthier for her approach to bringing ten artists together into one not-to-be-missed installation. 
Foyer: What considerations were made in bringing the work of these photographers together in We Are Story? What was your approach to installation?
Dumont-Gauthier: This was my first project at the AGO and my first time working with ten living artists all at once! It was a great learning experience, challenging yet incredibly rewarding.
All the works are very different from one another, whether we are talking about scale, subject matter, or, interestingly enough, even medium. Given the name of the acquisition, when it came to finding a title for the exhibition, I looked into the works of various Canadian writers and came across a fascinating quote by the late Ojibwe author Richard Wagamese where he describes the enduring power of stories in our lives. The quote, which is reproduced in the space, inspired the title of the exhibition: We Are Story.
Spatially, I aimed to put the works in conversation with one another to foster stimulating dialogues. I wanted all the artworks to stand on their own, but also work as a whole. From the get-go, it was important to me to maintain the immersive quality of Lotus Laurie Kang's Her Own Devices— an installation piece made of 35 photograms that are installed over two walls—and of asinnajaq's where you go I follow – a close-up view of shallow waters at the edge of James Bay that she printed on a large piece of fabric that is suspended in the air. I also knew that I wanted Aaron Jones's large collage, Holding my Grandmother's Oranges, to open the exhibition. Once these works were placed in the space, everything unfolded from there.
Formally speaking, Lotus Laurie and Aaron's pieces work beautifully together, but I was also drawn to the artists' approaches to everyday objects or as they shared with me "objects that found their way to them." This aspect is also present in Raymond Boisjoly's work, Lucky X Lager, which depicts the "butt-ends" of an eight-pack of beer, scanned and magnified, that is also within the same eye line.
I placed the works of asinnajaq and Gabrielle L'Hirondelle Hill in the McEwen Gallery. By putting them in dialogue, I hoped that it would prompt viewers to reassess their understanding and relationship to their surroundings, not so much through everyday objects but through the land. Re-entering the main space, I decided to bring Jalani Morgan, Sanaz Mazinani, Louie Palu, and Dawit L. Petros together. Expanding the spectrum of documentary photography, their works powerfully ask us to reconsider the global nature and simultaneity of world events and how we choose to interact with one another. Closing the space, prints by Robert Kautuk, which document his daily life in Kangiqtugaapik, Nunavut, poetically contain all the themes explored in the exhibition.
Foyer: Can you briefly explain how you and Sophie Hackett worked together to bring this exhibition to life?  
Dumont-Gauthier: I was incredibly lucky to have Sophie as my mentor on this project. I started my Curatorial Fellowship in April of 2022, and by then, most of the works had already been acquired. It is worth mentioning that all but one of the ten artists are new to the AGO collection. Sophie had been following their works for many years, and this initiative by Ed Burtynsky and Nicholas Metivier gave her the opportunity to bring them into the AGO Collection.
She shared her vision with me, her reasons for acquiring the works, and personally introduced me to all the artists. She guided me through their practices and gave me room to connect with the works in my own way. It was ten months of really stimulating and thought-provoking ideas floating back and forth. The exhibition is her project as much as it is mine, and I think this comes through when walking in the space.
Foyer: What do you want visitors to take away from this exhibition?
Dumont-Gauthier: Many things, but most importantly is that photography is so much more than an image printed on a piece of paper (or displayed on a screen). The exhibition has images printed on oversized banners, one on a piece of sheer fabric; some captured with drone cameras or a cellphone; sourced from the internet and magazines, some not even taken with a camera. The content varies from war photographs and hunting scenes to beer cans and onion bags. What the works all have in common is the vitality and range of contemporary photography displayed from across the country. They are the product of incredible artists pushing the boundaries of how we communicate, how we live and understand our world and what stories we choose to capture, remember and share.
Located on Level 1 of the AGO in the Edmond G. Odette Family Gallery and the Robert & Cheryl McEwen Gallery (galleries 128 and 129), We Are Story: The Canada Now Photography Acquisition will remain on view through July 2023.