Resurrecting a legacy
Anique Jordan's Mas' at 94 Chestnut unearths and enshrines African-Canadian history.
Anique Jordan. Mas' at 94 Chestnut, 2016. Digital C-print mounted on di-bond, 304.8 × 111.8 cm. Purchase, with funds from the Estate of P.J. Glasser, 2020.  © Anique Jordan, 2020/21
Canada's extensive Black history has often been subject to erasure – not necessarily in the public record, but in the public consciousness. Uncovering these important stories not only helps Black communities feel directly tethered to their ancestors, it reinforces the deeply rooted sense of belonging and self-determination needed to confront ongoing injustices. Trinidadian-Canadian artist Anique Jordan's Mas' at 94 Chestnut proves that digging up forgotten legacies is the work of both archeologists and artists.
In her multidisciplinary practice, Anique Jordan utilizes photography, sculpture and performance to create what she calls "impossible images". Often drawing on historical data, she challenges dominant narratives by reinterpreting archives and offering a new vision of the future. It's no wonder that after discovering the powerful story of Toronto's British Methodist Episcopal Church (BME), Jordan was moved to pay homage to its legacy.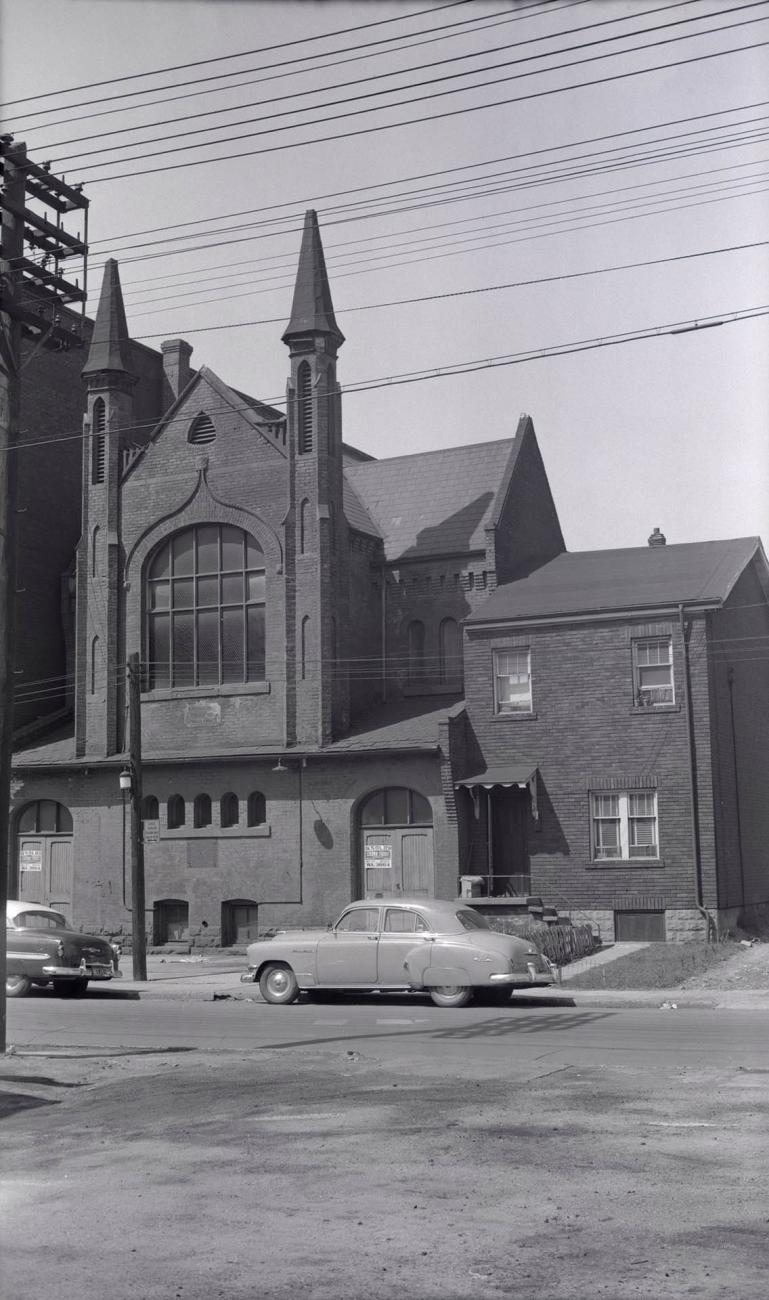 The British Methodist Episcopal church on Chestnut St. as seen in 1953. photo by J.V. Salmon.
Originally erected in 1845, at what would later become 94 Chestnut Street, the BME Church was a spiritual, political and communal hub for Toronto's Black community during that era.  A stronghold for the abolitionist movement, the church provided a safe haven for the large influx of freedom-seekers arriving in Toronto via the Underground Railroad. After replacing their original wooden building with a large brick temple, the BME congregation thrived at 94 Chestnut for over a century, until relocating in the early 1950s. The building was later demolished to make way for a parking lot, which remained until 2015 when a construction project for a new provincial courthouse commenced on the site. What started as a routine excavation turned into an extensive archeological dig when the original foundations of the BME temple were discovered, along with hundreds of thousands of related artifacts.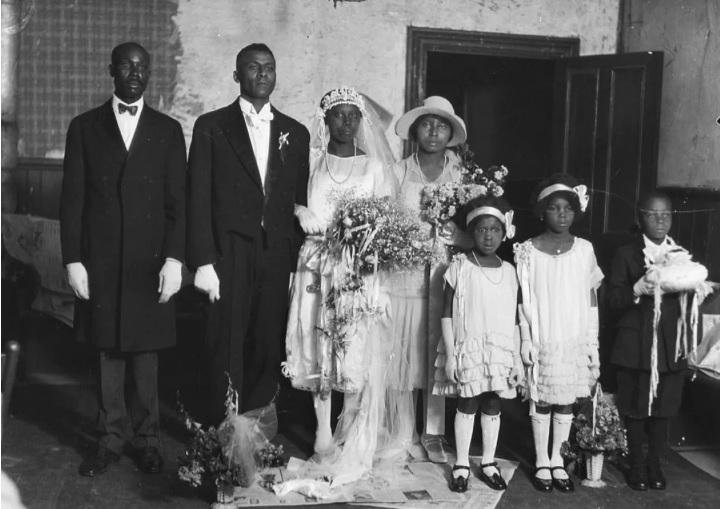 Joshua Michael Williams and Rachel Adina Stephenson with their wedding party in 1926. City of Toronto Archives, Fonds 1266, Item 8380.
At the time, Anique had just been commissioned by the AGO to create work in relation to the 2016 exhibition The Idea of North: The Paintings of Lawren Harris. She was tasked with telling a story about the neighbourhood surrounding the AGO, known as the Ward – a recurring setting in Harris's paintings. This synchronized perfectly with the unfolding events of the Chestnut St. archeological dig, inspiring Jordan to attend to the sacred ruins of Black Canadian history in an expression of contemporary art. 
Her initial vision for Mas' at 94 Chestnut was to symbolically resurrect the congregation of the historic BME Church by photographing an intergenerational group of Black Torontonians standing directly on top of the ruins. This plan was thwarted by Infrastructure Ontario – the government agency managing the site – which initially agreed to grant Jordan access, but later reneged upon further investigation of her project, shying away from its inherently political nature. This disappointing decision occurred amid a local wave of social justice awareness, sparked by Black Lives Matter Toronto, whose members had recently held a large tent city sit-in at Toronto Police Headquarters. Inspired by their efforts, Jordan opted to continue her project, situating the photograph at the Church of the Holy Trinity – a building originally constructed two years after BME in the same neighbourhood. 
Mas' at 94 Chestnut presents a panoramic image that transcends generations to make a bold political statement. It features 13 subjects of varying ages from Toronto's Black community, including Black Lives Matter Toronto members, various artists, and even the BME Church's current minister, Reverend Charles Searles. Arranged in a formation at the front of the sanctuary, the group is helmed by local artist and matriarchal figure Gloria Swaine. For Jordan, this is a scene of mourning and memory that resurrects and enshrines a forgotten legacy. She describes her approach as "thinking through the consequences of erasure and the multiple ways in which we must construct meaning from what is absent." As an added layer of reference, Jordan incorporates her Trinidadian heritage, considering this formation to be a metaphorical Carnival Mas'. Harkening back to the tradition's early roots, she indicates "Carnival in its original manifestation is a highly political thing, basically a protest, people have placards, there's social commentary ... people dress in costume that reflects what's happening politically in the country and in the world."        
Later that year, Jordan went on to stage a performative extension of Mas' at 94 Chestnut featuring 30 participants in the AGO's Walker Court. In the years since, she has received numerous awards, accolades and residencies; she is represented nationally in both public and private collections. In 2021, she will make her debut at the Armory Show in New York City, and will begin her MFA at the Rhode Island School of Design. The 2020 acquisition of Mas' at 94 Chestnut marks the first of Jordan's works to be added to the AGO Collection.