Godly Affect(ions)
Black Pen writer Kais Padamshi's prose in response to What Matters Most: Photographs of Black Life.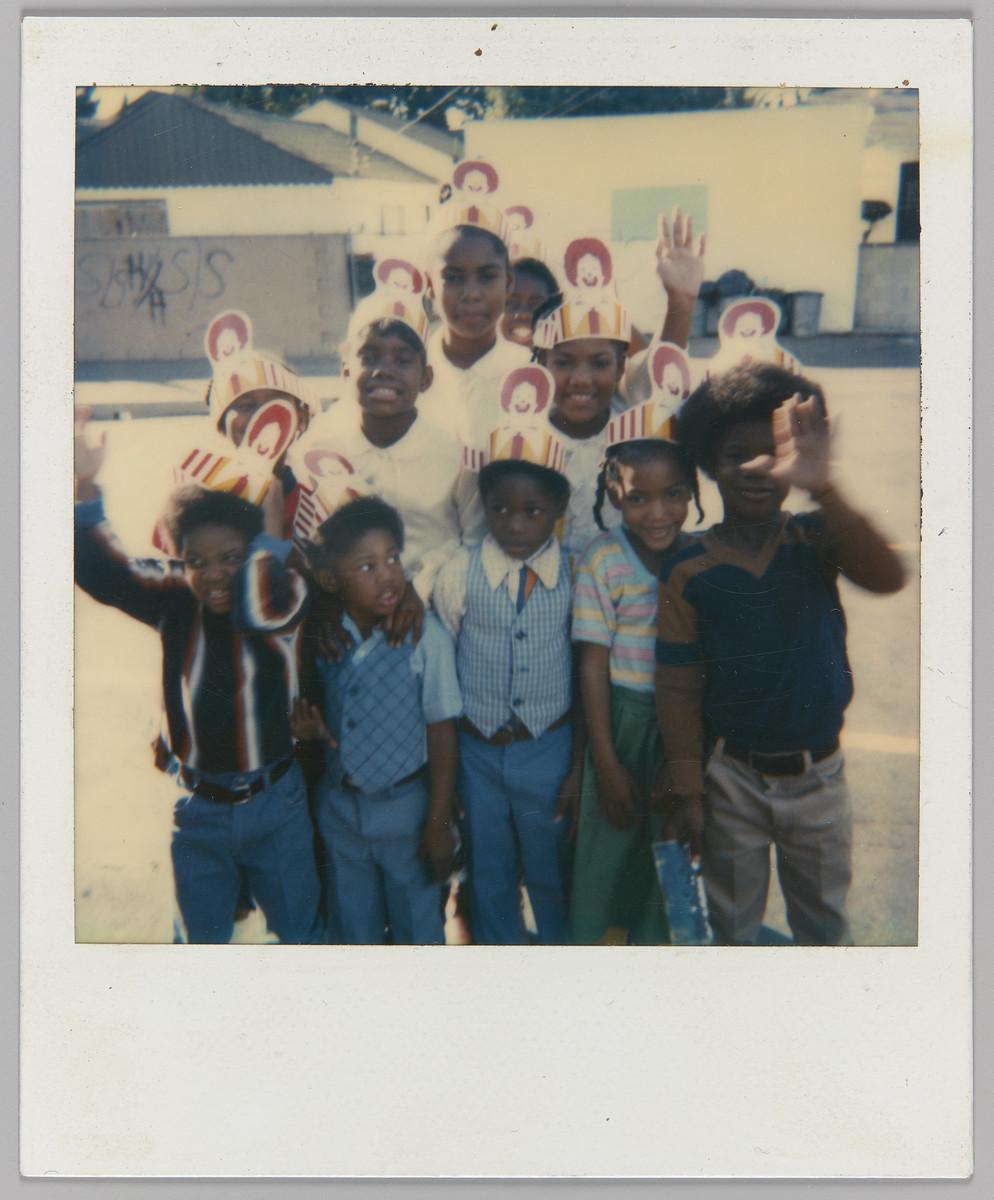 Unknown Photographer. [Group of children wearing McDonald's paper hats], 1980–1990. Colour instant print [Polaroid Type 779], overall: 10.8 cm x 8.8 cm. Art Gallery of Ontario. Fade Resistance Collection. Purchase, with funds donated by Martha LA McCain, 2018. © Art Gallery of Ontario 2018/109
What Matters Most: Photographs of Black Life enshrines the role of the family photograph in shaping Black identities. Co-curated by artist Zun Lee and AGO Curator, Photography, Sophie Hackett, the exhibition of over 500 instant prints drawn from the AGO's Fade Resistance Collection underscores the moments that matter most in the everyday – births, deaths, portraits, graduations and family gatherings among them.
We commissioned six graduates of Black Pen, a Toronto-based literary program for emerging Black-identifying writers, to compose personal responses to one or more of the photographs on view in a style of their choosing. The Black Pen alumni were first given a guided tour of the exhibition, which proved inspiring for each of them, and the results blew us away.
A moving contribution by African-American poet and essayist Dawn Lundy Martin to the What Matters Most catalogue inspired this commission. She writes about the implications of the Fade Resistance Collection being acquired and placed on view at a major art museum. She then turns her reflections inward, analyzing two of her family photographs and revealing the complex narratives they represent.
Take a moment to read this prose by Kais Padamshi below.
Godly Affect(ions) 
By Kais Padamshi
"What Matters Most?" - to you? to us? to the world? And why now? What Matters Most: Photographs of Black Life looks back at us from the past, commemorating personal icons and epic feats of intimacy. ​​With a wingspan of fifty years of life captured, the photographic collections initiated by artist Zun Lee and curator Sophie Hackett salvages and embraces Black, African and Afro-American souls situated within the North American continent. Whilst memory fades, unwillingly or is intentionally taken by institutional hands, each photograph relishes beautifully melanated bodies whose colour and lives ran deeper than the ink could manage on print. As audiences speculate both the evident and abstract scenes, the souls conspire between themselves, unbothered, and pledge an oath of joy and memory beyond the lens.
"What Matters Most to the institutions?" How is our joy of then, suddenly of interest now? How did we change you? How will you use our joy when we are not looking and when we are no longer here? Perhaps "What Matters Most" to us was not how you saw us or your vague ideas of what is, but how our bodies were tinted by the earth and how we breathed with you simultaneously in memory, even when you chose to make a tug of war out of our interconnected respiration. What mattered most was not the collection of photographs but the love they (we) had been collecting between ourselves.
Kais Padamshi is a Black East African-Mixed settler based in Tkaronto/Toronto (Treaty 13) working as a visual artist, published writer, playwright, equity consultant, arts administrator, wellness facilitator and community worker. His writing practice encompasses academic, research-based texts, curatorial essays, poetry and exhibition reviews centring on African Diasporic narratives. His writing practice focuses on themes of cultural identity, belonging and decolonial futures in addition to individual and collective healing.
Black Pen is a Toronto-based literary program for emerging Black-identifying writers, founded by Nia Centre for the Arts. The program's first six graduates published GRIOT: Sojourn into the Dark in 2022, their first chapbook of fiction and non-fiction. Read the writings of Yvvana Yeboah Duku, Adeola Egbeyemi, Onyka Gairey, Saherla Osman, Kais Padamshi and Omi Blue, all on Foyer.