Tracing photo objects with Mallory Lowe Mpoka
The multidisciplinary artist discusses studying how she incorporates family photographs into works on view at the AGO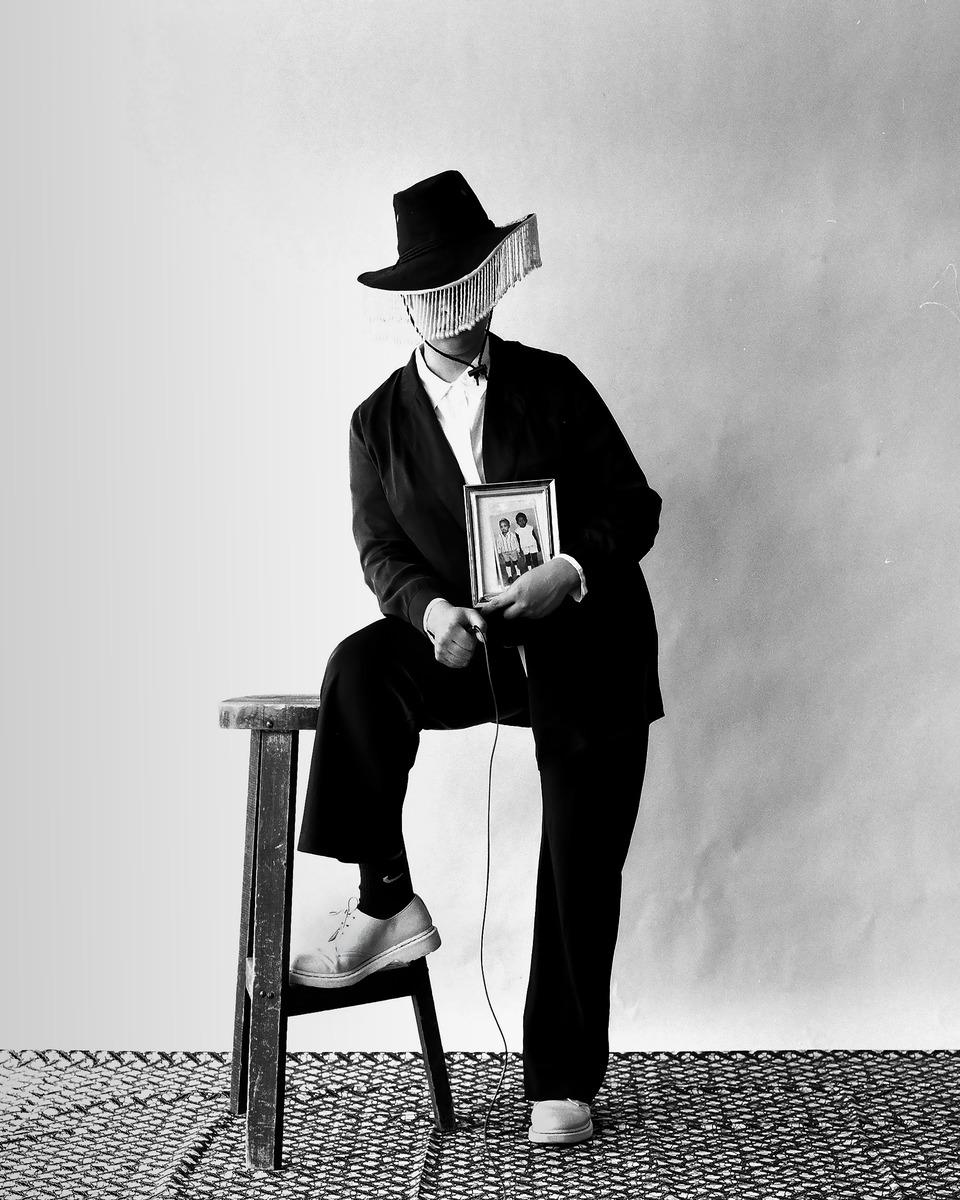 Mallory Lowe Mpoka. The Self Portrait Project II, 2020. Inkjet print on Hahnemuhle paper, Overall: 48.3 × 55.9 cm. Courtesy of the artist. © Mallory Lowe Mpoka.
Photographs — multidisciplinary artist Mallory Lowe Mpoka prefers to call these moments in time "photo objects" as a way to acknowledge their ongoing fluidity. 
"I like to refer to them as photo objects because they carry this materiality, this texture, and this kind of embedded meaning that shifts over time and as they move throughout the continent," she explained.  
Two of Mpoka's photo objects, as well as a series of her textile works, are on view as part of the exhibition Re-Mixing African Photography: Kelani Abass, Mallory Lowe Mpoka, and Abraham Oghobase. Examining the history of studio portraiture in Western and Central Africa, the exhibition features three contemporary artists who re-imagine and critically approach these histories.  
Mpoka's works on view at the AGO stem from a month-long research residency at Bandjoun Station Museum in Cameroon, where she studied her family's photographic archive under Barthélémy Toguo, a foundational Cameroonian multidisciplinary artist who founded the museum ten years ago. With her family's village just kilometres from the museum, Mpoka began to draw lines between her family's photo objects and the photographers who took them.  
"There's a stamp behind each photograph in my family archive and I was able to find the actual studios in the city, although most of them are closed now," she said. "But I was able to trace [a photo] to a specific photo studio and talk to the brother of the photographer who used to work there. I created a cartographic map based on these pictures that have circulated on and beyond the continent, and then created stories and narratives around them." 
Studying her family's photographic archive was also a window into an important time in African history and photography. As countries in Western and Central Africa began to gain independence, African photographer's practices changed to reflect this new reality. 
"In the '50s and '60s there was this shift in the African visual scape due to the independences," Mpoka explained. "That was very much a moment of liberation. There was a new desire and will to shift the visual narrative of the continent due to negative repercussions of European ways of portraying African communities through the circulation of colonial postcards and ethnographic photography."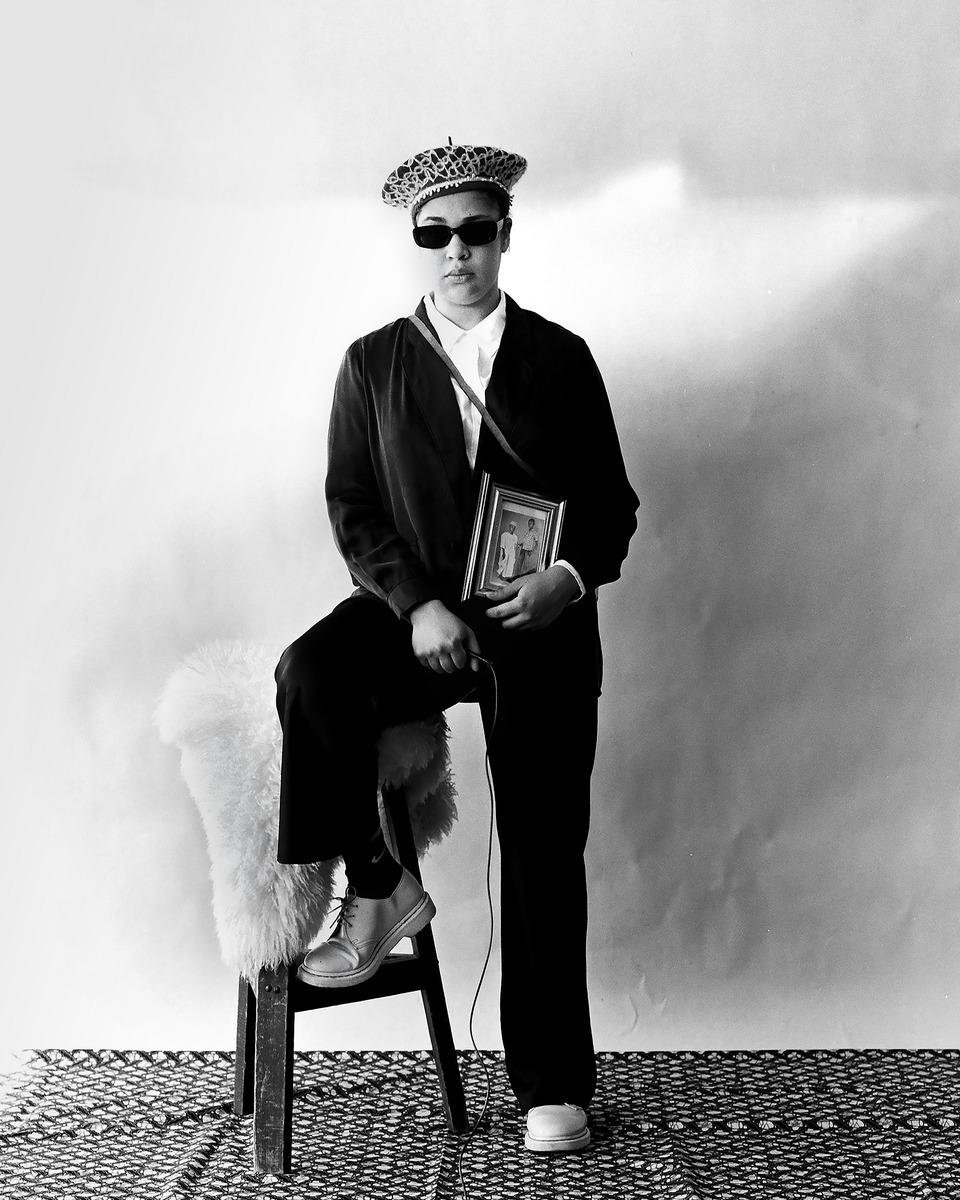 Mallory Lowe Mpoka. The Self Portrait Project I, 2020. Inkjet print on Hahnemuhle paper, Overall: 48.3 × 55.9 cm. Courtesy of the artist. © Mallory Lowe Mpoka.
The diptych on view from her ongoing work The Self-Portrait Series (2021 - ongoing) was inspired by the theatricality and mise-en-scene (set production) often seen in West and Central African studio photography post-independence, such as in the works of Samuel Fosso who is a photographic inspiration for Mpoka. In these self-portraits, Mpoka poses with different props against a minimalistic background similar to what African studio photographers would have used then. 
"During that time of black-and-white photography, people were also using costumes, hats, and pistols to play with personas and being in character, creating a performance for the camera," she explained. "From a queer perspective, that's something that is very interesting to me — to be able to impersonate, to transition."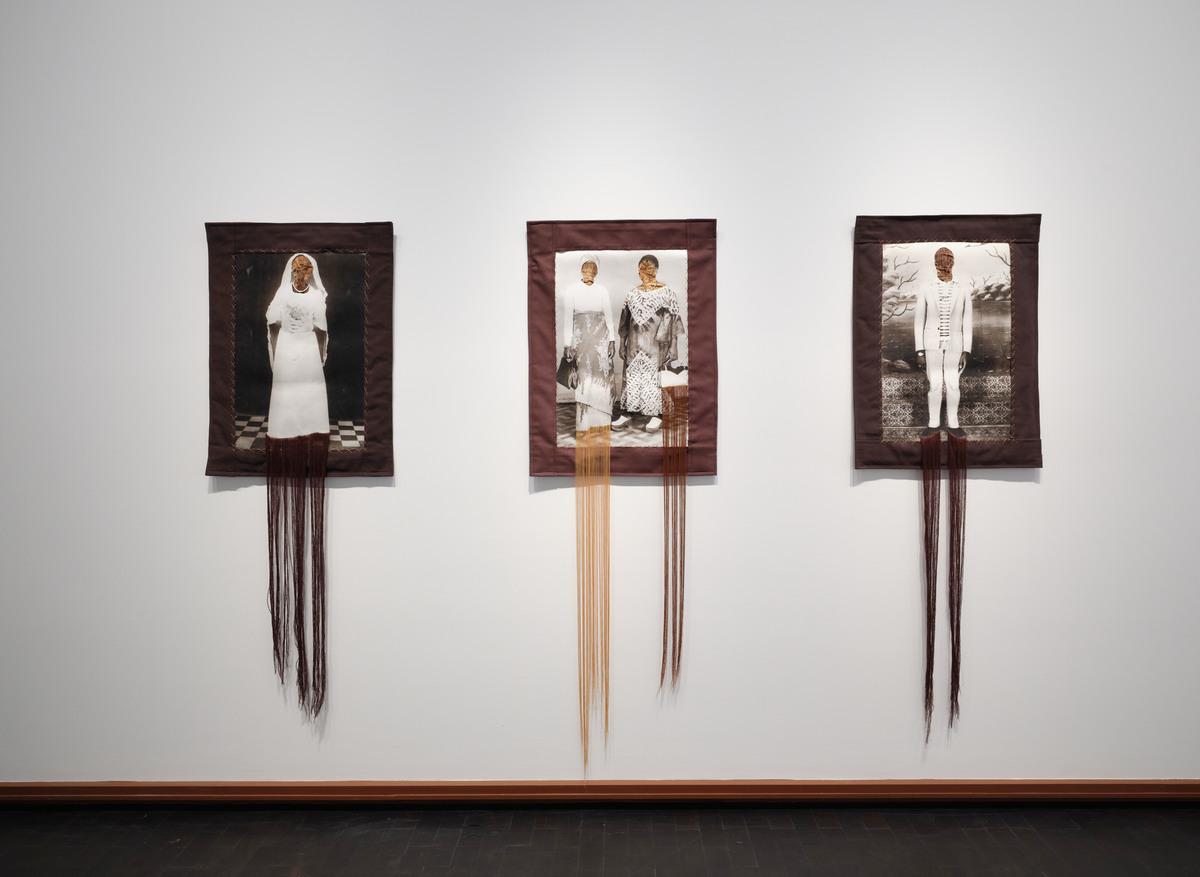 Installation view: Re-Mixing African Photography: Kelani Abass, Mallory Lowe Mpoka, Abraham Oghobase, July 9, 2023 - January 7, 2024, Art Gallery of Ontario. Artwork © Mallory Lowe Mpoka, What Lives Within Us 1, 2023; Montreal, What Lives Within Us 2, 2023; Montreal, What Lives Within Us 3, Montreal, 2023. Photo: AGO.
Alongside props, Mpoka also holds a different family photo in each self-portrait. Her family's photographic archives as well as ties to her family village in Cameroon are often seen in Mpoka's work. Coming from a family of sewers, her textile work Architecture of the Self: What Lives With(in) Us (2022 - ongoing) incorporates textiles from her family's sewing workshop that she dyed with red ferralic soil from their village. Mpoka then embroidered French cotton threads into archival family photographs, these threads representing both being grounded in nurturing soil and those who were buried in the same soil during the Bamileke Genocide that occurred from the '50s to '70s.   
For Mpoka, incorporating these aspects into her creative process is part of creating her "home." While she works between Montreal and Douala, Cameroon, her home is not necessarily a location but rather a space she forges for herself.   
"In my work, I am looking for a sense of familiarity because I cannot always find it in the physical world," she said. "I think that's why, in a lot of my photographs, I bring familiar things together. I'm very much interested in the ways space, location, conversations, family heirlooms and photo objects participate in the formation of our identities and how they make us into complex and multiple beings."  
The title of her textile work, Architecture of the Self, stems from how Mpoka began to reimagine voids as an invitation to build your home.  
"Architecture is not only something physical and tangible, but it can also be a psychological space — home can be a fluid and intangible space," she said. "Curiously, I'm finding myself more at home in liminal and transitional spaces because often in these spaces there is a void - an opening that acts as a portal to imagine myself.  
In West Cameroon, there are a lot of abandoned houses and ruins of homes. Oftentimes, it can be hard to know if someone still lives there or not … and when I walked through the village, one in three homes were like that, partly due to family heritage conflicts, economic and political conflicts, and the instability that followed genocide in the '70s. These terrains vagues (forgotten spaces) open up this possibility of what could have been, what was, and the possibility to build new imaginaries out of the remnants." 
View Mpoka's work in Re-Mixing African Photography, on view until January 7, 2024, on Level 2 of the AGO in the Murray Frum Gallery (gallery 249).