Photographing La Soufrière
The historic volcano is documented in The Montgomery Collection of Caribbean Photographs.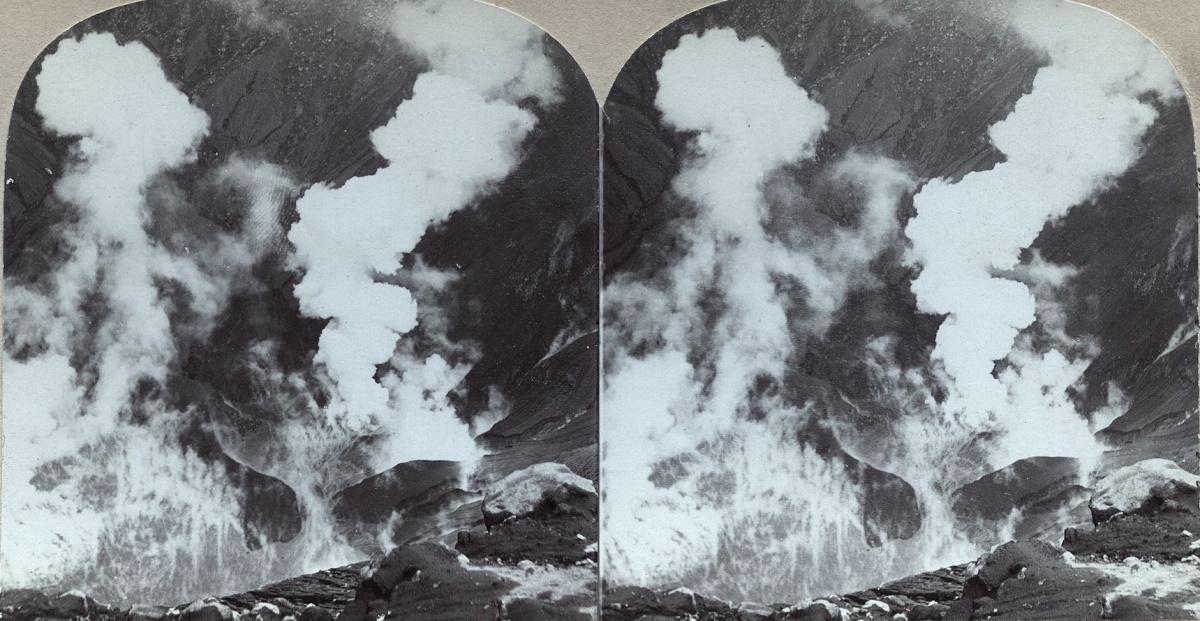 B.L. Singley. Soufriere's Mammoth Crater, Hissing, Grumbling Terror of the Whole Population, St Vincent No. 153, 1903. Albumen print. Gift of Patrick Montgomery, through the American Friends of the Art Gallery of Ontario Inc., 2019. © Art Gallery of Ontario.  
The Caribbean nation of St. Vincent and the Grenadines is struggling through one of its worst natural disasters to date. On April 9, 2021, its infamous volcano, La Soufrière, erupted for the first time since 1979, filling the surrounding skies with clouds of thick ash and disrupting the lives of thousands of citizens. Approximately 20,000 people have been displaced from their homes, many of whom now face compromised food security due to the eruption's massive effect on agriculture. In addition, torrential rainfalls hit the island in late April, giving way to flooding and landslides that have further damaged an already strained infrastructure.       
This is not the first time the people of St. Vincent and the Grenadines have demonstrated immense strength and resilience confronting the fury of La Soufrière. The four thousand foot volcano has erupted five times, the two most recent events being in 1979 and 1902. Powerful photographic documentation of the largest – and sadly most fatal – of those two eruptions now exists in the AGO Collection. Acquired by the AGO in 2019, The Montgomery Collection of Caribbean Photographs consists of 3,500 prints, postcards, daguerreotypes, lantern slides, albums and stereographs taken in the region between 1840 and 1940. Among them are 10 stereographs documenting the 1902 La Soufrière eruption and subsequent relief efforts on the island. The Montgomery Collection was secured due largely to a collective fundraising initiative led by members of Toronto's Black and Caribbean communities – exemplifying the same type of unified response currently needed to support St. Vincent and the Grenadines through this difficult time. 
A number of Vincentian artists living domestically and abroad have been using their creative talents to help relief efforts. Toronto-based graffiti artist, painter and illustrator Elicser Elliot has developed an exclusive digital print in support of his home nation. Depicting a masked figure holding an umbrella and standing under falling ash, the print sells for $40 USD; all proceeds will be donated to the La Soufrière relief response. 
Although many neighbouring Caribbean nations and much of the global community - including artists - have leapt into action to help provide aid, there is still a long road ahead. The people of St. Vincent and the Grenadines remain in need of a great deal of resources, and you can help. The Toronto-based organization Conducting Active Relief Impacting Our Nation (CARI-ON) has come together to acquire and ship emergency items to displaced residents.