O'shane Howard on Jump Ball
The Toronto-based photographer talks about his basketball-inspired contribution to Feels Like Home.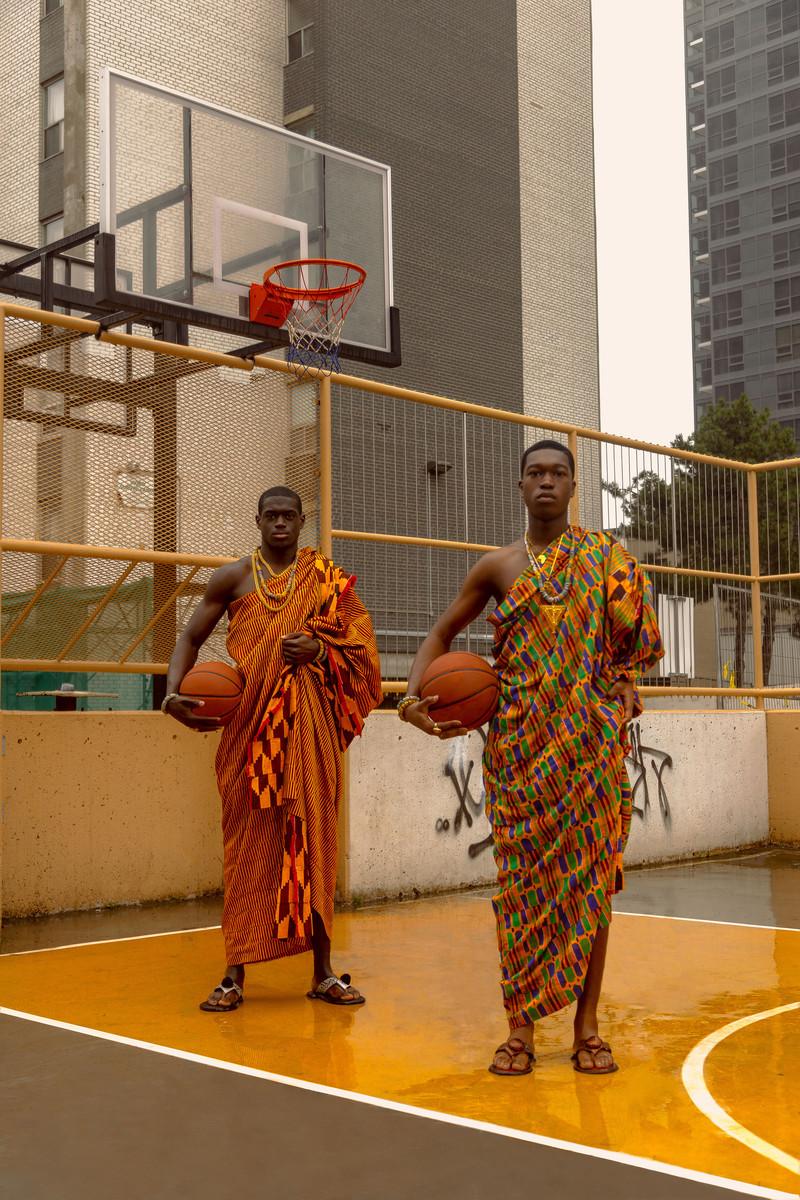 O'shane Howard, Jump Ball: Toronto, 2019. © O'shane Howard. Image courtesy of the artist and Sunday School.
Since May 2023, AGO visitors have experienced the powerful imagery featured in three photographic series', all produced by Sunday School, the creative agency founded by Josef Adamu. Together, The Hair Appointment (2018) by Jeremy Rodney-Hall, Ten Toes Down (2021) by Kreshonna Keane, and Jump Ball (2019–ongoing) by O'shane Howard and Joshua Kissi comprise Feels Like Home – an exhibition foregrounding community, fashion, and culture at the intersection of art and education. Curated by Emilie Croning, AGO Curatorial Assistant, Arts of Global Africa and the Diaspora, Feels Like Home exemplifies the unique and vibrant reflections of Black identity often communicated by Sunday School's creative projects.  
Photographed on the public basketball courts of Toronto's St.James Town, Jump Ball: Toronto is a photo series featuring striking images of young Black men of Somalian, Ghanaian, Ethiopian, Nigerian, Congolese, and Senegalese descent in traditional cultural attire and Western streetwear. Created by Toronto-based photographer O'shane Howard in collaboration with Sunday School founder Josef Adamu, Jump Ball explores basketball as a unifying thread throughout the African Diaspora.     
Howard spoke to Foyer about the creation of this series, his approach to photography and his most significant artistic influences.  
Foyer: In Jump Ball, the portraits featuring subjects in traditional cultural clothing are in colour, while the ones with subjects in streetwear are black and white. Can you describe the intention behind this creative decision? What does it represent to you?  
Howard: Josef and I had no intention of making any of the images black and white. When I started exploring how I would approach the streetwear images in post-production, I noticed it wasn't hitting visually the same way the traditional clothing images were. So,I made them black and white, and Josef and I instantly loved how it just changed the feeling of the story. Looking at the streetwear images four years later reminds me of how things were when I was a teenager playing ball with my friends and the clothing, we identified ourselves with in basketball culture. I recently noticed the city changed the basketball court where we shot Jump Ball. I thought that was the coolest basketball court in the city then, so these images are preserving a piece of history.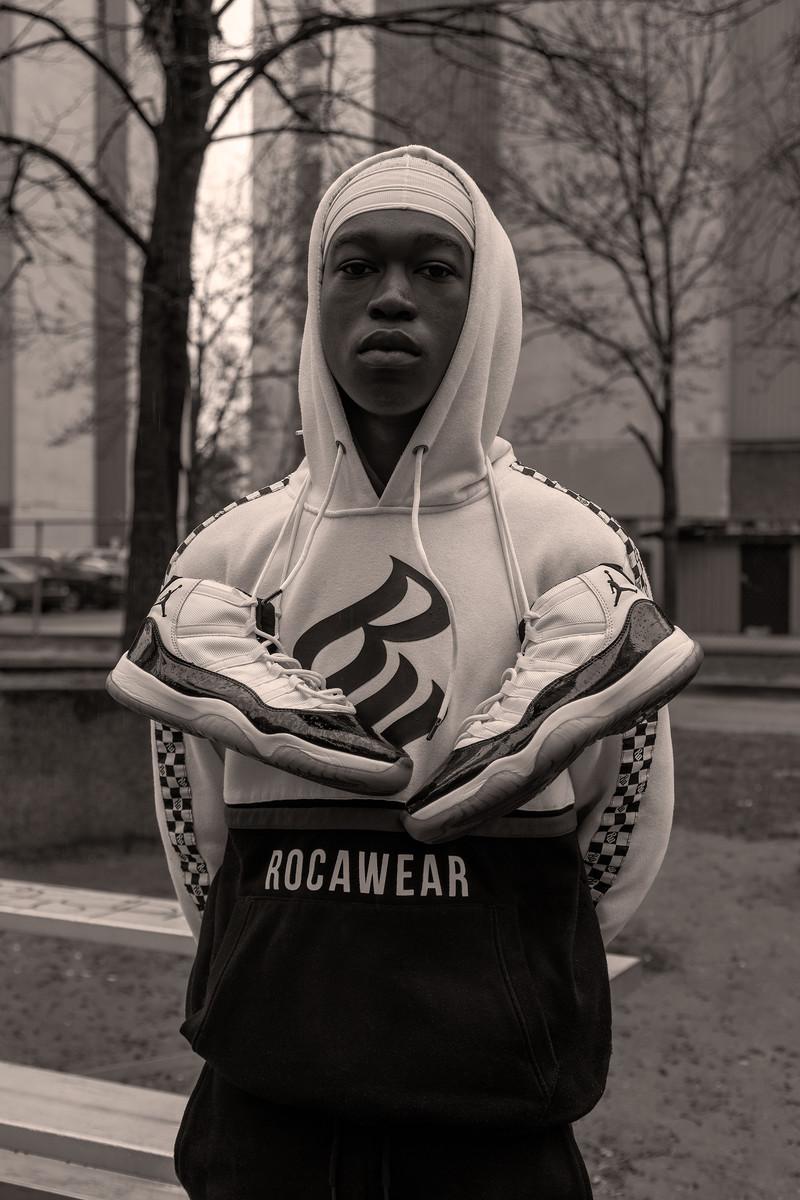 O'shane Howard, Jump Ball: Toronto, 2019. © O'shane Howard. Image courtesy of the artist and Sunday School.
Foyer: How would you describe your photography philosophy? How do you approach the medium? What do you hope viewers see in your work? 
Howard: Moments are happening everywhere; you just have to capture them. As humans, we don't all think the same, which applies to photography. We don't all see things the same, making the medium unique. Having an image to communicate something to different people worldwide fascinates me. My approach is to educate, showcase and spark meaningful conversations. I'm always looking to fill in the gaps in stories that have been told (or not told) from my perspective, and sometimes that might look like pushing what is not familiar to some but is known in specific communities. I love seeing two different worlds come together in real time because there's something special about seeing someone genuinely curious about why things are done a particular way in different cultures. There's a think-piece approach to my projects. It's not ideal for me to create from a space that serves no purpose because I'm doing a disservice to myself. It's more than just aesthetics for me.  
Foyer: In the panel text of Feels Like Home, some of the work in Jump Ball can be seen as a contemporary take on modernist African photographers like Malick Sidibé and Seydou Keïta. Which artists do you consider to be your biggest inspirations, and why?  
Howard: I find inspiration from things outside of photography. Whether that's from conversations with my friends, movies, music videos, and the environments that I am in. If I only look at one medium for inspiration, I feel like I am boxing in myself. But the body photographers I'm inspired by include Jack Davison, Gordon Parks, Carrie Mae Weems and Mar + Vin. 
Foyer: What can people look forward to from you in the near future? 
Howard: People can look forward to witnessing my evolution as an artist. There's beauty in seeing someone's growth in their practice and where it's taking them. I look forward to continuing to collaborate with talented artists and strive to create meaningful art that pushes boundaries. 
Feels Like Home is on view now until May 2024 on Level 2 (gallery 248) of the AGO.  
Presented in collaboration with the Scotiabank CONTACT Photography Festival.