Shooting Pep Rally
A photo essay by Kirk Lisaj, resident photographer of Toronto's biggest queer rave series.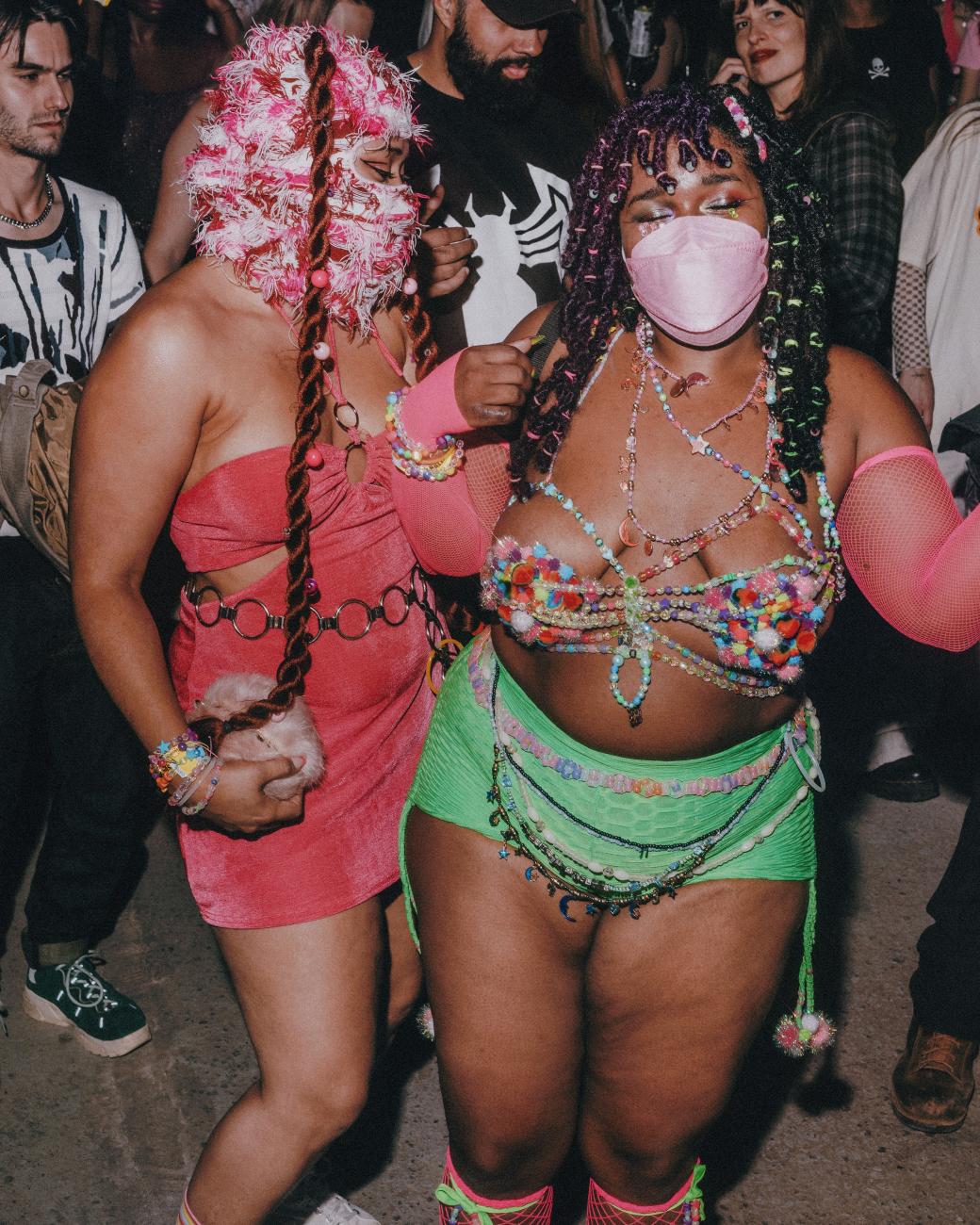 Image courtesy of Kirk Lisaj
For decades, trailblazing artists like Wolfgang Tillmans and Bruce LaBruce have created groundbreaking work documenting raw and intimate moments in party culture – often centred in queer spaces. Their influence has reverberated through generations, inspiring multiple eras of young photographers to keep their cameras focused on the pulse of queer nightlife – Kirk Lisaj is one of those photographers.  
As the resident photographer of the Toronto rave series Pep Rally, Lisaj has created four years of striking in-party portraiture, documenting fashion-forward rave enthusiasts in the 2SLGBTQ+ community. We recently tapped Lisaj to put together a short photo essay, including five of his favourite shots and some reflections about his passionate approach to photography.   
By Kirk Lisaj 
My photography is primarily focused on highlighting Toronto's vibrant music scene and queer nightlife. Since it's inception in 2019, I've been working as the resident photographer of Pep Rally; a queer hard dance party founded by Toronto-based DJ's Chippy Nonstop and Karim Olen Ash.
Going to Pep Rally, you can always expect a night of high octane fun. Fast music, eclectic outfits and sweat dripping from every corner of the warehouse. With each party bringing in internationally acclaimed DJs and party goers from all walks of life, Pep Rally has created a unique footprint in Toronto's nightlife scene. 
Having shot the party for 4 years now, it's been incredible to document Pep Rally's growth and evolution into what it is now. It's palpable how badly people have needed an outlet to let loose after the pandemic; especially in a city that has become increasingly unaffordable and difficult to find spaces to throw parties in. Shooting Pep Rally feels like capturing a release of that tension in real time. The party is like a supernova of queer expression; people are going to hear music they've never heard before, to experiment with their outfits and to dance in whatever way feels right to them. You'll see a lot of younger Gen Z kids who may have only started going out after the pandemic, and they are a lot less rigid about the unspoken "rules" of partying. It makes Pep Rally feel a lot more inclusive, which ultimately makes for a more eclectic and less clique-y crowd. I can often feel the confidence and comfort of the people I shoot radiating through the images. Pep Rally is a catalyst for the new generation of Toronto nightlife to thrive, and it's exciting for me to be at the forefront documenting it happen. 
(Image at top)
Almost every Pep Rally has an optional theme to inspire partygoers to dress in creative ways. This party's theme was "Candy Couture", which inspired so many amazing early 2000s/raver-inspired looks. I really loved the textures and colours on these two looks. I usually scan the room and try to shoot anyone who really goes balls-to-the-wall with the theme, and these two definitely hit the nail on the head with their looks.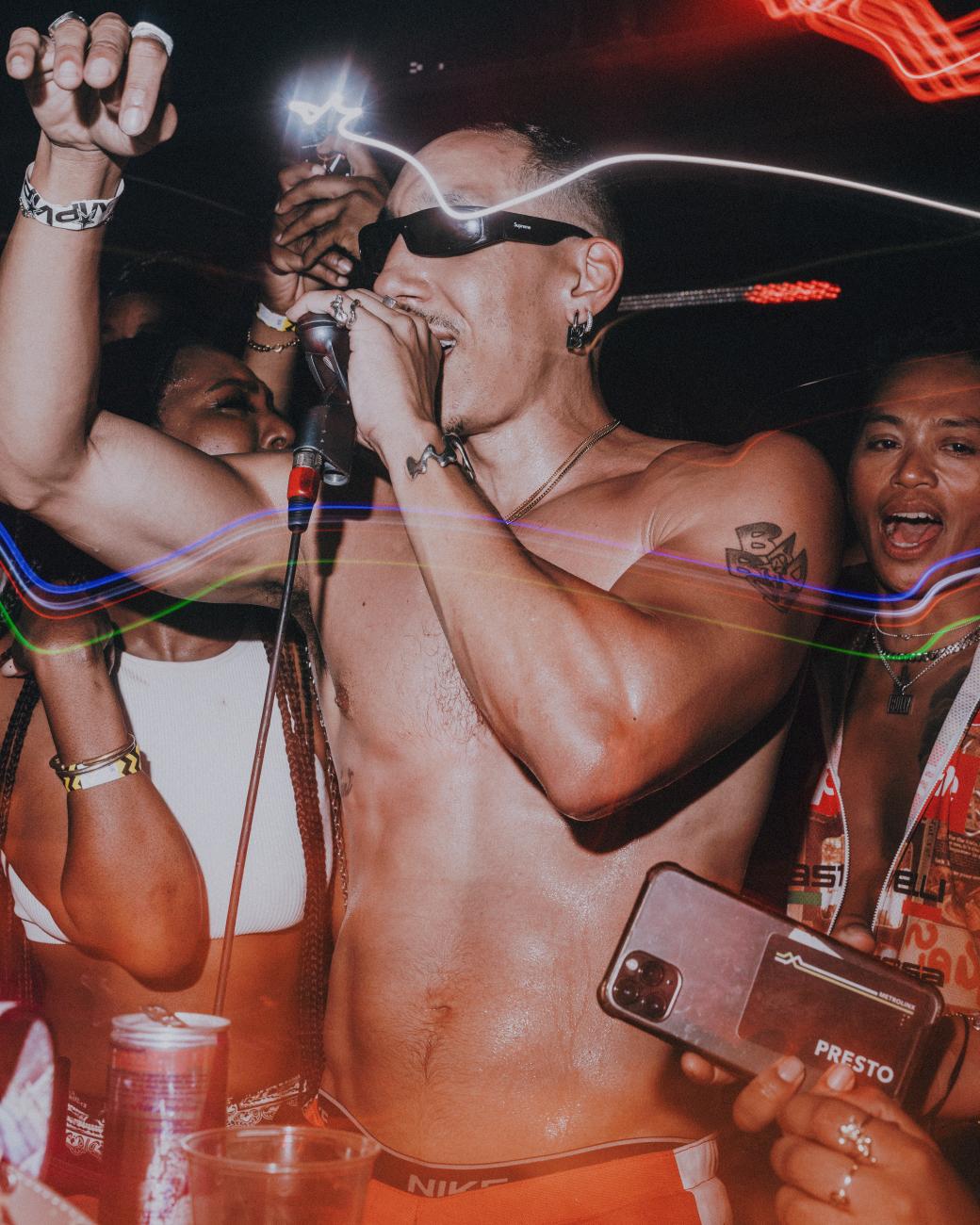 Image courtesy of Kirk Lisaj.
This one is of MC and Pep Rally host Bobby Bowen. I was experimenting with long exposure shots at this Pep Rally, and I was super happy with how the lights leaked in this image. Bobby's ability to get a crowd energized is unparalleled, and this image really exemplifies his confidence and charisma behind the mic.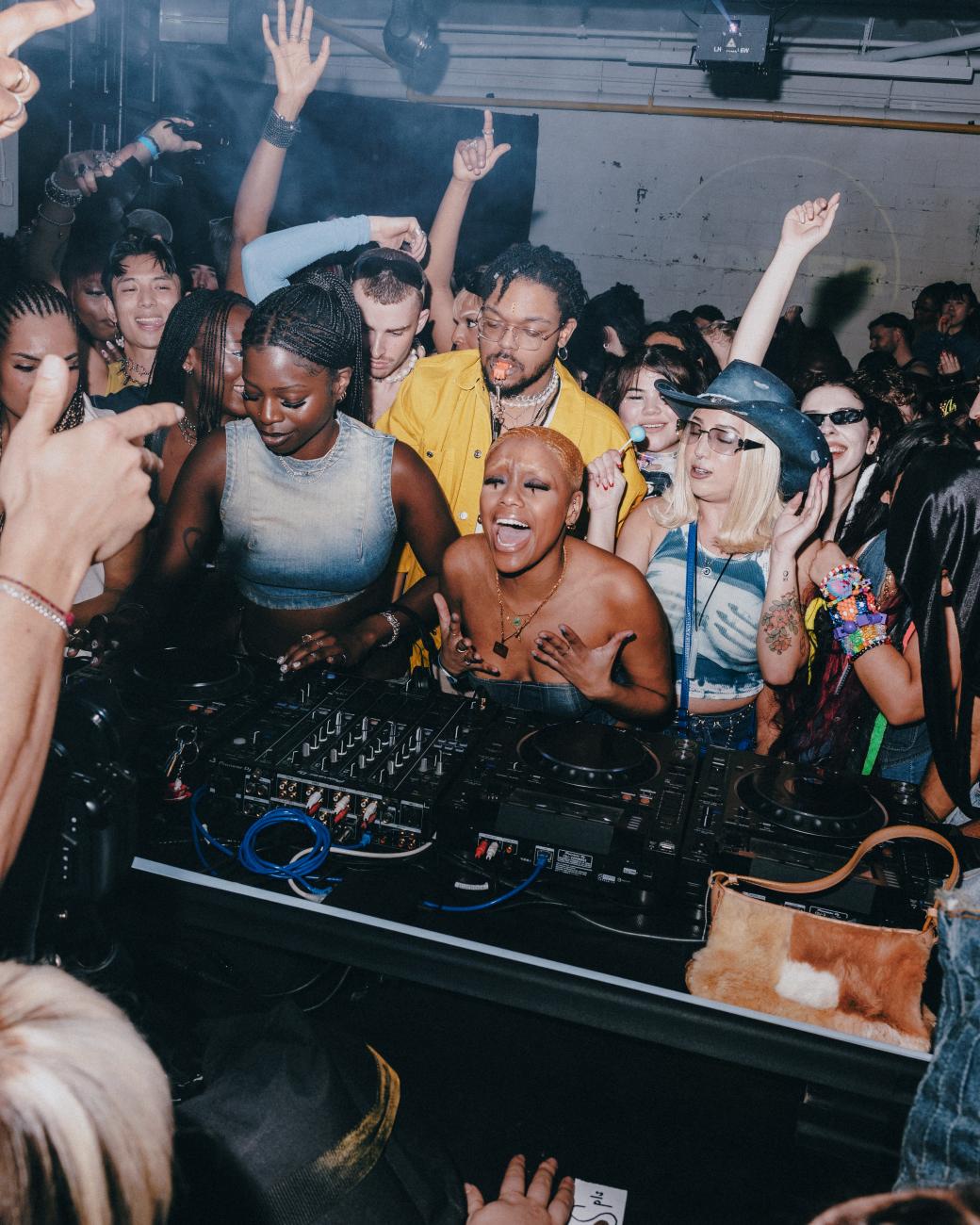 Image courtesy of Kirk Lisaj.
This image was taken at the Pep Rally x Boiler Room event, with resident DJs Playgirl and Jelz behind the decks. I feel like this image in particular encapsulates the chaos and calibre of energy you'll find at Pep Rally. Something about it feels very cinematic and almost staged in its composition. All the moving parts and coordinating colours make the image feel like a renaissance painting to me.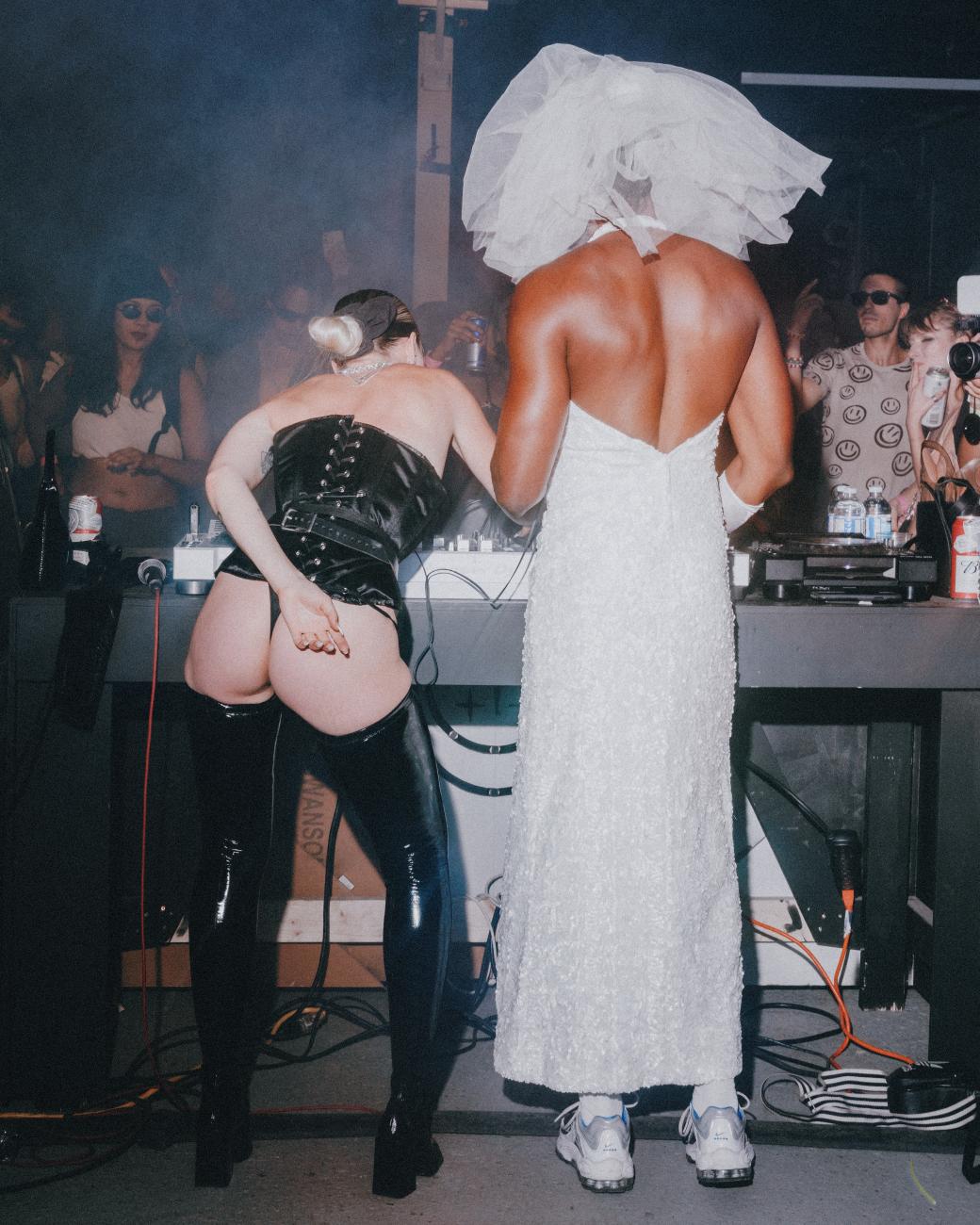 Image courtesy of Kirk Lisaj
This image is of resident DJs Babygirl and Karim Olen Ash behind the decks. I love how anonymous this image feels; I look at it and think "what's going on here, who are these people and where is this?"  The harshness of the black dominatrix look paired with the daintiness of the wedding dress also creates a contrasting balance to the image that I'm very drawn to.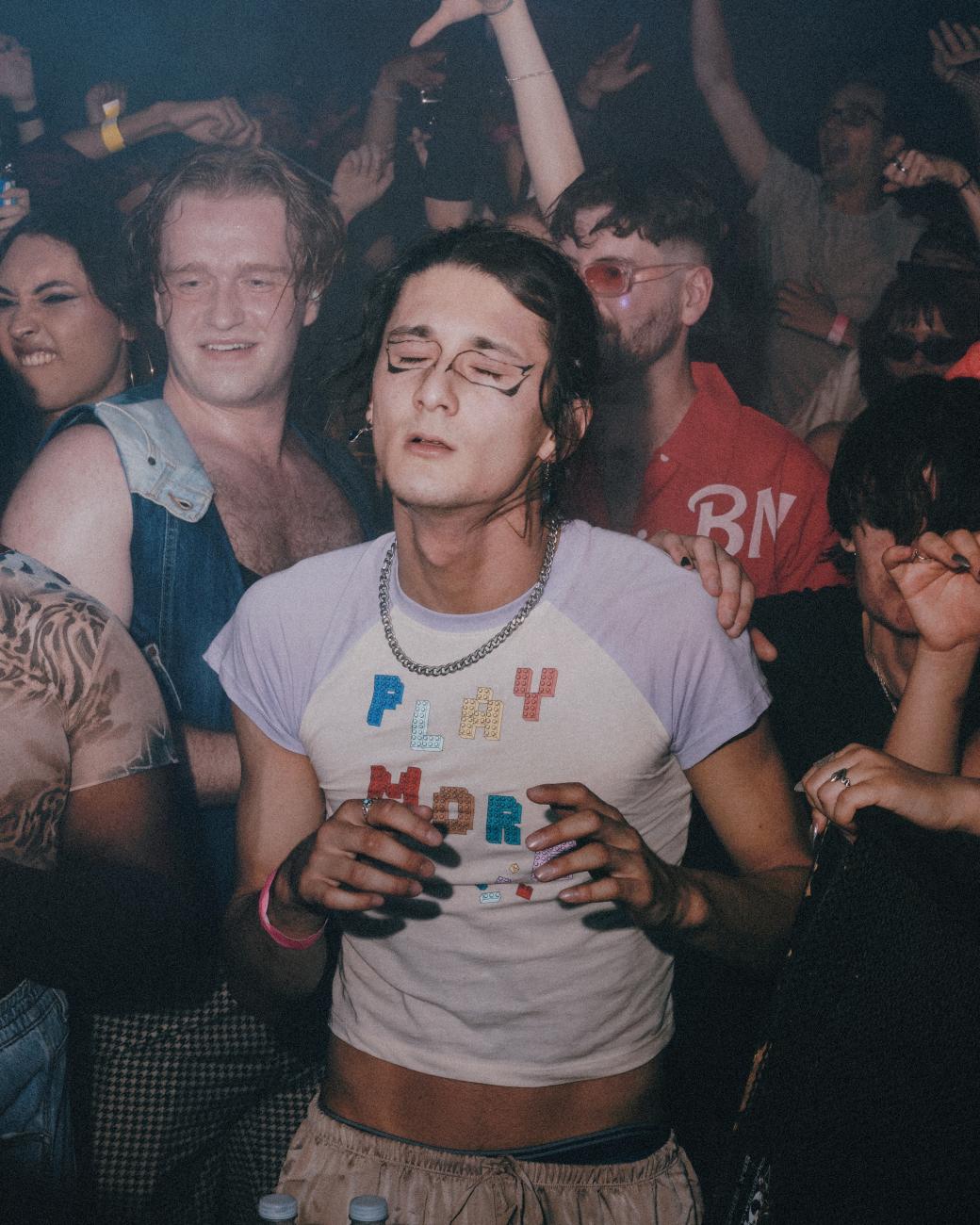 Image courtesy of Kirk Lisaj.
This is probably my favourite image that I've ever shot at a Pep Rally event. The motion, the haze, and the framing makes everything about this image feel so dynamic and high drama. You can tell that the person in the foreground is completely lost in the music with no discernment for what's going on around them.