A continual becoming
Cassils talks transgender representation, the body as material and the cyclical nature of art.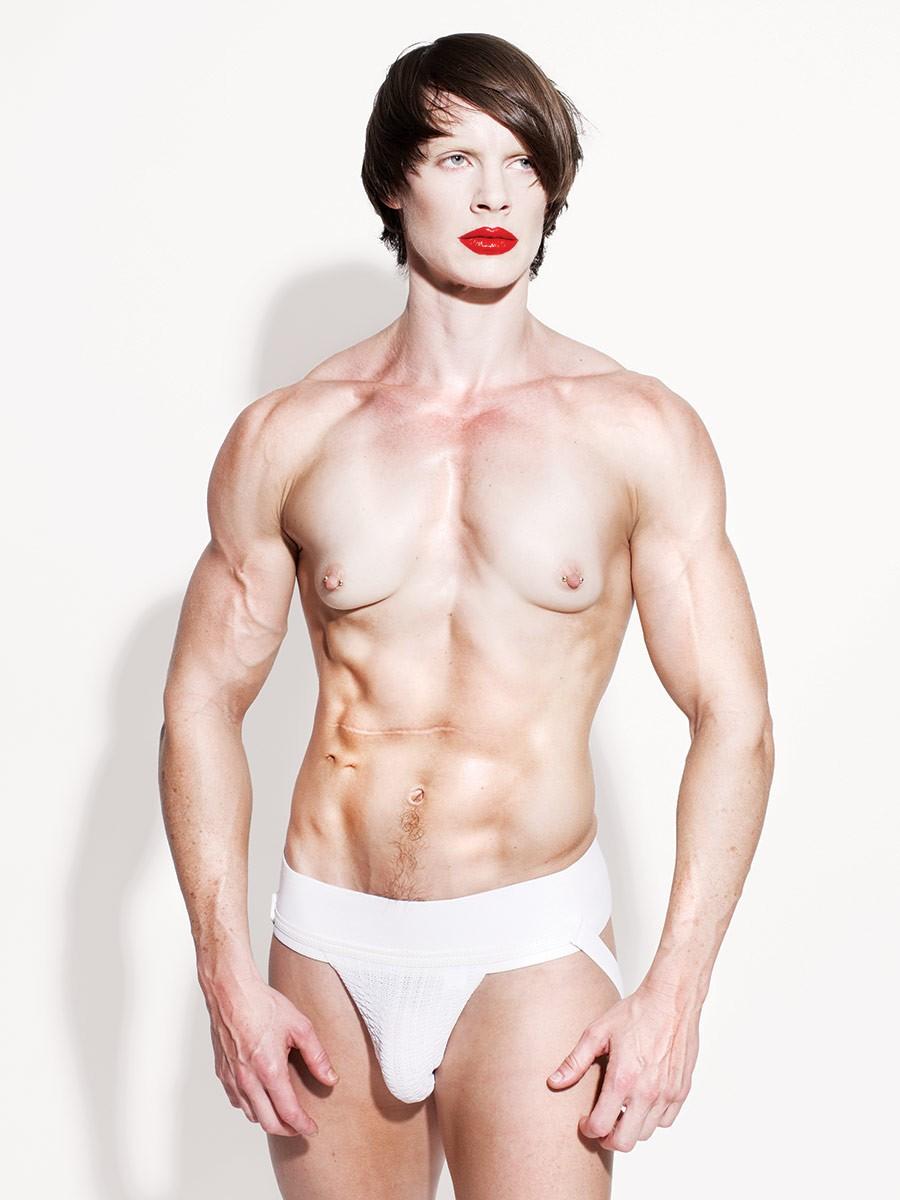 Cassils, Advertisement: Homage to Benglis, 2011. Part of the six-month durational performance Cuts: A Traditional Sculpture. Archival pigment print, 101.6 x 76.2 cm. Purchase, with funds by exchange and from James Lahey, 2022. © Cassils. Photo: Cassils with Robin Black. Courtesy of the artist.
First published in July 2022. 
Cassils is one of the most compelling artists working today. Through their interdisciplinary practice – involving live-durational performance, sculpture, sound, installation, photography, and, more recently, contemporary dance – their body is the material. They've pummeled a 2,000-pound clay block in Becoming an Image (2012 -), pressed their bare body against ice in Tiresias (2011), lit themselves on fire in Inextinguishable Fire (2007-2015), and collected urine for 200 days in PISSED (2017). With their own transgender body, their art works in extremes to grapple with some of the realities LGBTQI+ people face – those of violence, visibility, discrimination, struggle and survival. Equally, their work focuses on building spaces of pleasure, care and sensuality for and by trans and non-binary people. Cassils' commitment to their work is uncompromising, calling on audiences to (re)consider their understanding of trans identities and lived experiences.
Born in Toronto, raised in Montréal and currently living in Los Angeles, Cassils is a Guggenheim Fellow and Creative Capital Awardee. Their work is internationally acclaimed and featured in several solo and group exhibitions. Advertisement: Homage to Benglis (2011), newly acquired by the AGO, [was] on view as part of Blurred Boundaries: Queer Visions in Canadian Art  [closed at the AGO September 2022]. Cassils centres the photograph; standing proudly wearing lipstick and a jockstrap, their muscular physique a result of a gruelling 23-week regimen of diet and exercise. In a nod to Lynda Benglis' Advertisement published in 1974 in the centrefold of Artforum, where the artist posed nude in with a double-ended phallus, the photograph is a critique of the binary ways in which trans bodies are inaccurately represented and proliferated. The photograph was later used in 2015 and 2016 to promote the exhibition Homosexuality_ies which travelled through Germany. Also, presented at the AGO are the press releases Cassils distributed in 2016 when the posters featuring the photograph were banned from German subway stations. The ban was eventually lifted after being criticized for censorship.
Over Zoom, we caught up with Cassils to learn more about their practice. 
The following interview has been edited for length.
Foyer: It's been over a decade since you created Cuts: A Traditional Sculpture, Fast Twitch/Slow Twitch and Advertisement: Homage to Benglis. In the past during those years, you've described how transgender representation has gone through a process of heightened visibility and how cultural conversations about trans and gender non-conforming people have shifted. Do you think this is still true in the present time, with all the controversial bills around parental rights, competitive sports and medical care circulating in the United States? How do you feel that these works could evolve in the future, in terms of your feelings towards them and viewer reception?
Cassils: When I was saying that there's been an evolution in terms of genealogy of a vernacular, that is true. When I say that there has been a proliferation of trans representation in media, that is true. I do not say that these two things determine legislative and political agency. To be given visual currency and cultural currency does not equate to civil rights. In the United States, we are very far from that. We are in a moment of heightened visibility, but it's coupled with heightened violence, and specifically, physical violence. Eighty-two bills currently sitting on the US state legislature are actively rolling back LGBTQI+ rights, specifically trans rights and specifically targeting young trans people and people of colour. When I was first grappling with these works, there was no discussion [about these issues]. Recently, there is a sort of neoliberal anointment stating that "we are addressing this, we're including" and yet, not only politically and culturally, are we not there yet, but there's a backlash that's occurring. This backlash has been politicized in the US by the far Christian right as a way of weaponizing difference, fearmongering and creating more of a polemic, political discourse to stop progress essentially. That is where I see the representation of trans subjectivities being really something to grapple with. That is why so much of my work does play with the concept of visibility. I would say that [Advertisement: Homage to Benglis] is maybe an exception to my work in that it was about positing a hyper-visible, trans-masculine body without surgical intervention. It was an early experimentation I made in 2011 prior to my knowledge of a term like non-binary. It was a time when being trans, and even in the trans community, was policed. Whereas for you to truly be trans, you had to have a full medical and pharmaceutical transition. I was interested in the material of the body as being something to work with and to posit this notion that my body wasn't the problem; society was the problem. [I was questioning if there] was a way of performatively playing with the body as material as a way to assert this ridiculous construction of gender. Even now that feels almost antiquated as a discussion, but at the time, it wasn't happening. 
Foyer: Blurred Boundaries at the AGO suggests that some of the artists included "adopt queer's fluidness and questioning of binaries in their practice, literally dissociating identity, gender and body so that they can come together again under new forms, orders, and spaces." Do you see this as applying to your work, and why?
Cassils: Yes. I tend to make bodies of work that are meant to be seen in relation to each other. [Advertisement: Homage to Benglis] has another component which is a three-channel monitor piece called [Fast Twitch/Slow Twitch] that's its exact opposite. Homage to Benglis is a finished piece, usually shown alongside this three-channel video that shows every single bit of food that I consumed to create the meat of my body, like all the products and the bottles of supplementation. [In one monitor] you see this conveyor belt of consumption, very much indicating the process and the capitalist enterprise that goes into this supposed idea of a fixed, firm, polished identity. The second monitor has just a frame of my head, where I consume — and force-feed — all the food needed to create that shift in my body. And then the bottom monitor, which is kind of the corporeal body, shows recordings of all workouts and the external stimuli that I put my body through to have the response mechanism that would solicit the change in my body. The purpose of showing these two works in conjunction with each other [Advertisement: Homage to Benglis and Fast Twitch/Slow Twitch], was to parse apart this notion of something feeling fixed and to showcase the fact that there is a process of consumption under this capitalist mode that needs to be considered when we are thinking about notions like being "born this way", or an internal sort of blossoming.  
Foyer: This acquisition of Advertisement: Homage to Benglis by the AGO is the first time your work has been acquired by a major Canadian public art institution, with your work acquired by American and British ones for many years now. What, if anything, does that mean to you?
Cassils: Artists need to be supported so it's really fabulous when that happens. It's not something that you ever expect, especially when you're working in an ephemeral discipline like performance as I do. It's meaningful for me to have a piece at the AGO because I was born in Toronto, and I grew up in Québec. I have also been very fortunate, being Canadian, to have received consistent support through the Canada Council of the Arts. If I did not have that funding, that's what would make or break me. Therefore, it's meaningful to have the work accessible to those whose tax dollars have contributed to the support of my career.
A few cultural institutions, which are mired in white, male, cis, heterosexual and Western histories, are attempting to get with the program. It's wonderful to be collected but it's not something that I expect to rely upon. When I do have opportunities I bring folks with me, so we can all continue to shift things and make a space of inclusivity and a space that reflects not just a certain dominant cultural perspective but something much broader. What we need is deep systemic change. And, I do feel like more and more, I have encountered like-minded people that are doing that.
I've learned as an artist that there are enough of us who believe in culture and who, even if we come from very different places and backgrounds, bring things forward that have yet to be done on our terms, without the support of institutions without the support of large government entities. Evidence of work like this is found in my recent collaboration with rafa esparza. He and I led a coalition of 80 artists and 17 immigrant justice organizations called In Plain Sight: a public artwork with the goal of abolishing immigrant detention and the US culture of incarceration.
Foyer: Much of your work refers to the cyclical nature of art, especially in the way you reference other artists' work. Can you tell us more about your intentions with these gestures, both visually and conceptually?
Cassils: I will say, with most certainty that art saved my life. I don't think I would be alive today if I did not have an art practice. In a world that presses down so significantly on those who do not adhere to certain societal expectations. The importance of joy, community building and pleasure that comes from creative expression is paramount. For me, not really having a religious upbringing, not really having a tremendous amount of elders surrounding me that were practicing art, I've always looked to art history for both spiritual, formal and conceptual resources. I know how difficult it is to be an artist. I look to the histories of those who came before me to see well, "How did they deal with fascism? How did they deal with cyclical violence? How did they deal with oppression? How did they feel free despite these circumstances? How did they inspire a culture of change?" There are, of course, nuances and differences. But there are also hard-won, carved wheels that have been rolled, which work. This idea of authenticity, and total uniqueness is something that I push back on. We are all here because of the legacies of those who came before us. We are here with the freedoms we have for the battles that have been fought before us. And so in my way, sometimes I am making a homage in a positive way, sometimes in a way to problematize. But it's to be in dialogue. For me, calling out artists from generations previous to me is a way of citing a lineage, a way of bringing forward, such that those names can be spoken again.
Foyer: Human Measure is a performance-based, contemporary dance work that's coming to Toronto at Canadian Stage this fall [2022]. Given that you've described your body as being the material of your practice, what is it about dance (and choreographed movements) that appealed to you? Were there unanticipated or revelatory moments in your creative process?
Cassils: [When I was a younger artist] prior to [2016] when the last administration shifted in the US, I was making work that kind of addressed an [cisgender] audience saying, "wake up, pay attention, bear witness, what is your responsibility?". I think I had a shift at that time because I was tired of yelling into the void. Making work became a more inclusive act that folded in many other individuals. Initially, it was working with curators, working with local community members, [working with hundreds of people] etc. It was then that I realized that there was a real generative possibility to use art as a capsule for healing each other and making space to acknowledge each other's variants and striations of experience within this supposed all-encompassing LGBTQI+ umbrella.
I have a background in martial arts, I was a semi-pro boxer, and my day job is running a personal training company that I've had for the last 20-odd years. When the last administration shifted [in 2016], there was more of a carte blanche for people to enact hate crimes, [commit] acts of violence and speak openly with words filled with hatred. I started to think well, "why don't I use this training [in my art]? Is there a way I can build that into an artwork such that I give those I work with a skill set and a sense of empowerment and love that serves them after the curtain comes up?"
Human Measure is really thinking about what it means to be in a society that actively wants to disappear you and erase you and what it is to hold on to your pleasure, your sensuality, and your sense of power. In this world, what is it like to hold those two realities? I work with a choreographer and five trans and non-binary dancers. We work with their lived experiences and use tactics to gift them somatic workshops, internal martial arts classes, de-escalation and personal safety techniques. Typically, dance is really an extractive industry, however [this project] is very much about creating a container of care and building a community amongst the dancers. We make sure we have long warm-ups, everybody's fed and paid well. Rather than trying to make everybody adhere to the same movement, everybody is asked to bring their own agency and articulation, such that they're able to be their authentic self in their gender expression within the piece. For me, it's a very healing work to do as I get older. I get to work with younger dancers and be able to impart what I hope to be a positive experience for them. Because when I was younger, those positive experiences changed my life.