Words from Dawit L. Petros and Aaron Jones
Two artists featured in We Are Story speak about their photography practices.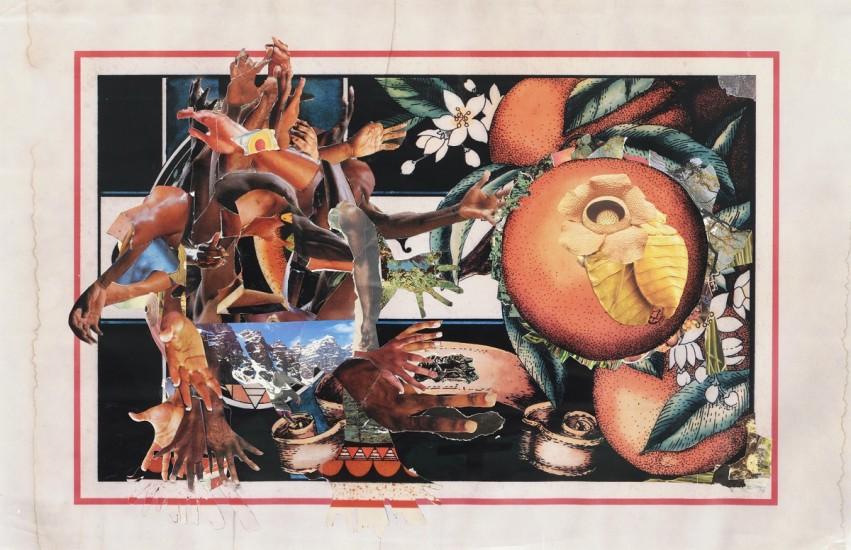 Aaron Jones, Holding my Grandmother's Oranges, 2021. Collage: chromogenic prints, mixed media, magazine and newsprint. Overall: 127 x 198.1 cm. Purchase, with funds from the Canada Now Photography Acquisition Initiative, Edward Burtynsky and Nicholas Metivier, 2021. © Aaron Jones. Courtesy Zalucky Contemporary. 2021/275.
Since January 2023, the dynamic group exhibition, We Are Story: The Canada Now Photography Acquisition has been on view at the AGO, showcasing the vitality and range of contemporary Canadian photography. Featuring recent works by asinnajaq, Raymond Boisjoly, Aaron Jones, Lotus Laurie Kang, Robert Kautuk, Gabrielle L'Hirondelle Hill, Sanaz Mazinani, Jalani Morgan, Louie Palu and Dawit L. Petros, this exhibition is curated by AGO Curatorial Fellow Marina Dumont-Gauthier with Sophie Hackett, AGO Curator, Photography.
The works, all new to the AGO Collection, were purchased through the Canada Now Photography Acquisition Initiative, conceived in 2020 by Canadian artist Edward Burtynsky and gallery owner Nicholas Metivier in response to the economic impact of the COVID-19 pandemic on artists across the country.
We spoke with two of We Are Story's contributing artists – Dawit Petros and Aaron Jones – about their works and respective art practices included in the exhibition.  
Through his work, Dawit Petros investigates the entanglements of colonialism and modernism that bind Africa and Europe, from both a historical and contemporary point of view. While his core medium is photography, he works across a range of other media, including sculpture, video, sound and installation. His photographs raise questions about displacement, identity and the transnational experience of cultural negotiation.
Aaron Jones combines experimental photography and sourced images to create collages that are reflective of his life and upbringing. Often collected from his childhood home or from friends, the images originate in magazines from National Geographic and Sports Illustrated to Black-owned publications such as Essence, as well as encyclopedias and educational texts. Jones actively looks for Black individuals in the media he sources from, finding new and distinct ways to build characters and spaces that reflect his environment.
Foyer: Can you talk about memory's critical role in your work? How, specifically, does the medium of collage help you explore memory? 
Jones: Memory plays a critical role in my work, as I draw inspiration from themes and images that resonate with me. The medium of collage is particularly suited to exploring memory, as it allows me to draw upon found images and objects that have specific meanings or associations. By layering the images and objects together, I am able to create new meanings and narratives that reflect upon my personal experiences and memories. In this way, my work is not only a reflection of my own memories but also a reconstruction of them.
Foyer: Holding my Grandmother's Oranges (image at top) began with the reproduction of a vintage postcard. Can you share some of the technical details of your process when creating this work?
Jones: The print was originally 8"x6". The first step in the development of this work is to create a high-quality scan to blow up the image to 6 feet wide. I also scanned one of my own collages and then created two copies of each scan. Then I collaged them with other found images. A redundant task of rip, cut, glue, scan, print and then rip, cut, and glue again.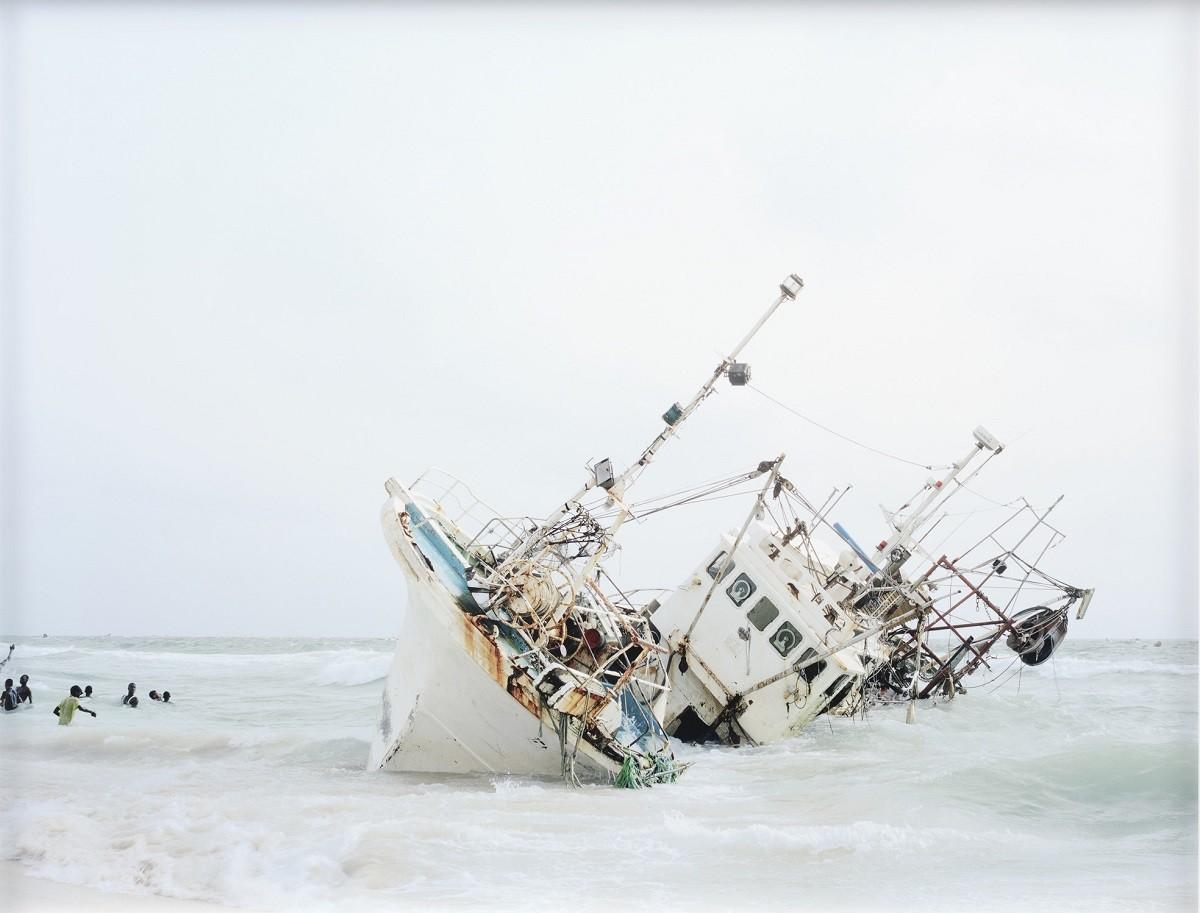 Dawit L. Petros, Act of Recovery (Part II), 2014, printed 2016. Archival pigment print. Overall: 50.8 x 66 cm. Purchase, with funds from the Canada Now Photography Acquisition Initiative, Edward Burtynsky and Nicholas Metivier, 2021. © Dawit L. Petros. Courtesy Bradley Ertaskiran. 2021/50.
Foyer: You shot Act of Recovery (Part II) on a yearlong journey from Nigeria to Italy. How did that stretch of travel help shape and/or shift your approach to your art practice? Are there any significant learnings you returned with that you could share with us?
Petros: The journey profoundly impacted me as a human being and, subsequently my artistic practice. Prior to this utterly transformative thirteen-month journey, my work largely comprised painstakingly slow, orchestrated minimalist images. The intensity of my journey resulted in works produced in response to a different rhythm and speed of life, which unfurled before me. Due to their itinerant status, I frequently encountered individuals who were here today and gone the next. I often felt a profound urgency in these encounters, and so the desire for a more spontaneous imaging response impacted my ongoing inclinations to offer abstracted meditations on landscapes, surfaces, shapes and colours. 
Foyer: You've noted that the ship depicted in Act of Recovery (Part II) – a Japanese fish trawler – was distinct from what we are used to seeing, in that it wrecked on the African coast while headed southbound. Can you elaborate more about the meaning of this observation?
Petros: The image is of a Japanese fishing trawler that encountered engine troubles on the west coast of Africa and washed ashore on the beaches of Nouakchott – the capital city of Mauritania. This is close to the Mediterranean Sea – a body of water, which has only recently been transformed from a place of multi-directional, intercultural exchange into an impenetrable barrier. The work interrogates the dominant framings that this transformation has produced. The ship's north-south reversal and visualizing of the Mauritanian coast disrupts the narrative that Mediterranean movement only happens from south to north. 
We Are Story: The Canada Now Photography Acquisition is on view now on Level 1 (gallery 128) of the AGO on view until July 23. On April 28, join artists Louie Palu and Sanaz Mazinani, whose work is featured in the exhibition, for a conversation with AGO Curatorial Fellow and exhibition co-curator Marina Dumont-Gauthier.