Rosalie Favell on collaging identities
The Métis artist discusses using family photo albums to explore her identity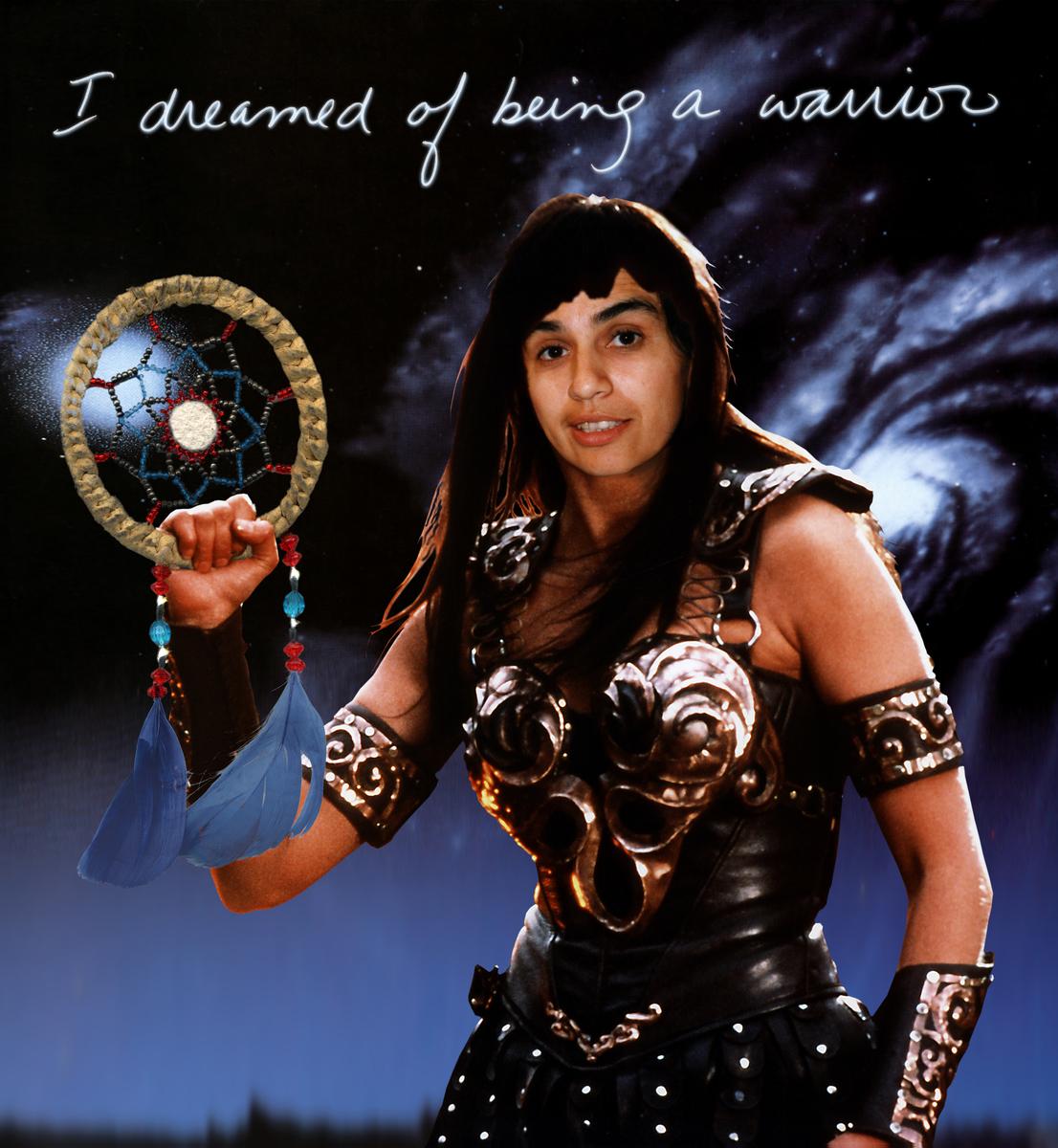 Rosalie Favell. I dreamed of Being a Warrior (edition 2/10), 1999. inkjet print , Overall: 82.6 × 76.2 cm. Courtesy of the artist. © Rosalie Favell.
A stroll through the latest exhibition in the AGO's J.S. McLean Centre for Indigenous + Canadian Art is an intimate experience, almost like you're walking through a family photo album or a personal journal. That's because, in a sense, you are. Portraits of Desire features 22 photographs and three oil paintings by Métis artist Rosalie Favell. With the works on view spanning 24 years of her portfolio, Favell's solo exhibition highlights her career-long diaristic exploration of sexual and Métis identity.
Illustrating Favell's personal approach to photography, this exhibition features works incorporating Favell's family photo albums, self-portraits, and the artist's own handwriting brought together in her signature collage style. The exhibition also features three oil-painted self-portraits of Favell, which were recreated from earlier photography work.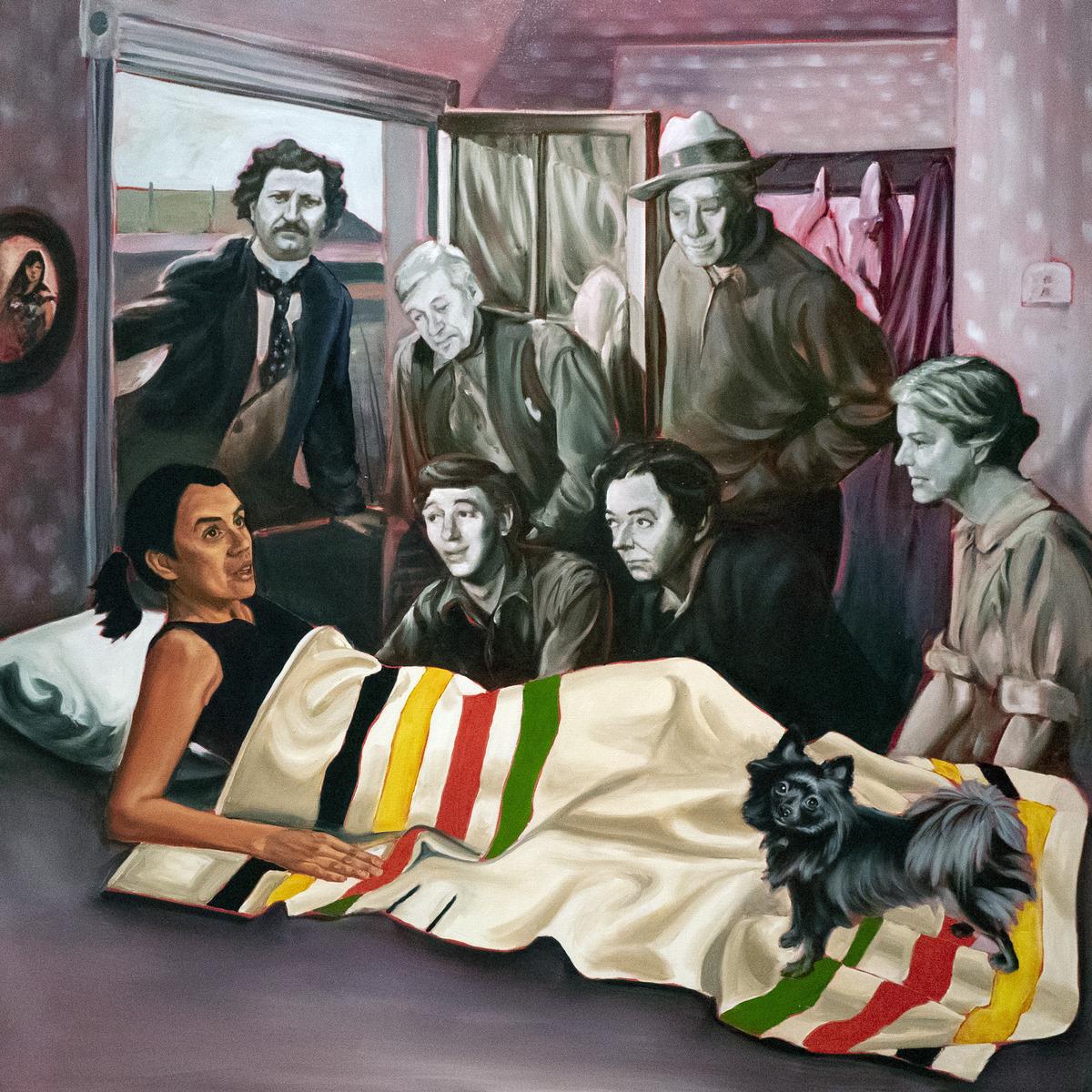 Rosalie Favell. I awoke to find my spirit had returned, 2018. oil on linen, Overall: 121.9 × 121.9 cm. Courtesy of the artist. © Rosalie Favell.
Favell's collage technique began with I Dreamed of Being a Warrior (1999) (image at top), currently on view in this exhibition. After being taught Photoshop by a friend, Favell collaged her head onto the body of Xena from the TV show Xena Warrior Princess.
"I was a 'straight' photographer in that I learned photography formally and for me, the idea of defacing an image was problematic," she said. "But in this work, I took a leap and started collaging on the computer. That opened a whole new world for me."
I Dreamed of Being a Warrior is part of Favell's series Plain(s) Warrior Artist (1999-2003) which has five of 21 photographs on view in this exhibition. This series embodies Favell's exploration of her personal and cultural identity, inspired by Favell's search for strong Indigenous women figures in her life. In this series, she turns the search for a hero inwards, becoming the representation she was looking for by photoshopping herself onto women hero figures such as in Voyageur (2003), where Favell dressed as Star Trek's Captain Kathryn Janeway. The title of this work is a clever play on Voyageur — a term for Métis fur traders —  indicated by the signature Métis sash around Favell's/Janeway's waist.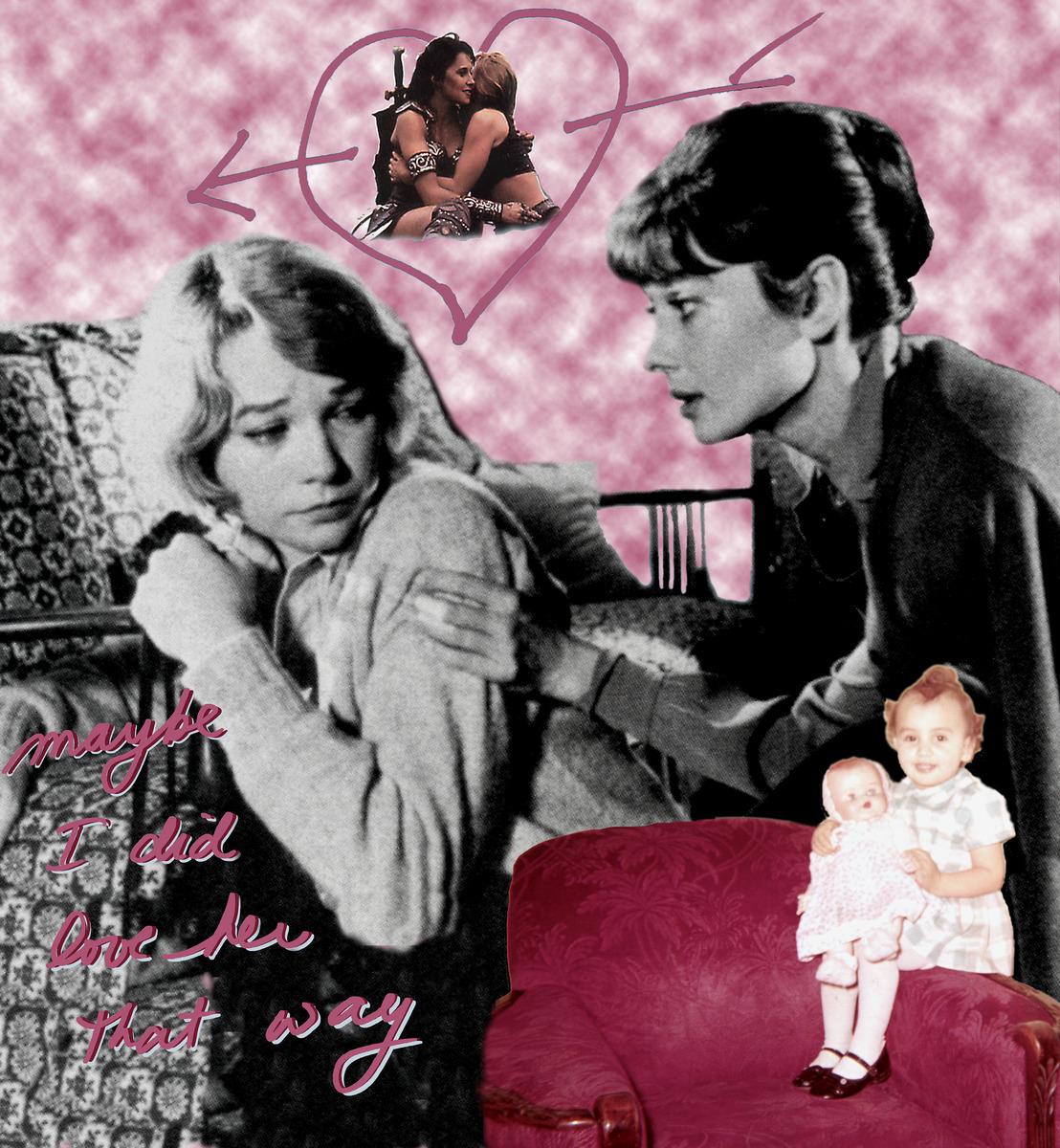 Rosalie Favell. Maybe I did love her that way (edition 2/10), 2003. inkjet print , Overall: 82.6 × 76.2 cm. Courtesy of the artist. © Rosalie Favell.
Also on view from this series, Maybe I did love her that way (2003), explores Favell's sexual identity. In this work, Favell photoshops a childhood photo of herself onto a scene from The Children's Hour, a film that has resonated with the artist since childhood. The scene features Audrey Hepburn and Shirley MacLaine who play two teachers accused of having an affair, one of the teachers ultimately hanging herself for having feelings for the other. Above Hepburn and MacLaine is an image of Xena and her companion Gabrielle in a drawn heart. Although they were never officially in a relationship, there was a felt romantic tension between the two women. For Favell, using pop culture to express her sexuality and Indigenous identity felt natural, an act of reclamation in the face of suppression.
"I live in pop culture," she explained. "You look for identity out there in the media. When I saw the television show Xena Warrior Princess, it was the first time I saw who I wanted to be, and I think that's common in TV and movies whether you do it consciously or not — who are you in that movie? The Children's Hour spoke to me at a very deep level when I was a preteen and it didn't make sense until later. Inserting myself as a child in the work represents a search for a way to acknowledge your feelings of loving women and asking, what do you do with that?"
Favell's photoshopping didn't stop at pop culture figures. Favell used this skill to incorporate family albums and historical documents into her work, creating complex and layered collages that pay homage to her family's history and Métis culture. Exploring travel, memory, and family dynamics, various works from Favell's most recent series, Family Legacy (2021) are on view in this exhibition.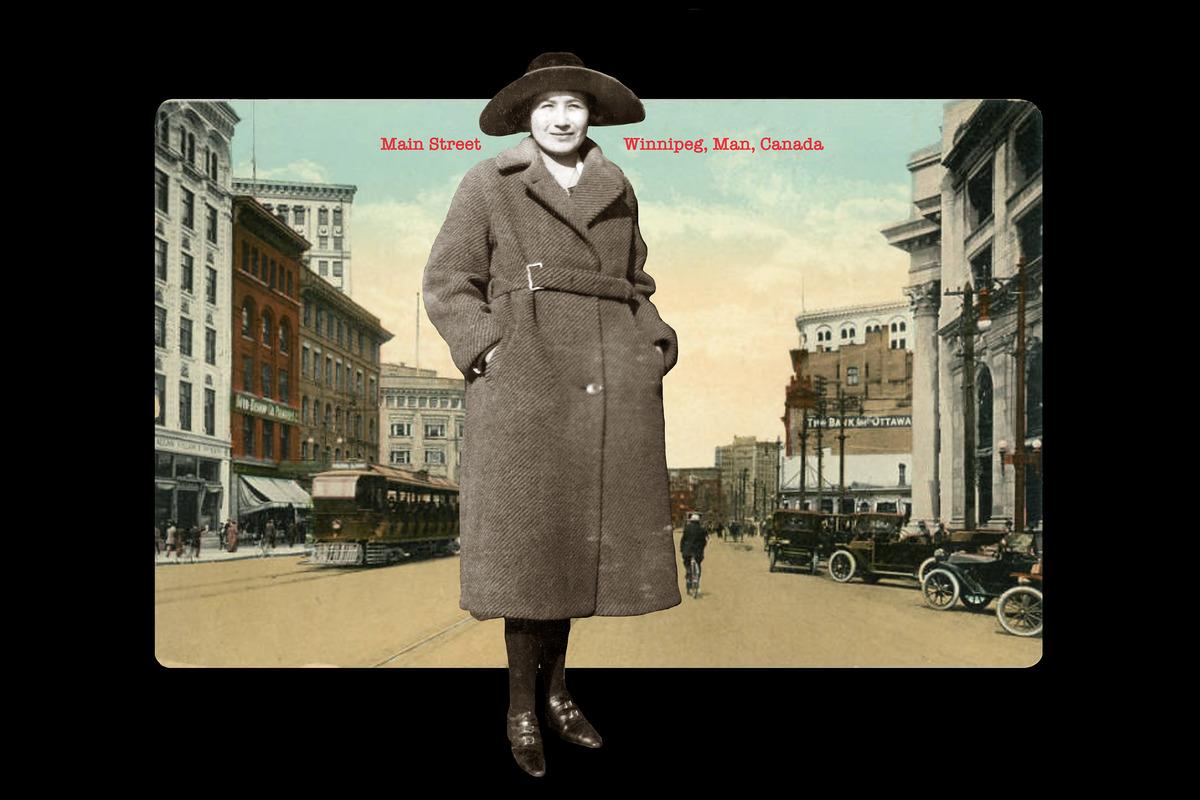 Rosalie Favell. Holding Her Ground (edition 3/5), 2021. inkjet print , Overall: 50.8 × 76.2 cm (20 × 30 in.) Courtesy of the artist. © Rosalie Favell.
In Stealing Home (2021) scrip certificates appear which were documents given in exchange for land that looked like money but lacked true monetary value. Favell's Metis ancestor's signatures are seen on the scrip affidavits (land agreements) which were systematically used by the Canadian government to steal Métis land. These documents are then overlaid onto a 1970s aerial photograph of her mother's family farm. Further exploring her family's relationship to travel and displacement, the works Young Love (2021), Queen of Galaxie (2021), Family Time (2021) places photographs of family in conversation with cutouts from car pamphlets Favell's father kept when he bought a new car. These images are then superimposed onto a background of fantastical sci-fi imagery.
In addition to the family albums now featured in her work, Favell's mother and grandmother also passed on a love of photography. Favell found herself drawn to the imagery taken within her family. 
"My mom and grandmother were pretty good photographers," she chuckled.
While it's become a family joke that any photo Favell takes at gatherings may end up on a gallery wall, Favell makes sure to always honour not only her ancestors but the art they created, her works becoming an artistic inter-generational collaboration.
"That's my inheritance," she explained. "I want to honour my family and help illustrate what a Metis family is. We've been hiding in plain sight but we've been here all along. [My work is] very much about the particular history of my family, but I like to think that my work resonates with others because of the snapshot aesthetic. Everyone has photo albums and a whole family history."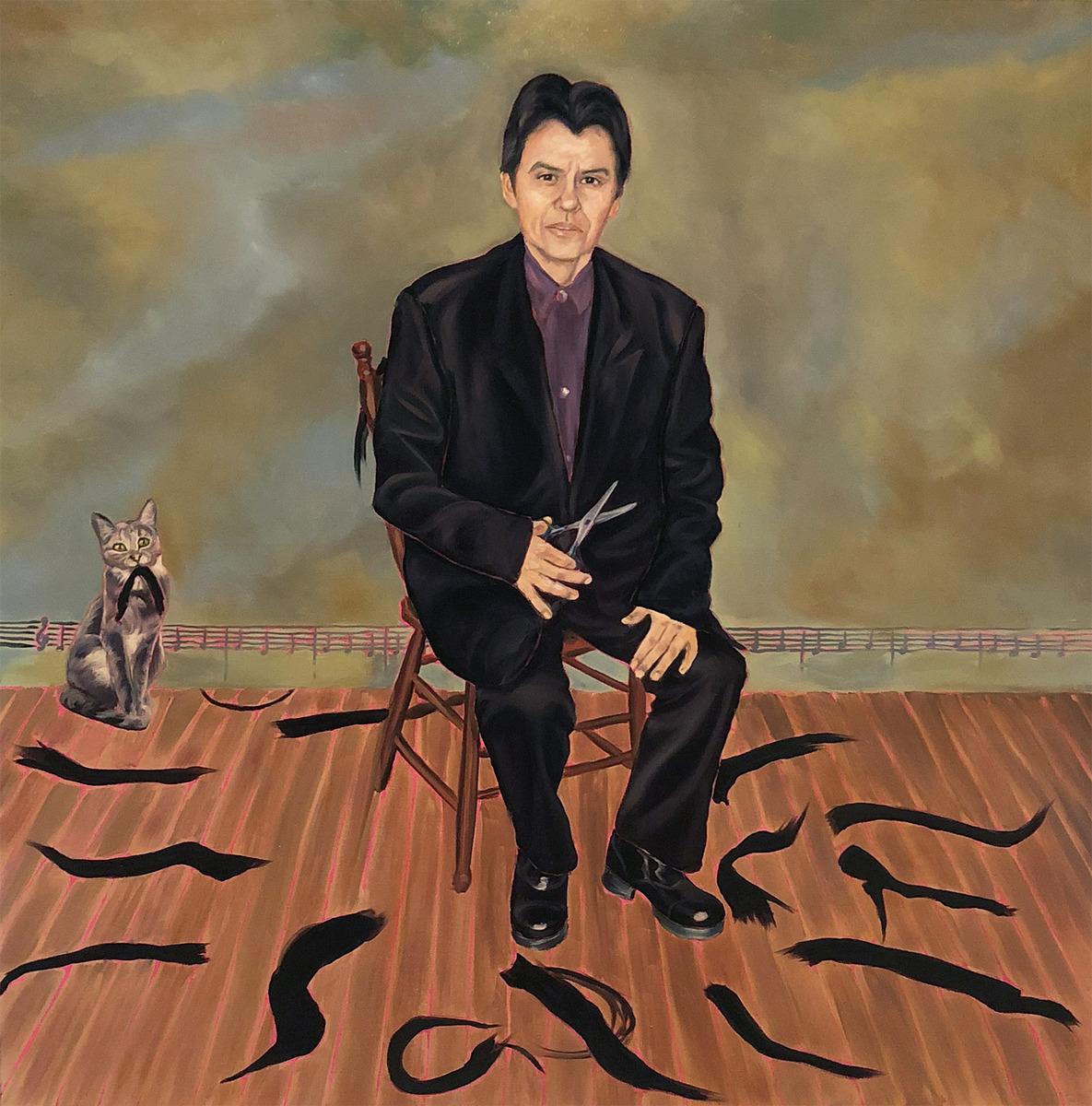 Rosalie Favell. If only you could love me the way I am, 2018. oil on linen, Overall: 121.9 × 121.9 cm. Courtesy of the artist. © Rosalie Favell.
Step into Favell's intimate journey of identity and self-discovery with Portraits of Desire, on view until April 21, 2024, located on Level 2 in the J.S. McLean Centre for Indigenous + Canadian Art in the Irving & Sylvia Ungerman and Jennings Young galleries (galleries 230 and 231).