Presented by Signature Partner

Intersection 5
We're spotlighting a diptych by acclaimed multidisciplinary artist Jin-me Yoon.
---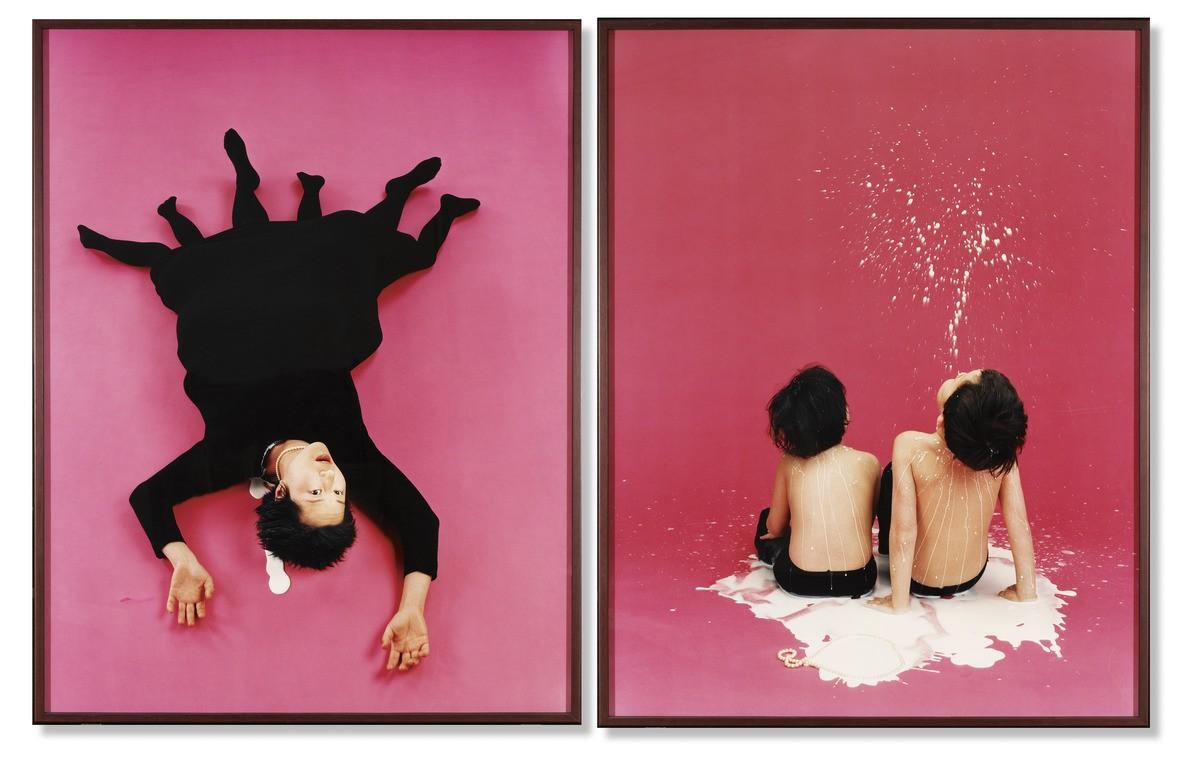 Jin-Me Yoon. Intersection 5, 2001. diptych: chromogenic prints, Overall: 203.2 x 177.8 cm. Art Gallery of Ontario. Purchased with the financial support of the Canada Council for the Arts Acquisition Assistance program and with the assistance of the E. Wallace Fund, 2002. © Jin-Me Yoon. 2002/64.1-.2
Make your way up to Level 4 of the AGO, and you'll find a selection of contemporary works from the AGO Collection. Among them is one by Seoul-born, Vancouver-based multidisciplinary artist Jin-me Yoon. Intersection 5 is one in a series of five photo-based diptychs created by the artist between 1996 to 2001 and our next choice for an RBC Art Pick. 
Intersection 5, while eye-catching, presents viewers with an unsettling image. With the glossy artificiality of an ad campaign, the backdrop is a bright and saturated hot pink. The left-hand panel depicts the artist, lying supine on the ground and staring emptily ahead. Milk spills out from underneath her neck and the legs of two small children extend below the hem of her skirt. In the right-hand panel, Yoon has disappeared, and the children sit, with their backs to the viewer, playing happily in what remains of their mother – a puddle of milk and her pearl necklace. The works in the Intersection series, which Yoon began after her first child was born, take as their subject the relationship of the artist with motherhood. The title likely refers to the intersection of different and sometimes conflicting identities inscribed on the body. With these images, Yoon depicts, with a great deal of humour, some of the complexities of motherhood.  
Yoon's series asks how these roles co-exist, especially when they are often at odds with each other in the context of an art world historically centred on white masculinity. The artist asks: "Can artists be both culturally productive and biologically reproductive? Can a racialized, feminist subject be an art historical subject?" 
Born in Seoul, South Korea, Yoon immigrated to Vancouver, where she is currently based. As a prominent figure in the art scene in Vancouver and Canada, her acclaimed creative practice spans nearly three and a half decades, across media from photography, video and installation. Yoon's early work can be seen in context with the Vancouver School of photoconceptualism. Her work has been exhibited extensively around the world in solo and group exhibitions. Other seminal series by Yoon include Souvenirs of the Self (1991) where she photographed herself in recognizable Canadian tourist sites, thus revealing their iconic, national status as constructed, limited and racialized, and A Group of Sixty-Seven (1996) where she photographed sixty-seven members of Vancouver's Korean-Canadian community in front of iconic Canadian paintings by Lawren Harris and Emily Carr. Yoon holds a Bachelor of Arts in Psychology from the University of British Columbia, a Bachelor of Fine Arts from Emily Carr University, and a Master of Fine Arts from Concordia University. Yoon centres herself throughout her works, building on a legacy of feminist photography, and thematically explores questions surrounding identity, gender, representation, displacement and colonialism. In 2022, Yoon was the recipient of the prestigious Scotiabank Photography Award.