Presented by Signature Partner

Le livreur et sa cliente, 22:53/ Delivery person and Client, 10:52 pm
Take a closer look at one of the first works documenting the COVID-19 pandemic in the AGO's Collection.  
---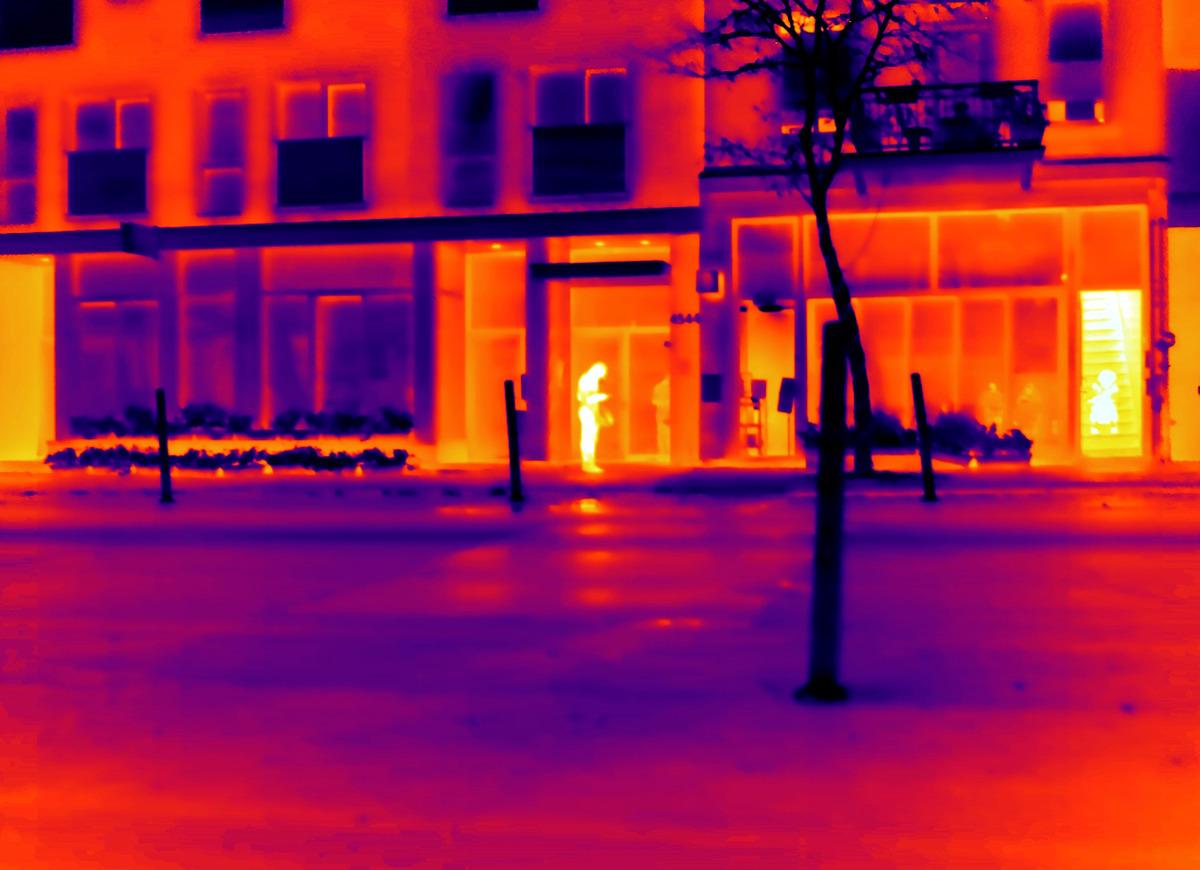 Emmanuelle Léonard, Le livreur et sa cliente, 22:53 / Deliverer and Client 10:53pm, 2022. Heat-sensitive image, giclée print. 110 x 152 cm. Edition 3 of 3. Purchase, with funds from the Photography Curatorial Committee, 2022. © Emmanuelle Léonard. Courtesy Ellephant. 2022/7054.
Just over two years ago the world was navigating the social isolation of lockdowns and curfews as COVID-19 cases rose. Taken during Montreal's March 2021 curfew, September's RBC Art Pick, Emmanuelle Léonard's Le livreur et sa cliente, 22:53/ Delivery person and Client 10:52 pm (2022), offers a striking window into the pandemic, revealing how our need for human connection and relationship to technology unfolded as we faced new realities. This work is one of the first in the AGO Collection to document the COVID-19 pandemic. 
On view on Level 1 of the AGO as part of the exhibition Cities in Flux, Delivery person and Client, 10:52 pm comes from Léonard's series Black Out (Les Livreurs/The Deliverers) (2021-2022), in which the photographer documented the reality of workers, particularly food deliverers, during the pandemic. Granted a work exemption during Québec's curfew, Léonard wanted to witness the empty Montréal streets for herself. In the quiet of the deserted city, she began to notice delivery workers.  
As she explained to Foyer, "In this slowness, a deliveryman would furtively pass by, another would park, another would wait for his order, then another, and still others. During this blackout, I waited for them. I did this to spot the busiest locations, to discover the most lucrative markets. Since I had no control to exercise over the scenes depicted, I had to wait, frame my view and hope that the actors would show up. Paradoxically, this created a staging effect." 
To counteract this effect, Leonard turned to a thermal camera, its technology allowing her to reveal the real-time physical labour of the pandemic curfew economy. In Deliverer and Client 10:52pm, Léonard photographed the moment before an interaction between a food delivery person and their client, the thermal camera registering the heat of the figures. The former looks down at their phone, their body heat creating a bright orange silhouette against the cold purple streets of Montréal. They are likely using their phone to reach their client who is seated, waiting for them in the stairway of the building, perhaps about to have their only human interaction that day.  
Much of Léonard's work intends to uncover social hierarchies and power structures, and her use of a thermal camera continued this exploration. As she explained, "These workers escape conventional labour norms, and only have a first name: why not give them substance? Thermal imaging makes it possible to refine the wavelengths detected by the camera sensor. This technology has its own specific uses, serving police forces, armies and building engineers to detect heat loss. Concrete references to the subjects (bags, cell phones, posture, etc.) appear and disappear, the action identifiable but fleeting. The challenge was not to create a visual abstraction or a purely formal reading, but to stick to the work, and the body at work: the deliver[er] searching and the client waiting." 
Corrie Jackson, RBC Senior Curator, adds "Emmanuelle Léonard's work is a reminder of an artwork's ability to capture a moment in time while also transcending it. This piece sparks reminders of isolation and surveillance that while experienced by so many during the COVID-19 pandemic, remain a part of many individual experiences.  
RBC continues to honour and celebrate the importance of arts' ability to bring visibility to what might otherwise go unseen or unacknowledged. Through the RBC Art Collection and  RBC Emerging Artists, we look to continue to elevate and celebrate the importance of these perspectives" 
See Le livreur et sa cliente, 22:53/ Delivery person and Client, 10:52 pm alongside a collection of photographs documenting city life in the exhibition Cities in Flux, on view now on Level 1 of the AGO in the Edmond G. Odette Family and Robert & Cheryl McEwen Galleries (galleries 128 and 129). Cities in Flux was curated by Marina Dumont-Gauthier, Curatorial Fellow, Photography.