Scarborough made
Toronto artist Curtia Wright shows off her version of the Scarborough Sign.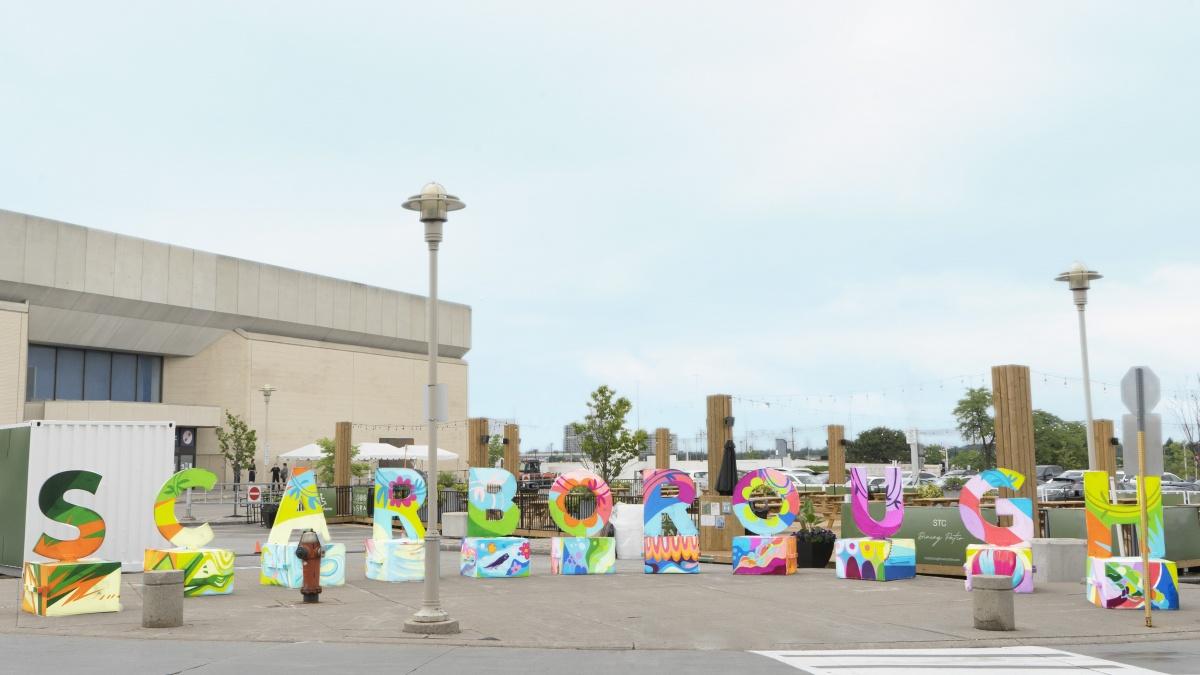 Image courtesy of Scarborough Arts
Back in 2021, a new rendition of the travelling life-sized Scarborough Sign popped up at Scarborough Town Centre, catching the eyes of mall-goers with its vibrant colours. In celebration of Toronto's Year of Public Art, street artist Curtia Wright joined forces with Scarborough Arts and ArtworxTO to create Out for a Stroll. Using abstract storytelling, Wright basked the letters in colourful spray paint to capture the vibrancy of Scarborough's diverse culture and arts scene. If you take a closer look at the letters and their bases, you'll notice motifs of leaves, flowers, water and maybe even a nostalgic nod to the iconic local mall itself. A Scarborough-native, Wright's vision was inspired by her memories of adolescence growing up in the neighbourhood and spending time in nature with family and friends. 
Making stops across Scarborough and donning a new look each time, the sign engages with local residents and stands tall as a symbol of neighbourhood pride. The idea behind it came from an overwhelming public desire to engage with art installations that reinvigorated underused outdoor spaces across Scarborough. With that in mind, the sign aims to fill that gap. 
"The sign has seen about a dozen unique artistic activations since its unveiling in the summer of 2018, and it is visited by over 40,000 people a year," said Emily Peltier, Programming Coordinator, Scarborough Arts. "It's always our goal to keep the Scarborough Sign innovative and community-driven, so it travels seasonally to highlight the diversity of Scarborough neighbourhoods and communities!"
Wanting to learn more, we caught up with Scarborough Sign's then collaborating artist Curtia Wright to chat about her mural work and how the making of Out for a Stroll came to be. 
Image courtesy of Curtia Wright.
Foyer: How would you describe your artistic practice?
Wright: I am a fine artist, mural artist and arts educator based out of the GTA. My work is figurative with a focus on the nuances of femininity in ties to Blackness with an explorative look into the spirituality and mythology around aspects of Caribbean culture. I am also very fascinated with hybridity within my disciplines, such as the fusion of fine art with craft as well as combining aspects of digital art with traditional art.
Foyer: What has the reception been to the sign's installation at Scarborough Town Centre?
Wright: The reception for Out for a Stroll has been wonderful! I am always incredibly honoured when chosen to create public art for communities and I am especially grateful when the public response is so warm. This is the first work of public art that I have made for Scarborough outside of the youth murals I did with Mural Routes in my teens, bringing the Scarborough Sign to life was such a full-circle moment for me. 
Foyer: What about Scarborough did you want to capture in your work?
Wright: There is so much that makes Scarborough great; the people, the food, the festivals and the irrevocable sense of community. My experience growing up in Scarborough was isolated, in the sense that I grew up pretty sheltered in my home within the community of Dean Park, where I spent most of my time playing with my brother, cousins and our friends in our neighbourhood and backyards. Summer camps or extracurricular activities weren't really a thing growing up, so many summers were spent making up our own activities, exploring the backyard and biking around the neighbourhood all day until the summer heat did us in. Every now and then we would take a trip down to the Rouge Valley trail which was just a five-minute walk away. These were always my favourite days because it meant running through nature paths and cataloguing how many blue dragonflies we spotted or watching the minnows and tadpoles scurry away from our reaching hands. Growing up in an area that was dense in greenery and nature trails was such a blessing and one that I didn't necessarily appreciate all of the time. Since then, the land has been developed more but still remains fairly green.
Foyer: What materials and art style did you use when designing your look for the sign?
Wright: I used aerosol for this piece and wanted to stick with abstraction given the space of each letter with some symbolism intertwined. I focused primarily on elements found within nature such as leaves, flowers, vines, roots, water, water lilies and I also managed to sneak in the "hot air" balloons to represent Scarborough Town Centre's iconic water fountain installation from the 1980s/'90s. Initially, I wasn't planning on painting the bases, as they weren't painted by previous artists, but I took the installation a bit further because I wanted each letter to almost look as if they were splashed with colour, with each letter being a new immersive experience.
Foyer: As a local artist, what do you love about Scarborough?
Wright: I currently reside in Mississauga and haven't lived in Scarborough since 2017, but I spent the majority of my life there. I think what I loved most about living in Scarborough was how calm it was compared to the city and what I miss most about living in Scarborough is being close to family. Now when I go back to visit family and friends it's almost like a retreat from the business of the city.