What to see at Nuit Blanche Toronto 2023
The GTA's all-night art party returns on September 23 with these can't-miss exhibitions
Eclipse, 2023 by Naomi Rincón Gallardo (credit: Claudia López Terroso)
Nuit Blanche Toronto is back for its 17th edition this year. Starting Saturday, September 23 at 7 pm, and running until 7 am Sunday morning, this free event welcomes attendees to embark on a twelve-hour journey of citywide art exploration. Exhibitions will span various locations in Etobicoke, downtown Toronto and Scarborough, with more than 80 art projects from nearly 250 artists across multiple disciplines.  
This year's environmentally focused theme, Breaking Ground, invites artists to explore themes of climate change, the impact of urban development on communities and collective responsibilities around land and stewardship. Each region of the event will be organized by a different Toronto-based curator, offering their distinct take on the Breaking Ground theme. The AGO is joining the celebration by opening up Jackman Hall for a free all-night screening of Wolfgang Tillmans's Moon in Earthlight (2021). 
Make your artful voyage across the GTA with these must-see exhibitions this weekend. 
Etobicoke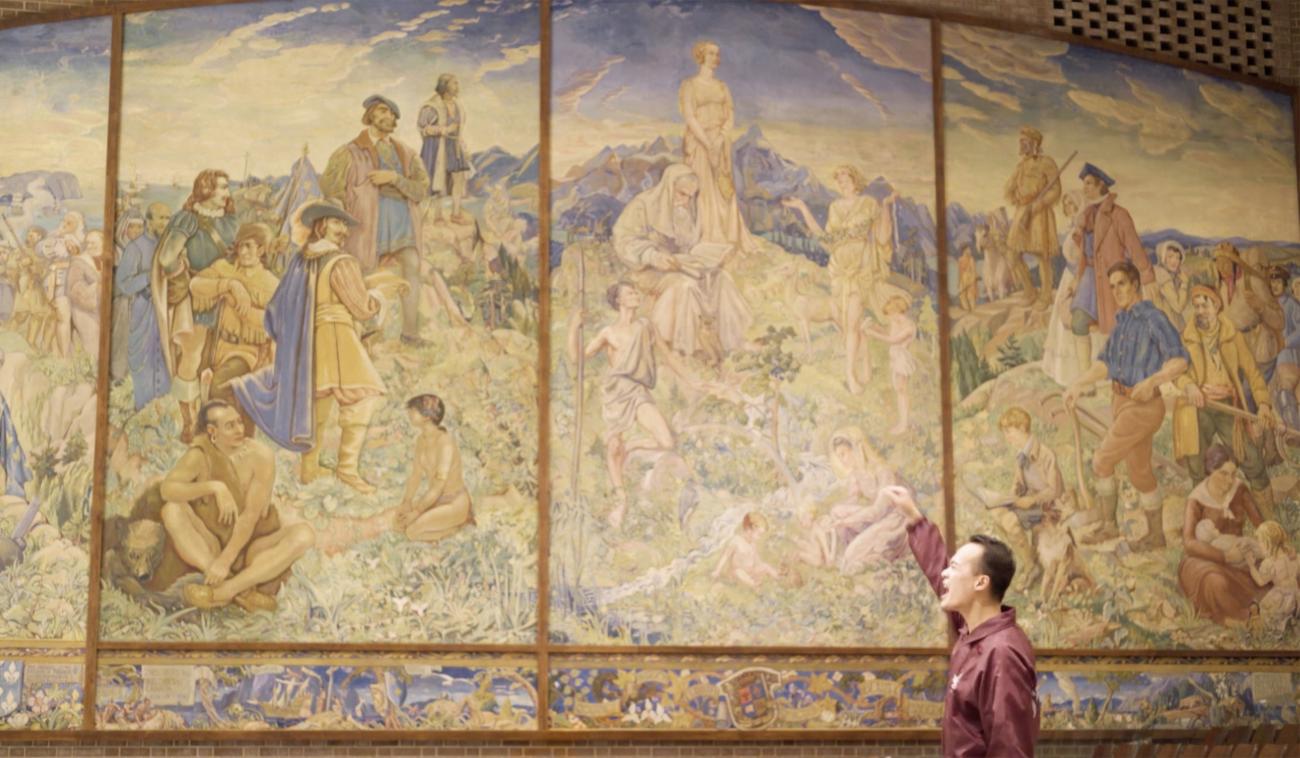 Lismer's white twisted fantasy (still), 2018, Alvin Luong. Image courtesy of Alvin Luong
Entitled Shoaling and curated by Lillian O'Brien Davis, The Etobicoke section of Nuit Blanche is a multivocal exhibition focusing on connections between land and water that link threads of memory, climate, race and labour through performance, video, sculpture and technologies. Sponsored by Humber College and situated on its campuses, this group exhibition features projects from various contemporary artists. Check out Alvin Luong's The Mystery of the Twisted Fantasy – a film-based reinterpretation of the well-known Humberside mural by Group of Seven painter Arthur Lismer. Then stroll through Dana Prieto and Reza Nik's multimedia installation Caementarium, which converses with the walls, grounds, and enclosures that shape the former site of the Lakeshore Psychiatric Hospital. Finally, experience Suzanne Morrissette's light installation, to notice, leading audiences down a pathway of uniquely lit plant life.  
Downtown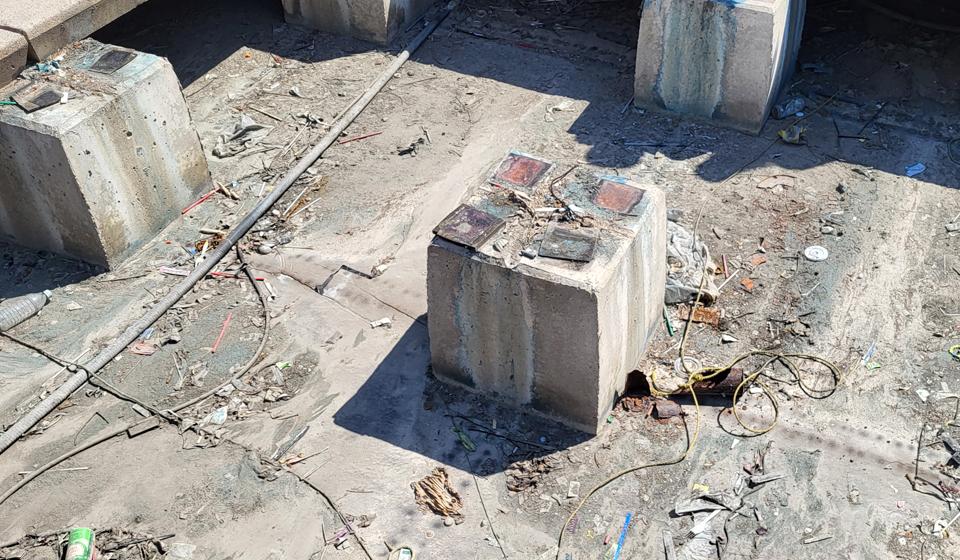 Jenine Marsh, Wellspring, 2023.  
The downtown section, curated by Kari Cwynar, is a group exhibition that unearths centuries of development within Toronto's financial district. Disturbed Landscape sees artists enact a series of creative reversals and disruptions to our built environments. Located on the exterior plaza of the TD Centre, check out Divya Mehra's Your Wish is Your Command – a large-scale magic lamp that invites audiences to question whose wishes are granted in Toronto's financial district. Then head up to Nathan Philips Square to experience Jenine Marsh's large-scale installation and architectural intervention, Wellspring. For one night only, hundreds of concrete pavers will be lifted from the Nathan Phillips Square lot, revealing the forgotten space beneath. Before you leave the downtown core, come over to the AGO's Jackman Hall where Wolfgang Tillmans's Moon in Earthlight will be screening all night. 
Scarborough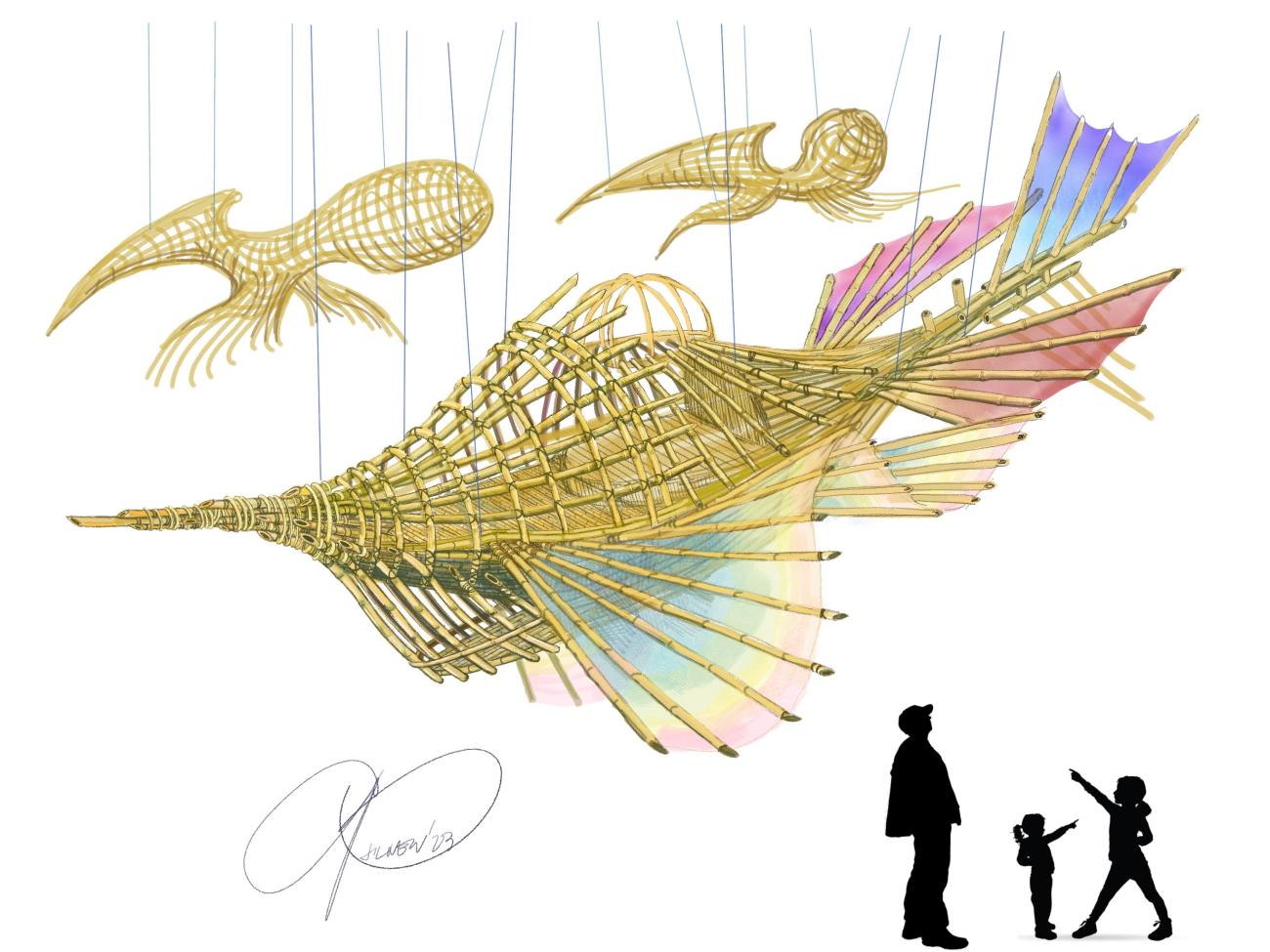 Leeroy New, 2023, Balangay Starfleet
 In the Aggregate, curated by Noa Bronstein, is Nuit Blanche's Scarborough group exhibition exploring ideas of togetherness, friendship and collectivity. Sponsored by Scarborough Town Centre, the exhibition points to Toronto's unique urban topography and public spaces transformed through the assembly of shared experiences. First, experience Leeroy New's sculptural installation, Balangay Starfleet, a descending fleet of space vessels made of bamboo and discarded plastics appear frozen in the middle of an aerial encounter. Then, check out Mitchell Akiyama's unique sound installation, a cut at an edge that was always a middle, a multi-channel audio experience creating an encounter between audiences and a polyphonic, sonic representation of authentic Scarborough voices. Finally, Eleanor King's installation Take Days is a multi-channel video that features diverse youth voices from Bach's Children's Choir as they protest to climate change through song.  
Nuit Blanche begins Saturday September 23 at 7 pm and continues through the night until 7 am Sunday morning at various sites across the GTA. For more information, visit the official web site.