Presented by Signature Partner

The Studio and The Tiff
We celebrate a reunion of paintings by Ontario's Florence Carlyle.
---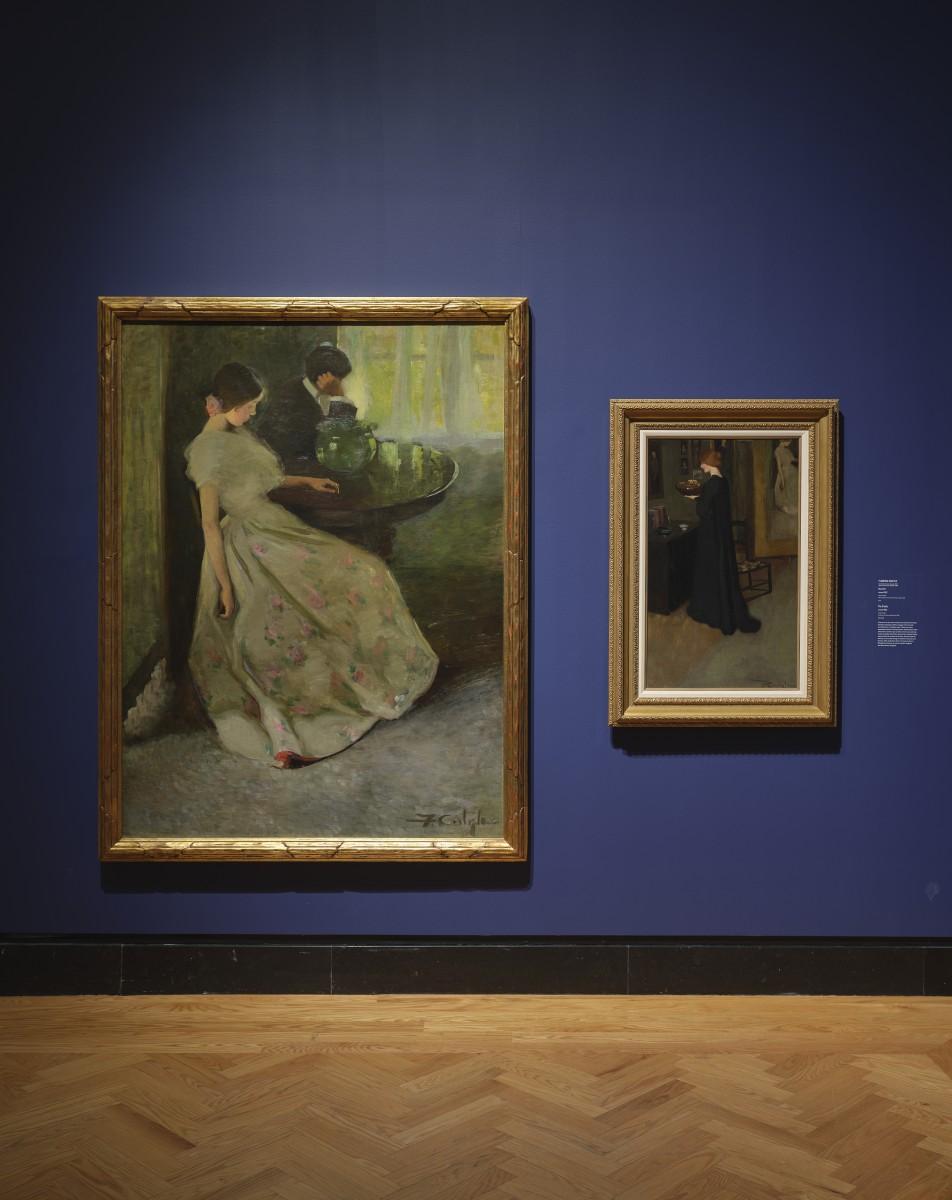 Installation view, Richard Barry Fudger Memorial Gallery, Art Gallery of Ontario. Works shown: Florence Carlyle, The Tiff, c. 1902, and The Studio, c. 1902. Photo: Craig Boyko © AGO.
1902 was a big year for Florence Carlyle. Despite limited opportunities for women artists at the time, Carlyle, at 38 years old, had studied in Paris and was exhibiting work across Canada and in the United States, while teaching and undertaking commercial commissions. 
Recently elected to the Ontario Society of Artists, she was working out of her studio in London, Ontario, when, in March of 1902, the Ontario Society for Artists awarded The Tiff its top prize. Critics from both The Globe and Toronto Star devoted an entire paragraph to Carlyle in their reviews of the exhibit. Carlyle's work "not only attracts, but rivets the attention of artists and of that great Philistine mob, the public," wrote The Globe's Lally Bernard.
Created in an era when social norms dictated formality, Carlyle's early and mid-career portraits of women and girls regularly depicted home life and femininity in complex ways. In The Tiff, a large canvas almost two metres high, we see the sulky aftermath of a bitter spat. The gentleman is obscured in shadow — the woman, believed to be modeled after the artist's sister — exudes emotion through the hunch of her shoulder, the cast of her chin. Wrapped in sun and shadow, leaning against the wall, her dress dominates the canvas, its folds filling the soundless room.
In the AGO Collection since 1972, The Tiff has been recently reunited with another Carlyle painting, also from 1902, and this dynamic pairing stands in close dialogue with paintings by other women artists from Canada and Europe, including Mary Heister Reid and Anna Boberg. 
Acquired in 2022 at auction from Cowley Abbott Fine Art, and smaller in scale, Carlyle's The Studio is a very different interior scene, one infinitely more personal, depicting the artist's painting studio. Installed to the right of The Tiff, it also features a side view of a preoccupied female figure, holding aloft a bowl, gazing intently into it. On the table are books, on a chair are packages of paints, and on the walls, numerous shadowy portraits. Beside the figure, propped against the wall, is the first third of a painting, immediately recognizable as Carlyle's The Tiff.
This style of self-referencing was hardly new — one need only look at Mary Ann Rebecca Alabaster's The Artist's Painting-Room (1830) for a feminist precedent in the AGO Collection — however Carlyle's choice to depict her own studio, her own artwork and a woman painter as a figure of action, surrounded by objects both beautiful and useful, is, in the words of AGO Assistant Curator of Canadian Art Renée van der Avoird, "indicative of what she's trying to achieve as a woman artist.
"Carlyle's The Studio is a very deliberate self-portrait," van der Avoird continues. "The staging of objects is all intended to signal that this is a space for work, and that interiors — her world, her work space — can be professional, serious." 
The Tiff would go on to earn Carlyle a silver medal at the 1904 St. Louis World's Fair.
As former AGO curator Joan Murray notes in her excellent 2004 catalogue, Florence Carlyle: Against All Odds, "She painted her life, more or less as she saw it, especially in her seductive interiors packed with information… They shine a light on an artist of tremendous creative ferment who followed her own agenda to compete effectively with, and in some cases surpass, male artists within the academic tradition."
The Tiff and The Studio are currently on view Level 1 in the Richard Barry Fudger Memorial Gallery (gallery 125).